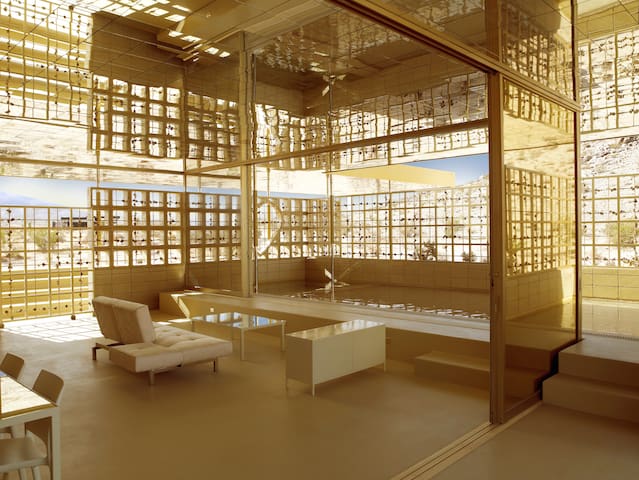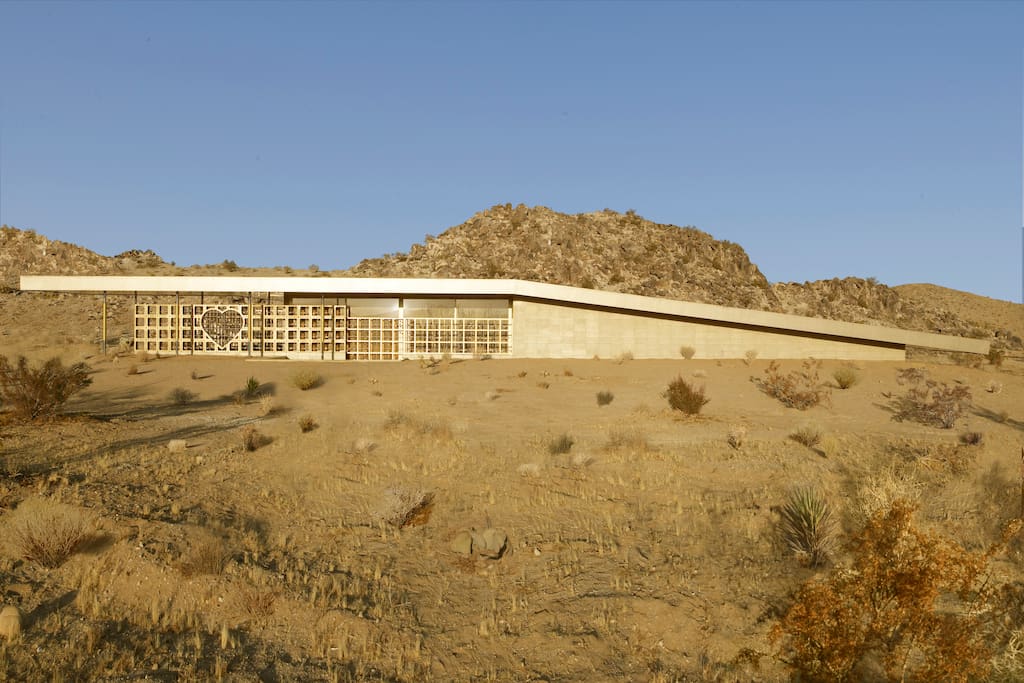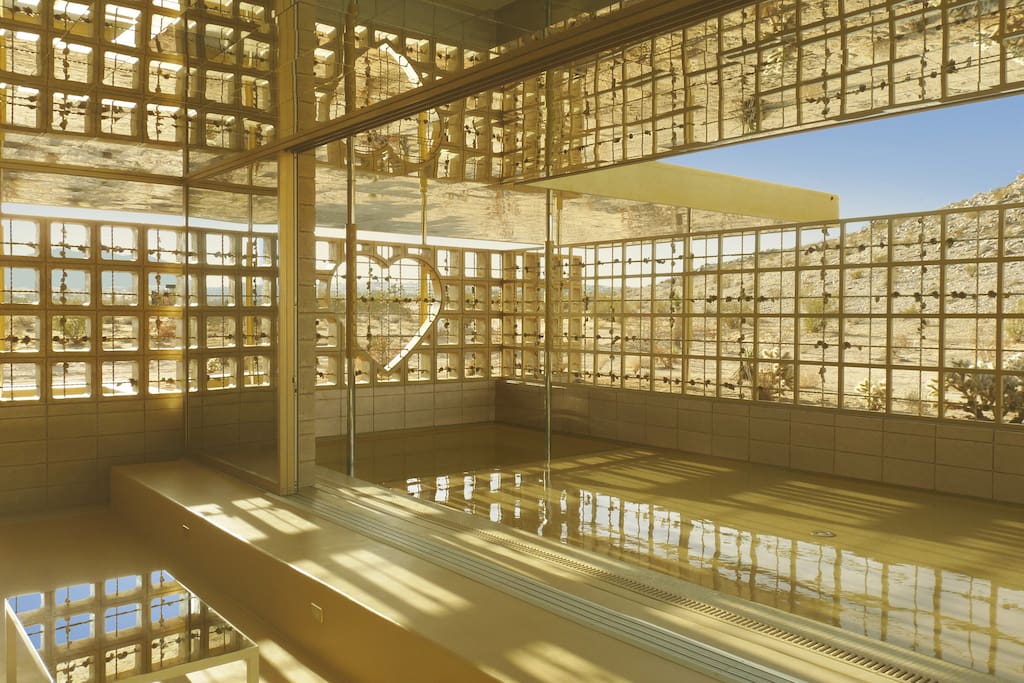 Acido Dorado is an internationally known icon of new architecture that is also a very intimate and inspiring place to be . . . and it is made available for vacation rentals to share that experience with a few people each year.
The space
Acido Dorado has two matching master suites with glass walls and private atriums planted with ocotillos. Each suite has a large shower that is open to the atrium, a teak bench, and a floating mirrored vanity. The main room is glass walled on three sides with a full kitchen, and a large dining table. A seating area has a sofa, chairs and a stereo cabinet with an I-pod doc that drives a built-in 400watt 7 speaker stereo system throughout the house. The mosaic tiled reflecting pool and huge spa are basically in the living room, and the sunken back patio has built in seating, a fire pit, and a barbeque. Ornate wrought iron gates with thousands of metallic gold roses slide into pockets and disappear to open the living room from the front desert plains through to the back patio and rocky hillside. The house can be opened entirely to catch desert breezes but there is also an oversized heating and cooling system for those few days when you need them.
The single most valuble thing we offer, that even the most deluxe hotels can only pretend to, is authentic architecture. Beyond modernism this place represents an ambitious new approach to design that connects rather than recedes from its cultural context. That new approach deliberately steps out of the shadow of modernism and formalism and has brought the houses international recognition, awards and wide cultural impact. Something magic happens when you find yourself in a place that isn't an imitation of somewhere else. There is a great sense of focus, and the time and place are truly your own.
This house was constructed, and is managed and maintained by architect Robert Stone as an open gesture to share his handcrafted and conceptually layered architecture with people that have common interests. Guests are asked to please introduce themselves, their group and their plans. Our goal is to find a way to accommodate those who connect strongly with the place.
For more views of Acido Dorado including architectural writing and photography, fashion photgraphy, and travel features from a guest's point of view please websearch PrettyVacantProperties, Acido Dorado or Robert Stone Architect.

Other things to note
no pets
photography restrictions- no production
no visitors
---
---
Check in is anytime after 4PM
---
Our stay at Acido Dorado was downright awesome. Beautiful house, so well maintained, and a true gem. This is unlike any other Airbnb I've ever stayed in. The bedrooms were very cozy and the living room is so elegant. The hot tub was a great treat in the evenings. What a perfect place to soak in the creativity and energy of Joshua Tree.
---
This house is truly magical. We stayed here over the New Year's Eve holiday and had an incredible experience. Imagine waking up every morning to sunlight bouncing off the mirrors and the table surfaces (which are all mirrored as well), drinking a refreshing cup of tea, and staring out at a desert horizon bathed in gold. I basically never wanted to leave. If you're looking for plush couches/living room furniture and carpeted floors, you won't find that here. Instead, you'll be met with golden light, gorgeous modern architecture, impeccable detailing, and majestic desert surroundings. Another reviewer talked about the "sterile" environment, but we found the house to be extremely comfortable. The bedding is great, the showers were hot, and there were plenty of towels and extra blankets. Sure, there isn't much of a "living area" aside from a couch, but there's a hot tub and awesome outdoor space with a fire pit that you can cozy up to. Also, we cooked every meal here in the 3 days/3 nights we spent in the house - there's plenty of kitchen equipment. The host is very communicative, and left very detailed, easy-to-follow instructions for getting to the house and using all of the amenities. It's clear that he deeply cares about his guests and the property, and we were so grateful that he welcomed us into this space. I'd love to come back when it's warmer (it was freezing in December) and open up the doors to let in the desert air.
---
As the owner explains, this listing is not a traditional Airbnb home -- no wifi or TV, minimal appliances/amenities/furnishings, etc. -- so bear that in mind. This place is intended to be stayed in and admired for its architectural aesthetic and significance, and the fact that it's a home really seems more a formality than intention. That is, while it may appeal to your aesthetic, it's unpleasant to be in. I hate to say it but to be frank, the inside is just cold and sterile and for $500+/night in Joshua Tree you can find better accommodation, both in feeling and aesthetic.
Though this review sounds negative we do not feel that it indicates that there is any misrepresentation of the place. The house is one of the most documented structures in the world at this point, and we provide a link to hundreds of photos, a description of the well equipped kitchen (pan by pan) so that chefs can bring any specialized equipment, and the house is exactly as it is described. We make no attempt to sell the place and hope that by providing extensive documentation that the right people who know themselves can choose the place and create their own experience. Hopefully this review only clarifies that for people considering a visit.
---
Response rate:
100%
Response time:
within an hour
Explore other options in and around Joshua Tree
More places to stay in Joshua Tree: