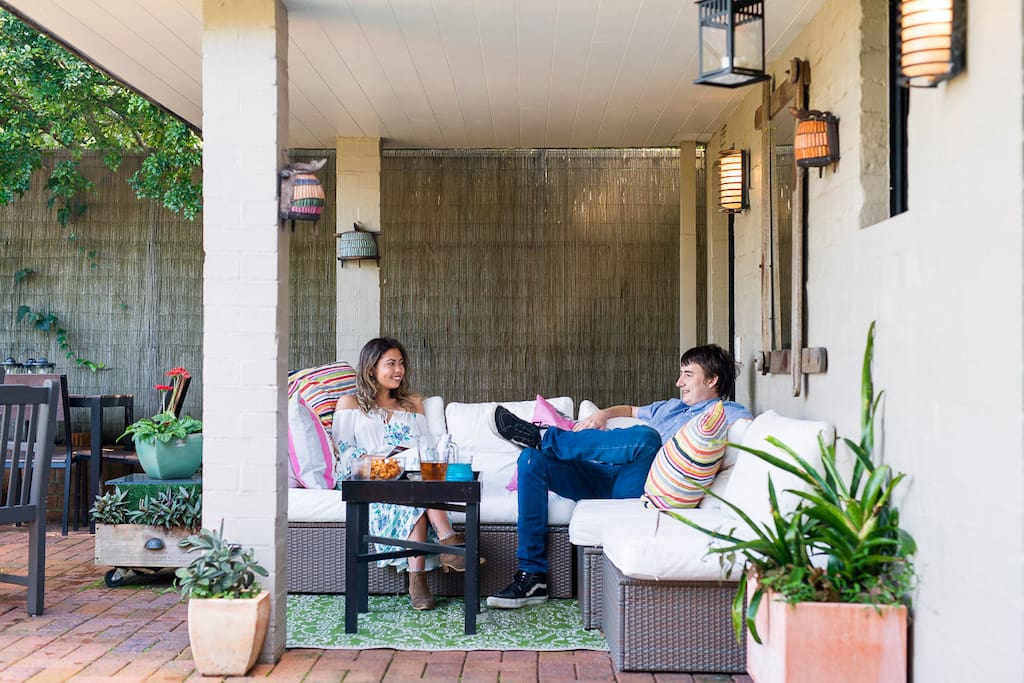 Event space for groups of up to 16 with overnight accommodation for 7.
Enjoy entertaining friends and family in this gorgeous urban rainforest setting. Secluded and private, yet only 6.6km from the Sydney CBD (closer than Bondi beach) with a bus to the city only metres away.
With three big bedrooms, each with ensuite, solar-heated pool, BBQ and many indoor and outdoor dining areas, the place is brilliantly equipped to host your next small gathering.
The space
IN A HURRY?
Just read the summary and view the floor plan in the photos.
SUMMARY
What's so special about it? The view, proximity to city (6.6km or 15 mins by car), the tranquility, the pool and rainforest gardens, the outdoor 'rooms', the eclectic, luxe interior and the fact that it has three big bedrooms and each room has its own bathroom.
The floorplan included in the photos is accurate and to scale, so you can rely on these to make your decision. I will add that the kitchen, whilst small, is perfectly formed. We're a family of keen cooks (one of my sons is a chef at one of Sydney's top restaurants) so you'll find everything you need - from a balloon whisk to measuring cups, rice cooker, woks, oils, vinegars, cooking sauces. Need anything else? Just ask.
WIFI
Yes, of course we have it, and it's free and unlimited for guests.
PARKING
One spot is available on site . There is unrestricted free street parking.
BEDROOMS AND EN SUITE BATHROOMS
o Bedroom doors are lockable
o Each bedroom suite is > 25 square metres
o Queen size beds with mattress toppers and (of course) protectors.
o Wine Cellar Room has an additional single bed
o Bedside tables with storage and lamps
o Reading lamps
o Daybed, sofa, rocking or arm chair in each for relaxing or working on
your laptop
o Desk with task lighting
o Large wardrobe with drawers and plenty of hanging space and hangers
o Dimmable overhead lights
o Heating
o High quality bedlinen and towels
o Pool towels
o Instantaneous high pressure hot water
o Shampoo, body wash, conditioner, soap, tissues etc provided
o Hairdryer
o Emergency supplies of toothbrushes, razors, toothpaste etc in case
you've forgotten something.
SITTING ROOM
o Bifold doors open onto poolside dining area
o Foxtel IQ Platinum cable TV (hundreds of channels)
o Library of carefully curated books and games
o Gas heating
o Foldout 6 person dining table
o Large sofa
o Rocking chair and footstool
o Dimmable lights and reading lamp
o USB charging port
o Multi-country electric plug converter
KITCHEN
o Well-equipped with stove, microwave, fridge, toaster oven, rice cooker, coffee grinder, tea pot, toaster, kettle, stove top espresso maker, coffee plunger, bullet mixer etc
MISCELLANEOUS
o Iron and ironing board
o Laundry liquid and drying rack for handwashing
o Use of laundry upstairs (Mielé washer and dryer)
o Pets on site - but they don't usually go near the guests. Denny and George (cats), Warren (our Brushtail Possum who thinks he's a cat and so cute he should probably have his own Instagram page)
o Smoking is allowed outside in designated areas.
OUTSIDE
o Stunning views over treetops to harbour foreshore park.
o Large solar-heated, salt-chlorinated, fenced pool
o Two outdoor dining areas - one undercover, one next to BBQ, both seating 8
o Indoor/outdoor room has electric heating and curtains for winter nights.
o Large Weber gas BBQ
o Hammock
o Old school canvas 2 person tent
o Outdoor 'lounge room' undercover
o Huge rainforest garden, steep hillside, lots of stairs and decks and private spaces
o Direct (but steep) access to waterfront park from backyard
PLEASE NOTE:
The apartment is linked to the house via an internal stairwell. This stairwell is not used when guests are in residence and it is enclosed by acoustic curtains to minimise sound transmission. There is no visual contact between the upper level (where we live) and the lower level.
---------------------------------------------------------------------------------------
IN MORE DETAIL
THE POOLSIDE ROOM - Big bright and airy, this room is perfect for guests with a small child and friends travelling together. The toilet is behind a separate door in the bathroom, so it's very private. The best thing about this room is that there is a door (compliant 'child safe', self-closing and lockable) from the bathroom that exits directly onto the pool area. So if you like an early morning dip, it's ideal.
THE RETRO ROOM - Perfect for night owls, late sleepers and children who wake easily.
The Retro Room has an eclectic, romantic, moody, 'steam punk' vibe.
This room also has its own separate entrance, so you can come and go without disturbing anyone else. Guests who like to sleep late and parents of jet-lagged children just LOVE the Retro Room. It's "like being in a luxurious cave" and "a great place to lock yourself away for a month and write a novel". Its built into the hillside, which makes it warm in winter and wonderfully cool in summer. Warning, if you're sleeping in this room and you have to be up at a certain time, set an alarm on your phone - because it's so quiet you'd sleep through Armageddon.
THE WINE CELLAR ROOM - Perfect for bookworms and kids who want extra space to spread their Lego all over the floor. This room sleeps three and has a single bed as well as a queen.
The Wine Cellar Room has a lovely reading nook with a daybed next to a window that looks out over the pool courtyard. If you're travelling with children, it's perfect. Parents can enjoy a 'grown up' meal by the pool and easily keep an eye on the kids. Kids feel safe and secure knowing their parents are within earshot.
All bedrooms have a well lit desk and plenty of storage and hanging space.
Guest access
This is a gorgeous self-contained apartment on the lower level of our large quirky, 60's house set in a rainforest park. The sitting room opens out into the large poolside terrace and guests have exclusive, private use of the terraces, gardens and pool. The entire lower level of the house is Airbnb only, including pool and gardens.
The guests' sitting room opens onto a covered, heated lounging and dining area next to the pool. On the pool terrace there is a large BBQ and dining area and another undercover lounging area where smoking is allowed. From this terrace, stairs lead down to the rainforest boardwalk, tiered sunning and meditation decks and a treehouse. From there you can walk down a steep bush track to a beautiful park on the Sydney Harbour foreshore.
The sitting room has a flat screen TV equipped with Platinum package Foxtel IQ. And, of course, we offer free WiFi, parking for one car and EXCLUSIVE use of the pool, BBQ and extensive outside entertaining areas and gardens. If you've got more than one car, it's usually easy to find a spot on the street.
The private guests' kitchen is small but well-equipped, with fridge, stove and microwave. The large gas-fired Weber BBQ does a great job on pizzas and roasts as well as traditional BBQ foods.
Other things to note
CHECK-IN IS NO EARLIER THAN 3PM
It almost never possible to check in before this 3pm. The cleaning and set up after the departure of previous guests leaving at 11am has to be completed first, and without interruption.
Please bear this in mind when organising your event. You'll most likely need time to set up before your guests arrive, so make sure you allow for this when sending out the invitations.
SECURITY - HOUSE ALARM AND VIDEO/AUDIO SURVEILLANCE
Alarm: The interior of the property is fitted with a back to base monitored alarm system. Instructions for the operation of this system are included in both the House Manual and the Arrival Directions. It is extremely simple. Please note that this system does not capture or record any visual or audio information, it simply detects motion.
Exterior Surveillance: There are 3 cameras covering the exterior of the property and 1 within the non-guest area of the property which record video and audio and store and upload to the cloud in real time. Note that tampering or removing these cameras will not prevent the information already recorded from being transmitted and stored. The actual location of all exterior cameras will be shown to you at check-in. There is no surveillance inside the listing nor in the backyard/pool area.
These cameras feature a two way audio feed, so I can speak to you, and you me via them if necessary.
If you wish to have access to the place before the 3pm check-in, consider also booking the night prior in the 'no events allowed' version of this listing in either a 2 or 3 bedroom variant. These are listed under my profile here - https://www.airbnb.com.au/rooms/4832827 - and here https://www.airbnb.com.au/rooms/12159484

PRICE
The rate is not negotiable. It's great value already and the price you see is determined using a pricing algorithm that sets the nightly rate by benchmarking it in real time against comparable properties and also takes into account season, date and length of booking and demand; that's why the price changes frequently. My price is fair. Yes, you pay a lot, and in return I put a huge amount of effort and resources into delivering more than you're anticipating. If I've done my job, you'll have an experience that isn't available elsewhere in Sydney at this price point. There's a huge number of properties on Airbnb, so if my place doesn't match your budget, please choose one that does.
TRAVELLING WITH CHILDREN
Babies, toddlers and children are very welcome, but they are all counted in guest numbers. The Airbnb "under twos are free" concept does not apply to this listing.
The maximum capacity is 7 people, regardless of age. As Airbnb's system doesn't automatically calculate the right number of guests or the right fee if guests are under 2, you'll have to enter them as though they were 2 - 12 years old.
ENTERTAINING VISITORS?
If you intend to entertain while you're in residence please let me know your plans before booking. Just remember that the maximum number of people we can safely have on site at any time is 20. This number comprises a maximum of 7 overnight guests, a maximum of 9 visitors and a maximum of 4 contractors - eg catering staff, entertainers etc.
SAFETY
The space is not 'childproof' so please make sure you supervise any visiting children. We have the usual household safety measures; window locks, electrical safety switches on all switchboards including outdoor lighting, approved pool fence, self-closing doors with 1.5m handles for all doors to the pool area, smoke detectors in all rooms, temperature limiter on hot water, non-slip safety mats under rugs and a fire extinguisher.

However, it will not be as safe as the home of someone who has small children living with them - eg there are no outlet covers on power points, no bumper guards on sharp furniture, no non-slip tape on bathroom floors, not all furniture is fixed to the wall, there are no stove guards, anti-slamming devices on doors etc etc The bottom line is that you need to be significantly more vigilant than you would be in your own home.
The backyard is made up of stairs and decks which can get slippery when it rains and require careful navigation using the additional hand-held lighting supplied if going down there at night. Once you reach the end of the boardwalk and step off into the bush trail, it is steep and can be very, very slippery after rain.
The driveway is long and there is a steep downhill approach to the house. It has a non-slip coating and we try to keep it as debris free as possible. However, be careful and watch where you are going at all times.
FOOD
The kitchen is stocked with breakfast supplies, snacks and tea and coffee etc so you don't have to make a trip to the shops the minute you arrive. This is to provide a service for our booked guests. Please don't empty the pantry to feed your visitors.
PETS & WILDLIFE
We have 4 cats who have enough sense to stay away from the guest area unless you welcome them. They don't generally 'hang out' in the downstairs area unless you actively encourage them and this, combined with the frequency of cleaning means that the space is likely to be safe for someone with even a severe cat allergy.
We also have a pet Brushtail Possum, Warren. He loves chocolate, fruit and raisin bread, so we ask that guests don't feed him or leave food lying around at night with the windows open. He's very photogenic, so if you must bribe him to sit still long enough to capture the perfect shot, a mandarin, apple or banana is ideal.
Security Deposit $1140 NZD
Always communicate through Airbnb
To protect your payment, never transfer money or communicate outside of the Airbnb website or app.
Bedroom 1
1 queen bed, 1 single bed
Check-in is anytime after 3PM
Self check-in with lockbox
Note - I'm happy to host Bucks' Nights, but Hens' Nights almost always create additional cleaning and damage, more importantly, they generate a lot of noise which has the potential to disturb me and my neighbours. Sorry ladies, but your voices carry in a way that male voices don't. So, if your event is a 'Hen's Night', please contact me first rather than using Instant Book so that we can discuss the event in detail.
NUMBER OF GUESTS IN YOUR BOOKING
I do not have a 'children under 2 don't count as guests and don't pay a fee' policy.
Every human in your group must be included in the guest numbers
Unfortunately, Airbnb's system will not calculate the correct guest numbers and accommodation fee when there are under 2's in your group. To manually override this, enter children under 2 as though they were in the 2-12 category.
I require the names and ages of all guests in your group at the time you book.
The guest in whose name the booking is made must be physically present at check-in unless previously agreed.
EVENTS
There are to be no more than 20 people on site at any time. That includes registered guests, party guests and catering/entertaining contractors. There is a CCTV camera covering the exterior entrance and any attempt to breach this rule will be identified swiftly and you will be evicted immediately without compensation.
No more than 7 guests are permitted to stay overnight. 'Overnight' means between the hours of midnight and 8am. Any person on the premises between those hours will be deemed a 'guest' and an extra guest fee of $40 per guest will be applied.
SMOKING
Smoking is allowed only in the two designated smoking areas. No butts are to be disposed of other than in the ashtrays provided.
RUBBISH SORTING AND DISPOSAL
You must follow the rubbish sorting protocol set down in the House Manual. All rubbish must be placed in the appropriate wheelie bin before you leave.
CHECK-IN AND CHECK-OUT TIMES
Check-in is any time after 3pm, check-out is any time before noon.
SECURITY
Please close and lock all doors and windows and turn on the alarm when you're not in residence.
POOL SAFETY
Do not prop open the pool gates or door or make any attempt to override the self-closing door mechanism.
BBQ
Please wipe down the BBQ after use. Cleaning wipes and spray are provided. It is essential that you turn off the gas bottle when not in use.
USING THE KITCHEN
Please use the exhaust fan in the kitchen when cooking.
Please don't deep fry in the kitchen, it's a fire hazard. Stir frying is ok.
Please follow the recycling, composting and waste disposal instructions in the house manual.
PROTECTING THE FURNITURE
Please place coasters under bottles and glasses.
Please clean up any spills immediately.
Do not sit on the furniture in wet clothing.
CANDLES
Extinguish all candles before leaving the building or your room.
ALARM SYSTEM
The house has a sophisticated alarm system. You'll be given a remote to operate it during your stay. If you lose the remote you will be charged for the cost of replacing the remote and reprogramming the system.
Instructions to operate the alarm system are in the House Manual.
FAKE TAN - [ A substance so annoying it gets its own paragraph ]
Fake tanners rub off on towels and sheets. My towels and sheets are white. The dyes in fake tanning products do not wash out using ordinary washing temperatures and detergents and the chemicals and temperatures needed to shift them destroy sheets and towels, as well as wasting hours of time dealing with the mess. Sometimes fake tanners won't wash out at all. So, if you must dye yourself orange, please either bring your own sheets, pillow cases and towels and use them instead of mine or be prepared to take the trashed items with you and be charged for replacements.
LINEN REPLACEMENT
Laundering and replacing linen more frequently than weekly during your stay will incur an additional fee of $25 per linen change.

BATHROOM
Only toilet paper and human waste is to be flushed down the toilet.
LAUNDRY
There are drying racks in each bedroom and you're welcome to use the washer, dryer and clothesline upstairs. You'll be given a key to access the laundry from outside.
QUIET TIME
Please keep the noise down after midnight and before 8am, especially outside. Just to clarify, 'keep the noise down' means that you agree to do nothing that can be heard by the neighbours after midnight. And please, be aware that there are neighbours on either side and they don't appreciate being kept awake by your noisy departure. So when you're walking on the driveway, be quiet.
THE FINAL RULE
These rules form part of the contract between you the Guest, and me, the Host. To prove that you've read them please include the following sentence in your booking message, 'Voices carry, especially after midnight'.

-----------------------------------------------------------------------------
You must also acknowledge
Must climb stairs - There are a few minor changes in floor level (2 steps) in the interior, the back yard has several flights of steps
Pet(s) live on property - 4 cats
Louise and the place were great. Super quick communication. Place had everything you need and then some. Was clean, friendly, and interesting. A+
---
I love to create beautiful spaces for humans which delight and deliver peace, comfort, privacy and efficiency with a sense of fun. As a seasoned business traveller who's spent far too much time in hotels, I've developed an aversion to giant towels marinated in fabric softener, mean little shards of shrink-wrapped soap, toilet paper origami, shower gels that could degrease a sea otter, coat hangers that require Tetris-like manipulations to unleash their hanging power and bio-hazardous pillow shams. With this in mind, I've put a lot of thought into creating an accommodation experience that avoids inflicting these hospitality sins on my guests.

Languages:
English
Response rate:
100%
Response time:
within an hour
Explore other options in and around Greenwich
More places to stay in Greenwich: