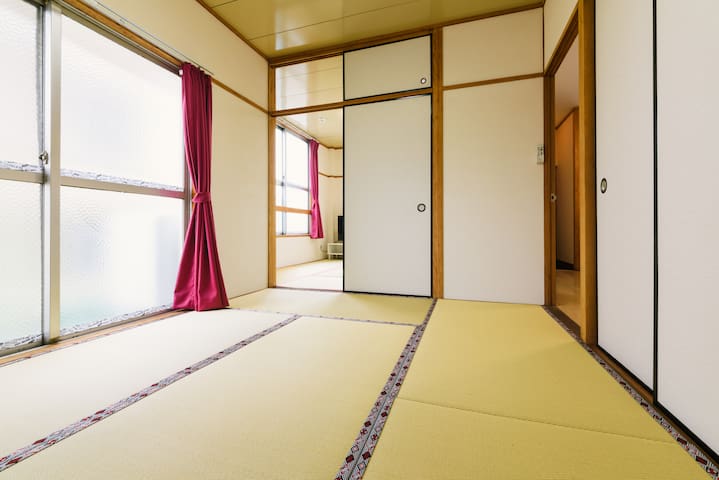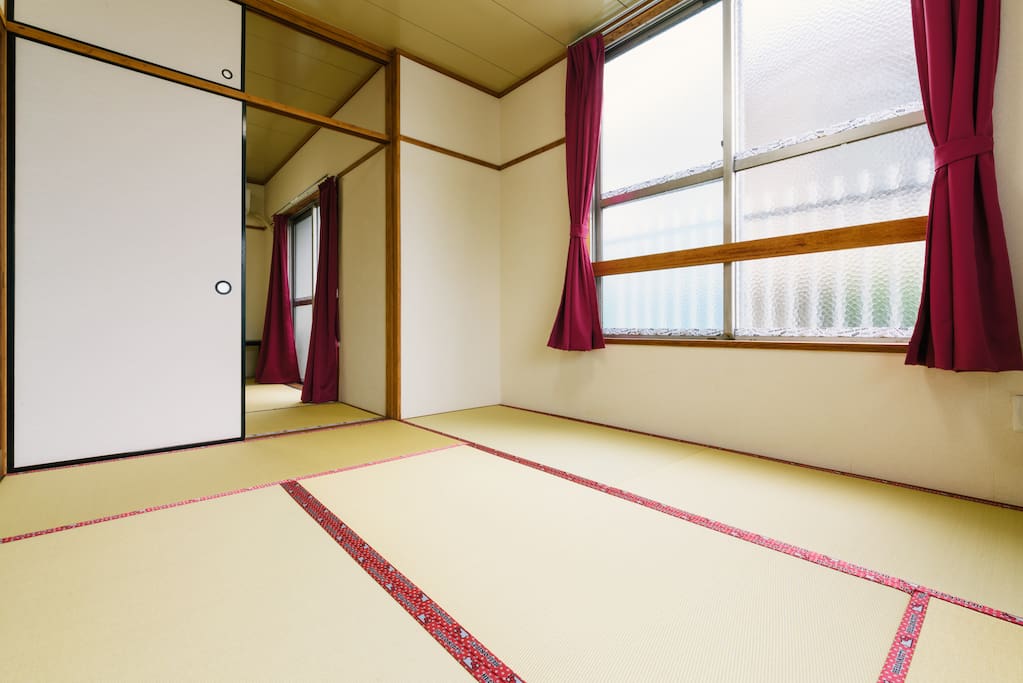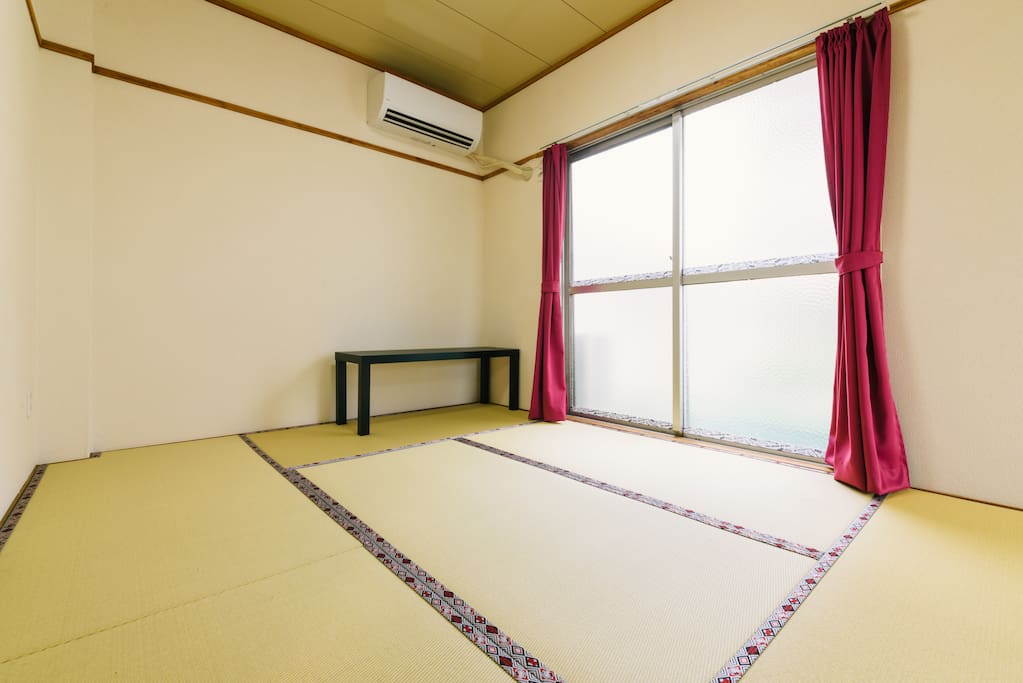 Room MIYUKI HOUSE 202 which opened in July 2017. Ryokan industry simplified accommodation permitted facility that cleared strict safety measures and regulations. Most other facilities do not. Wifi Yes, LAN connection is also available. There is a hot water washing toilet seat, interior and exterior are undergoing renovation one by one. There is a possibility that the version has been upgraded than the image. Equipment, amenity Update contents··· The laundry became able to dry indoors. WIFI has powered up. Full automatic washing machine with dryer is located on the veranda. Detergent is a closet. It is a scarce property with business permission in Kasuga City with almost no accommodation property. Please visit friends, relatives and sudden visits. * The reservation on the day is automatically accepted until 10 o'clock. Unfortunately, there is a possibility that you are in a place where you can not get in touch. In that case, I can not let you know the number of the key box so I can not get in. If you do not receive a response within 2 hours on the day reservation please contact other facilities. (The penalty fee will be refunded when cancellation processing occurs.) In the case of reservation on the day There may be times when you can not make bedmaking. In that case I need your help by self service.
2017年7月に開業したお部屋MIYUKI HOUSE 202 です。厳格な安全対策や規制をクリアした旅館業簡易宿泊所許可施設です。他のほとんどの施設にはありません。
Wifi有、LAN接続も出来ます。温水洗浄便座有り、内外装を逐次改装中です。画像よりもバージョンアップしている可能性があります。
設備、アメニティ更新内容・・
屋内に洗濯物が干せるようになりました。WIFIがパワーアップしました。
乾燥機付き全自動洗濯機はベランダにあります。洗剤は押入れです。
宿泊物件がほぼ無い状態の春日市に、営業許可を持つ希少物件です。お友達、親戚の急な来訪にどうぞ。
*当日予約は自動では10時まで受け付けています。が、あいにく連絡を受けることが出来ない場所にいる可能性があります。その場合、キーボックスの番号をお伝えすることができませんので中に入れません。当日予約で2時間以内に返事がない場合は他の施設をあたってください。(キャンセル処理が発生した場合の違約金は返金します。)
当日予約の場合ベッドメイキングの時間がとれないことがあります。その場合はセルフサービスにてお願いします。
The space
The room is 45 square meters. The apartment is on the 2nd floor. It is 2DK, but the two rooms are separated by boss (sliding door). There is no key A total of 4 beds are installed for every two beds. The toilet, bathroom and washroom are independent. The oblique front is a convenience store. There are supermarkets, restaurants if you walk a little. There are 2 tatami rooms on the rim with Hello Kitty's pattern. I will use a futon.
部屋は45平方メートル。アパート2階です。2DKですが、2部屋はフスマ(スライドドア)で仕切られています。鍵はありません
ベッドが2台づつ合計4台設置されています。
トイレ、浴室、洗面所は独立しています。
斜め前がコンビニです。少し歩けばスーパーマーケット、飲食店はあります。
ハローキティの柄がついた縁の畳部屋2部屋があります。布団を利用します。
Guest access
It is the rental of the house No. 202 room of 2 apartments on the 2nd floor of the apartment.
アパート2階2部屋のうち一世帯202号室の貸し切りです。
Interaction with guests
I live nearby, but it is rare to meet. Sometimes in the Izakaya on the first floor. I try to respond to reservations as soon as possible and questions as soon as possible.
近くに住んでいますが、会うことはまれです。1階の居酒屋に時々います。
予約が入ったときや質問には出来るだけ早く対応するよう心がけています。
Other things to note
The keybox containing the key is next to the door. It is not a mailbox. How to retrieve the key can be opened with No telling in advance. For opening, push the number until you tell it down, lower the middle lever downward, remove the lid from the top and take out the key. The bottom middle button is the reset button. If you do not open it first lower it down and start over again from the beginning. When closing, similarly push the button, hook the bottom, then lower the top button and close the lid. If it does not close properly, please reset again. You can see how to open it even with images. There are many people who have trouble here. Please do not rush. There is water, instant coffee, tea, in the refrigerator. Please use it. Amenity goods are increasing. (Shampoo, rinse, body soap, towel, bath towel, brush, toothbrush, body sponge). I have several kinds of pillows. Please use the matching products. There is Wifi main unit in next room, this room does not have. I am sharing radio waves. Currently radio wave amplifiers are installed and cable LAN can be used. It is 4 M cable TV internet line. Although there are dishes and dishes, there are not many assumptions about cooking, so there are many types of dishes, but there are sanitary aspects too The cooking utensils are chopping boards, kitchen level, there is no seasoning etc. . The washing machine is on the veranda. Detergent is a closet. The washing machine is fully automatic until dry. With safety measures, the lid is not empty during washing. When the light switch of the kitchen's room is turned off with the remote control, the lamp will not turn on unless you switch on the remote control. Facility renewal contents·Laundry can now be dried indoors. WIFI has powered up. Amenity goods are increasing. (Shampoo, rinse, body soap, towel, bath towel, brush, toothbrush, body sponge). I have several kinds of pillows. Towel rack installation. Radio amplifier is installed and cable LAN can be used. Even on that day, if the room is available and you can contact you we can offer the room. Please refrain from meeting with your friends in the accommodation so confusing. If you are confirmed by the surveillance camera image you will be required to pay additional fee. (Please contact us if you must meet here by all means)
鍵の入っているkeyboxはドアの横です。mailboxではありません。鍵の取り出し方は、事前に伝えるNoで開けます。
開け方は、番号をかちっと言うまで押しこんで真ん中のレバーを下に下げて、上からフタを取り外して鍵を取り出します。
真ん中下のボタンはリセットボタンです。開かないときはまずこれを下に下げてもう一度最初からやりなおします。
しめるときも同様にボタンを押し込んで、下を引っかけてから上のボタンを下げたまま蓋を閉めます。
うまく閉まらないときは、リセットしてからもう一度お願いします。
画像でも開け方を確認できます。
ここで苦労される方多いです。焦らずにどうぞ。

冷蔵庫に水、インスタントのコーヒー、お茶、があります。ご利用ください。アメニティグッズが増えています。(シャンプー、リンス、ボディソープ、タオル、バスタオル、ブラシ、歯ブラシ、ボディスポンジ)。
枕を数種類置いています。合うモノをご利用ください。
Wifi本体設備は隣の号室にあります、このお部屋にはありません。電波を共有しています。現在電波増幅機が取り付けられケーブルLANも使えます。4Mのケーブルテレビインターネット回線です。
お皿や食器はありますが、料理をすることをあまり想定していないので、食器の種類は多いですが、衛生面のことも有り調理用器具は、まな板、包丁程度で、調味料等はありません。
洗濯機はベランダにあります。洗剤は押入れです。洗濯機が乾燥まで全自動です。安全対策で、洗濯途中ではフタが空かない仕様です。
キッチンの部屋の電灯のスイッチをリモコンで消した場合には、リモコンでスイッチを入れないと電灯が点きません。
設備更新内容・・屋内に洗濯物が干せるようになりました。WIFIがパワーアップしました。アメニティグッズが増えています。(シャンプー、リンス、ボディソープ、タオル、バスタオル、ブラシ、歯ブラシ、ボディスポンジ)。枕を数種類置いています。タオル掛け設置。電波増幅機が取り付けられケーブルLANが使えるようになりました。
当日でも、部屋が空いている場合で連絡が取れれば部屋を提供できます。
なお、紛らわしいのでお友達と宿舎内で会うのはご遠慮ください。監視カメラ画像で確認された場合には追加金をお支払いいただきます。(どうしてもここで会わなければならない場合はご連絡ください)
This listing has essential business travel amenities.
Extra people $31 NZD / night after the first guest
Weekend Price $40 NZD / night
Always communicate through Airbnb
To protect your payment, never transfer money or communicate outside of the Airbnb website or app.
Bedroom 1
2 floor mattresses
Bedroom 2
2 floor mattresses
Check-in time is 4PM - 2AM (next day)
Self check-in with lockbox
- 土足厳禁
- 禁煙
・ゴミがいっぱいになったら1F階段裏のゴミ箱にビニール袋の入り口を閉じて入れておいてください。予備のビニール袋はテーブルの下にあります。
You must also acknowledge
Must climb stairs
No parking on property - 隣の駐車場左から2番目一泊500円です。出し入れ自由。車で来訪の時はお知らせください。コインパーキングは100mほど離れています。
Airbnbを利用して旅行するのは楽しいですね。うちは家族6人ですのでAirbnbだとかなり安くすみます。ホテルとか旅館にはないドキドキ感がいいですね。

自分の持ち物件を大改装してAirbnbで貸しています。なんとか宿泊者で埋まっている状況が続いています。いろいろな人に利用してもらいたいです。2017年7月に始めたばかりです。宿泊者にいろいろ聞きながら少しづつ改装をしています。

1階の居酒屋に時々行きます。この地域では良い店ですので、行ってみてください。メニューはお部屋にあります。





Response rate:
100%
Response time:
within an hour
Explore other options in and around Kasuga-shi
More places to stay in Kasuga-shi: