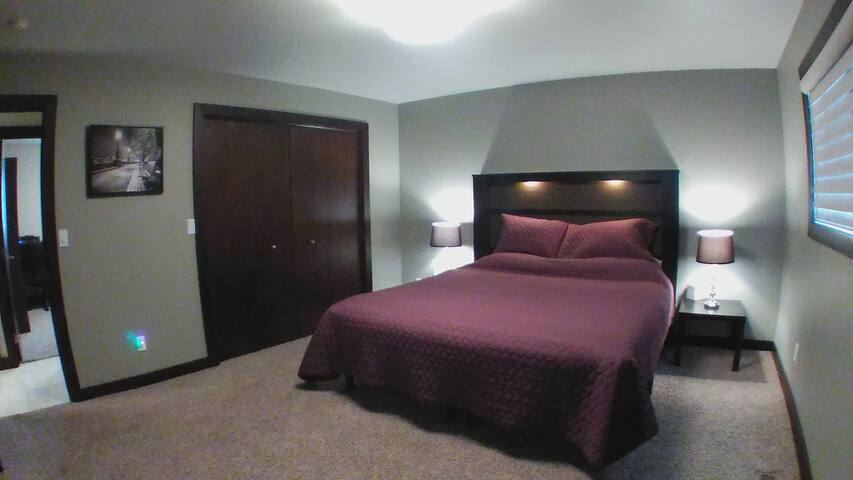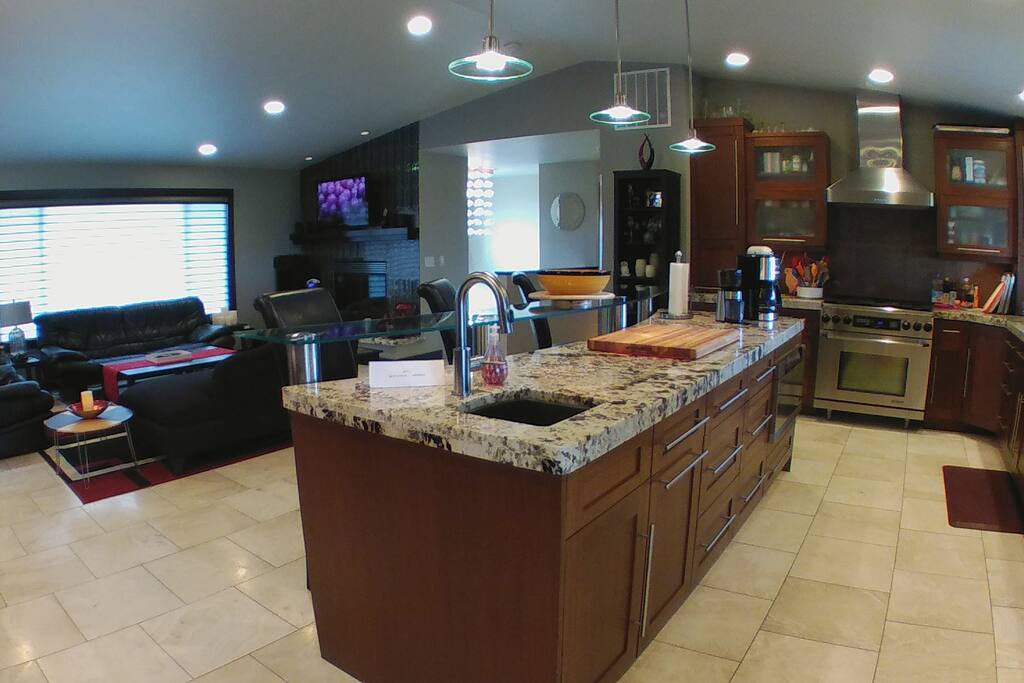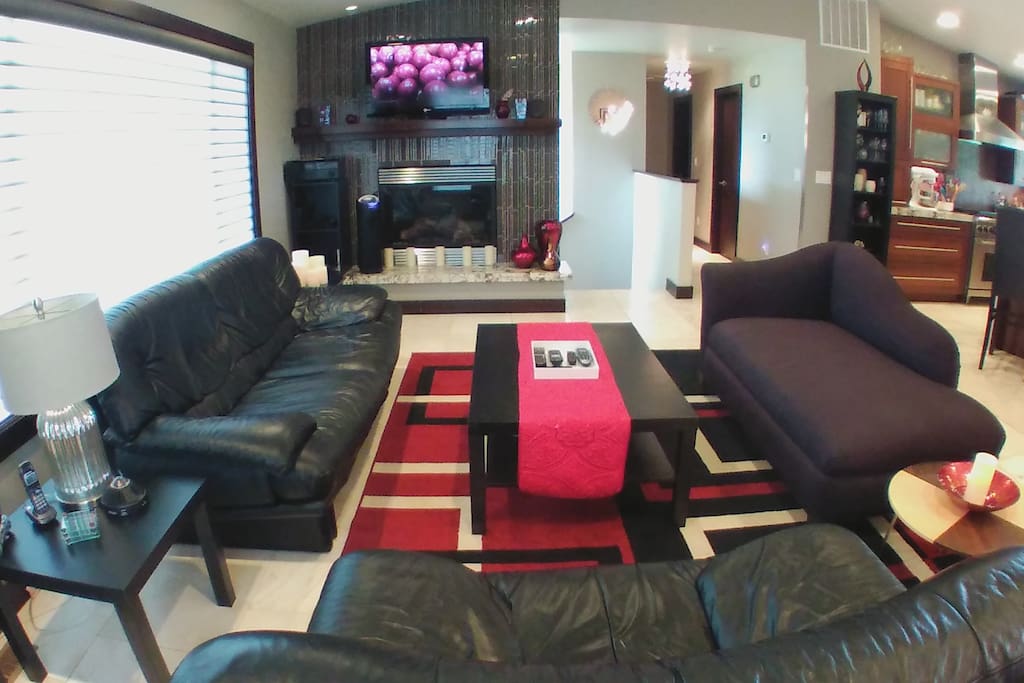 Private master bedroom with private ensuite bathroom in a luxury modern home minutes from the Gorge Amphitheater and local Data Centers and Wineries, 2 miles south of Quincy and 7 miles north of George.
The space
Unassuming on the outside but a truly luxurious oasis inside. Stay in 5-star resort comfort surrounded by wheat and potato fields.
Guest access
Guests have access to their private room, the shared spaces in the home including the kitchen and game room, and the shared outdoor patio. Guests do not have access to the garage, utility room, storage under the stairs, or the bedrooms of other guests.
Interaction with guests
The owners may or may not be on the property during your stay. Other guests may or may not be on the property during your stay. You have no guarantee of privacy beyond your private room and may be sharing the space with others.
Security Deposit $296 NZD
Always communicate through Airbnb
To protect your payment, never transfer money or communicate outside of the Airbnb website or app.
Not safe or suitable for children (0-12 years)
Check-in is anytime after 3PM
These house rules are the result of our experiences hosting over the past several years. Some are boring, some are amusing. Most guests are awesome and we love them. Once in awhile, however, there are the special guests that come up with something that makes us add something to the house rules. Make reading the house rules a game - see if you can spot the rules we added because of 'special' guests.
We welcome guests of all races, religions, creeds, countries of origin, sexual orientations/identities, political affiliations, veterans, stoners, and so on. We even welcome UVA fans. (but for those guests we decorate the house in Orange and Maroon)
Who is not welcome to book? Douchebags. We won't host douchebags. Fortunately douchebags do not form a protected class and the lack of douchebags on our property improves the experience for our guests.
Free parking is provided in the gravel driveway. Do not drive or park on the grass or in the yard. If you do you will be charged for any damage caused to the turf or sprinklers.
Guests are required to have active insurance for any vehicle they or their guest drive on the property. Hosts assume no liability for any damage to any vehicles before, during and after your stay.
Booking party must have verified their Government-issued photo ID with Airbnb prior to arrival, and that ID must be presented upon demand upon check-in.
Max guests 2, which includes booking party.
Names of all guests must be listed on the booking.
The booking party agrees to be responsible/liable for any damage caused by themselves or their guest.
The only allowed third party bookings are made through Airbnb's Business Program. What is a third party booking? That is when you use your Airbnb account to book a room for someone else. Totally not allowed. If you make a personal third party booking it is your responsibility to cancel and your cancellation will be subject to the cancellation policy in effect at the time of booking. If the room is rebooked by the person you third party booked for we will provide a refund less a $30 i-am-too-busy-to-read fee.
Refer to https://www.airbnb.com/help/article/427/can-i-book-on-behalf-of-a-friend-or-family-member and https://www.airbnb.com/help/article/1311/who-can-book-trips-on-behalf-of-someone-else for more information on this policy.
Please use the Airbnb messaging system to document your check-in, check-out, and to communicate any questions or problems. If there are problems of any kind, please immediately notify us and document the situation with photos and video if necessary. If you notify us of problems after check-out that you failed to report during your stay those complaints will be made fun of and will amuse us greatly.
Each bedroom in the home is a different listing. You may be sharing the home with other guests. All guests have a right to the peaceful enjoyment of their private space. Guests that are not respectful towards other guests will be asked to leave and will not be given refunds. Make every effort to coexist with any housemates but report any problems to us if necessary.
Ignore the next section at your peril.
Our home has an excellent HVAC system that can keep up with Quincy triple-digit heat waves as long as windows are kept shut and doors are only opened briefly.
We are in the middle of some of the most productive agricultural farmland in the country. This causes 2 problems. One is dust from the powder fine volcanic soil. The second is the humidity from the irrigation rigs spraying millions of gallons of water on the crops in the fields surrounding the property. This turns the area around the house into a giant swamp cooler. When an exterior door is opened, super-saturated humid air will rush into the home, get sucked in the HVAC return, and immediately start coating the condenser coils with ice. In only a few minutes, the coils get a sheet of ice on them, air stops flowing across the coils, and the house starts to spike in temperature. Previous guests got to experience temperatures in the home up to the mid 90F-range. Don't be like them. Keep the windows shut and only open doors for the minimum time required. This will keep dust out of the home and make the HVAC stay happy.
You can tell if the coils are frozen over if the thermostat says the system is in cool mode but the air coming out of the vents isn't cold. If this has happened contact us and we will help you get the coils defrosted and dried out so the system can start working again.
If you are the last person out of the house you need to make sure all exterior doors are properly shut and locked when you leave. The last time the AC froze up it was because the front door got left unlocked and blew open while nobody was home. People came back to a house that was >90F inside and a frozen HVAC.
This issue will be fixed with home automation in the very near future. Open/close sensors are being added to all exterior doors. If a door is left open too long (>2min) the AC will shut off and a loudspeaker in the attic will play AC/DC's Highway to Hell at maximum volume. If someone closes the door, the loudspeaker will shut off and the AC automatically come back on. Yay for WiFi thermostats and automation! (coming soon, not implemented yet)
If you use the kitchen, you must wash any cookware, dishes or cutlery you use immediately after use, do not leave dirty dishes/cookware/bakeware in the kitchen and clean as you go. Use the dishwasher for dishes and cutlery only. Cookware and sharp knives should be hand washed.
The basic expectations for the shared spaces are we encourage you to use them but don't leave a mess and leave them as clean as you found them. Trash should be taken out regularly to prevent flies. If you see the kitchen trash is more than half full take it out to the can outside and put in a new liner.
No smoking in the home. Period. If you or your guest smokes it must be done outside and your cigarette butts must be disposed of properly. Proper disposal means you either a) use the provided pole ashtray or b) eat the cigarette butts. If we have to pick up cigarette butts there will be a $50 charge per cigarette butt. Take care to smoke a good distance away from doors and windows, and do not enter the home immediately after smoking, give it a few minutes to let the smoke dissipate. Smoking within 15 feet of doors is prohibited. If the home smells like tobacco smoke after your stay or burn holes are discovered on bedding, carpets, furniture or anything else, you will be charged for professional cleaning services, replacement of the damaged item(s) as well as lost revenue from missed booking opportunities.
Treat the pool table with respect. Do not set drinks or food on it or allow others to do so. We encourage you to enjoy the pool table and darts, but use due caution and keep in mind you are still liable for any damage that occurs.
Our home is on a septic system. This requires that only 2 things go into the toilets - human waste and _moderate_ amounts of toilet paper. Other items - including, but by no means limited to: condoms, baby wipes, condoms, paper towels, condoms, feminine pads, condoms, tampons and condoms - could cause a very unpleasant, unsanitary and expensive sewage backup into the house. We would like to prevent that. Avoid putting prohibited items in the toilets and flush early, flush often.
I offer a $10 discount to guests that actually read these house rules. To get the IRTFHR discount, send an Airbnb message with the contents " The secret word is 'Slartibartfast' " and you get the discount.
No pets inside the home, please. Small (less than 20lbs) short-hair breed dogs may be considered with a pet deposit, please inquire about this via the Airbnb messaging system and secure permission before bringing a pet.
Service animals, of course, are permitted but we require that you keep your service animal out of the kitchen area and not allow them into the rooms with carpet. You will still be liable for any damage caused by your service animal, and you must inform the host before arriving that a service animal will be on the property.
The property has security cameras in the following locations:
Outside Patio
Outside Driveway
Outside Back Yard
Outside Front Yard
Inside Kitchen/Living Room
Inside Game Room
Disabling or tampering with the security cameras is strictly prohibited, as is trespassing in the garage or the storage space under the stairs.
The shared spaces of the kitchen/living area and game room are public and have active security cameras. There are no privacy issues with these cameras as every area with a camera should be considered a public and shared space. The bedrooms and bathrooms do not have security cameras.
Your check-out time is in your booking itinerary. Sometimes we can accommodate a late checkout, other times we can't. It is always best to ask first. It's also a lot cheaper. If no prior arrangements have been made for a late checkout, we have an unannounced late checkout fee of $1/minute.
Check-Out procedure:
1. Make sure all trash is bagged and placed in the bin at the end of the driveway. Do not leave trash in the home.
2. Verify all windows in your bedroom and shared spaces are shut and locked.
3. Make sure downstairs and landing front doors are locked.
4. Confirm the fridge and freezer doors are fully shut.
5. Do one final walkthrough, documenting the condition of the property before you depart with video/photos if you like. (we recommend it)
6. Inform us via the Airbnb messaging system that you have departed.
You must also acknowledge
Must climb stairs - 2 level home. Game room is on lower floor, Master is on upper.
Potential for noise - On Gorge concert weekends, be warned: guests like to bring the party back home. Outside of those dates we like to say after 11p is quiet time.
Pet(s) live on property - Neighbors have farm dogs. White Lab: Snickerdoodle Female chocolate brown Mastiff Puppy: Sochi Male adult Mastiff: Dodge
Some spaces are shared - The master bedroom and ensuite bathroom is your private space. All other areas of the home are either shared or off limits, refer to the house rules.
Response rate:
100%
Response time:
within an hour
Explore other options in and around Quincy
More places to stay in Quincy: