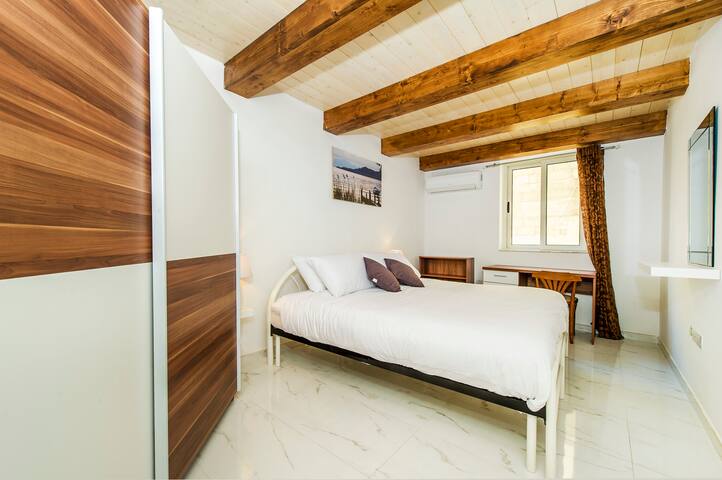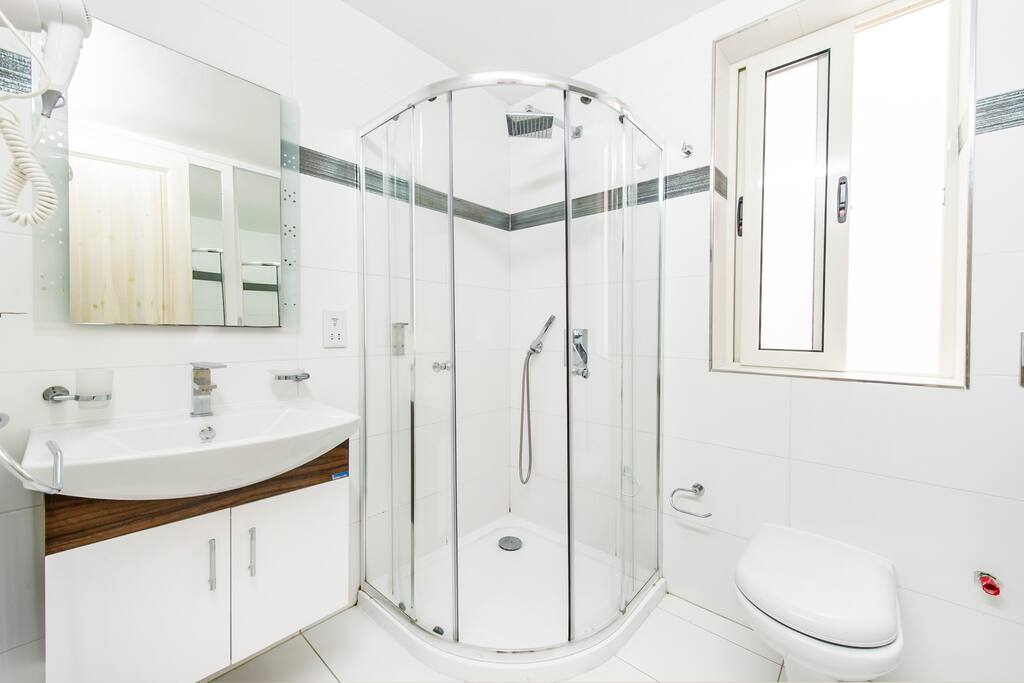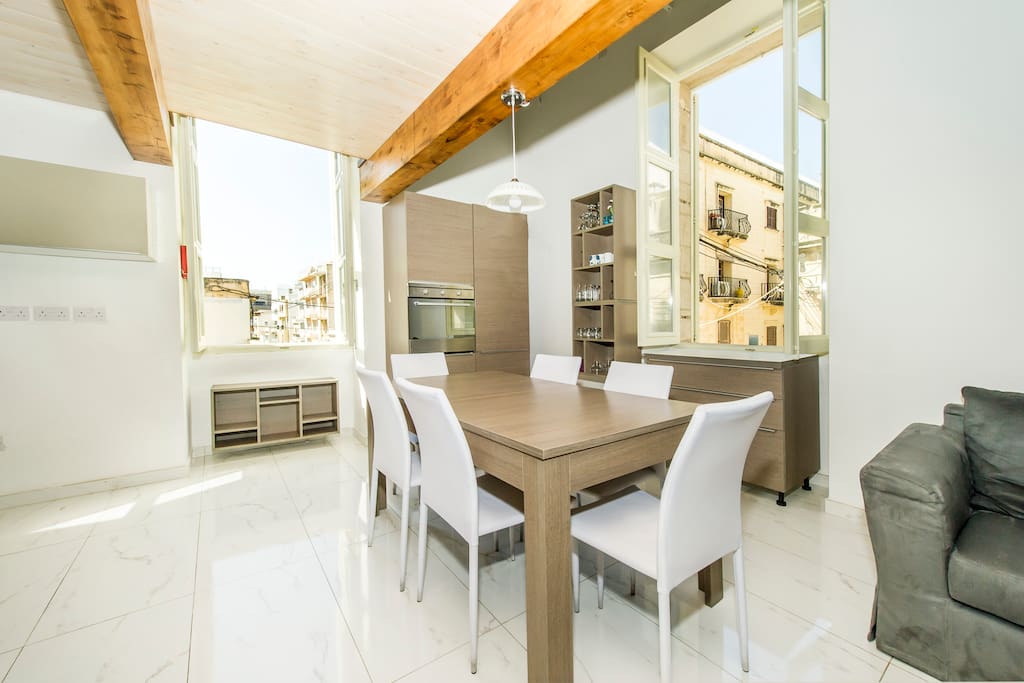 Sliema - Bright and spacious Private bedroom :)
Our property is located in one of the nicest area of Malta, the amazing city of Sliema! Perfectly located in between St Julians and Valletta. With everything you might need or want to do at only few steps away.
The transportation lines are all at less than 50 mt away from the building entrance.
This bedroom is full of natural light, very spacious and comfortable! :)
---
Bathrooms: 1 (Shared bathroom)
---
---
Extra people $25 NZD / night after the first guest
Always communicate through Airbnb
To protect your payment, never transfer money or communicate outside of the Airbnb website or app.
Learn more
---
- Environmental Contribution: The contribution is payable by all tourists who are 18 years or older on the day of arrival, this fee is not included on the payment for the accommodation.
It amounts to €0.50c per person for each night spent on the Maltese Islands.
The contribution is capped at a maximum of €5 for each continuous stay. -
We kindly ask all of our guests to follow those simple rules in order to maintain an atmosphere where everyone feels comfortable.
Arrivals
Late Check-in: after 20:00 must be managed case by case and foreseen at least 24h in advance.
Early Check-in: We cannot guarantee early Check-In requests.
Transportation
How to reach your accommodation?
By taxi, the easiest way
We book a driver for you at a controlled and regulated fee.
Pick-up point: the driver waits for you at the arrivals gate with your name.
Drop-off point: at your accommodation directly where we will welcome you.
By bus, the more adventurous way:
The bus station is located outside between the departures and the arrivals terminal.
We provide you the right bus lines to reach the property.
Although, a bit cheaper, the bus transportation is a bit adventurous. Maybe you will have to change lines a few times, or you may find yourself struggling with your luggage in crowded vehicles during rush hour.
As the journey time may vary, once you get at the accommodation, you should be able to contact us to ensure that we are around to welcome you.
Moreover, the operating hours are only between 05:30 am and 23:00.
For a proper arrangement of your arrival, we need, at least 24 hours in advance:
• your incoming flight number
• your expected time of arrival in Malta
• the transportation you chose.
Set of keys & safe box
One set of keys is handed to each Lessee containing:
• 1 main door key
• 1 main door residence entrance key
Visitors
You shall not allow more than 2 visitors to access into the accommodation.
Visitors must stay in the common area. You are responsible for ensuring that your visitors follow the house rules.
You shall not allow anybody else than you to spend a night in the accommodation.
If The Landlord receives any complaints from the other guests, he will give the Lessee a first warning. If there is no change, he reserves the right to end the contract immediately.
No Smoking
Smoking is not allowed inside the property, moreover there are some smoke detectors.
Smoking is only permitted outside the property or on the terrace.
For any breach of the rule, you are responsible to pay a fine of €200 which shall not be subject to abatement by any Court or Tribunal.
Pets
Even if we love them, the pets or other animals are not allowed inside the property.
Events/ Party
All guests must consider the well being of all the guests and the neighbors.
The guest binds himself not to disturb public peace during his occupation of the Property and not to disturb other guest of the Property and neighbours including but not limited to by the playing of any music instruments, hosting any parties…etc.
Quiet hours are to be observed each day from 22:00 to 08:00.
Cleaning
Make sure you keep the common area clean and tidy after each using:
• Leave the kitchen clean: do not leave dirty pots/pans/dishes in the sink, as other people may need to use them.
• Leave the bathroom clean after each use; be sure to remove the hair residue in the shower/bath.
• Keep the toilet seat clean.
Garbage
Garbage should be put outside maximum 1 hour prior to collection of rubbish in the locality.
Lost keys
The cost for replacement of lost room keys is applicable and a total amount of €100 for lost keys to be paid immediately.
Your Liabilities
You shall be responsible for any repairs made necessary due to your acts, omissions, default, accident or neglect.
Departures - Checkout time
Guests in preparation for departure should follow the following procedure:
• Check-out before 11:00
• Remove your food from the refrigerator and place it in the garbage.
• Leave the complete keys set in your room
Overstaying the Checkout time may result in additional charges.
Late Checkout: Regarding a late departure, please contact us, at least 24 hours in advance, directly regarding possibilities of later departure or leaving luggage.
Thank you for your attention - we wish you a comfortable and pleasant stay.
---
---
---
---
My stay at the Moorea Residence was fab :) Isaac and Cristina were very friendly and helpful. There are many rooms in the apartment but the place itself is very quiet and clean. Only thing I'd say is the noisy wooden floor upstairs but I see why it's noisy so I wouldn't worry too much. The position was just spot on!!! Very near to everything. Malta is amazing island, sooo relaxing and crazy too if you want to have some fun... Giovanna who lives there is such a nice lady, from my home country Napoli, we actually are friends :)) Literally I've had such a good time, very glad I choose Malta as my holidays destination and Ximena's place to stay in.
---
Hi guys! The "value for money" think is useless for this place! There are not one or two wonderful thinks. There are plenty of them! The location, the room, all the other places in the house, 3 min from transportation and all facilities, the cleanliness, and especially the host! She is very professional and responsible person!The house is of high aesthetics and fulfills any taste! Without doubt the best accommodation I've ever seen! Thanks a lot!!!
---
The flat is located very close to the port and bus stops to Valleta, and we didnt have any issue checking in, although our flight arrived pretty late at night. The room looked exactly like in the picture, and the bed was comfortable, but when we arrived there was a ball of dirt behind the door. What we really had a problem with was the number of people in the flat. There are like 12 rooms in the whole place. Although the place was totally big enough, it was inconvenient as one can imagine. For example, we had to move things around to have room for our grocery, as the fridge was already pretty full. It was also hard to take a nap in the afternoon with the noises. And I had to find more toilette paper in the storage cabinet myself because there was no extra stash in the WC. It's cool if you are seeking the hostel experience and wanting to meet other travelers, while having more comfort than a typical hostel. And I guess it's not gonna be a big issue if you are out and about most of the time. But that was simply not what we were looking for on this trip, we would have enjoyed more privacy and comfort.
---
The room is in a big guesthouse with 11 other rooms. you basically share two kitchen and two bathrooms with all the other inhabitants. The room itself was perfect. Great aircontidioning (which was really important due to this heatwave), a big and comfortable bed and a big wardrobe. It was all we needed, since we spent much time outside. The rest of the apartment is, like the room, very modern but due to such a big number of guests not the cleanest. I was told that there was going to be someone who cleans everyday but the bathroom for example was always dirty. The main problem I think was that there was no towel or anything you could use when getting out of the shower and so the floor was wet and people kept using the bathroom and the dirt of the shoes with the water made the floor quite dirty. The kitchen wasn't perfectly clean either. It must be because so many people were using it. The air-conditioning in the kitchen which is also the common room was broken so the whole house was super super hot. We were even eating inside our air-conditioned room because there wasn't much air to breathe anywhere else. The girl who welcomed us (not the host but someone who works for her) had no idea about the island. Since the host wrote us that they were well organized and could help us organizing our trip we thought they might have some interesting information regarding the island and what to do. But the girl couldn't answer any of our questions and couldn't recommend anything. For the advertisement the host had sent us per message (- All our properties have a tourism license - we have to keep good standards so.. no bad surprises! - We have many partnerships with serious english schools and tourism companies - just ask us for references. - We are well organised so we can assist you organising your trip.) she was behaving quite unprofessional. Of course if the host wouldn't have had promoted such high standards it wouldn't have been all that bad. Anyways. We had a good time in our little air-conditioned room and the rest we didn't take too seriously. If you plan to be out all day you will certainly enjoy having a quiet room to yourself at a reasonable price. The location is great.
---
Hi everyone :) I'm Ximena, I've been living in Malta for 5 years and in here I have found happiness by opening my mind to different styles, cultures, flavours, languages and simply ways of living life!
I'm crazy about chocolates, dogs, music and movies, I looove to travel and I try to do it as often as possible.
Response rate:
98%
Response time:
within a few hours
Explore other options in and around Tas-Sliema
More places to stay in Tas-Sliema: