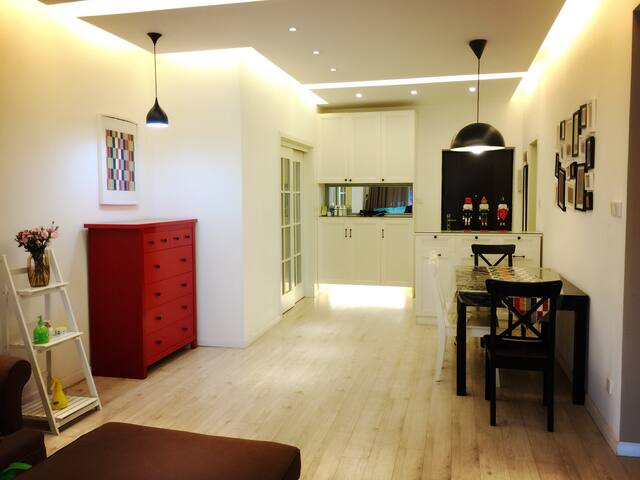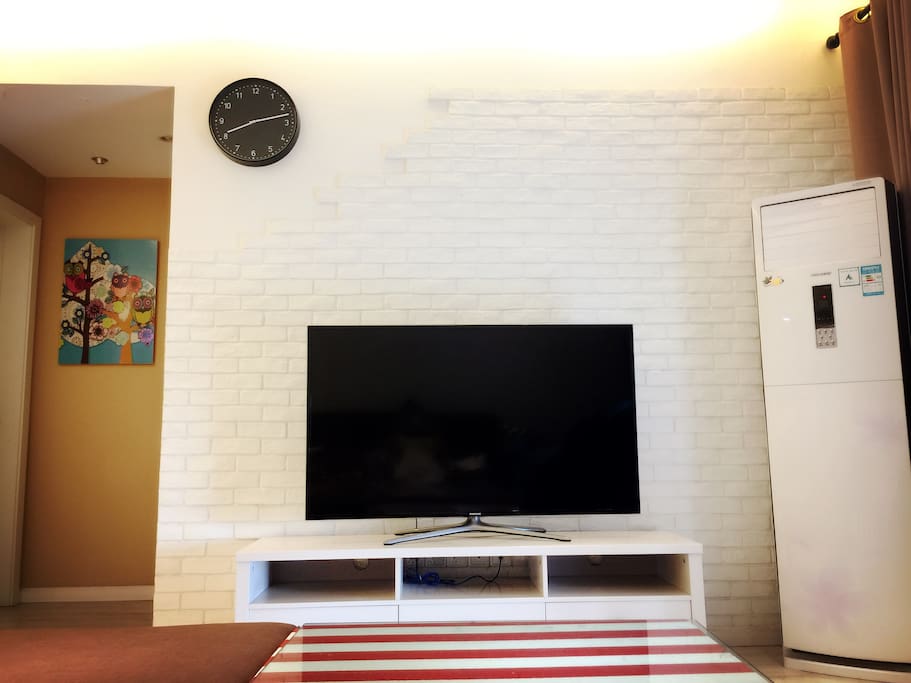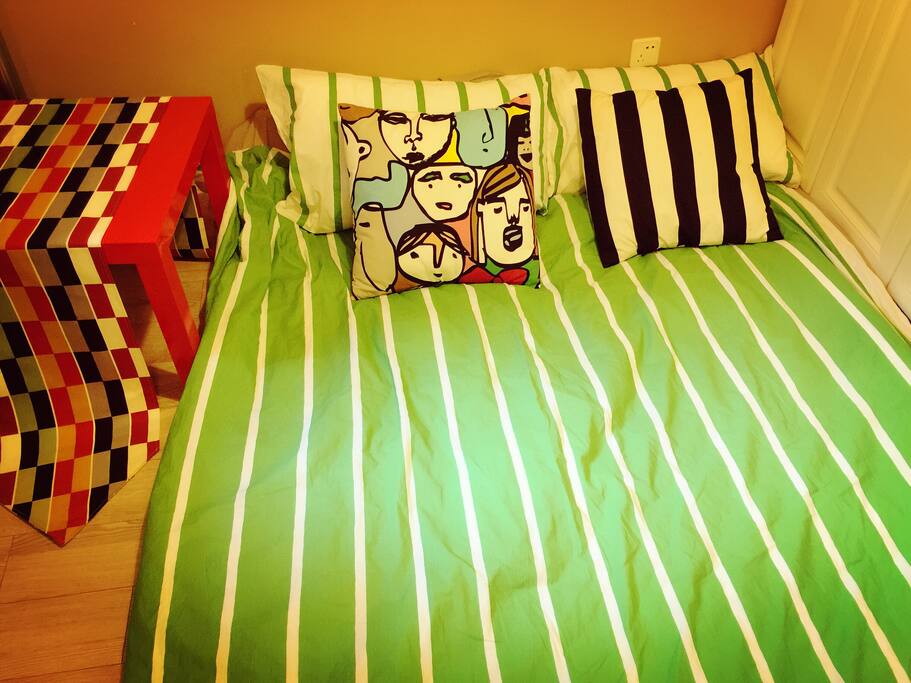 Welcome to the beautiful and charming coexistence of the mountain city of Chongqing, stay in the kitchen big bed and breakfast, but also our kitchen boss home. We have prepared for each room traffic card, you can according to the itinerary, to arrange their own recharge, for your convenience to provide protection. Booking advice to understand, welcome to add V: subway_CQ (Han Xiaoting) I am with our kitchen chef engaged in food for nearly seven years, and now operating a few authentic Chongqing Jianghu Restaurant, on weekdays, our biggest hobby is the development of new dishes, if you stay in my house, is likely to be invited by our boss Try it every day to make new vegetables. The Han Han is my boss with the adoption of purebred British Bulldog, almost two years old, Hanhan very hospitable, very warm friends, character is very well-behaved obedient, the only drawback is afraid of hot like eating popsicles, hey! Choose to do Airbnb landlord tend to several reasons: 1, I and the boss are very love of tourism, once as a backpacker, in the journey to get a lot of intimate help, we are also very happy to do everything in Chongqing to help you! 2, in recent years I and the boss are operating their own restaurants, travel time less and less, would like to take this opportunity to pay more and love to travel more friends! As a senior worker who has been engaged in tourism, we will be happy to provide you with guided tours if necessary.
欢迎您光临美丽和魅力并存的山城重庆,入住厨大大的民宿,也是我们厨老大的家。我们为每个房间都准备了交通卡,你可根据行程,自行安排充值,为你出行便捷提供保障。订房咨询了解,欢迎加V:subway_CQ(憨小婷)
我跟我们家厨老大从事餐饮近七年了,目前经营有几家正宗重庆江湖菜餐厅,,平日里我们最大的爱好就是研发新菜品,如果您入住我家,很可能会被我们家老大邀请着天天尝试他做滴新菜。。
憨憨是我跟老大一起领养的纯种英国斗牛犬,快两岁了,憨憨很好客,对朋友非常热情,性格非常乖巧听话,唯一的缺点就是怕热喜欢偷吃冰棍,嘿嘿!
选择做Airbnb房东趋于几个方面原因:
1、我和老大都非常热爱旅游,曾经作为一名背包客,在旅途中得到很多贴心的帮助,我们也十分乐意在重庆竭尽所能帮助到您!
2、近几年我和老大都各自经营着餐厅,旅游时间越来越少,想借此机会结实和交到更多热爱旅游的朋友!
作为曾经从事旅游的资深工作者,如有需要,我们也很乐意为您提供导游服务!
The space
My family is located in the recent large residential real estate from the nine street, the real estate with a bank, tennis courts, swimming pools, soccer fields and many other sports facilities, young people living, real estate also has two large supermarkets, The cell door is the bus station, living traffic is extremely convenient, the whole house has three bedrooms, living room and master bedroom are equipped with LCD TV. The living room has a sofa and bar, can lie to sit, if there are additional friends, we are also very welcome; home with WIFI available for you to share the fun of travel escort; living balcony with a washing machine and hangers, easy to live a few days Friends change clothes. Kitchen because we occasionally at home cooking, so kitchen utensils complete, Sichuan seasoning complete, is a natural gas stove, a stew pot, rice cookers, pressure cookers, as well as kimchi, very welcome friends like chefs to show their skills. We have prepared for each room traffic card, you can according to the itinerary, to arrange their own recharge, for your convenience to provide protection. [Pet] my dog is a purebred British Bulldog, named Hanhan, to our home has been almost two years. Han Han is a Meng Meng da's brother, he snooze, sticky, very human nature, character is very gentle, when you reach my door, he will be the first time to the door to receive you, do not be his enthusiasm Be intimidated There Hanhan will understand simple instructions, such as: sit down, jump, etc., super cute. 【Location】 This house is located in Yubei District, 88 prosperous Avenue, a small area door 7 minutes to reach the light rail station, from Chongqing night nine street 10 minutes away from the Guanyinqiao pedestrian street bus 2-3 station, the door directly to the bus Jiefangbei bus 5 station, to Chongqing's hottest glittering wharf, Beibin Road are also very convenient, surrounded by a lot of places suitable for travel and shopping in Chongqing [traffic] out of the district walk about 7 minutes is Chongqing light rail station, Chongqing light rail is about 10:30 closing at night, more than this time you can come to a taxi [attractions] we are close to the middle of several major attractions in Chongqing. Hong Yadong 15 minutes by car, delicious street 17 minutes by car, the other area of the attractions using the subway station is also very convenient. 【Shopping】 The location of the hut from the Jiefangbei and Guanyinqiao two Chongqing shopping district are very close, Jiefangbei pedestrian street is the oldest commercial circle in Chongqing, you can go to Wangfujing Department Store, Time Department Store and other shopping mall shopping, Guanyinqiao is Chongqing Local people's most popular shopping district, consumer ground gas, shopping malls, Longhu North City Street, Starlight 68 Square, Dacheng City and many other shopping malls
房源介绍
我家位于离九街最近的大型住宅楼盘内,本楼盘内设有银行、网球场、游泳池、足球场等多项运动设施,年轻人居住多,楼盘同时还配有两个大型超市,本小区门口即是公交车站,生活交通极其便捷,整套房子有三间卧室,客厅和主卧都配有液晶电视。客厅有沙发和吧台,可躺可坐,如果有额外的朋友,我们也十分欢迎;家里有WIFI可供使用,为你分享旅途趣事保驾护航;生活阳台配有洗衣机和衣架,方便住几天的朋友换洗衣服。厨房因为我们偶尔也会在家做饭,所以厨具餐具齐全,川菜佐料齐全,是天然气灶,有炖锅、电饭煲、高压锅,还有泡菜,十分欢迎喜欢下厨的朋友来大展身手。我们为每个房间都准备了交通卡,你可根据行程,自行安排充值,为你出行便捷提供保障。
【宠物】我家的狗狗是一只纯血统英国斗牛犬,名叫憨憨,来我们家已经快两年了。憨憨是一个萌萌哒的弟弟,他贪睡,粘人,很通人性,性格十分温顺,当你到达我家的门口的时候,他会第一时间到门口来接待你,不要被他的热情所吓倒哦。还有憨憨会听懂简单的指令,例如:坐下、跳跃等,超级可爱。
【位置】这所房子位于渝北区兴盛大道88号,出小区门7分钟即到达轻轨站,距离重庆不夜九街10分钟路程,距离观音桥步行街公交2-3站,门口公交直达,去解放碑公交5个站,去重庆最热的鎏嘉码头,北滨路也都十分便捷,周围有非常多的地方适合在重庆旅游和购物
【交通】出小区步行7分钟左右是重庆轻轨站,重庆轻轨是晚上约10点30分关门,超过这个时间您可打车前来
【景点】我们靠近重庆几大景点中间位置。洪崖洞15分钟车程,好吃街17分钟车程,其他区的景点使用地铁站也很便捷。
【购物】小屋所在的位置离解放碑和观音桥两大重庆商圈都很近,解放碑步行街是重庆最老牌的商业圈,可以去王府井百货,时代百货等购物商城购物,观音桥是重庆当地人人气最旺的商圈,消费接地气,商场众多,龙湖北城天街,星光68广场,大融城等众多商场
Guest access
This house is our own live, the room which has an independent LCD TV, there are independent wifi, 1, the room inside the kettle in the kitchen, to drink hot water can boil water; 2, the cup in the kitchen inside; 3, coffee table above the TV remote control, the above fruit and snacks are free to eat; 4, the kitchen inside the surface, there are dumplings dumplings inside the refrigerator, breakfast can do it; 5, the kitchen seasoning is complete, welcome to cook at home, home also have rice, oil, salt, spices, etc., you just buy your favorite ingredients can be; 6, the living room outside the kitchen there are washing machines, long stay guests or friends who need to wash clothes, can use their own, hangers in the top of the washing machine; 7, the room wifi posted on the wall tips; 8, each room has a message book, welcome to share the interesting journey, a positive message, give us more advice and advice; 9, for everyone more convenient, the family is also prepared a small bottle of mineral water, free to everyone; In short: Han Han's owner is very enthusiastic, even if not live to Hanhan home, to Chongqing to play, you can consult me, I also provide you with the same service, and actively help you solve the problem, welcome friends stay Hanhan Family.
这间房子是我们自己在住的,房间里面有独立的液晶电视,也有独立的wifi,
1、房间的热水壶在厨房里面,要喝热水的可以自行烧水;
2、水杯在厨房里面;
3、茶几上面有电视遥控器,上面的水果还有零食都是可以免费食用的;
4、厨房里面有面,冰箱里面有汤圆水饺,早餐可以自行做;
5、厨房佐料齐全,欢迎在家里做饭,家里也有米、油、盐、调料等,你只需买上你喜欢的食材即可;
6、厨房外的生活阳台有洗衣机,长住的客人或者有需要洗衣服的朋友,都可自行使用,衣架在洗衣机上方;
7、房间的wifi在墙上有张贴提示;
8、每个房间都有一个留言薄,欢迎大家分享旅途趣事,积极的留言,给我们提供更多的建议和意见;
9、为了大家更加方便,家里现也准备了小瓶矿泉水,免费提供给大家;
总之:憨憨的主人很热心的,哪怕没有住到憨憨家,来重庆游玩,都可以咨询我,我也为你们提供一样的服务,积极帮你们解决处理问题,欢迎各位朋友入住憨憨的家。
Interaction with guests
Before you stay, what needs you can contact us in time, stay we will do our best to help you.
入住前,有什么需要你都可以及时跟我们联系,入住中我们一定会尽我们所能,为你提供帮助。
---
Bathrooms: 1 (Shared bathroom)
---
---
Always communicate through Airbnb
To protect your payment, never transfer money or communicate outside of the Airbnb website or app.
Learn more
---
Check in time is flexible
---
Strict
Cancel up to 7 days before your trip and get a 50% refund. Cancel within 7 days of your trip and the reservation is non-refundable.
---
---
房东 憨憨
中国
欢迎您光临美丽和魅力并存的山城重庆,入住憨憨的民宿,入住憨憨的家。我们为每个房间都准备了交通卡,你可根据行程,自行安排充值,为你出行便捷提供保障。订房咨询了解,欢迎加V:subway_CQ(刘婷)
我们家目前也在接持有学生证的免费沙发客(每天限一位)需提前申请,免费享受我们的浴室、小饼干零食、瓶装矿泉水,如果遇预定后房间续住情况,只能给你们在客厅打地铺,地铺和沙发是免费的,我们就是希望能够跟大家分享,也能够给大家带来更多的便利。
憨憨是我跟我老公恋爱时一起领养的纯种英国斗牛犬,在我们家已经不知不觉快两年了,憨憨很好客,对朋友非常热情,性格非常乖巧听话,善解人意,唯一的缺点就是怕热喜欢偷吃冰棍,嘿嘿。
如果选择预定我家,介意或者害怕宠物狗的朋友,也不用太担心,憨憨的民宿是跃层结构,卧室在楼上,憨憨非常爱干净,平时一般不会上楼,如果入住我家,也请帮我们一起照顾和关爱他,不胜感激!
选择把自己的小窝做民宿是趋于几个方面的原因:
1、 我和我老公都各自经营着餐厅,这几年时间都奉献给了工作,(ˇˍˇ) 想~换种方式生活,~借此结实和交到更多朋友。
2、 我们都非常喜欢旅游,曾经作为一名背包客,在旅途中得到很多贴心的帮助,我们也十分乐意在重庆竭尽所能帮助到您。
3、 如果您是穷游,我也可以提供舒适的床和早晨,甚至一起跟我们在家做晚餐,也愿意倾听您旅途的趣事。
4、 作为曾经从事旅游的资深工作者,如果有需要,我们很乐意为你提供导游服务。
5、 如果您也是房东,我们十分的希望我们可以资源互换,等我们来到您的城市,您也可以热情接待我们。
每一段旅程都会有美好的回忆,我希望来重庆旅游的朋友都能留下属于你的那份独家记忆。希望从你的记忆中路过,成为一生的朋友。

Languages:
English, 中文
Response rate:
97%
Response time:
within an hour
Exact location information is provided after a booking is confirmed.
Explore other options in and around Yubei Qu
More places to stay in Yubei Qu: