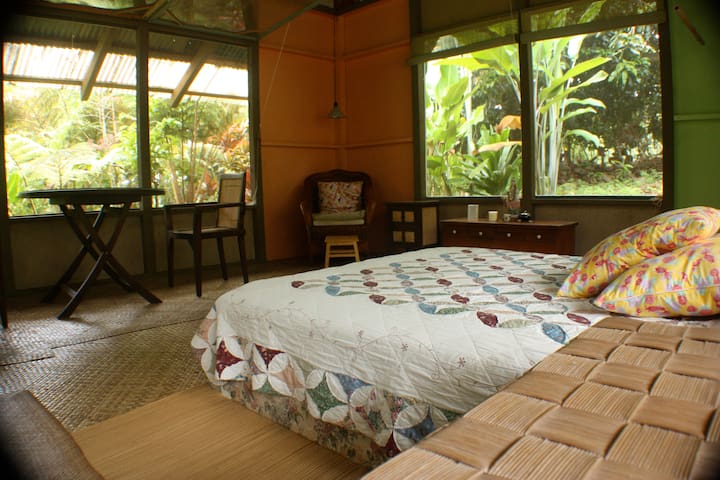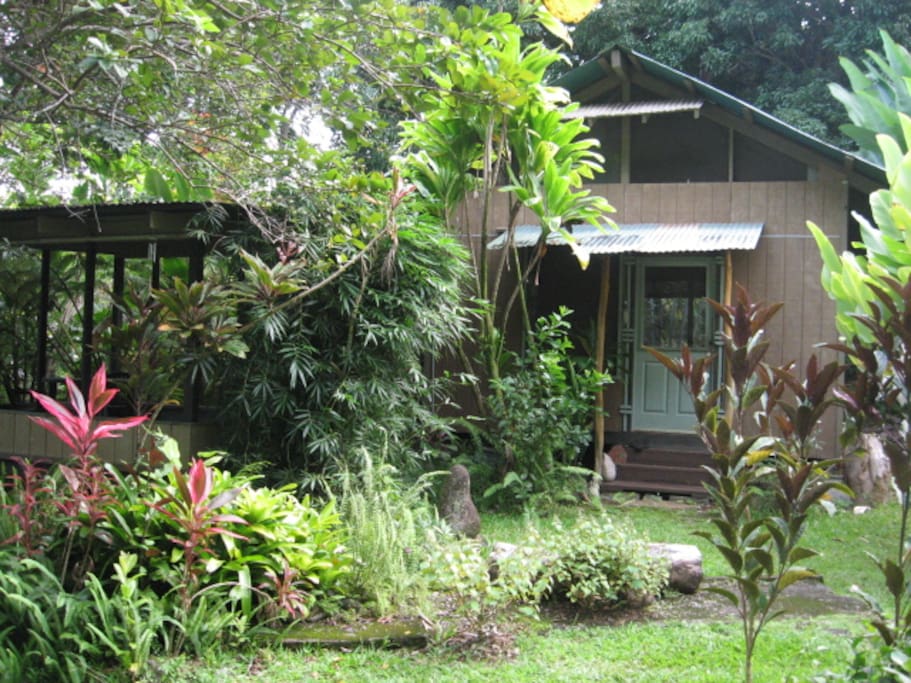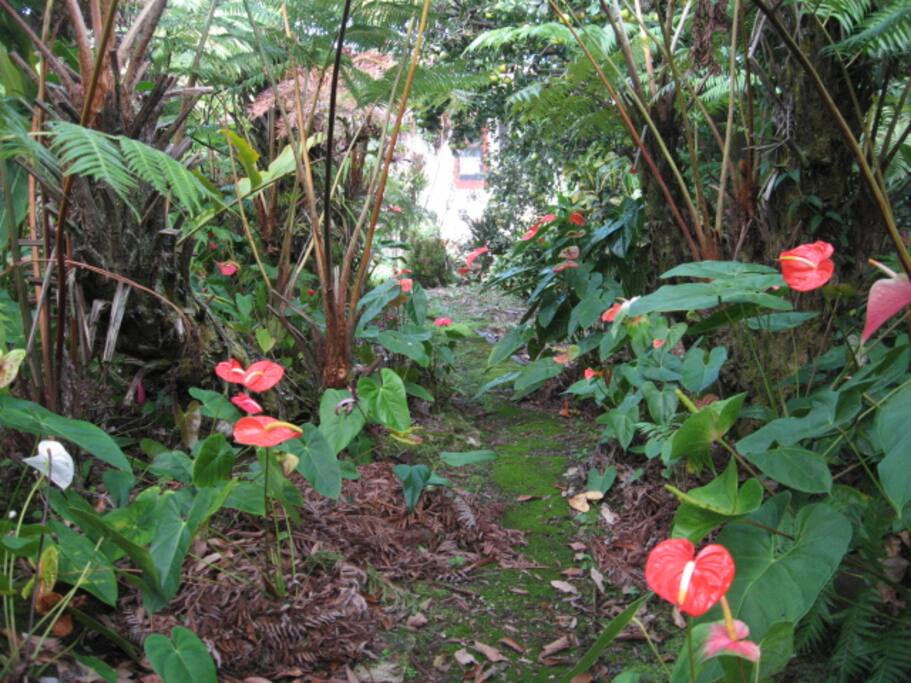 Mango Tree Cottage, hidden hideaway
Living in the Mango Tree Cottage is the closest you can be to the great lush outdoors and still be indoors. The cottage is eco-friendly, fueled by one solar panel. Guests listen to the winds, the rains bouncing on the tin roof, nature -wonderful!
The space
Zen Simplicity and the Warmth of Old Hawaii (Hakalau, 15 miles north of Hilo). . The Mango Tree cottage (which sleeps one or two) is a 16 x 20 space, fully open to the outdoors, enclosed by screen. Living in the Mango Tree Cottage is the closest you can be to the great lush outdoors and still be indoors. The cottage is eco-friendly, fueled by one solar panel. Guests listen to the winds, the rains bouncing on the tin roof, the cascading leaves, the crickets, the falling "torpedo" avocados and ripe mangoes, when in season. There is one comfortable reading chair, a nice teak table with two chairs and a cozy queen size bed. There is an attached shower and toilet facility and a kitchenette with a gas stove, mini fridge, pots, tea kettle and dishes.Hearty breakfasts included every morning with great conversations and sharing!
The Mango Tree Cottage is a place to restore ourselves. It is a precious place, hidden along a winding country road, where the morning light awakens us all to live and breathe deeply. Discounts for longer stays.
Also check out Akiko's profile to the right for other accommodations.
Guest access
Guests have access to Wifi. We live in a "retreat zone" so guests wander down a quaint country road to Hakalau Veterans Park for cell phone reception. Zazen, sitting meditation is practiced 5 times a week and guests are invited to join.
Interaction with guests
Akiko lives on the grounds and interacts with all her guests; guests are invited to breakfast, a wonderful time to share and learn of each others' journeys.
Other things to note
Our facilities offer the best of "old Hawaii," - the natural simplicity and quiet charm. We are steeped in all that is natural - the windchimes sing, the winds blow through the multitude of trees and plants and shrubs, the light changes - a little rain, a little wind, sometimes a lot, and we live in deep peace and gratitude.
---
---
Always communicate through Airbnb
To protect your payment, never transfer money or communicate outside of the Airbnb website or app.
Learn More
---
Welcome,
My name is Akiko Masuda, and you will be staying at one of the many facilities at Akiko's Buddhist Bed & Breakfast. I am a 3rd generation Japanese woman born in Hawaii in the 40's in Honolulu on O'ahu, and living here in Wailea for 22 years. You have already visited our website and gotten a "sense" of where you will be staying.
In Hawaii we have the word "ohana" which means family, and even if we are not related by birth or marriage, in Hawaii, we are all family. We begin as one "ohana" (family) in this communication.
Zazen or sitting meditation is a way of life here. We sit Wed.Fri. mornings at 5:20 - 6:20 a.m. and MWF evenings 6:40-8:20 p.m. This is optional for all guests.
Please let Akiko know if you want instruction.
In the mornings guests can walk to the ocean, and In the past, some retreat groups have walked in silence, the 2 mile RT walk to the ocean after meditation, or 7 a.m. before breakfast. Breakfast is 8:00 a.m
A good and hearty breakfast will be served every morning at 8 a.m., a good time to gather and begin each day together. Guests are responsible for their own lunch and supper. One set of sheets & a bath towel is provided. Towels will be changed midway in the retreat.
Change is constant, whether additional guests or weather or wind or scenery. Change is. On that note, however, we live in a little plantation village which has seen very little change, a fleeting flashback in time. I have been living here 21 years, and since that time many of our revered elders have "crossed over." There is just one remaining elder who will be 100 years old next year. Waichi Ouye has lived here and will pass on from here when it is time.
Here are some requests and guidelines :
1) Please confirm that your interisland travel as well as your car rental are secured, that is if you are renting a car.
2 )Akiko's is essentially a place of retreat, a sanctuary, a place of refuge. Guests come here to settle within, to restore. Please be respectful of the spirit of this modest and unassuming place.
.3) Our phone number is ONLY for EMERGENCY purposes. ((PHONE NUMBER HIDDEN). We are located in a "retreat dip" so cell phone connection is possible after only a casual walk down to the Hakalau Park. You will find your own "hot spot."
3) It is wise to bring "flip-flops" or easy to slip-on shoes. No footwear in houses, unless these are only for indoor wear. Please wear slippers or footwear outside out of compassion for the cleaning ladies – Akiko & another person.
4)Laundry at the Laundry Express near Farmers' Market or Tykes in Hilo. There is a clothesline outside Pu'uhonua House & Hale Aloha. Guests do simple hand washing.
5)Regarding what to bring - LESS is ENUF!
Less is enough.
Many guests end up shipping clothes home. And if you run out of clothes, there is always "Sallys" our Salvation Army. Inexpensive Hawaiian wear available.
6)Akiko's is a smoke-free & alcohol free B&B. So smokers please walk way-way-way down the street and alcohol can be consumed at many beautiful places in nature. Please explore.
7)There is wi-fi here with a guest password. We request that you use sparingly and with mindful discipline. You can stay home and play on the internet. You are HERE in our precious and blessed Hawaii. Live & experience the beauty and power!
Our prayer is that your experience on our Hamakua side will deepen your connection to the ground we live and walk on, and awaken your vision to the diverse beauty of our plants, creatures, and our people.
Welcome to Wailea,
Welcome…………..
to our beloved and precious place we call home
a source of natural beauty,
unfathomable power
and aloha.
Be in fine health and great calm,
with gratitude and warm aloha,
akiko

---
---
We stayed at the Mango cottage and couldn't have been happier. So private and tropical we were serenaded to sleep by the sounds of nature. Akiko was a wealth of information and very generous. I usually have trouble relaxing on vacations, but the atmosphere was so tranquil you can't help yourself but give in. I truly had a great time and feel like a better person for it. Thank you Akiko!
---
This is the most magical cottage set in the jungle of Hawaii. I stayed here for 5 weeks, and it was one of the best decisions I have ever made! The cottage itself is dreamy... Fresh, warm air, the sounds of crickets and coqui frogs, surrounding jungle canopy, flowers, banana trees, avocado trees, mango trees... A minutes walk from numerous lush waterfalls and ocean views. With high ceilings and large windows, it felt like paradise. I woke up every morning so grateful and blessed to be there, and often to the scent of freshly cut jasmine flowers Akiko had left. Only a couple feet away is the cutest bathroom and kitchen, with hot showers and a working stove. Just as delightful was Akiko, with her scrumptious breakfasts and wonderful stories, I always enjoyed spending time with her. And boy does she make the best ginger tea ever! She was always so sweet and welcoming, helpful and wise. And her children's books are absolutely adorable! The guests that come through here are always interesting and kind as well. Couple notes: it's about 20 min drive to Hilo, but well worth it. Akiko holds meditation every morning open to all, including first-timers. This sleepy town has a farmers market on Tues 3-530 with delectable Thai food and fruits as local as it gets. Bring big screen!! Being that you're in the jungle, there are mosquitos. And of course, don't forget to rest! I left feeling more myself than when I came, cleansed and rejuvenated. Thank you Akiko for sharing your beautiful home!
---
Aloha! This is the first solo trip I've ever made, so I decided to be adventurous and try Akiko's cottage. Akiko was such a beautiful hostess. I really looked forward to her yummy breakfast and the history of Hawaii every morning. The ginger tea was delicious! I learned so much wisdom from her. The cottage is very charming and certainly has a vintage feel to it. Although it was pitch black at night, I felt safe and at ease - and that's coming from a girl who doesn't like to sleep in total darkness. There is something truly magical about this place and I finally figured it out... But I will let you decide when you visit! Mahalo nui for everything Akiko and hope to see you again in the near future!
Mahalo Zephorah for sharing your gracious and delightful response. Your inner and outer beauty glowed warmly when you left. Prayers that when it is time to return to Hawaii, that your love and aloha for all that is and all that Ke Akua, our Great Almighty, has blessed you with will bloom and transform you and all that have the opportunity to share with you. in gratitude and aloha, akiko
---
Dear Akiko! Thank you again for this very great stay that we had in your B&B. We enjoyed the spirit of being in the middle of the nature so much. It was so much relaxing for us as we really stepped out of daily life. That is what we were looking for! And the mornings were so special for us: great tasty breakfast prepared by Akiko and the unforgettable talks about Hawaii, the world, traditions and much more! Also thanks to Bill, it was great to meet you too! We will keep this special place in our hearts as this is pure and authentic Hawaii for us with all its beauty and magic. Thanks again Akiko!
---
Aloha travellers around the world! Akiko's place is a tropical paradise (lovely buddhist temple with amazing garden). When we arrived at the place (Akiko even stayed up for us as we arrived late in the evening), Akiko welcomed us very friendly and with an open heart. The place looks in nature even nicer than on the pictures. It is a wonderful cottage in the middle of the jungle. The room is very spacious so you have plenty of room for two people. It is very clean and well organized with tables, room for your bags and a comfortable bed. Clean towels and blankets are provided for you too. The cottage is designed with much aloha and love - a sacred buddhist place indeed. Interesting books to read about life, zen and love are provided for you. The close by bathroom (it's in Akiko's lovely junge garden) is clean and has all you need. The breakfast was amazing, we received lots of fresh local tropical fruits, tasty coffee and jummy goodies (i.e. home baked banana bread, porridge). During the night you can enjoy the sounds of a jungle, i.e. the singing of frogs, rain, birds...). As it is a tropical place there will be some mosquitos around. But do not worry, Akiko is very helpful and will provide you with her kind assistance (i.e. "owie" locally mosquite after bite, japan healing or a massage). On top of that you can do meditation in the morning with Akiko. We strongly recommend to take this great opportunity. You will learn a lot about yourself and zen buddhism. As you are surrounded by nature you can go for an uphill jungle or beach jog. Akiko is very experienced so she can give you great tips for discovering the island- just ask :-). We even had the great chance to travel around with local people, visit sacred places and had lovely dinners with like minded travelers. We feel very blessed for this wonderful experience we had at Akiko's place.
---
ALOHA & WELCOME,

Thank you very much for viewing our various accommodations. Our accommodations are located along the lush and tropical Hamakua Coast, 15 miles north of Hilo.
I am Akiko Masuda, a 3rd generation Japanese woman, born in Honolulu in the 40's, long before freeways, shopping malls, email, Blackberrys, and cell phones. I have been a writer of children's books, student of tai chi, hula, and zen meditation, I am a storyteller, hostess, housekeeper, and love caring for our gardens and fruit trees with our weedwhacker and leaf blower. I am the president of the WAILEA VILLAGE HISTORIC PRESERVATION COMMUNITY. I have been living in Wailea Village since' 91, and at that time, was the first person to buy in this quiet, peaceful country village in 35 years. Please come and discover the peace and kindness here.
Response rate:
100%
Response time:
within a few hours
Explore other options in and around Hakalau
More places to stay in Hakalau: