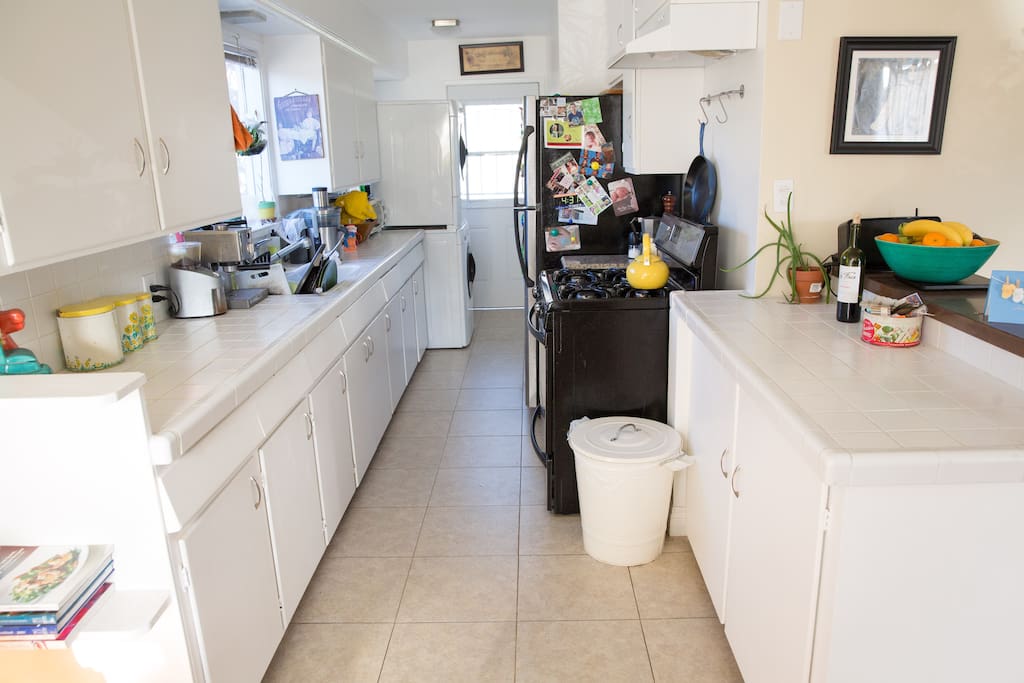 We love our home. It's right around the corner from Abbot Kinney and just 2 miles from Venice Beach. Enjoy a BBQ and al fresco dinning in our backyard. The 2nd bdrm is a nursery with crib, toddler bed, rocking chair and toys galor.
Always communicate through Airbnb
To protect your payment, never transfer money or communicate outside of the Airbnb website or app.
The place is fantastic. Clean, comfortable, and well located. It is also perfect if you have a young child. Sophia went out her way to welcome us and communicated the things that we needed to do to upkeep the house and animals very clearly and efficiently. Overall a very positive experience! Thank you Sophia!
---
The house is nice and quaint and had everything that we needed for our 6 day visit. The front and back yards were great spaces, especially for my toddler to run around. It was also great having the nursery with a toddler bed. We arrived at 9 pm, so it was dark and a little difficult getting in, but that worked out fine. The location is great and in walking distance to coffee, In-N-Out, a natural foods grocery, and a lot of restaurants. Sophia is very nice and tried her best to be accommodating from afar, though she was travelling and was only able to communicate via email, sometimes with a delay. Overall we rate the experience as good. There were two main drawbacks to the rental. Though we had booked four months before our trip, it was not until a week before our arrival that at my request Sophia sent me House Instructions which included a number of chores that we were expected to do during our stay, like water plants, water the lawn, feed the fish and sort the mail. AirBNB confirmed to me that we were under no obligation to do manual labor during our stay, but we agreed to do an abridged version of the tasks. Sophia was understanding to my concern that I would have liked to have known about these tasks during booking, but this whole experience added a level of stress we would not have preferred. The second issue is that the AC doesn't work, which we learned the hard way. Our first full day there we came back in the afternoon for my daughter's nap and it was 84 degrees in the house. After turning on the central AC the temperature went up to 89 degrees. At that point we just had to leave and we drove my daughter around so she could sleep. It took a while for Sophia to respond by email, and all she could offer was for a neighbor to bring in a loud, industrial fan, which really wasn't a viable solution for us. My husband ended up having to go buy fans from Target that evening so we could all sleep as the open windows did not provide any relief. After a rough start, everything ended up fine, and overall we enjoyed our stay, but would have preferred to not have had to deal with these issues.
Andrea was our first Airbnb guest so we still had our Airbnb training wheels on. Her feedback and honesty have been extremely helpful in improving the experience for our current and future guests. I agree with Andrea that the responsibilities regarding the house, animals and plants should have been listed before booking so she could have made a more informed decision if our house was the right fit for her family. While I was in Europe and Indonesia during her stay, I did make correspondence a priority and made sure to respond to her emails as soon as I received them. I knew the time difference would create a delay so I did provide a local contact (my neighbor) who was completely available to help in anyway. In regards to the AC; it was NOT broken, we simply don't have AC…a point that is clearly indicated on my Airbnb page. In fact it has been deliberately deselected. We have central heat that has a "cool" setting but it's not to be confused with AC. Living by the ocean we generally have cooler weather. It was unfortunate that the weather was so hot during Andrea's stay and I did everything in my power to make them as comfortable as possible, happily agreeing to reimburse Andrea for the fans she purchased. Overall I was happy with the level of communication and pleased to know that Andrea and her family were able to enjoy all of the kid friendly aspects of our home.
---
I am originally from Australia but have been living in the States for the past 15 years. I am a new mum to a baby girl Francesca (Frankie for short) so am enjoying a break from the being an event coordinator. My husband is a producer with a focus on children's entertainment. We live in Venice California so love the beach and the lifestyle it provides.
Explore other options in and around Los Angeles
More places to stay in Los Angeles: