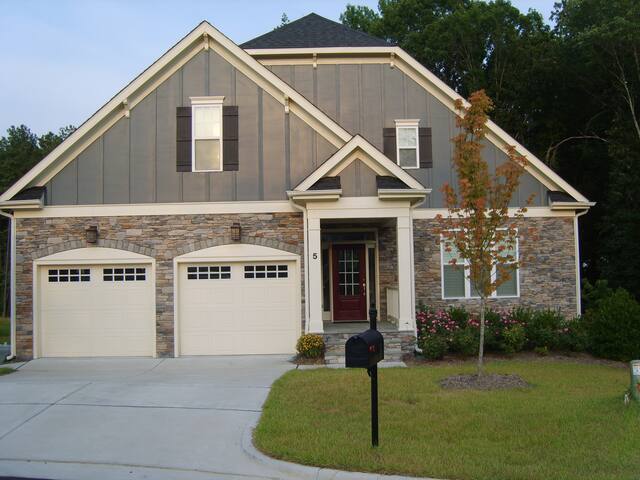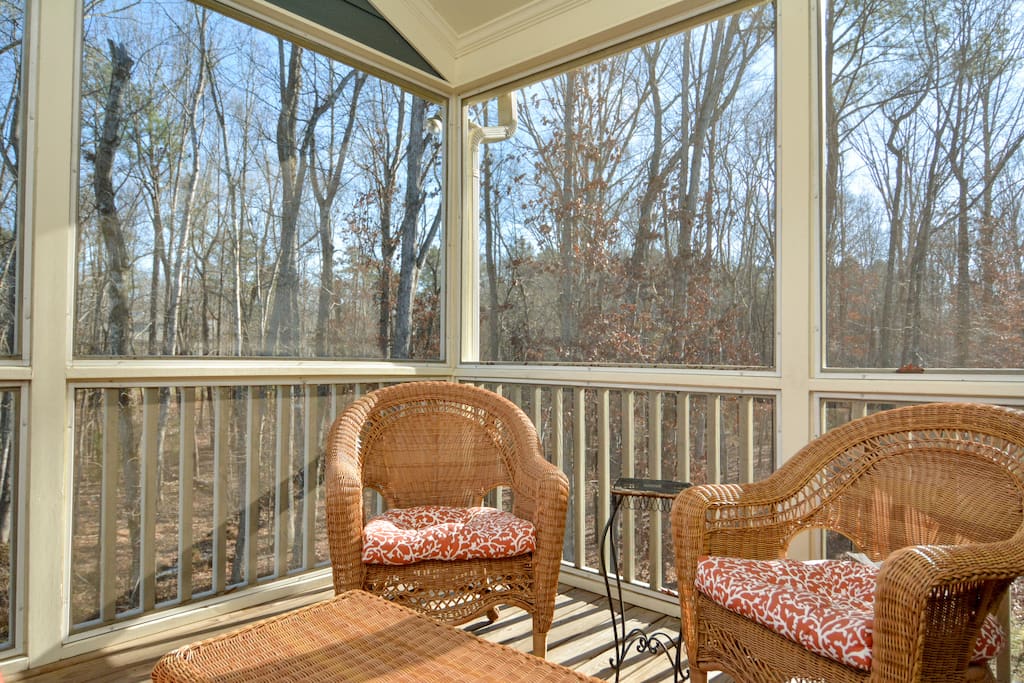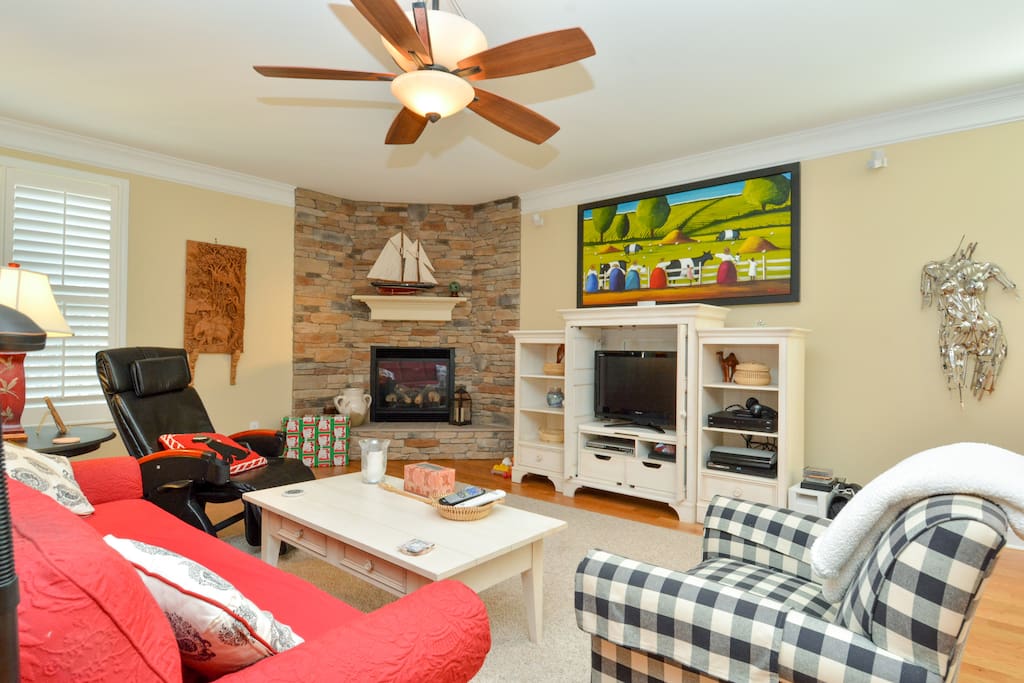 Beautiful Home - Chapel Hill/Durham
This immaculately-maintained 4 bedroom home, each with an individual full bathroom, is a great alternative instead of 4 tiny cramped motel rooms. Everything you need for a comfortable stay is here! Can easily accomodate 4 couples.
The space
This beautifully maintained 4-bedroom home in upscale neighborhood is large enough (3800 square feet) to comfortably accomodate up to 4 couples. Each bedroom has its own full bathroom. Two bedrooms are on the main floor, the other two are upstairs. Each floor has its own large entertainment room. You're only a short drive away from UNC or Duke. No inside smoking and no pets. Please obtain advance approval before making a reservation if you want to bring any children under 16. Everything in this house is almost brand new and in first-class condition.
Why stay in a cramped motel room? This luxurious home will make any visit to Chapel Hill or Durham an enjoyable experience. Instead of being stuck in a cramped motel room near a busy highway, why not stay in a beautifully well-appointed home in a quiet residential neighborhood? We also have a screened in porch and an outside gas grill.
Close to Blue Ridge Mountains and Carolina beaches: We are about a 3 hour drive from either the Blue Ridge Mountains or the fantastic North Carolina beaches. We are also 25 miles from our capital city of Raleigh, with lots to see and do. History buffs will also enjoy visiting Hillsborough - a 15 minute drive away. Civil War sites and the Duke Homestead are easily accessible in nearby Durham.
Interaction with guests
I am available by phone or email.
Other things to note
THIS IS A VACATION RENTAL AGREEMENT UNDER THE NORTH CAROLINA VACATION RENTAL ACT. THE RIGHTS AND OBLIGATIONS OF THE PARTIES TO THIS AGREEMENT ARE DEFINED BY LAW AND INCLUDE UNIQUE PROVISIONS PERMITTING THE DISBURSEMENT OF RENT PRIOR TO TENANCY AND EXPEDITED EVICTION OF TENANTS. YOUR PAYMENT OF MONEY OR TAKING POSSESSION OF THE PROPERTY AFTER RECEIPT OF THE AGREEMENT, IS EVIDENCE OF YOUR ACCEPTANCE OF THE AGREEMENT AND YOUR INTENT TO USE THIS PROPERTY FOR A VACATION RENTAL.
---
This listing has essential business travel amenities.
---
---
Check in time is 3PM - 2AM (next day)
Self check-in with lockbox
a)_______ Neither smoking nor pets allowed in the house.
b)_______ House is to be kept locked at all times.
c)_______ All keys and garage door openers to returned upon departure.
d)_______ No more than two cars in the driveway and two in the garage. Any visitors must park along Kinsale Drive (1 minute walk away). Do not park in front or near any mailboxes.
e)________ Advance written permission must be given if you wish to have more than 4 guests in the house at any one time. Guest is defined as a visitor who is not staying overnight.
f)________ Ensure that no music or noise in the house can be heard from the outside. Step outside to make sure if you are in doubt.
g)________ If visitors leave late at night, they must leave quietly and drive away slowly. Our neighborhood expects absolute peace and quiet. No talking or yelling outside at any time. If you cannot control the behavior of your visitors, then please do not invite them over!
h)________ If you use the grill out back, reasonable conversational noise is fine during early evening hours. After 8 pm, everyone should move inside. Sound carries across the pond more than you may realize.
i)________ No outside congregating or activities should occur in front or on the side of the house at any time. You may use the grill patio in back, or the first floor rear screened-in porch.
j)________ 5 mph speed limit in our cul-de-sac. There are young children that sometimes play in the street.
k)________ We agree to ensure that all of our visitors will comply with these requirements, and will pay any and all fines levied by the Home Owners Association for any violation of these requirements.
l)________ We understand that Lessors are not responsible for our personal belongings or vehicles.
m)________ No use of cell phones in the yard. If cell phone coverage problems exist, we may use the outside deck or else make and receive calls using the house phone, which is (PHONE NUMBER HIDDEN). (No charge for calls to the 48 states.)
n)________ Charges to return items left behind: cost of postage + $10 handling charge
o)________ Used towels, washcloths, etc. should be left on the floor. Please do not leave wet items in a bundle, but spread them out so that they can air dry and don't mold.
p)________ If you use kitchen items, please put back where you found them. If you are not sure, please leave them out rather than putting back in the wrong place.
q)________ We agree to check the GFCI circuit breaker in the garage twice daily (instructions are posted next to it)
r)________ Please follow departure instructions that are left in the house.
---
What a house! Cathy and I had a terrific stay at Eric and Susan's huge, warm and welcoming home. Eric and Susan could not be more kind and generous hosts. Our family of eight enjoyed our time together in the spacious great room and still had so much privacy when desired. The kitchen is beautiful and clean, not to mention well stocked with all necessary supplies. But the real treat is an elevated and enclosed back patio that overlooks the lush trees and landscape of the surrounding neighborhood. The community itself is something quite special. Attractive and safe, friendly and picturesque. Families, children and the occasional roaming deer. The home is beautiful inside and out. The main floor has rich hardwood floors and is decorated with taste and class. Two bedrooms, a master and a smaller guest room (each with their own full bath) are at easy access off the main living quarters. Also on this floor, access to the huge two car garage and aforementioned back patio. The master quite and bath is elegant and well-appointed with a terrific bed, shower, double sink and private toilet. Off the main entry, the carpeted upstairs level is equally impressive. A central sitting room with TV greets visitors. To either side, two large bedrooms also with their own full baths complete the living quarters. One room was large enough to comfortably contain my daughter and her husband, their three year old daughter and baby girl. It had a queen bed, I believe, room enough for a second bed for the youngster and plenty of space to move about and not feel in any way cramped. What a treat to wake up in the morning and have a hot cup of coffee in the cool morning air, sitting on the back porch and watching the deer sneak out of the forest and dart in and out of the surrounding houses. At night, the same porch was perfect for a relaxing glass of wine without the worry of being eaten alive by blood-thirsty mosquitos. It's a very quiet community, but the neighbors we encountered were friendly and pleasant. Eric and Susan are not kidding when they say that caution must be used in driving into the cul-de-sac: children of all ages were constantly at play in the street, dogs roamed freely and the odd abandoned child's bike needed to be avoided. It was a fun, lively neighborhood vibe like something out of an old movie. But it did require one's attention while entering and exiting the community. The location was very central for our needs and we had family business to attend to in Durham and Chapel Hill. We can't say enough about the hospitality and ease of our stay, made even more simple by Eric and Susan's clear and organized directions.
---
Our host was very accommodating from the time of inquiry to check out. We had an unexpected situation arise and had to depart early and he gave his best efforts to accommodate our situation. Upon arrival, the house was in pristine condition. Thorough instructions were left regarding the house, its amenities, and check out instructions. The house was very spacious and very comfortable for 4 guests and a baby. The neighborhood was quiet and peaceful, and the neighbors were also very friendly. Our host was very available with any questions or concerns we may have had. I highly recommend this rental for any family visiting the area and will definitely be booking this rental again.
---
Eric was a wonderful host and his place was a perfect fit for our group. He was extremely responsive to any questions and concerns prior to our stay, checked in to make sure all was well upon arrival and was available to contact during the stay. His instructions for the house were extremely detailed and helpful for our group of coworkers staying for the week. The house was incredibly spacious, clean and fit 6 adults with no problem. I would definitely recommend it to others!
---
The house truly was huge, modern and immaculate! Each one of the guests remarked about the amenities, the cleanliness and the convenience of this house. It slept five adults very comfortably and could have easily accommodated eight. Finally, we appreciated Eric's thorough instructions. It was equally easy to open the house up upon arrival and close it up for departure. We would certainly recommend this place. Thank you, Eric.
---
I have been a long term resident of Chapel Hill, and I provide fully furnished condominiums and homes for both short and long-term stays.
Response rate:
100%
Response time:
within an hour
Explore other options in and around Chapel Hill
More places to stay in Chapel Hill: