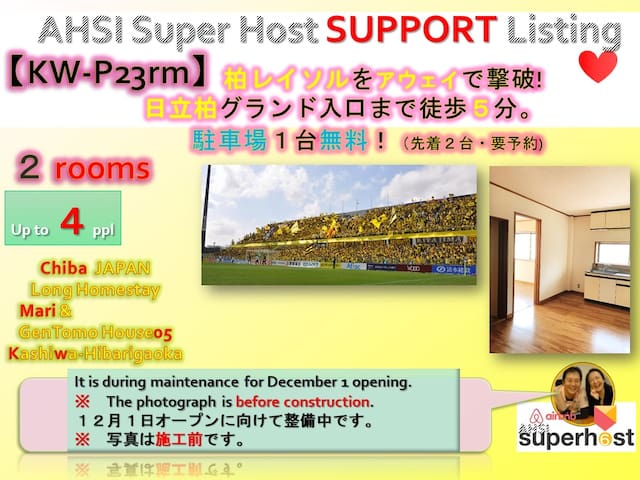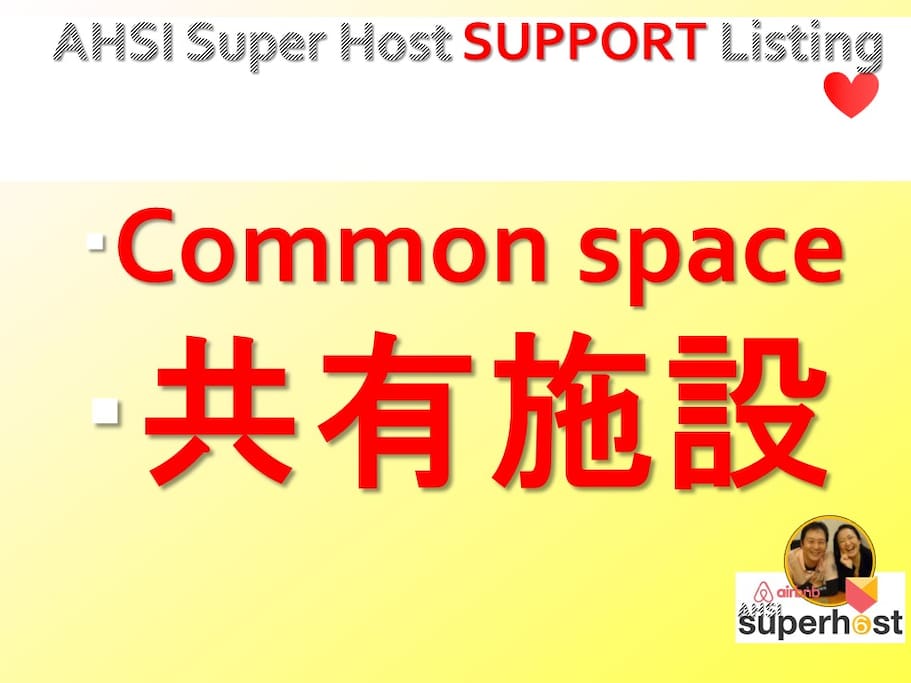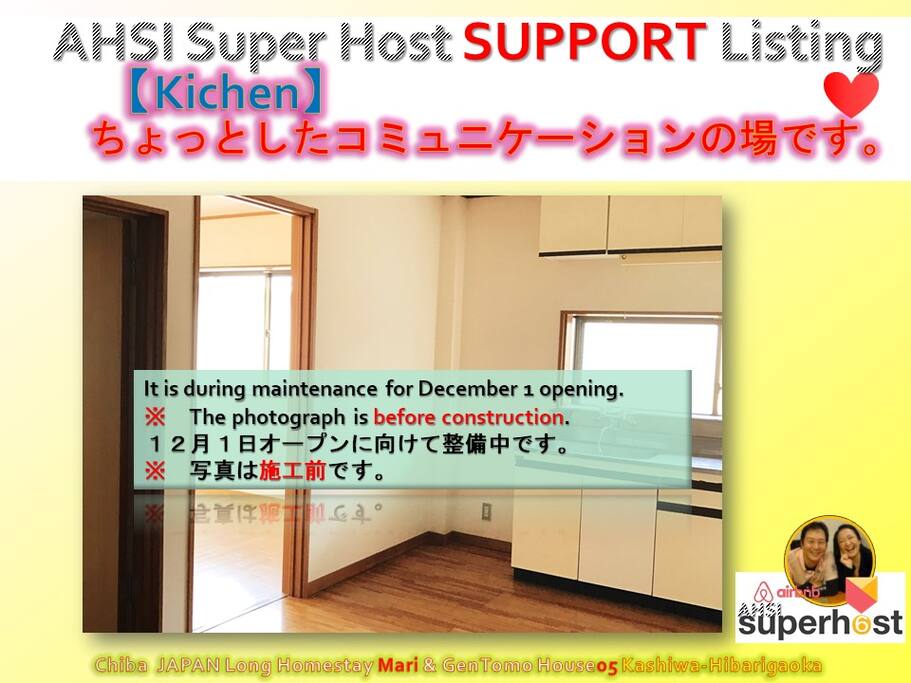 2017年12月1日オープン予定です。
サッカーJリーグ強豪の柏レイソルの本拠地、日立柏サッカー場入り口まで徒歩5分の好立地です。近くにはコインパーキングが少ないですが、私たちの家には最大2台まで停めることが出来るので、車でお越しになることがおすすめです。(駐車場は要事前予約)
Always communicate through Airbnb
To protect your payment, never transfer money or communicate outside of the Airbnb website or app.
Check-in time is 5PM - 10PM
☆【ハウスルール、追加のルール】☆
Welcome!!
Nice to meet you.
Thank you for your reservation!
ご予約ありがとうございます!
Thank you for finding our house.
We welcome your stay.
We look forward to meet you.

★Required things to be noticed -必須事項【when you book予約時】★
Please make sure to let us know the following details when you book.
次の項目は必ずお知らせください。
-Relations of all the staying members' ステイする全員の関係と
01:Nick name in English ニックネーム【ローマ字表記】
02:Real name 氏名(本名)【日本国籍の方は漢字表記で】
03:Age 年齢
04:Sex 性別
05:Address 住所
06:Occupation 職業
07:Nationality国籍【日本国籍の方は本籍都道府県】
08:Passport number パスポート番号【日本国籍の人は氏名の読み方】
09:Telephone Number 電話番号
10:E-mail address メールアドレス
11:Your flight number and its estimated time of arrival ,Routes from entry to GenTomoHouse.(ETA)
飛行機の便と到着時間、入国からげんともハウスまでのルート。
12:Estimated Time of Arrival to the GenTomo house. (in the plan of the meeting, please write it by a unit for 15 minutes.)
げんともハウスへの到着予定時間(お出迎えの計画上、15分単位でお書きください。)
13:Do you hope for paid pickup from an airport?
Or is it a train,bus and a walk?Or Taxi?Or rent a car?
空港から有料の送迎を希望しますか?
それとも電車・バスと歩き?タクシー?車?
14:The reason you chose to stay at GenTomo house.
げんともハウスを選んだ理由。
15:The purpose of your visit.
今回の旅の目的。
16:The next destination after leaving GenTomo house.
げんともハウス出発後の次の行き先。
17:Scheduled returning date to your home. 帰国予定日。
※We need to collect the information(02-08) above subject to the provisions of the Hotel Business law. If there is no information provided in advance, we cannot let you stay.
※日本の旅館業法の規定に準じた情報収集(02~08)をさせていただいています。事前に情報提供がない場合、滞在をお断りします。
Please discuss with us if you cannot provide the personal information before the reservation.
情報提供が出来ない理由がある方は、予約前に相談をしてください。
★Prohibited matter- 禁止事項
・The smoking in the house is prohibited. 建物内での喫煙は禁止。
~~~~~
★基本ルール
・An action in the buildings is GiveLove or self-service.
・建物内での行動は、与え愛又はセルフサービスです。
・You must behave as a family as a guest.
・あなたはゲストとしてではなく、家族としてふるまってください。
・As for the rearranging order and the washing of the joint ownership space, you must take the lead.
・共有スペースの整理整頓や洗い物も、あなたが率先して行ってください。
・Before the check-out, please leave after cleaning it than time of the check-in.
・チェックアウト前には、チェックインの時よりも綺麗にしてから出発してください。
※AtaeAI mean that each other touches GiveLove with each other for a wonderful feeling.
※与え愛とは、一言でいうと、「お互いがお互いを素敵な心持ちで接する」です。
We talk at the time of check-in, please look forward to the details of AtaeAI=GiveLove.

【To whom hoping for check-in early from 17:00.】
【17時より早くチェックインを希望する方へ。】
※We cope with check-in before time. [admission-paid]
When you only put baggage, it is similar to check-in.
※アーリーチェックインにも対応します。【有料】
あなたが荷物を置くだけの場合もチェックインと同様です。
12:00pm ~ (PHONE NUMBER HIDDEN) yen/ppl
9:00am ~ 11:59 1,000 yen/ppl
6:00am ~ 8:59 2,000 yen/ppl
12:00am ~ 5:59 3,000 yen/ppl
The check-in before time is possible only when you report by the day before.
前日までに申し出た場合のみアーリーチェックインは可能です。
It depends on the status of other guests just before that whether you can go into the room.
部屋に入れるかどうかは、直前の他のゲストの予約状況によります。
When you cannot go into the room, you can use the communication room.
部屋に入れない場合でもコミュニケーションルームは使用することができます。
Please put this expense into GiveLoveBox at the time of check-in.
この費用は、チェックイン時に与え愛箱に入れてください。
When there is no proposal, please check in after 17:00.
申し出がない場合は、17時以降にチェックインしてください。
【Paid pickup service】有料の送迎サービス
To you who are uneasy, I can go to the airport to meet us directly whether there is much baggage or you can arrive. Please refer.
荷物が多い、又はたどり着けるかどうか不安なあなたには、私たちが直接空港に迎えに行くこともできます。問い合わせてください。
Airport, main station pickup or drop-off.
空港送迎【片道】
Narita Airport・Haneda Airport ・Ibaraki Airport
成田空港・羽田空港・茨城空港
\15,000 for 3 people & +5,000 yen per one addition(Max\60,000-)
三人迄 15,000円 追加一人あたり プラス 5,000円(最大6万円)

In the middle of the night, I go to meet you early in the morning. At first please talk.
深夜、早朝でも迎えに行きます。まずは相談してください。
Everyone, hello!
We are Long Homestay GenTomo house's GenTomo.

Hasband is Genji,Wife is Tomo.

I'm looking forward to being able to interchange with a AirBNB company of all the countries.

When going to Hong Kong, AirBNB was used, and was moved, so it was a host.

We like good fruit and vegetables.

I'd like to enjoy myself through AirBNB with the person who can enjoy an exchange.

みなさんこんにちは!
「ロングホームステイGenTomoハウス」のGenTomoです。

夫はGenji
妻はTomoです。

世界各国のAirBNB仲間と交流できることを楽しみにしています。

香港に行ったときAirBNBを利用し、感動したのでホストになりました。

美味しい果物と野菜が好きです。

交流を楽しめる人とAirBNBを通して楽しみたいと思っています。

あなたにお会いできるのを楽しみにしています。

~~~~~~~~~~~~~~~~~~~~~~~

Fast time Guest (Jan/2015)@HongKong
Started Host (Mar/2015)@Ariake Tokyo Japan
28% Host(Oct/2015)
Change Room (Nor/2015)@Takenotsuka Tokyo Japan
34% Host(Jan/2016)
79% Host(Apr/2016)
84% Super Host(Jul/2016)1st time
02 GenTomo House open(8/1/2016)@Ikebukuro Tokyo JAPAN
84% Super Host(Oct/2016)2nd time
82% Super Host(Jan/2017)3rd time
82% Super Host(Apr/2017)4th time
02 GenTomo House close(6/27/2017)@Ikebukuro Tokyo JAPAN
Get Assistance Hosting Special Invitation(29 June,2017)1st time【AHSI】
82% Super Host(June/2017)5th time
82% Super Host(Oct/2017)6th time

現在は、5箇所の家をGenTomoHouseとして運営しています。
01_TK 東京都足立区竹の塚@GenTomoの本拠地
03_HS 青森県八戸市白銀@Rurico先生の別荘
04_TU 茨城県土浦市大町@Mariさんの別荘
05_KW 千葉県柏市ひばりが丘@Mariさんの別荘
06_EG 東京都江戸川区北小岩@Kenさんのシェアハウス
GenTomoHouseめぐりは楽しいですよ~

☆☆☆☆☆GenTomo House☆☆☆☆☆
01【TK-x】Takenotsuka Tokyo JAPAN
https://www.airbnb.jp/wishlists/50402102

ALL LISTS
https://www.airbnb.jp/users/26386081/wishlists

~~~~~~~~~~~~~~
Languages:
Bahasa Indonesia, Bahasa Malaysia, Bengali, Dansk, Deutsch, English, Español, Français, Hindi, Italiano, Magyar, Nederlands, Norsk, Polski, Português, Punjabi, Sign Language, Suomi, Svenska, Tagalog, Türkçe, Čeština, Ελληνικά, Русский, українська, עברית, العربية, ภาษาไทย, 中文, 日本語, 한국어
Response rate:
100%
Response time:
within an hour
Explore other options in and around Kashiwa-shi
More places to stay in Kashiwa-shi: