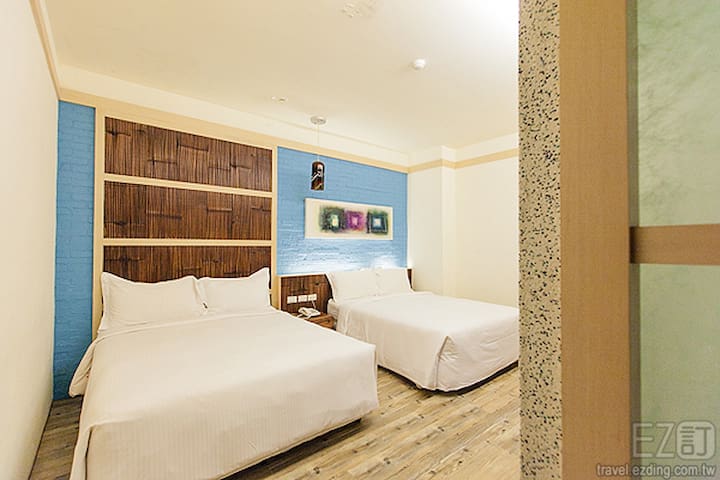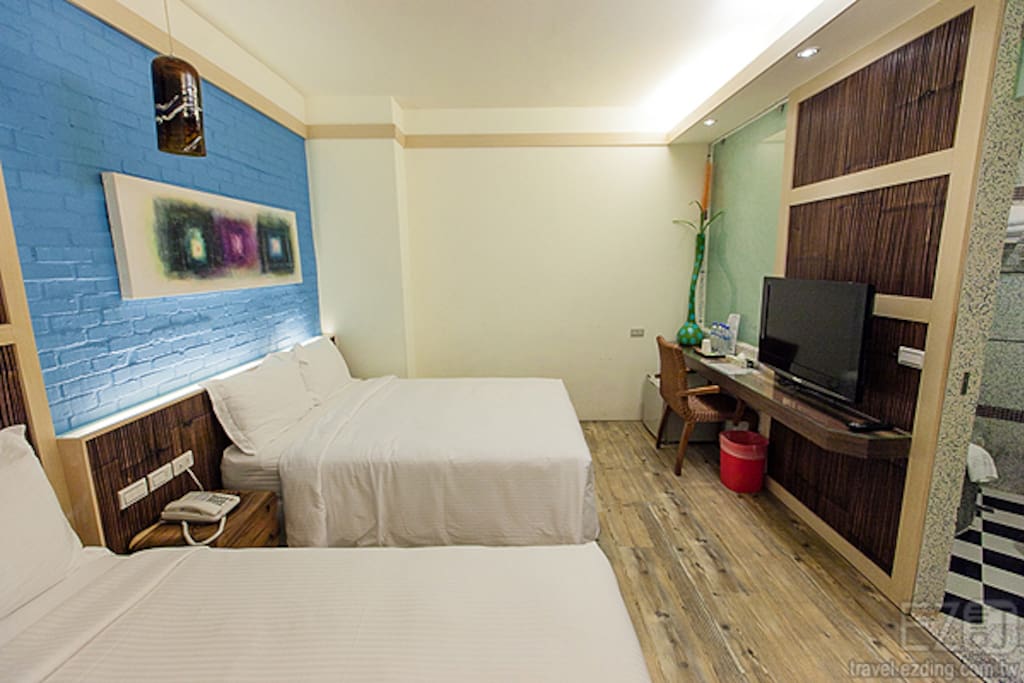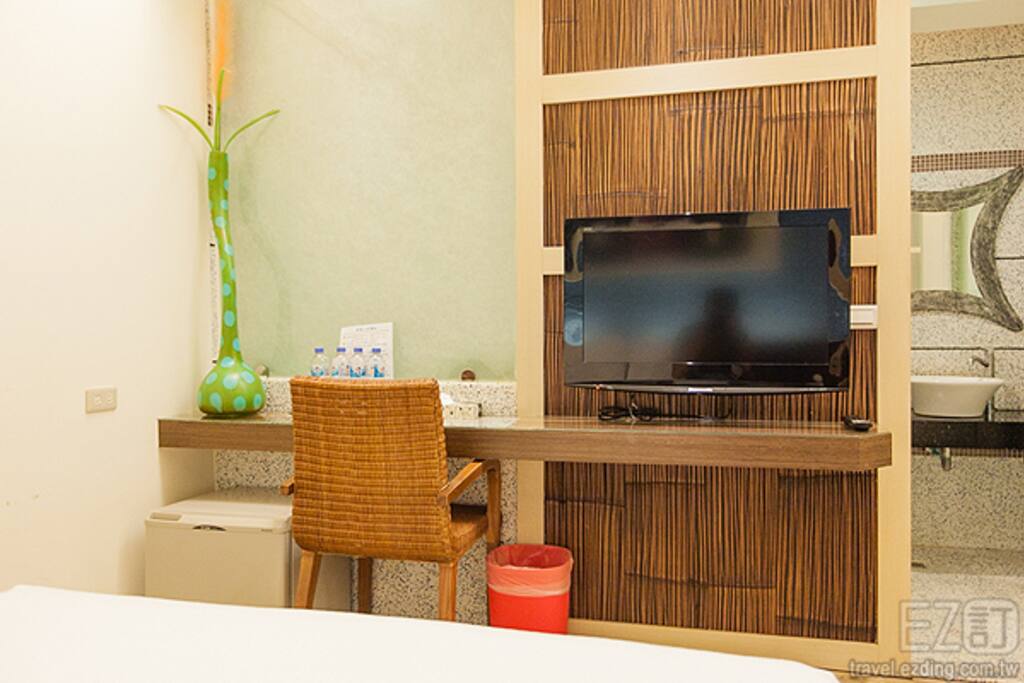 Southern sun four rooms with blue sky and white clouds style, spacious and comfortable interior space, with bathtub, and public outdoor balcony, to provide visitors with comfortable rest room interior design-based room does not contain any windows facilities in room facilities: shared outdoor large Balcony, toiletbing, towel, bath towel, LCD TV, shared terrace, free WIFI. Air conditioning, hairdryer, free bottled water, tea bag, dressing table, ADSL jack internet Room Occupation: 11 Ping Bed: Double bed to remind you before booking please be sure to read the reservation policy and cancel the rules to avoid damage to their own interests
南方太陽四人房採用藍天白雲的風格,室內空間寬敞舒適,有浴缸,及公用戶外陽台,提供旅客們舒適的休息空間
室內方式設計為主 此房型不含任何窗戶設施
房內設施:共用戶外大陽台, 盥洗用具,毛巾,浴巾,液晶電視,共用露天陽台,免費WIFI.冷氣,吹風機,免費瓶裝水,茶包,梳妝台,ADSL插孔網絡
房間佔地:11坪
床數:兩張加大尺雙人大床
提醒您 訂房前請務必要詳讀訂房政策
及取消規定以免自身權益受損
The space
Southern Sun Hotel overall style is the use of Hawaii wind, providing LCD TV, the room spacious and comfortable, only double room mining large windows can directly browse the street, outside the window to provide a balcony to the guests can use a direct view of the street scenery, The best place to enjoy, there is a bathtub, the same can be while watching the street while watching the street, a step outside the hotel is Kenting Street, opposite the 7-11, to provide convenient shopping needs Search Kenting Southern Sun Hotel on (SENSITIVE CONTENTS HIDDEN)
南方太陽旅店整體風格是採用夏威夷風,提供液晶電視,房間寬敞舒適,僅有雙人房採大片落地窗可以直接瀏覽街景,落地窗外提供陽台給房客使用可直接地一覽大街的景色,也是跨年煙火的最佳欣賞地點,有浴缸,一樣可以一邊泡澡一邊觀賞街道景緻,一踏出旅店外就是墾丁大街,對面是7-11,提供方便的購物需求
Search 墾丁南方太陽旅店 on F.B
Interaction with guests
Our B & B is located on Kenting Street and only a 5-minute walk from the beach - Counter staff - Service time 12 am - 12 o'clock in the morning, during which time you can consult with the staff about the attractions of Kenting food, snacks ... and so on -traffic- Please come to our reception center for check-in How to get to our reception center? 1. In Kaohsiung Railway Station take the 88 Express Bus South Kenting Station 2. Take the Kenting Express Bus Station south of Kaiding Station 3. Hualien train station by train in Fangliao train station, the station can take the bus south of Kenting 4. Take the bus ride provided by us by direct bus service (reservation required) Pay attention to this feeder to be paid and must be in the former stay 2 nights before booking from Kaohsiung Railway Station for 350 yuan NT / person from the high-speed rail left camp station for 400 yuan NT / person Gaotai Zuoying Station / Kaohsiung Railway Station by bus Please get off at Kenting Station and walk back about 30 seconds to see our reception center located at 7-11 From the Hualien train station to Kenting passengers please get off at Fangliao train station outside the station can take the bus to Kenting, please get off at Kenting police station, go back about 30 seconds to see our reception center is located in 7-11 opposite Kang Next to the US drug store Passengers traveling directly to the driver to tell the driver in the South Sun Street Museum to get off (Kang is next to the United States) Please do not under the wrong place yo Southern Sun Bed and Breakfast Reception Center is located in the center of Kenting Street Address: Pingtung County Hengchun Town, No. 165 Kenting Road (Kang is the United States next to 7-11) Ways To Reach The Reception Center 1. Taking The 88 Express-Bus At The Kaohsiung Train Station Outside To Kenting Police Office Station 2. Taking The Kenting-Express Bus At Zouying HSR Station Outside (left) to Kenting Police Office Station. 3. Passanger From Hualian Please Get Off At FongLiao Station and Taking The Bus Outside The Station To Kenting Police Station. 4. We Offer Shuttle Bus Pickup Up To Kaohsiung Station Or Zouying HSR Station To The Destination. Attention! This service is in charge on per person and reservation should be made before 2 check-in day 350TWD From Kaohsiung Station To Hotel. 400TWD From Zouying HSR Station To Hotel Our reception center is located at Kenting Street Center (opposite 7-11) The address is no165, Kenting Rd, Hengchung Town Pingtung City, Taiwan
我們民宿就位於墾丁大街上,距離海灘僅只有5分鐘的步行距離
-櫃台人員-
服務時間早上12-晚上12點整,在此段時間您可向櫃檯人員諮詢有關墾丁的景點美食,小吃...等
-交通-
旅客請務必先到我們的接待中心辦理check-in
如何到達我們的接待中心?
1.在高雄火車站外搭乘88快速公車南下墾丁派出所站
2.在左營高鐵站外搭乘墾丁快線公車南下墾丁派出所站
3.花蓮火車站搭乘火車在枋寮火車站下車,車站外可搭乘公車南下墾丁
4.搭乘我們提供的共乘接駁專車直達民宿(須預約)
注意此接駁車須付費並且須於前入住前2晚預約
從高雄火車站接駁為350元台幣/人
從高鐵左營站接駁為400元台幣/人
高鐵左營站/高雄火車站
搭乘公車旅客請在墾丁派出所站下車,往回走約30秒即可看到我們接待中心位於7-11正對面 康是美藥妝店旁
從花蓮火車站前往墾丁旅客
請在枋寮火車站下車後站外可搭乘公車前往墾丁, 請在墾丁派出所站下車,往回走約30秒即可看到我們接待中心位於7-11正對面 康是美藥妝店旁
搭乘拼車旅客請直接告知司機在南方太陽大街館下車(康是美旁邊) 請勿下錯地點唷
南方太陽民宿接待中心位於墾丁大街中心點
地址:屏東縣恆春鎮墾丁路165號(康是美旁 7-11對面)
Ways To Reach The Reception Center
1. Taking The 88 Express-Bus At The Kaohsiung Train Station Outside To Kenting Police Office Station
2. Taking The Kenting-Express Bus At Zouying HSR Station Outside (左營駛) to Kenting Police Office Station.
3. Passanger From Hualian Please Get Off At FongLiao Station and Taking The Bus Outside The Station To Kenting Police Station.
4. We Offer Shuttle Bus To Pick You Up At Kaohsiung Station Or Zouying HSR Station To The Destination.
Attention! This service is in charge on per person and reservation should be made before 2 check-in day.
350TWD From Kaohsiung Station To Hotel.
400TWD From Zouying HSR Station To Hotel
Our reception center is located at Kenting Street Center (opposite 7-11)
The address is no165, Kenting Rd,Hengchung Town Pingtung City, Taiwan
---
---
Check in is anytime after 2PM
---
---
---
Greetings! I'm Joseph!

I run an inn in Kenting, Taiwan. We are known as the beache paradises of Taiwan. People here are friendly and relaxed and I try to make my inn reflect these feelings. The beach, the main street and the people are all worth getting to know deeply.

Southern Sun Inn -- a place you don't want to miss!
Languages:
English, 中文
Response rate:
100%
Response time:
within an hour
Explore other options in and around Hengchun Township
More places to stay in Hengchun Township: