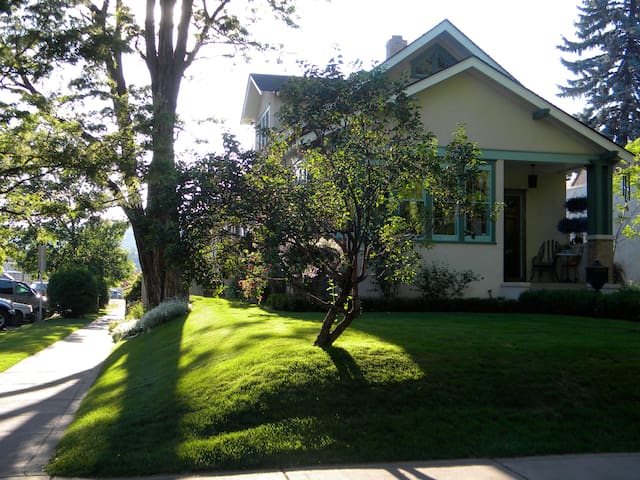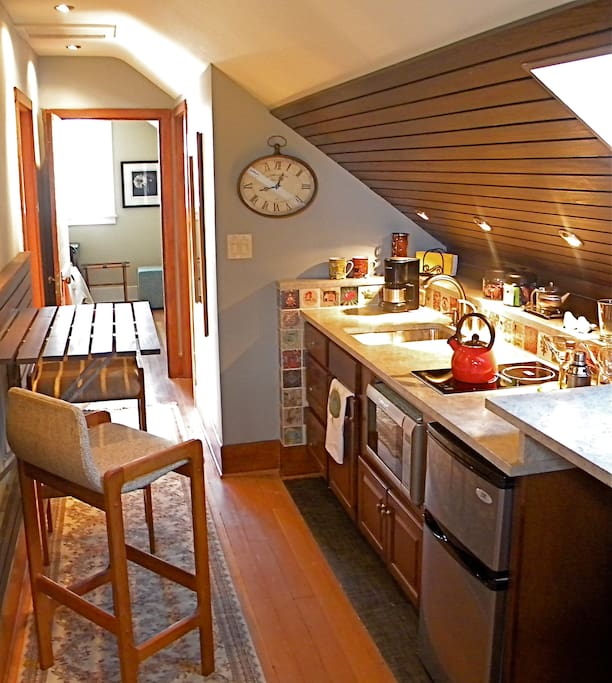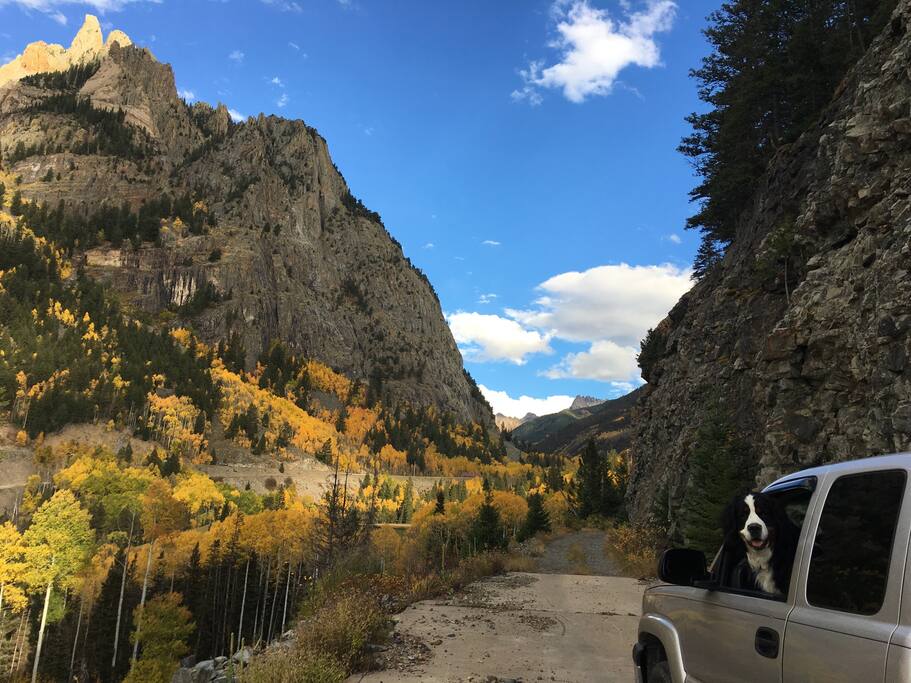 A sunny fully furnished two bedroom second floor with private entrance is the perfect base for all your Durango activities! Great views, steps away from Main St, bike paths and the Narrow Gauge Train.
Luxurious linens, wireless, premium Satellite TV, fully equipped kitchenette. Nest on 7th & 3rd Ave northwest corner .
The space
Comfort level, accouterments, lighting, unique interior design have been carefully considered. And..."location ,location location" could not be better for getting the real feel of this charming Colorado town.
Garage storage for bikes, skis paddle boards or ?. There is a fenced in bike area for quick stash or if not needing covered storage. drying towels are provided.
Guests have complete privacy. Texting requests is preferable. However we are avail. for voice calls...or will return calls with in a reasonable time.
NOTE! Video that Airbnb shows of the neighborhood is NOT of the Third Ave Historical District where this rental is located. It is of the alley behind 2cd ave south of 7th street... We are trying to remedy.
Trolley schedules avail. on line. Animas Transportation is recommended to from airport.
Nest is a downtown location with its urban upbeats, downtown noise considerations that might be disturbing but are generally manageable. We have yet to have one complaint.
The studio "Downtown Durango Diggs" ( see other listing ) is located on bottom floor with its own patio and separate entrance if you need a third bedroom for groups...
Nearby.....
Nest is sitting in the heart of the 3rd Avenue Historical District. A beautiful boulevard lined with trees, historic old houses and churches two blocks off Main Street. Second Avenue (one block or basically behind Nest) holds the fabulous Rochester Hotel (recommend staying here if unable to stay at Nest) which during the summer months has many garden afternoon music events and art exhibits. These events are a local's staple to meet up with neighbors and friends and are a nice way for you to mingle with the "natives".
Steps away on Second Ave. touts the Durango Art Center, wonderful Eno for coffees (exceptional), wine and perfect tapas! Revolving local artists featured here. The newly remodeled Cypress Cafe owned by renowned local chef/owner Allison featuring local farm to table fare... Steamworks Brewery one block away one of five? Six? brewery's located a stones throw away...but Ska (our native son and pretty infamous) is out in Bodo Park and worth a visit,. Check them all out.
P.s. It here is a distillery developing right in town... But not sure of hours and opening... More on that later.
Highly recommend East by Southwest and sister restaurant The Golden Triangle for sushi Asian inspired and a good steak. Speaking of good steaks no one does it better than the iconic Ore House directly across street on 6th from the Golden Triangle. The Ore House is on locals short list along with The Palace Restaurant's Quiet Lady Tavern for special events and birthdays! The Ore House has been here for over 40 years and sports the feel of a true Colorado town steakhouse whose highly acclaimed Chef Ryan who recently raised the bar on the entire menu. Proof of birthday give you that % off on your Entree. Not bad!
Previously mentioned Palace Resturaunt has beautiful dining rooms that look over the colorful train station (and isn't that why some of you are in town?) with the townies favorite patio for lunch and happy hour. Request bar menu (only avail on patio and in the beautifully sunny barroom) for better value pricing but same high quality delish burgers, ruebans (the best), special salads and more. Personally I love the almondine Colorado trout with house salad. The Chicken and Dumpling entree is a home away from home comfort food favorite. Top it off on Tuesdays "kids eat free"!
Homeslice pizza is three blocks from Nest and is a local (college students) favorite for slices and salads with a pet friendly patio. Amaya spa with a soaking tub is one block away and has great treatments including but not limited to massages and acupuncture with hot soaking tub and cold plunge.
And you haven't even reached Main Street!
On your way out to hike ski or? Grab a burrito at Zia TAQURIA . Hands down best mex in town. Or head over to Bread as the sandwiches are undisputedly worth the mile ride up Florida road. Once a week stop for us. Best coffee, sandwiches and of course...bread.
More recommendations on the FOODIE SIDE...

Another revision of restaurant recommendations below...
First I'm going to talk about the ones NOT to go to because there are so many good ones in town! These are a few that I wouldn't waste my money or time on. And these are restaurants that friends and I have had a three strikes you're out.
MUTU's Italian. This one is tempting to go to because it's right on the corner from house. But fails on service and food inconsistency.
KEN AND SUE's. Everyone will recommend this to you on the airplane but the locals have been kind of disappointed with this place it used to be great.
6512. Fails. Uncomfortable room. Small bar but service is incredibly slooooow. Unless you are wearing a mini skirt.
FIRED UP PIZZA. Nice room? Kinda bright. Pizza is Soggy. Small portions including the salads. Tho fresh ingredients. Maybe they will work this out. Let me know if you go.

"Now here the good ones!
CHIMAYO. Tops the list has something for everyone always fresh the owner chef is there all the time as well as the front of the house be at a Bergeta, wife of chef and also the owner of course.The bartender Aaron really knows how to shake a drink. I like to sit either at the bar or at the tall tables in the front so you can watch the people.
EOLUS. Wonderful food, nice room. Summertime they have a great patio on top of the roof with sunset views.
Seasons. Local favorite.
CYPRUS CAFE. Nice patio small dining area but Farm to table. Not huge portions. But good. ENO. Sister restaurant to Cyprus Cafe. Coffee,wine with tapas. Great place for a good "drip" and a nice
THE PALACE RESTAURANT, eat/drink in the Quiet Lady a lounge or Patio. Lunch sit in the bar or on the patio ask for the bar menu dinners also ask for the bar menu. Better value. Love the Rubens, chicken dumplings, Pastas, salads, and more. Looks over the train stations the views are very nice. Great happy hour. Good nightly specials including Burger Night on Mondays. Kid friendly.
ANIMAS BREWERY. Burgers and more.
EL MORO. Eclectic menu pretty fabulous, great bar scene. Served later into the night than other restaurants. Love the hot cheese puffs. And Carmel corn. Bartenders are mixologists.
ORE HOUSE. Creative young new chef. Steaks and more. Chateaubriand!!! Traditional Colorado steak house great sides and sauces with fish as well. On your birthday? (Bring proof) you get that percentage off your meal!!
EAST BY SOUTHWEST and THE TRIANGLE (sister restaurants) Pretty great sushi and pad this. Heard the steak were relishes as well. Locals favorite. Try RICE MONKEY too. Casual FEW SEATS. Good take home. . My fav grab and go is SIZZLING SIAM. Next or near to train depot.
All these restaurants are within walking distance. But I really love KENEBECK CAFE. It's a 10 minute drive west. But everything is great there and I think they even have a nice weekend brunch. It's in the La Plata Canyon's which which is beautiful.
BREW PUB . Three blocks from Nest and Diggs. New brewery. Has a pretty creative chef. And their fried pickles are the best I've had anywhere. But you got to be into fried pickles. Their menu is really pretty sophisticated for a brewery. I need to revisit as the new menu looks interesting.
SEASON's. All time locals favorite!
HYWAY THREE ROADHOUSE. Two minute drive out of town, locals locals locals! Well loved Chuck Norton chef/owner is from NEW ORLEANS and his food selections show it to its shiny best. Can you say oysters? Gumbo? He's a fabulous guy and I should mention chef. Also caters ... If you have any need for a party, redemption. Only open Weds thru Friday. Early evenings happy hours only. An experience.
ZIA TAQURIA !!! is one of the BEST REALLY THE BEST, Mexican food places in town and there are two locations. Rave reviews on the NAYARIT on upper main has been rolling around. Need to give it a try.
There's several coffee shops around nest and diggs. But I swear I get into the car and drive up Florida Road to BREAD. Best coffee and it's a great grab a sandwich for hiking or the train or whatever you have in mind for the day. Cookies, individual quiches (mmmm), brownies and BREAD is worth the drive.
If you just feel like a bagel for breakfast DURANGO BAGEL which is down by the train station on second is pretty good. People swear by the DURANGO DINER for breakfast as a local's diner. (They will even serve you breakfast I'ver at the RANCH if you want Bloody Mary or? With their famous green chili huervos rancheros! )
Carvers is very popular with the biking locals. I like OSCARS which is over by the city market. Simple standard big played goodness. Truckers breakfast.
That's a lot I know. They say Durango has more restaurants per capita than San Francisco. Please write down comments in the little books and let other guests know what you liked and what you might recommend.
Hope this helps enjoy your time (eating, drinking) in Durango! If any other questions or you want me to specifically help you pick out a restaurant just tell me what you feel like having and I'm happy to send recommendations your way.
Bon appetite!"
Lynn Cole
P.s. I have great hike recommendations. Need to know these after all those meals!
Guest access
Garage storage for two bikes, skis paddle boards or ?. There is a fenced in bike area for quick stash or if not needing covered storage. There is a hose to wash bikes as well. We will provide drying towels. Please ask if not located in unit. White bath towels are not for bikes.
Parking is street, which is easily accessed the majority of the time. Everything thing loosens up particularly around 4-5 pm weekdays and its wide open on the weekends. You can unload in handicap zone directly in front of house if you don't find one right next to rental. This is a downtown rental with more perks than downsides! You most likely won't go back to car til you leave.
Interaction with guests
Guests have complete privacy. Texting requests is preferable. However we are avail. for voice calls...or will return calls with in a reasonable time.
Other things to note
This is a downtown location with its urban upbeats, downtown noise considerations that might be disturbing but are generally manageable. We have yet to have one complaint.
The studio "Downtown Durango Diggs" ( see other listing ) is located on bottom floor with its own patio and separate entrance if you need a third bedroom for groups...
NOTE: This is a VERY safe and secure location.
Security Deposit $449 NZD
Always communicate through Airbnb
To protect your payment, never transfer money or communicate outside of the Airbnb website or app.
Check-in is anytime after 4PM
Check-in time is 4PM , checkout is 11AM.
When checking out please take Garbage and recycle to alley. 703 garbage next to parking pad by garage and recycle across the alley in blue containers. Also look around for your chargers.
It is important to list all guests when booking and if any guests join after to alert host as to who and how many. There is an additional charge per guest over two per night. This is for safety and to assure accommodations are suitable for all.
. . .
• No parties or events
• No smoking cigarettes or cigars inside.

• If you move furniture (preferably not) please return to original position.
Wireless is "nest" or "nest ext" NOT "nest guest"
Password is [(PHONE NUMBER HIDDEN) Lynn's cell number.]
Dogs are considered under certain circumstances.
Please advise that you would like to bring your furry friend PRIOR to booking as not all dogs are a good fit. Walk dogs and pick up leavings. If your dogs are anxious and are vocal upon leaving please advise us. We may have helpful solutions so you can relax upon leaving them alone...there is a $50 one time non refundable dog cleaning fee. Pay fee check or cash upon arrival to host. Protect linens from furry friends and request dog beds to encourage critters to keep off the furnishings. We are very fastidious for all guests and everything is thoroughly gone thru between guests. If there are any accidents or damage all of the deposit will be retained.
NO additional pets after check in. Unless cleared with host. . .
No cats EVER...due to other guests sensitivity to dander and allergies.
You must also acknowledge
Dog(s) live in the house
The minimum night stay for this listing varies.
I stayed at Lynn's place in early October – loved all the natural light in the apartment and being able to keep the windows open to let in the crisp fall air. The neighborhood is great – tree-lined streets and just blocks to historic downtown. Some have said there is a bit of street noise. I did not experience any noise that was disruptive. This is an upstairs unit, which is nice because there are no noises above you. I did not notice any noises from the main house below, either. Lynn will tell you there is a tight staircase to get up to the apartment, so be mindful of that if stairs are an issue for you. The ceiling is sloped with the pitch of the roof in the kitchen and living room, if you are tall, this might be a bit of a bother (not a problem at all for me). The kitchen space is good for fixing breakfast or a snack. Lynn as worked magic with the space available to stock amenities. There is a mini fridge/freezer, two-burner convection stove, Cuisinart microwave/toaster/oven combination device. You will find appropriate glassware for any beverage of your choosing, as well as a french press, drip coffee pot, and a blender. Bedding was nice and there were thick comforters for the cooler evenings. The beds are a little on the softer side, which can be a pro or con, depending on your preferences. There are also a number of great "host" touches: fresh flowers, a few beers in the fridge, vodka for martinis, chocolate, bottled water, and nice soap/shampoo in the bathroom. Lynn was very communicative and provided great recommendations for restaurants. At her suggestion, I tried Eolus and it was lovely.
Thank you for such a nice review. You were great guests and I do hope you return. The mattresses are new and one of the mattresses I believe in the bedroom that you stated has a topper which can be removed to reveal the firm surface of the mattress. So happy to accommodate and hope you'll be back!
---
Second year in a row we've stayed at the Nest and absolutely loved it. The location is great to be able to enjoy downtown Durango. Many shops, restaurants, coffee shop all within walking distances. Beds and linens are clean and really comfortable. The Nest feels like a home away from home and we look forward to staying again. Thanks Lynn!
---
Nest is the best. The bed was so cozy, I slept all days with the windows open just what I needed. Lynn was so curtious, knowledgeable and willing to assist. This was my first bnb and it was such an amazing experience. I felt like a local every time I walked outside, turn left or right and walk one and a half blocks to restaurants bars grocery rafting fly-fishing longboarding skate park did I forget anything?
---
Travelin' fool who loves hopping in the truck to head to the mountains, San Pancho Mexico, Utah and music festivals. Telluride, Austin, Crested Butte, New Orleans, Denver and Chicago are favored cities. Love four star hotels but often just hit the dirt road and camp out of the back of my truck in new places. "Fort Builder" as a kid and continue as a "grown-up"on a grander style creating warm beautiful spaces as a design consultant here in Durango. Love to guide visitors on what to do when it comes to enjoying the Durango, the Four Corners area and surrounding western slope of Colorado. I want everyone who visits to have an amazing vacation that they will always remember as one of the best.
Response rate:
100%
Response time:
within an hour
Explore other options in and around Durango
More places to stay in Durango: