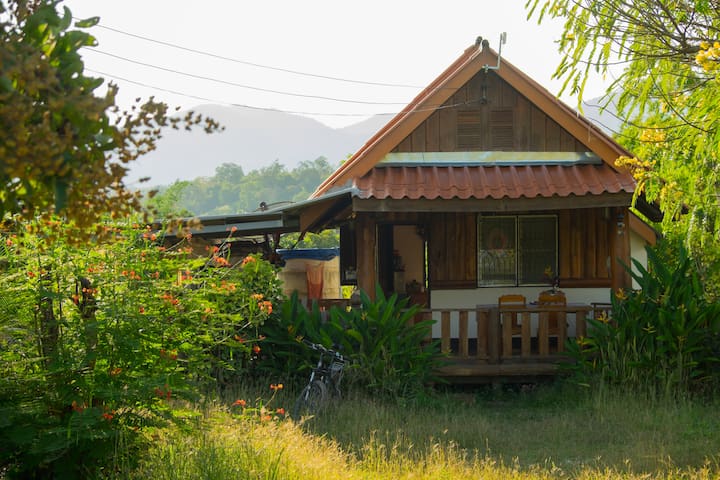 Chalet with hotsprings in garden and fast wifi
This place is a perfect spot to experience local life around you. it's a 2 bedroom house with lots of outdoor hangouts and workspace. Buffaloes pass by on surrounding rice paddies, views are amazing and the hotspring is such an addition. Also you can use the tubs for cooler water if its hot. The place has fast wifi.
The space
Its a truly beautiful setting, with access to hotsprings from the national park in the garden. There is a lot of space around the house so also easy to come with more people, tents, mattresses and bedding are also available. The Pai river is walking distance and great for an afternoon swim.
Other things to note
Besides the hotsprings also the Pai canyons are closeby, and there is beautiful and peaceful meditation centre at walking distance.

---
---
Extra people $9 NZD / night after 2 guests
Always communicate through Airbnb
To protect your payment, never transfer money or communicate outside of the Airbnb website or app.
Learn more
---
firewood
please dont use any wood around the house, only if there is a stash close to the fire (next to tree)
Drinking water
There is big bottles for sale at the shop close to the house. When you hit mainstreet go right, 3rd building on the right. 15 bath if you bring the empty bottle. At this shop You can Only exchange the "PP drinking water company" there (printed on the bottle)
Other bottles are from other company called "pai drinking water community" this one you can exchange for a full one at the other side of the bridge (thai restaurant on the left)
Tapwater
cold water is pumped from the well so depending on electric. Its in the front yard by power pole. If the tanks water drops too low the pump will not turn on and the house has no water. Water may be added to tank by opening valve next to pump. Make sure there is always little waterflow into the tank/well. In case of a lot of flow it potentially overflows so watch this if you play with valve.
Hot water comes in from a different pipe. Sometimes it takes a while before the water gets hot, please be mindful with filling the tubs.
Both have a tap entering the property in case you need to close it. If you stand on the road facing the house its in the front left corner, just under the iron fence.
Internet
Network: tha pai
Password: crazybird
Company is TOT, office opposite hospital in pai. Ask pascal the neighbor (white house) in case there is bad or no connection. Its fiberoptic connection.
Gas
In case the big bottle finish you can refill at the restaurant after the memorial bridge (left). We do it with motorbike. Please contact us for a refund.
Compost
There is a barrel outside the kitchencounter. Behind the sink.
Garbage
At the main road there is big bins to leave your non compost waste.
Food
Mama sue and eve will take care of you in crazy kitchen, its just a little ride on main road towards chiang mai.
Thai restaurant after the bridge is good for quicker/cheaper meals or noodle soup.
There is fresh veggies for sale towards the bridge on your left. Opposite of this shop is a nice place with quality coffee. Meat is for sale next to crazy kitchen if the veggie shop is out.
---
---
We had a great time in Sabrina's beautiful house! The house has a perfect view over the rice paddies, with amazing sunsets. Fresh papaya from the tree. The area is gorgeous and quiet. We loved strolling the rice fields, gathering fire wood by the river, getting dinner (Krazy Kitchen!) and groceries from the small places by the road. Swimming Pool is nearby (Pai Hotsprings Spa Resort). Elephants, canyons and memorial bridge as well. It's 10 km to Pai centre. No problem with the scooter. We preferred the scenic route past the elephants. The hot tub is pure bliss! Water was warm enough most of the time. Star gazing beside the fire. The day after we enjoyed cooling down in the cold water left behind. Kitchen equipment is great! Several blenders, an oven and plenty of pots and pans. A lot of of tables, chairs, pillows and space on the porch to sit or lay back. Internet connection is excellent. The fastest we got in Pai. There's a big screen tv/monitor and big speakers. The mountain bike was great. We also rented her scooter, which works fine once you get used to the gears. ATTENTION: The house was not clean, even for Thai standards. We spent a day cleaning and organizing. There was lots of personal stuff left behind so there was not much space for ours. We didn't mind because at the time we thought we could extend our stay. She should have mentioned her plans could change and interfere with ours. We wouldn't have rented the house with that uncertainty. Communication is minimal. Sabrina seems like a busy person who can't respond to (or perhaps read) everything. Don't worry too much, be brief and patient. She could have said 'thanks' though after we cleaned the house for the next guests, on her request. We didn't hear anything after we left. No response on our friendly mail. The bed is very squeaky, with a hard mattress. No problem for easy sleepers. I wouldn't stay there with more than two adults (with two kids). We never figured out how to manage the valve of the well, so a couple of times it overflowed or was nearly dry. I wouldn't call it wheelchair friendly. All in all the house is perfect to stay long term for us and we where very happy staying here.
---
Very nice, relaxing and quiet place to stay in Pai. Sabrina was very helpful before our stay in house - providing us perfect information about Pai, how to get there and so, and answering all our questions. House - challet - is nice, in perfect surroundings. The best features of house are outdoor kitchen with perfect views and hot tubes. Surrounding - very quiet, several kilometers outside the city. Perfect for people who prefer relaxing place to city hustle. Wifi - very good and fast. Unfortunatelly we could stay only one week, but it was very pleasant stay! Definitely we would stay again :)
---
I stayed 50 nights here and it was a great place to stay overall, hosts were friendly and welcoming and the location was perfect. There are a few places to eat within walking distance and if you rent a scooter the choices in Pai are endless. The hot tubs are a really nice feature - already missing relaxing in the tub with a cold beer at sunsets! Wifi was generally pretty good - no problems at all for the first 30 days but intermittent downtime over the last couple of weeks meant a few calls to the ISP and was usually up again within 24 hours.
---
This was our first experience of renting house in Pai through airbnb (before we were always looking already in place) and unfortunately it was not very positive. Keep in mind that the house is located far enough from the center and it is very cold in winter, but the advantage is the beautiful view and the absence of neighbors. Unfortunately the house does not look as clean as on the photos – the house has not been cleaned before we check-in, dead insects were everywhere, a lot of things scattered everywhere, bathtub was so dirty that I did not dare to use it. Most unpleasant thing was that after we spent a day to clean up the house to use it, we were asked to pay cleaning fee(( Apparently the owners have forgotten or did not know in what condition they left the house before rent it out. It is worth saying that, except of this 'cleaning misunderstanding', the owners were very friendly when talking by phone (we have not seen them live). In fact, the place is good – nice view and excellent internet .. But the owners obviously need to work on its cleanliness and appearance.
I'm very sad to read this review. I wish you had communicated this before, so we could have handled it. Apparently something went wrong with the cleaning lady? One call and we could have send her immediately. I take this as a lesson, to double check that the house is really clean on the day of arrival. (When we are away, our friend and neighbor helps with check-in, so I will ask him to check the house again to make sure we prevent this from happening in the future). But mind you, this is Thailand and living semi-outdoors means that nobody can guarentee a 100% insect free place ;) We love our little house with it's amazing view and relaxed atmosphere. We genuinely hope others will also - as they have so far!
---
We spent a month in Pai and enjoyed our time. Some things to know: 1) The house is about 7 km from town - we loved the privacy and although there were people working in the rice fields during the day, there was only one other family on the street, several houses away. If you like a quiet place but still close to town, this is the place for you. 2) Even though it's out of town a bit, we never felt isolated. We rented a scooter for the month and it only took about 10-15 minutes to get into town. Plus there are several small restaurants and coffee shops within a 2-5 minute walk from the house. We only cooked 1 meal during our stay... the local food was so good and inexpensive it was cheaper to eat at the local restaurants than to buy groceries. (In town, the tourist resturants can be 2-3 times more expensive, although still quite reasonable by western standards.) 3) The tubs were pleasant, but not terribly hot. I would estimate they are about 98 degrees (F). 4) The hosts were very generous - let us check in a day early with no charge - and friendly. They were a little disorganized, though. None of the bills were paid in advance so the landlord showed up asking us to pay the electric bill and the gas tank ran out after only a few days of heating water for morning coffee. The internet got cut off because the bill hadn't been paid. Luckily, they have a friend who took care of everything, including getting the internet reinstated late on a Friday afternoon. 5) We enjoyed the outdoor living - outdoor hottubs and shower, living space, etc. The house feels a bit dirty - when we arrived the inside tub was full of dead bugs, the walls could use a fresh coat of paint, and the kitchen space doesn't have screened cupboards like other Thai houses we've rented, so we had to wipe spider webs from the bowls and mugs each morning. Otherwise, it's normal outdoor living and the occasional visiting street dog can be expected. 6) At the time we rented, the house was advertised as 3 beds. It only has 1 double bed but there are 2 pads on the covered porch which could be used for sleeping. We were only 2 people so we didn't need more than the one bed. 7) The bicycle is a good quality Trek mountain bike - much better quality than anything you would rent in town, and I enjoyed riding through the rice fields around the house. 8) The internet was good, fast wifi. We work online so require reliable internet for work, and this was around 2 Mbps, more than sufficient to connect to our company's network. We also were able to easily stream movies on Netflix in the evenings.
---
We drove up to Pai from Chiang Mai, dreading all 600+ turns, but it was worth it. Pai is a great town and our stay at the chalet was great. It's situated just outside of Pai near the memorial bridge, which is a very convenient location as it sits at one end of the loop. The chalet is nestled into the pastures with extensive views of the hillsides. Its just a short walk to the river to swim or a scooter ride away from downtown Pai. The house is a simple one bedroom with a bathroom and partial kitchen and three hot tubs outside which are an ideal place to wind down and relax at sunset. We went with out kids and another family and the weather was so nice and brisk we ended up sleeping on the porch in sleeping bags. It was quite comfy. The restaurants in Pai are first class and I can highly recommend the Witches Well where we had a fantastic breakfast and Baan Pizza which had some of the best pizza we've had in Thailand. It was an awesome weekend!
---
What a lovely place! Quiet with beautiful country-like surroundings (perfect for walks), but close enough to town to enjoy everything Pai has to offer. LOVED the outdoor tubs filled with water from the hotsprings. The kitchen had everything needed, the bed was comfy and the wifi was good. Thanks also to the hosts for introducing me to the nearby meditation center. All in all, a perfect retreat.
---
Me and my little family have found paradise here in Pai. Our big piece of land in the middle of rice fields is such a blessing. We are very grateful that, even with our small kids, we still get to travel the world and come home to our welcoming house and local Thai community. I'm happy to share our piece of magic when we are away, and possibly also when we are here in the house next door that is usually reserved for friends and family.

Response rate:
100%
Response time:
within a few hours
Explore other options in and around Pai District
More places to stay in Pai District: