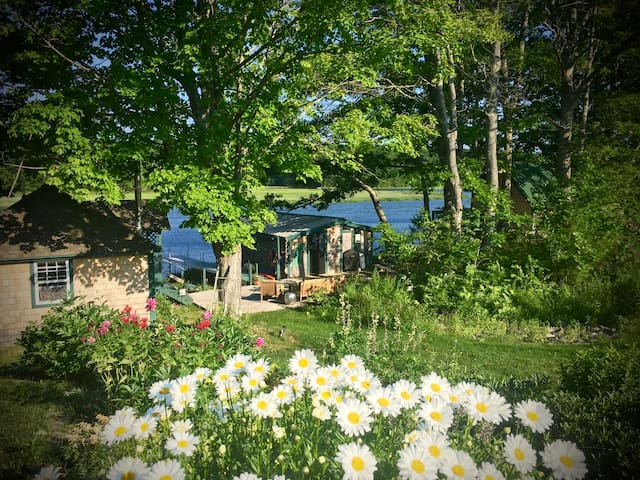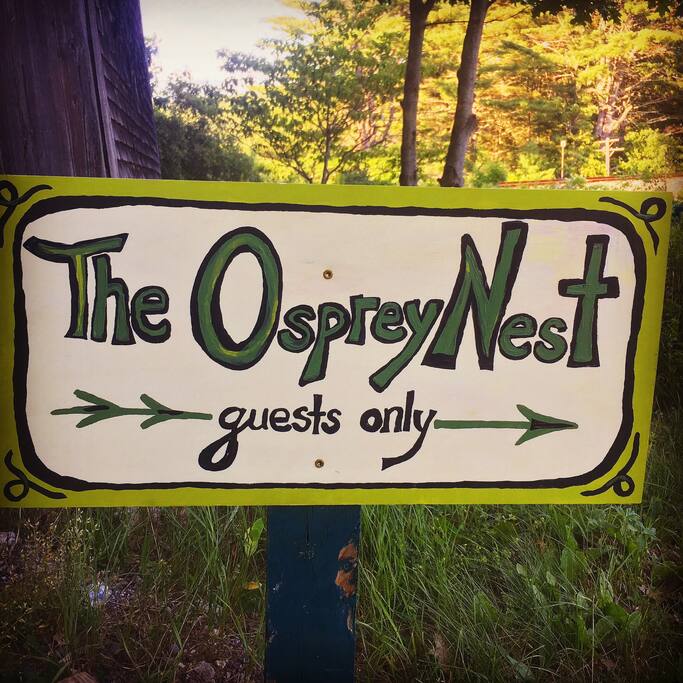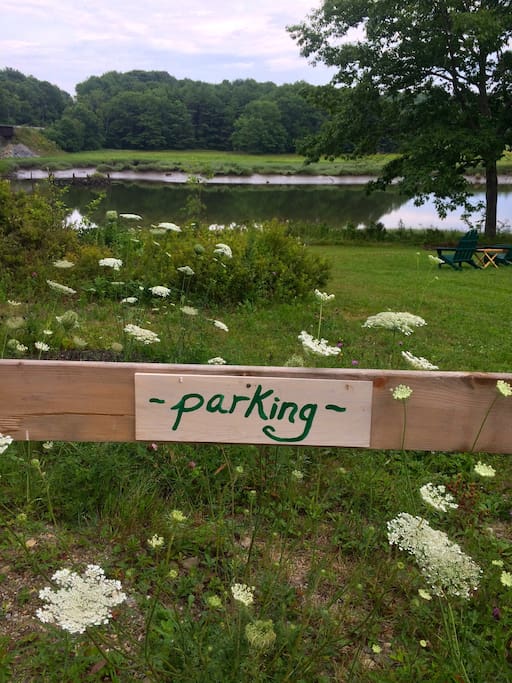 Your waterfront B&B retreat in Maine...
Welcome to The Osprey Nest! Our riverside retreat is a classic Maine camp turned family run Bed & Breakfast. We are a seasonal B&B open July thru September. The $220 nightly rate is based on a two person occupancy and includes a hearty, locally sourced breakfast. This rate does not include the 9% ME state occupancy tax and Airbnb's service fees.
NOTE: For weekday stays in September ($190/night), fresh baked goods, fruit, granola, yogurt, OJ, tea & coffee will be available for self service.
The space
Relax in our riverside cottage...
A classic Maine camp turned family run bed & breakfast, our riverside retreat is a collection of small buildings that we have restored and updated over the past 7 years. Many of the original items are integrated into the design of the buildings.
We live in a quiet rural area in midcoast Maine, but are close to Rt. 1 and the towns of Wiscasset, Boothbay Harbor and Damariscotta... however, when you are down by the river you really do feel like you are a world away. Our family home is close by on the property... just about 250 feet up a sloping hill, but again - when you are down by the river, your focus is drawn to the water and everything else seems to disappear.
We can currently accommodate a maximum of four adults during a given stay. The rate of $220 is based on a two person occupancy with an additional charge of $100 per person up to the aforementioned maximum of four adults.
Included in the rate is a freshly made breakfast prepared with local organic produce and dairy and eggs from right up the road. The 9% Maine state lodging tax (known as occupancy tax on Airbnb) and Airbnb service fees will be figured into your total bill by Airbnb.
Guest access
Guests will have exclusive use of the riverside facilities... private parking area, use of the Boat Barn (living room, kitchen, dining room), and use of the Bath House which houses a beautifully tiled shower, toilet and sink.
Water, tea and coffee are available for self-service at all times in the Boat Barn as well as simple snacks and basic staples.
Towels, shampoo, soap and hairdryer are provided in the Bath House. A first aid kit, bug lotion/spray and flashlights are also available on the premises. Other amenities, such as an alarm clock, are available upon request.
Interaction with guests
We are happy to welcome you and are glad to help you with any assistance that you may need in planning your stay in the MidCoast area. As mentioned, we live close by on the property, but you'll only see us if you need us.
I often describe our place as a "self-serve" bed and breakfast. This does not mean that I won't be making your breakfast. I will happily make you an amazing breakfast. By "self serve", we mean that you can help yourself and really make yourself at home here. We hope that you get a comfortable informal feeling. We strive to provide a feeling of privacy and promote a sense of restfulness.
And to be perfectly honest, I am not a huge fan of traditional B&Bs. I don't really want my room right next door to the innkeeper's and sometimes I'm just not in the mood to share my "story". Some times, I am. But some times, I'm not. As your hosts, Alex and I are always happy to help you, but it's ok if you don't want to gab it up... we get it. We really do.
So, what you can expect to get at The Osprey Nest is the feeling of being in a sweet cozy private rental with a delicious, mostly organic, all local breakfast included and the off chance of seeing members of my family at some point. All lovely people, so you should be OK.
Other things to note
We have a queen-sized bed in the Cottage and two twin-sized beds in the Cabin.
So, possible arrangements are the following...
a couple in the Cottage (2 people)
two individuals, one in the Cottage and one in the Cabin (2 people)
a couple in the Cottage and an individual in the Cabin (3 people)
a couple in the Cottage and a two individuals/couple in the Cabin (4 people)
Children are welcome. We have some of our own! However, please be aware that the buildings are very close to the water's edge at high tide. You will want to keep a keen eye on any child near the dock and the water.
We have a pack n' play available for use and are happy to make creative sleeping arrangements for children. Please communicate your bedding needs to us in advance so that we can make the necessary modifications to the sleeping arrangements.
Children ages 6-12 are an additional $25 per night, 13-18 years are an additional $50 per night.   There is no extra charge for children ages 5 and under.
As mentioned, breakfast is included.
---
---
Check in is anytime after 3PM
Hello! Thank you for your interest in The Osprey Nest. We welcome you and encourage you to review our house rules.
We do have some fairly firm rules as we live in a quiet neighborhood and expect our guests to be respectful of our neighbors and our home.
No smoking anywhere on the premises please.
No pets, although we do love them.
No open flames in any of the buildings. All of the buildings have lights/electricity and flashlights are also provided.
Our standard rate of $220 is based on a two-person occupancy. There is an additional charge of $100 per person for a 3rd and 4th guest. Children ages 6-12 are an additional $25 per night, 13-18 years are an additional $50 per night. There is no extra charge for children ages 5 and under.
We kindly ask that you eat and store any food items in the Boat Barn only, either in the dry pantry or in the refrigerator. This will help us keep the wildlife in check... and out of the buildings.
The kitchen is available for you to use, but there is no oven. There is a refrigerator, a microwave, an electronic tea kettle, a coffee maker and a grill (outside) if needed.
All water activities on the river such as swimming and boating are at your own risk. If you would like to go out on the river, please let us know and we will happily arrange the boats for you and provide a "safety" talk with information regarding the tides and current.
We have what is known on Airbnb as a "no party policy"... this basically means that the accommodations are for you to enjoy personally. We kindly ask that our guests do not invite others over to The Osprey Nest while staying here. Please contact Liz and Alex if you have a specific request.
Our place is available to you as a quiet, tranquil and friendly retreat in a beautiful setting. We hope you enjoy it!
Thank you!
---
I had a very hard time dragging myself away from this beautiful, classy "camp" on the river. It's an old camp right on the banks of a tidal river that Liz and Alex have updated to offer everything one needs to be comfortable and to delight in the constantly changing river. Each of the buildings has been redone to include beautiful old and new wood for the structures and incredibly charming nooks everywhere with mirrors, cabinets with little drawers holding surprises, and books about Maine and its offerings. It would take me much more than a few days to discover all the little treasures that make this place a true home. The kitchen is stocked with everything I needed for both the food Liz left and any that I brought. Liz and Alex were both charming and very interesting. They are world travelers and have the sophistication of those who know a wide variety of people and lifestyles. I very much enjoyed our visits and am glad to have met them. Finally, I was mesmerized by the river, watching each day as the (10 foot) tide came in to flood the river and bring water under the desk of the Boat Barn and then watching it go out to leave mud flats where the sandpipers came to forage and the moored boat and float rested on the river floor. I did not take a boat onto the river but it would be a spectacular place to canoe or kayak. I saw 2 eagles flying high across the river, a group of resident cormorants, a couple of large snowy egrets, and several kingfishers. Thousands of small fish hang out near the shores and I can only imagine how much life this river nurtures. The red squirrels and chipmunks had eyes on me the whole time and chattered at me whenever I moved from one building to another. I was disappointed not to see the train come by but Liz told me it's on an erratic schedule. I stayed 2 nights in September and had perfect weather....70's during the day, low 60's at night, clear blue skies on 2 days and a partly cloudy sky on the last. My only minor "complaint" is that I did not get to see any fog. Morning fog and mist on the river is likely gorgeous, but that's perhaps just my peculiar view. It was late enough in the year so that virtually all of the biting insects were gone. The very few mosquitoes at dusk were slow and lazy and kept outside by the excellent and innovative screening everywhere. My bed was cozy and comfortable and the bathhouse is an absolute delight as others have noted. The most telling thing about how much I loved this place is that I did not leave it until my stay was over. On other vacations I typically explore the area around my lodging. When I got to the Osprey Nest I immediately knew I was already where I...
Response from Liz & Alex:
Thank you so very much Christine... it was an absolute pleasure to host you on your last trip of the summer and as our last guest of the season. A great way to close a wonderful season with such an appreciative, thoughtful and lovely guest! THANK YOU. We enjoyed visiting with you as well and are so happy that you were able to deeply enjoy your time at the Nest. We hope to see you again! All the best... Liz, Alex, Sol and Lu
---
A private oasis on a lovely tidal river. Liz is a gracious hostess and the accommodations are perfect. Will stay again.
---
This has been our favorite Airbnb in Maine thus far. The area was beautiful with lots of things to do and restaurants to go out to eat. New Castle was a great location to explore this part of Maine. We enjoyed the downtown area and were able to make a trip to Boothbay Harbor. We would highly recommend the Botanical Gardens. The Osprey Nest was impeccable, beautiful and cozy. Their location on the river was breath taking. Liz and Alex were wonderful hosts and great cooks. They went above and beyond to ensure we had a good stay. The attention to detail was evident in their beautiful home. We wish we could have stayed longer!
Response from Liz & Alex:
Thank you, Dan and Shannon! We really enjoyed having you here... so happy that your stay was the relaxing, quiet getaway you were hoping for. We wish you the best in the coming weeks/months and a wonderful wedding in November. Thanks again for choosing to stay with us and we sincerely hope to see you again!! XO Liz and family
---
Liz and Alex were the best hosts and the houses and cottages are stunning! It was the perfect trip and stay in the area. We will definitely be back and recommend to anyone. It was beautiful, they were incredibly hospitable, and the location was perfect for both relaxing and exploring the area. Great trip all around!
Response from Liz & Alex:
Thank you so much, Laura and Patrick! Grateful and humbled that you chose to spend your very special celebration with us... and SO glad that you had a great experience, trip and stay. Wonderful! We enjoyed getting to know you and sincerely hope to see you both again! Take care and come back! XO Liz and family
---
Tasteful, unique, accomodating. Liz and Alex are graceful hosts, sensitive to your unique needs in a subtle manner. Beautiful surrounds, amazing breakfast! Thank you!
---
Liz & Alex were great hosts! There were fresh flowers several places; snacks were waiting for us when we got there; breakfast was amazing; we got to canoe on the river; fires were set-up each night; and it was completely secluded on the water. We stayed for our honeymoon and it was a great way to recharge before making the rest of the trek to Acadia.
Response from Liz & Alex:
Thank you Ethan and Karen... Congratulations again! We are so honored that you chose to stay at The Osprey Nest for your Honeymoon and are so happy that you enjoyed yourselves here and it was a restful recharge for you both. That is PERFECT. We really enjoyed meeting you both and sincerely you come again! Best to you both, Ethan and Karen! XO Liz and family
---
Staying at Liz and Alex and their family's wonderful property is the ultimate experience in relaxation, natural beauty and perfect hospitality. It's our favorite weekend of the year and we are already planning our next visit. If I had to recommend one place to stay on earth, it would be here!
---
We are hosts at heart. My husband and I have lovingly restored this riverside camp. We work in international travel and have found our home here. It has become a meeting place, a happy space for our family and friends... we hope that you enjoy it too!
Languages:
English, Español
Response rate:
100%
Response time:
within an hour
Explore other options in and around Newcastle
More places to stay in Newcastle: