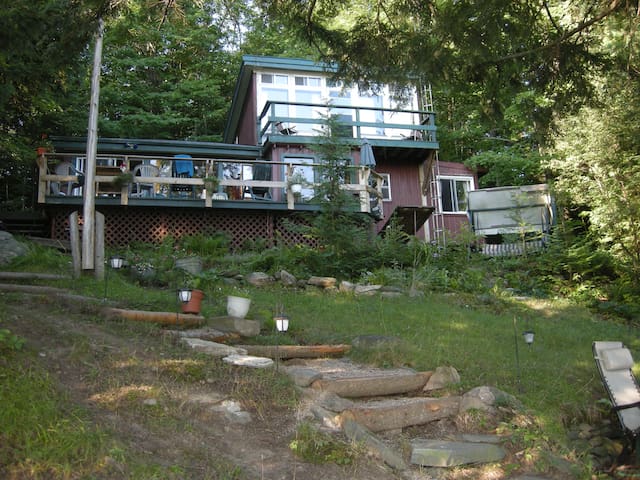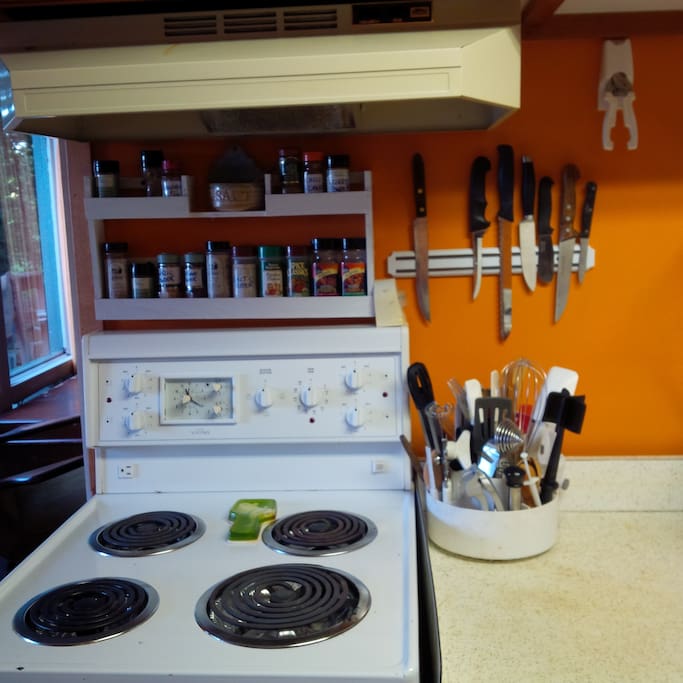 Private Cottage, Sleeps 8, Enjoy!
Arden, Big Clear Lake. Private. "Worn around the edges".
Main cottage: 3 bedrms, full kitchen, 3-pc bathrm
Bunkie: sleeps 2 (no heat)
Fishing, swimming, hiking. Rustic. Clean. Indoor & Outdoor Shower. No pets. No smoking.
Winterized Dec.-Apri.
The space
It is privately located in the centre of a double lot. 210 feet of shoreline. Quiet setting. Quiet Lake. Great fishing!
Propane BBQ
WiFi
Cell phone reception is excellent
Swimming is fabulous.
Guest access
Stove, Microwave, BBQ, Firepit, Freezer, WiFi
(No washer & dryer therefore guests are responsible for their own linens, towels, hand towels and tea towels.)
Interaction with guests
I am on the other side of the lake if you need me otherwise consider the place yours!
Other things to note
The cottage is in fairly rustic mode during the winter months as the water will be shut off and it is winterized.
What this means is that you have to haul water up from the lake. No water comes from the taps so it is one step up from camping in the winter. Means sponge bath, heating washing up water etc... Yes, there is an electric range so cooking and boiling water is not an issue.
It is also heated primarily by wood. So you have to know how to make a woodstove fire and keep it going. Wood is provided.
Therefore, when you arrive, the cottage inside temperature is about the same if not colder then outside.
Once the woodstove is going, the place is toasty warm and this process usually takes 8 hours to go from -20 to 25 degrees. When we use it on the weekends, we arrive Friday at 5, get the woodstove going and pumping heat, by morning it is usually around 15 degrees and noon we have it toasty at 25 for tshirts.
It is not for the faint at heart. Wintering at our cottage is for the real rugged sort.
That is why the cost to rent in the winter is reduced. Basically, the rental covers the cost of the hydro and the wood consumed.
There is a lovely cedar outhouse as the indoor plumbing is winterized.
I usually open up the drain in the kitchen for brushing teeth and dishes but then you have to remember to refill the trap with anti-freeze. This is also provided.
The second cabin does not have heat therefore you would require and electric heater. It is insulated but it would require patience while it warms up!
It is a private access road. Therefore, if it snows, you will need to arrange your own snow removal. This is at your own cost to you.
---
---
Extra people $59 NZD / night after 6 guests
Security Deposit $585 NZD
Weekend Price $263 NZD / night
Always communicate through Airbnb
To protect your payment, never transfer money or communicate outside of the Airbnb website or app.
Learn more
---
Bedroom 4
1 single bed, 1 sofa bed
---
Check in is anytime after 4PM
Self check-in with smart lock
Household Guide & Rules for 1115 Big Clear Lane
This is a family style cottage. It is rustic, has old charm but very cozy and private. Perfect if you want a place to relax with you children and grandparents.
Our cottage is not really suited for large groups of adults (8 or more). We prefer you come to relax and get away as opposed "let's have a par-tay and drink all weekend long and keep the neighbors up"...catch my drift? It's ill suited for those wishing to have a party style weekend; as this often leads to a big clean up, upset neighbors and broken things. We want you to enjoy a cottage lifestyle, as we do. It's great to be able to share the cottage lifestyle with you. So that we know it is being appreciated when we cannot be there ourselves.
Smoking
Smoking is strictly forbidden in all cottage buildings.
If you are a smoker, you must clean up your cigarette butts. These are considered waste and are not allowed on cottage property, lake or outhouse.
Power/Heat Source
We recommend you bring flashlights in the event of a power failure at the cottage. In rural areas, interruptions to electrical power supply may last a little longer than in the city. Also, remember that the water system operates on an electrical pump. Therefore, do not run the water when the power is off.
Location electrical panel: The electrical panel is located in the basement. You do not have permission to access the electrical panel without the express consent of the owner.
Fireplace
There is a wood-burning stove listed in the Cottage Inventory is available for your use. Please do not use artificial logs or anything other than regular firewood. Do not overload fireplace. Make certain that the flue is open prior to lighting a fire, and that the fireplace doors are in place while fire is burning. DO NOT cut down trees on the property for firewood. Unless otherwise specified, the firewood provided should be more than adequate for your needs. Please do not burn excessive amounts of wood unnecessarily. Do not cut/split wood anywhere inside the cottage.
Do not empty the ashes into a cardboard box for disposal. Remember, ashes include hot embers and will start fires in the right environment. Ashes should be disposed when they are cooled. Ashes can be disposed of at the waste disposal sight. Otherwise, you may opt to leave them in the stove for the owner to dispose.
Outdoor Fires
Outdoor fires are only allowed in the established permanent fire pit areas, one by the water and the other on the small detached deck. You cannot move the fire pits from their location. These are the ONLY two locations to have an outdoor fire. Before lighting any fire out of doors, check with the local Township office regarding fire regulations or restrictions. If there is a complete fire ban, you will be found liable for having a fire. Permits are required. Permits can be purchased at the Legion on Arden Road for only $2.
Keep a bucket of water near the fire in case you need to extinguish the fire quickly. Make sure the area around the pit is dampened with water to prevent the spread of fire.
Pour water on all fires, to ensure they are completely out. Do not make a large fire as nearby trees and brush can catch on fire.
Waste Disposal
Never leave garbage outside the cottage unless it is in a tightly covered container. Country critters are attracted to garbage. Unless you wish to have additional company during your vacation, please follow the garbage disposal instructions below. All garbage must be removed from the property at the end of your rental period. Any garbage left at the cottage premises will result in a $50.00 disposal charge.
Garbage must be disposed in clear plastic bags. Recycling is free to dispose at the dumpsite.
Location of nearest landfill and Recycling Depot - 1094 Olden Park Road, Hwy #7, near Mountain Grove.
Compost:
Green compost bin is located near the parking area. Please compost. DO NOT compost meat products or bone. These attract bears. Meat and bones should be disposed of as per waste disposal above.
Water Source
Water source is pumped in from the lake. The water is safe to drink from the small tap next to the main tap at the kitchen sink. Many cottage owners filter or boil their water, or bring in drinking water from an outside source. This lake water supply uses an electric pump to provide water inside the cottage. The pump will go off and on when the system requires water. Please note that it normally should NOT run for more than 10 minutes straight or so, when there is no water being run. If you believe there is a problem, turn the pump off until you have contacted the owner. To turn the pump off, go to the small pump house located near the fire pit. There is a light switch inside the pump near the power source. Flip the light switch off. This will turn off the pump.
Cottage Water Source: Lake water
Location of water pump: Water front near fire pit
Location of hot water heater: Basement
Bathroom/ Septic System: Tile bed behind the cottage in front of the shed.
Septic System
The basic rule is DO NOT PUT ANYTHING down the toilet other than natural waste and toilet paper (and be conservative with the paper).
•Use one-ply paper whenever possible.
•No paper towels, Kleenex, tampons, pads, matches, hair, grease, strong chemicals, etc. These are guaranteed to back up the system.
•Flush only when absolutely necessary. If it is yellow, let it mellow, brown – flush it down. There is a beautiful cedar outhouse that can accommodate you nicely should nature call.
•If the power goes out for a period of time, and you need to flush the toilet more than once, fill the tank up with water from the lake, then flush.
•See note under "Power/Heat Source".
The septic bed (identified outdoors as the large, flat/level open section of the lot) can be easily damaged by excessive weight. Do not drive or park on the lawn. The septic bed is located directly in front if the garden shed at the back of the cottage.
•Do not drive over, or park any vehicles in this area.
•Septic systems have a maximum capacity with regard to use (i.e. number of persons, washrooms, laundry, etc.).
•Do not exceed the maximum number of persons determined for this cottage and indicated on your rental agreement. Total maximum people at any given time is 8.
Cottage Cleaning
Thank you for your consideration in leaving the cottage (inside and out) thoroughly clean and tidy, as it was for your arrival. If you deplete any cleaning supplies, please replace them for the next guests. Please remember that it is required that the cottage be left thoroughly clean and tidy. If the property requires additional cleaning following your departure, deductions will be made from your security/damage deposit to cover the cost.
Location of cleaning supplies: Under the kitchen sink. Vacuum in the pantry (bathroom), mop hanging in the screened in entry way.
General Inventory
Barbeque
Please do not burn any foreign materials (i.e. wood) in the BBQ. The BBQ grill should be cleaned/brushed after each use. Operating instructions are affixed to the BBQ. If not, make sure the lid is open and the match or lighter burning BEFORE you turn on the propane. After each use, turn off both the BBQ 'On/Off' valve and the tank valve.
The propane tank has been filled by the owners prior to your arrival. If the propane runs out during your stay, please check the Inventory list to see if an extra tank has been provided. If not, please go to the nearest refill station and refill the tank prior to leaving the cottage. Nearest refill station in HWY #7, Esso station in Sharbot Lake.
Television
Cable TV service is not available in rural areas. Therefore, television reception and selection of channels tends to be limited. TV is available however there is no satellite service. During thunder and lightning storms, please unplug televisions and stereo systems.
WIFI
Wifi is provided for up to 10 devices. You are restricted to 25 GB during you stay. If you exceed your downloads, you may be charged. What does this mean? Don't download TV, Netflixs or Youtube 24 hours a day! Check your email then get outside and enjoy being at the cottage!
Recreational Equipment
NOTE: If we have not indicated that a piece of recreational equipment is available on the Cottage Inventory List, then it is not for the use of renters. Therefore, if there is a boat at the cottage, but one is not listed on your Cottage Inventory list, PLEASE DO NOT USE.
No Rv's or tents allowed on cottage property at any time.

Boating
When boating, remember that one approved life jacket or personal floatation device for each person on board is required by law. The availability of life jackets at the cottage is indicated on your Cottage Inventory list. It is recommended that you bring your own. You are also required to conform to all boat safety regulations and requirements.
Fishing
You must have a fishing license.
Please do not fish on our near the dock and swimming area. No one wants a hook in their ear or foot.
Use the dock closest to the boat house for fishing. Note: You do not have access to the boat house in your rental agreement.
The Cottage Community
Everyone knows everyone else in cottage communities, and they keep an eye on each other's property. Don't be surprised if someone asks you who you are. Explain that you are guests of ours. Your consideration of the owner's place in that community will be appreciated. No loud parties or noise after 11:00 p.m., observe normal boating and water guidelines, etc. There are lake stewards positioned all around the lake. If you have exceeded the number of people in your contract, if you are loud and partying past 11:00 pm and if you are boating unsafely, the owners will hear about it rather instantly. Thanks to (SENSITIVE CONTENTS HIDDEN), (SENSITIVE CONTENTS HIDDEN), email and texting. As I have been living in the community for 22 years, the community knows my property well.
Telephone
There is no landline at the cottage. You are required to use your own cell phone. There is cell phone range throughout the lake for all service providers. You can also use (SENSITIVE CONTENTS HIDDEN) to make calls.
Food Supplies
Since the owners use the cottage themselves, they may leave some food supplies or staples at the cottage. You are welcome to use these if you need to, but we ask that you replace any supplies that become depleted during your stay.
Linens and Towels
In many cottages, linens and towels are not provided with rentals. If there are linens and towels in the cottage, and your agreement or inventory does not indicate use of linens and towels is allowed, please do not use. There will be a $100.00 cleaning charge if these items are used.
What does this mean? It means, you must bring your own beach towels, hand towels, tea towels and linens. (fitted sheet and top sheet) This is a good time to use your sleeping bags or bring a fitted sheet and your duvet.
Beds:
•1 double bed – bunk house
•1 queen bed – main floor bedroom
•1 double hide a bed – upstairs room
•3 twin beds – upstairs rooms

Furniture
Please do not move heavy furniture.
Report any broken items immediately to the cottage owner.
Pets
Be respectful of the fact that the owners are allergic to animals. Cats are not allowed in the cottage or bunk house
Dogs have restricted access to the cottage. They are not allowed on the furniture or in the bedrooms. All dogs must be on a leash while on the property. The neighbors have a black lab. She is very gentle and lovely. She may look like she is allowed in the cottage, but she isn't! Please let our neighbor, Eric Cunningham, to the left, know if she is a nuisance.
The above rules on dogs and cats applies also to any guests that may visit during your stay.
Do not allow your pet to disturb the neighbours. Your efforts to "stoop & scoop" will be appreciated by the owners and the next guests.
Occupancy
The maximum number of persons permitted at this cottage, includes children, daytime & overnight guests. Total 8
Maximum number of vehicles permitted at this cottage, includes daytime & overnight guests. Total 4
Failure to adhere to these maximums will result in either immediate eviction without refund, or a $100 per night (or per day) charge for each additional guest/vehicle.
Why is there a maximum number? The septic system can only handle so much use per year. We have taken each rental into consideration to formulate the safe usage allowances of the system.
Regarding the cars: Too many vehicles in the parking area means that it would be difficult for emergency crew to navigate the drive area should an emergency arise. The drive area will hold 4 vehicles tucked to the sides and off the circular drive to allow emergency vehicles to pass.
Maximum Occupancy: 8
Maximum Vehicles: 4
Late check outs will ensue a $50.00 charge.
Personal Items
Please remember to take all of your personal items when you check out. If requested, the cottage owners will retain any forgotten items for a maximum of 2 weeks while you arrange to pick them up. The cottage owner is not responsible for returning any forgotten items by mail or courier, etc.
Insects
In cottage country, there is an over-abundance of insects and creepy-crawlies, and we, as humans, can do very little to control these critters. To discourage insects and small rodents, please keep exterior screen doors closed at all times.
There is a mosquito catcher on the kitchen counter. This can be turned on at night to attract mosquitoes that snook into the cottage uninvited.
Poison Ivy
Poison ivy has three leaves branching from a single stem and it is often found in open woods, thickets and along road sides. The leaves are green in spring and summer and it usually reaches heights of 5 to 25 cm . If contact occurs, prompt washing with soap and water may remove the oil. Transferring of the oil may occur from footwear, clothing or a dog. Medical attention should be sought if severe skin rash develops. There has not been any poison ivy observed on the property. Please report to the cottage owners if you notice this vine.
Things you can do to help out:
•We always appreciate a hand at raking. Rake paths and move brush deep into the woods.
•Tidy the shoreline and rebuild the rock wall. The rock wall holds the shoreline together and the winter ice pulls the wall down. A lot of time can be spent moving rocks back onto the wall. If you find a rock in the swimming area, please pick it up and add it to the rock wall.
•Pile sticks and twigs for the fire pit
•Weed the garden
Zebra muscles
The lake has zebra mussels. It is recommended that you wear water shoes while swimming.
If you are rebuilding the shoreline, it is recommended that you wear gloves when handling rocks. They are covered in zebra mussels and can slice into your skin. Trust me!
Glass
It is highly recommended that you do not use glass containers, bottles etc outside the cottage. No one wants to swim or step on broken glass. We recommend plastic or cans where possible.
Soap/Shampoo
No soap or shampoo should be used within 100 feet of the lake. There really is no environmentally friendly way to lather up in a lake. Soaps can create algae blooms, which greatly alter the health of a lake. Even products that contain only natural ingredients may affect ecological balances in unintended ways. 
Important links:
(URL HIDDEN)
(URL HIDDEN)
(URL HIDDEN)
(URL HIDDEN)
In Case of Emergency
Fire extinguisher in the pantry, off the bathroom. Please locate this on arrival.
Upstairs fire escape route is down the TV antenna cage accessed by the upstairs deck. Locate this route and practice a safe drill.
Dial 911 and give them the address 1115 Big Clear Lane
Evacuate to the basement in case of tornado. It is tight quarters!

COTTAGE CLEANING CHECKLIST
We appreciate your efforts to leave the cottage in the same condition it was left for you - thoroughly clean and tidy, both inside and outside. Here is a housekeeping checklist to ensure closing tasks are completed.
Inside cottage:
Vacuum all carpets thoroughly
Sweep and mop all bare floor surfaces
Clean off and wipe all tables, counter tops and kitchen appliances (including inside the oven, if used) Clean out coffee maker**, wipe out microwave**, and empty dishwasher**,
Clean out and wipe the fridge -- do not leave any perishables!
Replace all cutlery, dishes, pots and pans (once clean) to appropriate drawers/cupboards
Dust and tidy all rooms throughout cottage
Clean toilet, tub, shower, sink, mirror and vanity in bathroom(s)
Dispose of ashes from fireplace** as directed in the Household Rules guide.
Clean all fingerprints and smudges from windows, sliding glass and screen doors
Dispose of all garbage as outlined in Household Rules guide
Deck/outside area:
Wipe off all outdoor furniture used and return to its proper place as per arrival
Clean/brush off BBQ grill and ensure propane tank is turned off. (As requested, do not leave tank empty).
Ensure that all garbage, dog dirt and cigarette butts are removed and disposed
General:
Do not leave behind pop, beer caps, broken glass or beer empties
Check that you have removed all personal belongings from all areas of the cottage and property
Close and lock all windows, close drapes
Check all doors and ensure the cottage is locked
Follow instruction in Household Rules guide in regards to how keys are to be handled
Ensure garbage cans are empty and all garbage is removed from property
Check out time is 11:00 am, unless otherwise specified.
 
COTTAGE INVENTORY

Major Appliances:
stove
oven
fridge/freezer
stand alone freezer – located in pantry off bathroom
microwave – located in pantry off bathroom
propane barbecue
extra BBQ propane tank
Small Appliances:
coffee maker
toaster
toaster oven
blender
kettle
vacuum
Waffle Iron
George Forman Grill
Air popcorn maker
Kitchen Wares:
Dishes, cutlery, glasses
cups/mugs
pots/pans
Cooking utensils
Knives
Entertainment
television
satellite
VHS
Stereo
Radio
WiFi
Bedrooms:
blankets
pillows
beds
sofa bed
sofas
Bathrooms:
toilet paper
cleaning supplies
Outhouse
Outdoor shower
Water Equipment:
Canoe
Paddles
life jackets
Other:
Fireplace/wood stove
firewood
patio furniture
outdoor firepit
cell phone service
internet/wifi on site
Outdoor laundry line
Dish cloths & tea towels
Table & chairs
can & bottle openers
corkscrew opener
ceiling fan
portable fan
---
---
---
This is our 3rd time back, and we've always had a great time. A lovely spot, rustic and cozy. The fireplace was great for a rainy day, and swimming from the dock was perfect when the weather improved. We'll definitely be coming back.
---
My family stayed at Heathers cottage for the second year in a row. It is on a beautiful property with a lovely lake, sunset and great fire pit near the lake. The deck is perfect for morning coffees and family dinners. The cottage can comfortably fit six adults. The beds are comfortable and checkin is super easy. Heather is great for communicating. Arden is a lovely town with a great walking trail. Would recommend this cottage for anyone looking for a nice escape!
---
Had a great time at the cottage. It is a great location. Beautiful Lake. Favourite feature by far was the outdoor shower. Bathroom is lovely. Great Host quick response to any questions I had. My first experience with Airbnb, will use it again for sure and have recommended it to family and friends. Thanks again Heather !!!
---
We had a great time at this cottage. Everything came as shown in the pics. Close to the lake and super private. Loved the outdoor shower! We easily fit 8 guests comfortably. Heather was a a great host, and made sure we were all set for the weekend. We would definitely come back again!
---
Heather's place was great for a weekend getaway. There was one canoe available, ALMOST NEW gas BBQ, wood burn fireplace by the lake. My whole family enjoyed the sceneries, fishing by the lake, canoeing, BBQ, and star gazing at night. The water was still a bit cold, but I managed to swim for 30 mins in the middle of the day. Our family also enjoyed the outdoor shower a lot! The kitchen was well equipped! We managed to make 5 people meal with all the kitchen equipment. Other reviews has mentioned this as well, the cottage is definitely on the old side. it requires a bit tighty up and cleaning. The doors doesn't shut completely which can be annoying at night. Two things I wish was paid more attention to in the house manual before coming here. First is the caterpillars!!!! In the house manual, heather mentioned about over-abundance of creepy-crawlies, she really means it. Caterpillars are everywhere outside of the house!!! (They fell on you from the trees from time to time. Yikes!) Second is the water pressure. It really limits you to only use the shower outside, and doing dishes can be somewhat a challenge.
We have had quite a caterpillar take over this year. It is well documented in the news that an abundance of the little creatures have surfaced this year. I will be glad when they are all gone! So glad you had a great time and enjoyed the canoe. Yes, the cottage is certainly rustic. It was built in the late 60's so its no young pup! One day we will have the luxury of having a well and city like water pressure. It is, after all, cottage life:)
---
the place is super cute, rustic but very charming. No other house around, in front of the lac, best place to relax, fishing, padle etc...
So glad you enjoyed your stay! Thank you for leaving things so perfectly clean. Regarding the kitchen light, the switch was behind the fridge on the wall. You missed it but it's there. Plenty of light in all corners. Hopefully we will have the bathroom renovated for next time you visit.
---
This was a good cottage for a weekend retreat. It sleeps 5 or 6 comfortably and can scale up to 8 if sharing beds. I especially enjoyed the off-site bed house. There are on-site neat amenities like outdoor extra shower, fire pit and old National Geographic magazines. The facility is noticeably ageing which questions the premium price. Doors, windows and flooring all need work to ensure long term sustainability and presentation of the facility. The lake is quiet and nice but very shallow.
---
I have extensive experience in association and conference management and am multilingual - English, French and functional in German and Spanish.

In my volunteer roles, I am a team leader for the Limestone Learning Foundation and Co Chair for a popular Kingston Fundraiser. I have been the Treasurer for 20 years of a large organization where I am responsible for financial statements, yearend accounting, audits and payroll.

In my spare time I can be found hacking through the fields on one of my Tennessee Walking Mares, racing the track for autocross or lapping at Shannonville, Mt Tremblant, or Calobogie, touring our great country on my 1100cc Honda Shadow, Highland Dancing where the bagpipes sound, watching the sunrise or set on the lake or my favorite pastime; enjoying time with my family.
Languages:
English, Español, Français
Response rate:
100%
Response time:
within an hour
Explore other options in and around Arden (Central Frontenac)
More places to stay in Arden (Central Frontenac):