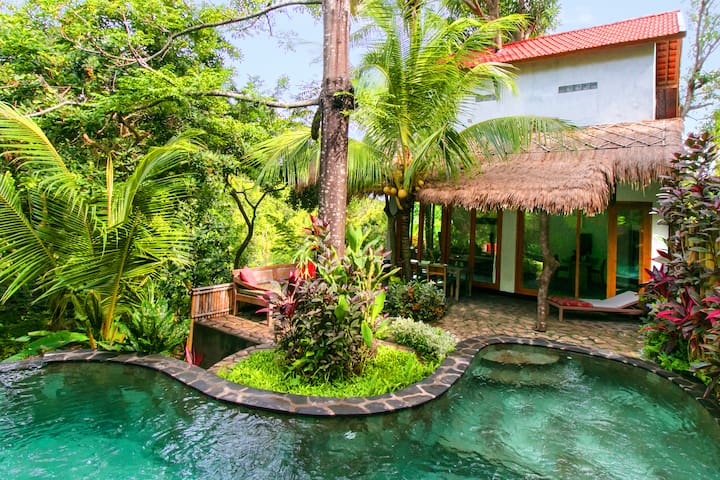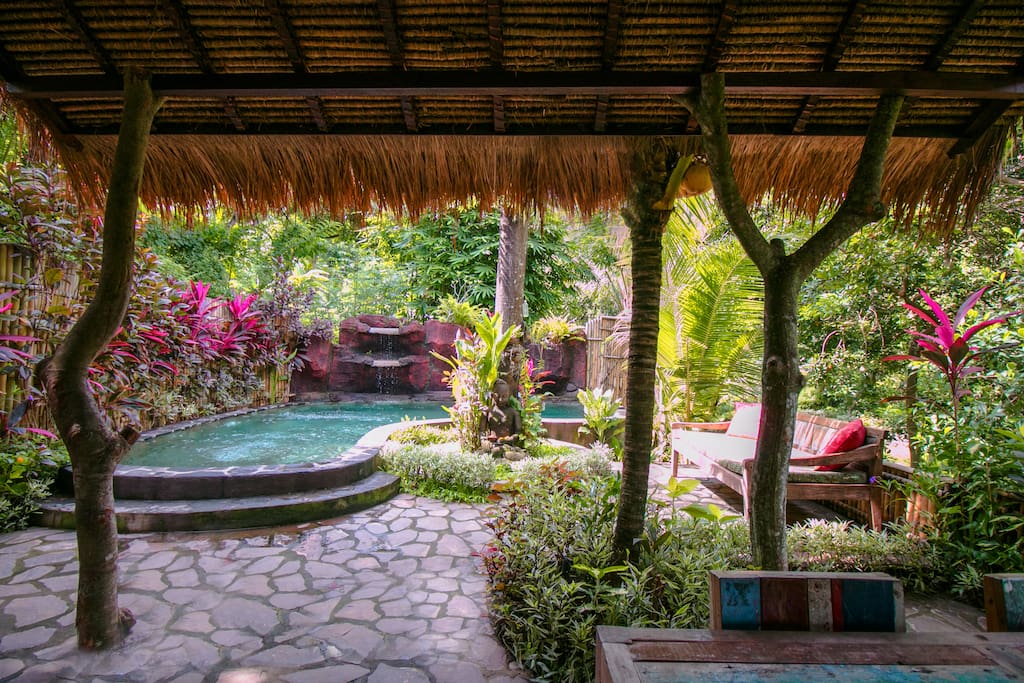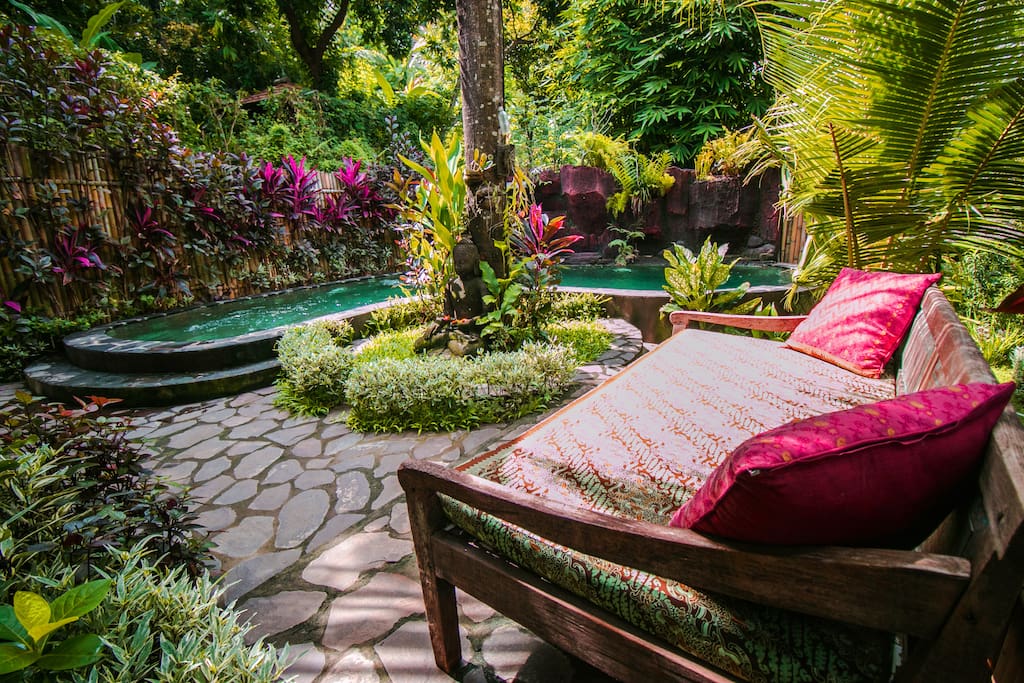 Private pool villa in an amazing eco resort located just 10min from Lovina. This two-story villa is situated in the middle of the resort. In this traditional village are stunning rice terraces, Banjar hot springs, the famous Buddhist Temple, amazing views of mountains and ocean. There are many attractive treks from the villa into this beautiful area. This lovely villa has two bedrooms, dining and living area, and two bathrooms. There is a huge terrace overlooking the beautiful Zengarden
The space
The villa includes:
Free breakfast, lunch and Balinese dinner, with coffee, tea, water and juice.
Fresh fruits from our garden, fresh juices and daily snacks are provided.
Free Wi-Fi internet.
Free trekking guide to the nearby Buddhist temple, hot springs, rice fields and amazing Banjar Jungle.
Free use off towels and bed sheets.
Laundry service and daily cleaning.
Free shuttle services in the neighborhood, Banjar, hot springs and Lovina beach.
*********************************************************************************
Rumah Sumatra is a private two-story villa featuring two bedrooms with two bathrooms. Both bedrooms have king-size beds. The bedrooms are air-conditioned and have ceiling fans, night stands, sitting area, and wardrobe. The bathrooms featuring lovely showers with rainwater shower heads, Western-style toilets and vessel sinks. There is a large, open living space with tasteful furnishing and a dining area with views overlooking a beautiful tropical Zengarden. The living area includes benches and a sofa to relax in. On the second floor you will find a big terrace with views of the mountains and ocean. There is a, refrigerator, and filtered water dispenser for cold drinking water, coffee & tea. There is a closet with glassware and silverware. In the huge garden there is a lovely private pool
Guest access
Guests have access to all of the facilities of the villa.
---
---
Check in is anytime after 2PM
Self check-in with doorman
We have respect for each other, we have an amazing, lovely and caring team at Indo Rumah Zengarden so we don't allow guests to be disrespectful towards the staff
---
Gorgeous. Scenic. Wonderful staff. Food was great. It was like finding a hidden gem. I would recommend this home to anyone looking for a very beautiful & unique property. I feel like anyone who builds the home around the trees instead of cutting the trees down to build the home is a winner in my book. Yes. The trees are running through the home. This place is beautiful.
---
This place is really an amazing spot. We prefer eco friendly places far away from the hustle and bustle of the city. This one is great and full of character. Zammin and Kommang were exceptional hosts. We went to Aling Aling waterfall which felt really sacred and special. We were the only people there on a beautiful day. The buddhist temple is practically next door. There is actually plenty to do in this part of Bali. But with the design of the bungalows and the lush gardens to walk around, you might not want to go far. The place was so great that we wanted to stay in at night and drink bintangs and play boardgames. Food was awesome too. Will definitely return!
---
In all my intensive AirBnb travel, I have never been to a place so magical, so friendly, so relaxing as Kim's Indo Rumah Zen. My children and I had to travel all the way from the US to find this AMAZING piece of paradise. I can't recommend it enough. If I could, I would just go live there and never look back ;-) Zammin the manager is uber-helpful, the staff team super friendly, the less developed part of Bali beats the hubbub of Ubud and Denpasar. The house with its live tree growing through it, the garden, the ponds, koi, and the wonderful white ducks are the part of your private paradise. Can't wait to get back!
---
Kim kept in great touch with us and answered all our questions leading up to the trip. The staff made us feel right at home and we were thrilled to discover the villa had fans and air conditioning! Zammin guided us on our best day in Bali, starting with a hike to the hot springs, which were great. Along the way, he pointed out numerous plants, giving us an appreciation of how various fruit, vegetables, rice and spices grow and get to our tables. That afternoon he took us to Aling Aling Falls, where we slid down waterfalls and jumped off of cliffs. Wild, crazy fun! We also visited a Buddhist temple just up the hill from our villa that was absolutely enchanting. Lastly, we had massages from Cadet, outside under the trees with the moon and stars overhead. A magical way to end an incredible day. Nice accommodations, beautiful pool/backyard area, good vibes, great people!
---
We absolutely loved our stay at the Indo Rumah Zengarden! It was our first trip to Bali, we stayed there five nights and only wished we were there longer. We were warmly welcomed and immediately settled into the comforts of the home. We're a family that appreciates the quiet of the countryside but we also like to keep busy so this was the perfect balance because of location and closeness to activities. Our five year old son enjoyed every minute; playing at the playground near the pond, feeding the fish and ducks, and spending time with the children up the hill. We even attended the village school where we had the opportunity to visit with the children and teachers and made a donation (non-mandatory). I would highly recommend it, they loved interacting with our son and the staff was grateful that we took the time to visit them, and it provided an opportunity for the students to practice their english. We ate our breakfast and lunch at the top of the hill each day, and enjoyed watching and listening to life happen around us. I cannot say enough about Komang's cooking; the best we had in Bali! There was a great variety to choose from so we didn't feel bored with the menu. Be sure to have the traditional Balinese breakfast! There were many highlights of our stay, but attending the two ceremonies with Zammin, the host, was one of our favorites. One of them was a full-moon celebration where we walked with his family for a mile in the dark, crossing streams and rice patties with a flashlight to arrive at our destination. Our son still talks about it! These are the types of experiences that you can't find anywhere else. Nor will you find a host family as genuine and kind-hearted, who give back to their community in numerous ways. We miss our daily hugs from Grandma, who although cannot speak a word of english, communicates well through her smile and warmth. We will be back again, but next time we are heading there straight from the airport!
---
Indo Rumah Zengarden is a beautiful villa nestled in mountains and surrounded by nature. A peaceful retreat nicely decorated and close to a charming village, beautiful hot springs, and an serene Buddhist temple. Zanmin, Komang and their family are wonderful hosts. One highlight was the walk Zanmin took us on across the jungle and rice paddies during which he shared his extended knowledge of the fauna, flora and the daily life of farmers. Komang is a wonderful cook who made some of the best Balinese dishes we ate during our trip (try her Balinese breakfast!). Nearby Sekumpul is an impressive waterfall -- worth a visit -- and the quiet Permeturan beach is a great place to enjoy a day in the sun and snorkeling. Kim, who managed the reservation and works in the southern part of the island, was always in touch and ready to assist if needed. A big thank you to the entire team for making our stay so unforgettable.
---
Languages:
English, Nederlands
Response rate:
100%
Response time:
within a few hours
Explore other options in and around Banjar
More places to stay in Banjar: