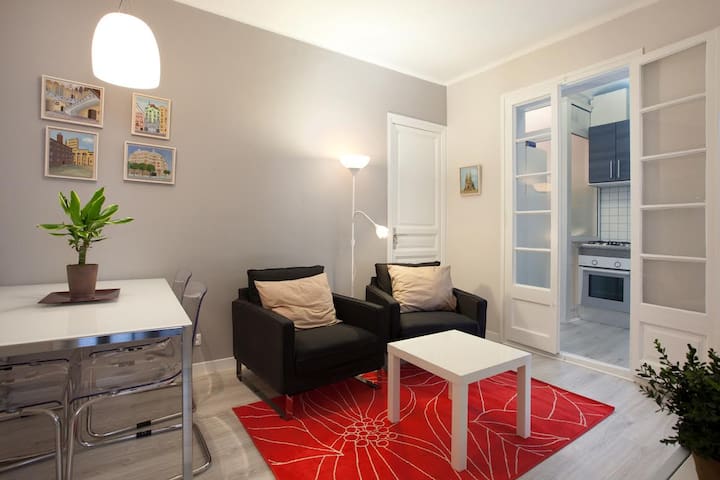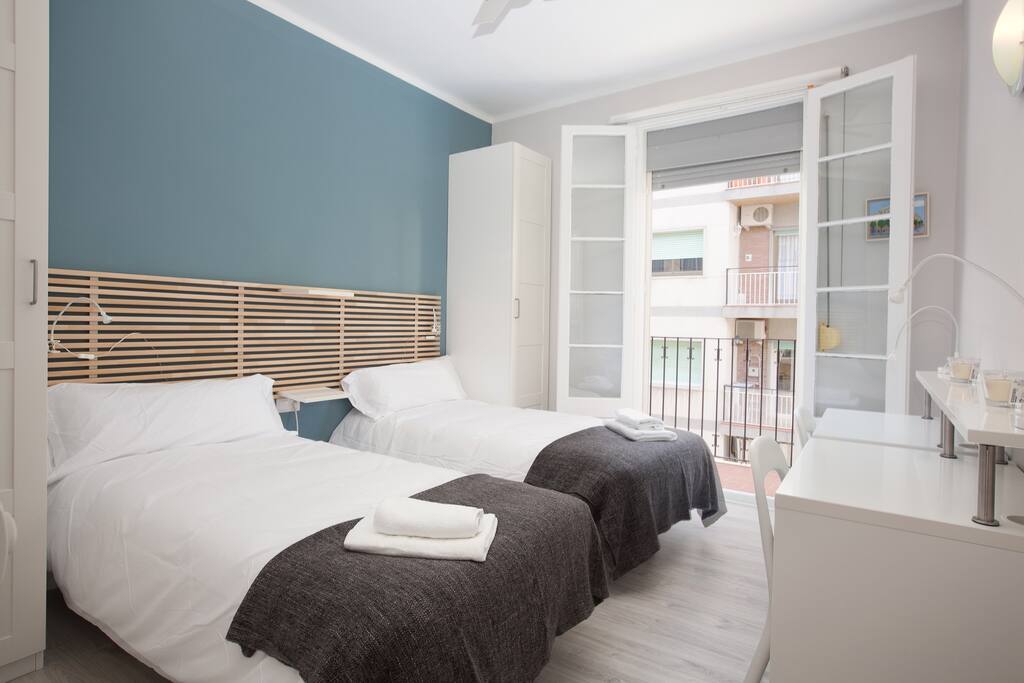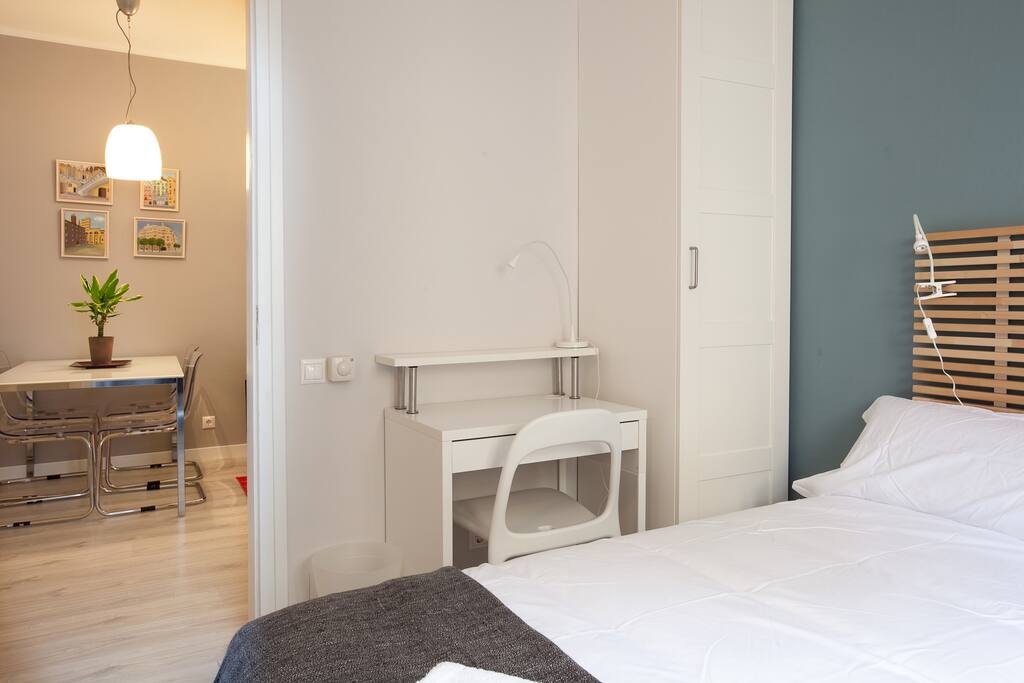 Apartment For Rent Near Camp Nou
Recently refurbished apartment not too far from Camp Nou and center. The building is located in a quiet area within the busy city center of Barcelona.
The space
Affordable apartment where all 6 occupants can be comfortable because of the large bedrooms and 2 full bathrooms. (FOR MONTHLY RENT A MAXIMUM OF 4 PERSONS)
It has a bright layout and is located close to Camp Nou. A metro stop at 50 meters allow you to get around easy.
Remember that for monthly rental it is essential that we have a proof of the duration of stay, either for studies or medical treatment. Without proof of the duration of stay we can not make a contract and we can not rent the apartment.
Extra fee:
- TOURIST TAX - Please note that 2.48 eur per person/night is excluded in all my prices.
- LATE CHECK IN: 30 eur after 9pm and 50 eur after midnight.
---
Never met Pilar but was in contact with a man named David. David was extremely helpful but the poor rating is for the lack of a/c. Our trip was in August and we ended up booking a hotel the final 2 nights instead. I had read through previous reviews as well as the description but it was never mentioned. Probably my fault for assuming though. Location isn't the greatest either m
Hi Fernando, sorry to read your review. I always do my utmost to make my guests as comfortable as possible. I will take your point into consideration of course ,but you base your review on "not having A/C".. but I, in no place, say there is. I specifically list this place without A/C. Giving me this very low rating for this does not seem right to me - but it is your fullest right of course. The flat has a lower pricing then other comparable listings because it does not offer the A/C or the top A - center of the center- location. I offer exactly what the place is, not more not less. Anyways, the large majority of my guests are aware and okay with this. Sorry it did not work out for you. Take care & best regards, P
---
The apartment was nicely furnished and conveniently located very close to a metro stop and near the Camp Neu football stadium. It was for the most part very clean, except for some mould on the wall in one room. Overall, it fit our needs as a group of students needing a place to stay for a visit to Barcelona. I had some difficulty arranging the key pick-up when I first booked the apartment. The rental appears to be through a third party company that requested I fill out an "arrival form," however, there were technical issues with the online form the prevented me from completely it. Eventually, I got in touch with David, who was our host (we never met or heard from Pilar, the host on the airbnb listing). Once we got in contact with David, we arranged for him to meet us at the apartment when we arrived to let us in. We appreciated that he was flexible with us when our flight was delayed and we arrived about an hour later than planned. However, the apartment was not quite ready when we arrived; it was still being cleaned. The other issue we experienced was that upon arrival, our host, David, requested that we pay a Barcelona tourism tax. The tax worked out to about 30 euros (for five of us staying three nights) and he wanted us to pay it to him on the spot in cash. We were slightly taken aback, as we had already paid for the airbnb, and did not expect any further expenses.
---
First thing I would like to note is that I wish there would have been something letting guests know there is a 4 floor walk-up and no elevator. If you are traveling with large suitcases that are heavy, this is not fun going or leaving. Overall the apartment was okay. The smell as soon as you enter the building is not good. We soon found out that the building must have a piping problem. We smelled the smell when we first got there to drop off our luggage, but when we came back for actual stay, they cleaned and tried to conceal it. Worked for only a while but smell was there until we left. One night there was a loud noise and when we got up we saw that the plaster from inside the ceiling had fell onto the kitchen counter, right near the pipes. We had an issue with the wifi and asked David for help as well as asking him for the sheets to cover the other beds in each room(they only covered one bed in each room). David replied to me hours later stating that the beds were made for 3 people who were the amount of people we paid for and how he will contact someone about the wifi the next morning. I understand that there were 3 people staying there, but if you go to a hotel, how would you feel if one bed was unmade your entire stay? Also, he never checked on the wifi or checked on us to ask was it working properly, I eventually fixed it myself. One thing I did find quite strange was a woman knocking at our door stating she was "a woman from upstairs". When we opened the door she asked us were we with Airbnb and if our wifi wasn't working and how hers wasn't working either. This was quite bizarre and she then let us know she was staying with one of the guys upstairs. Sure. We later believed that she was someone David knew and was checking to see if we had others in the apartment because it was just TOO WEIRD! Apartment is very close to transportation and we tried to overlook all of the issues to ensure that our stay was a good one.
---
The apartment is exactly as described, just perfect for what we needed. The location was great for us, close to public transport and a supermarket. Furthermore, we have a problem with the hired transfer from the airport, Pilar was extremely helpful to solve it, she called the agency in-charged and made sure that we received an explanation and the refund; in the end, we received the transfer to the airport free-of-charge.
---
Hi, my name is Pilar. I live in Barcelona. I love to go to the beach, just relax and read a good book. Otherwise I like to discover new places in the city. Especially places to go to eat tapas or paella! I rent my apartments by Enjoy Apartments, so just to make sure the…
Languages:
Deutsch, English, Español
Response rate:
83%
Response time:
within a day
Explore other options in and around Barcelona
More places to stay in Barcelona: