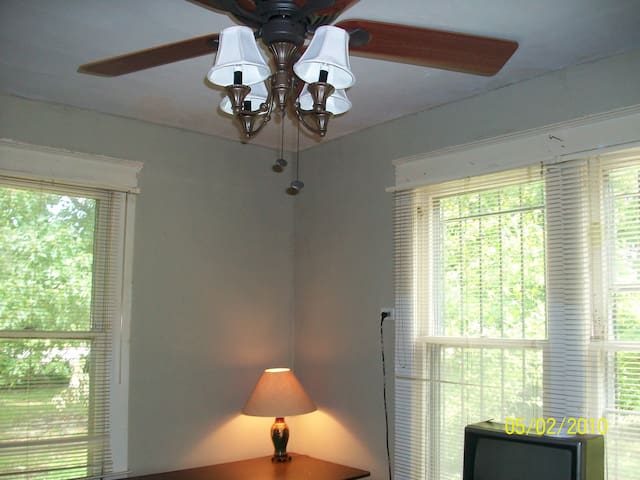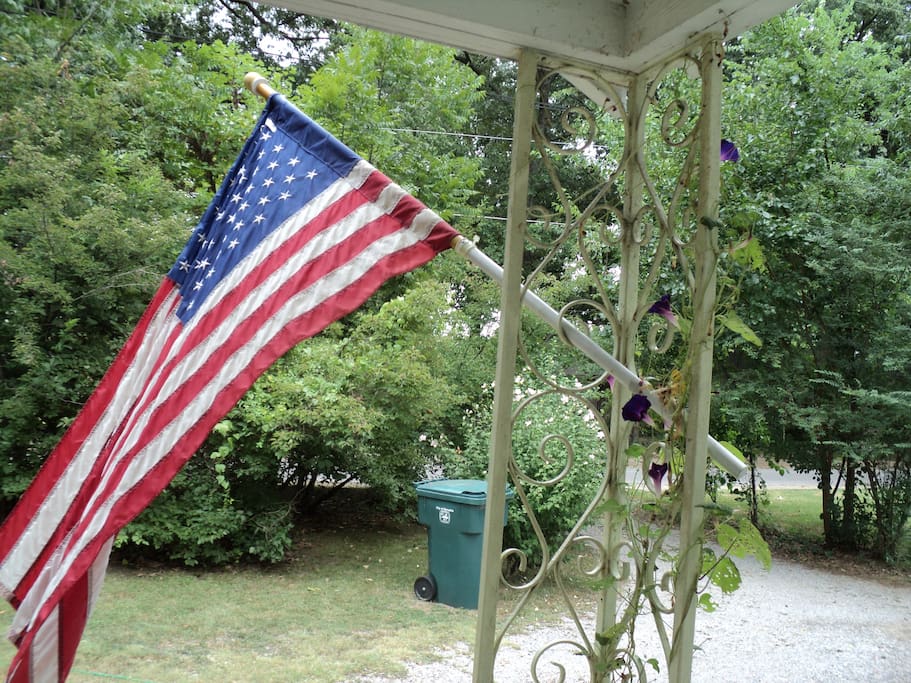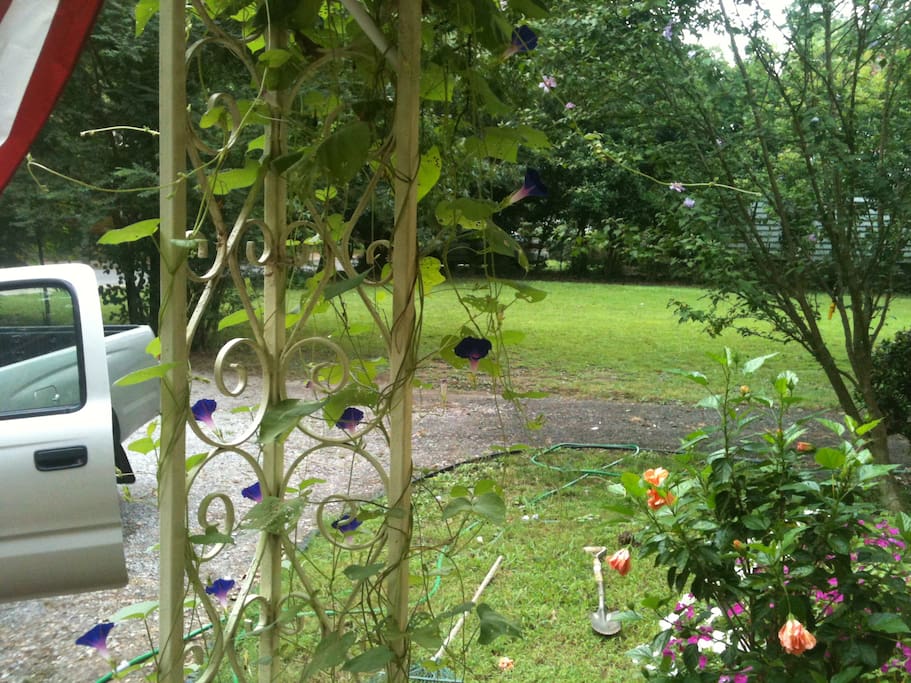 Catering to self-sufficient single male travelers staying for a few nights at a time, I offer a sunny room in a calm house shared with sane, busy people. As with any Airbnb, read the whole listing; don't just book on price. WiFi. Ceiling fan. Parking. Check-in after 2pm; whether at 3pm or 3am doesn't matter. Better suited to men than women. Nice, but not a $200 hotel room, if that's what you're expecting. *Shower is new and improved; hot as you like and 80lbs of pressure--heaven on earth!!
The space
Over 300 people have successfully stayed here (including pre-Airbnb days), but please read this description.
I have Instant Book, since I am an experienced host. This is a perfect place to crash for the night if you are travelling. It is an old house, right by a train, but easy parking and a beautiful, peaceful yard with lots of elbow room make for a comfortable stay. I am happy here, feel 1000% safe, and don't want to live anywhere else. Because it is such an old house, I'd say it is more suited to the average man than the average woman.
Since it is an old house, let me address cleanliness. Before you check in, your bedding is laundered. It is fresh and clean when you arrive. Every surface in your room is cleaned, with furniture polish if it's wood, and with a damp cloth, then a dry one, if not. Your floor is swept or vacuumed. The bathroom is cleaned before your arrival, and the shower curtain replaced if necessary. That said, we're talking normal cleanliness standards; the house is old and beat up, and will never look as good as a brand new house--nor is it a sterile isolette. If these cleaning measures do not meet your standards, don't book here.
Advantages:

--hi-speed fiber-optic WiFi
--queen size bed
--clean, fresh room & bedding
--rug
--window A/C
--microwave, fridge, hotplate
--coffee
--pest control contract
--normal cleanliness standards
--plentiful parking on 1/2 acre
--Midtown feel, not suburban
--3 blocks away from University
--sane host & other guests
--safe; hi-volume host
Limitations:
--LOUD train directly by house
--no stove usage (no stove)
--no clean freaks here
--Midtown feel, not suburban

I am completely hands-off unless you need something. Which means you must be self-sufficient.
We are directly adjacent to a train (AND TRAINS HAVE LOUD HORNS), but we are used to it.
*This room is set up for single individuals, but can accommodate 2 under certain circumstances. The price is $20 more per person after 1, so if you know there are 2 or 3 in your party, when it comes to filling out the number of people staying--DON'T PUT ONE to try to avoid paying--your reservation will either be re-priced or cancelled. This extra charge is outlined in the listing.
Guest access
You are renting a room in a shared house with access to the bathroom and limited cooking. I am an extremely busy person and there are other things going on in the house. What I mean to say is that your room is nice and neat; mine may not always be. When review time comes, remember to review what you rented.
You have access to your room, the bathroom, laundry, microwave, fridge, hot plate, coffee maker, and free parking. There is no stove/oven access, so you will not be able to bake a cake.
Up to 4 people share the one bathroom we have in the house, but since we tend to work opposite hours, it's not like there's a waiting line or anything. The good news about the washer/dryer is that they're fabulous & it's great to do your laundry where you're staying, bad news is they're in a very old, beat up mud room, so if you're fancy, you're not going to like that. Just blindfold yourself before you go in the laundry room; everything should be all right. I would like to keep people out of there, but I can't bring myself to deprive people of doing their laundry. I try to keep it presentable, but it's just too old & give out. If the mud room bothers you, we have many nice laundromats close by, since we're close to the university. The best one is Wash World, right down the lane.
Interaction with guests
My guests and I are cordial with one another, but are busy people & rarely cross paths. You will probably rarely if ever see any other guests.
Other things to note
If you bring anyone with you other than airbnb-verified guests, they will not be allowed into the house at all. This benefits us and will benefit you in turn should you stay here. I am a safety-first kind of landlady.
Also, it's very important to work the shower properly to get it hot. The shower works & the water heater is relatively new, but you must let the shower heat up for 5 minutes for the water to get hot. It's best to let it run through the tub spout, rather than the showerhead, when letting it heat up. Then you can pull the shower up. At that point, there will be a strong stream of cool water. You have
When you are given the house key, keep it until check out time, and then at check out, lock the house door and put the key under the mat.
The reason you are being given a key is to lock and unlock the house door. Several people live here, and when they leave, they lock the door. That means that when you come back from an outing, you will not be able to get in the house without unlocking the door with a key. So keep the key on your person during your stay, and lock the door when you leave for whatever reason. And then use the key to unlock the door when you return.
'Check out' is a term we use meaning your final departure, which must be done by 1pm on check out day, when your stay is over.
Check out procedure: lock the door and put the key under the mat.
**What I strongly ask that you not do is padlock your own room door and then leave everyone else vulnerable by leaving the house door unlocked.
---
---
Always communicate through Airbnb
To protect your payment, never transfer money or communicate outside of the Airbnb website or app.
Learn more
---
Not safe or suitable for infants (Under 2 years)
Check in is anytime after 2PM
Self check-in with smart lock
NO ACCESS to PROPERTY before 2pm on check in day. I'm a high volume host, so I can't allow early arrivals or late departures.
NO ONE else but you will be allowed in. NO visitors or unpaid guests. Even children must be paid for.
The ideal guest at our house would know without a doubt that their comfort is paramount--and yet would be largely self-sufficient and self-involved, as we are.
Please use common sense and standards of common decency in this shared environment, as 99% of people automatically do.
There is no smoking in the house and absolutely no incense or moth balls. I like for my house to smell like fresh air.
When you leave for the last time to check out (check out time is 1:00 pm), you don't have to make the bed or strip the bed. I will take care of that. Just be sure and get your stuff out of the fridge & bathroom. Then lock the door and throw the key under the mat. Thank you....
---
---
---
I am a USAF veteran & a proud mother of two, grandmother of six. I am an extremely experienced landlady & I have rented to hundreds of people from all over the world.

The best thing about my house is the yard, which is big and beautiful, especially in the summertime. Also, I allow check in anytime after two in the afternoon. Which means I allow check in at three in the morning if that's what you need. I have hi-speed, fiber optic WiFi, and a pest control contract with a high-end company.

The worst thing about my house is the train, which is extremely loud when it crosses the street, but only when it crosses the street. Also, the house is old and imperfect. And yet I host as many people as just about anyone in town.

Note: My homes are for the hale & hearty only. As a military veteran, I am a very tough person & I'll be honest: I want similar guests. Don't book if you feel any of the following ways about travel, Airbnb, or my listings: scared, worried, skittish, squeamish, alarmed, afraid, concerned, distraught, hysterical, fearful, tearful, fretful, uneasy, upset, or frightened. Still with me? Lol!

My place is set on a half acre right in the middle of the city, which is fairly rare. My place is secure; someone is almost always here, and yet we are hardly ever all here.

The location is ultra, ultra, ultra convenient!!! We are 20 minutes from the airport, Graceland, downtown, Germantown, or the Wolfchase Mall. We are 2 or 3 minutes away from a beautiful new Kroger and Target in another direction, plus other shopping and restaurants. Enjoy privacy and peace here.

Use the kitchen stuff as much as you want; just be sure to eat your own food. If you don't cook, you're in luck, as there are several restaurants within walking distance--and some within spitting distance!!!

I am a hands-off host, unless you need something.

I'm counting on my guests to be normal, sane, and proper, as are 99% of people in this country, without having to be told.

You're going to love your quiet stay here. And as always...I'm looking forward to meeting you!
Response rate:
100%
Response time:
within an hour
Explore other options in and around Memphis
More places to stay in Memphis: