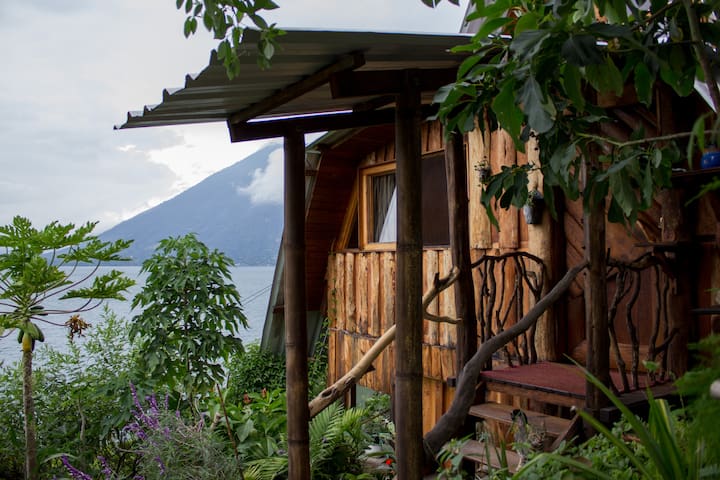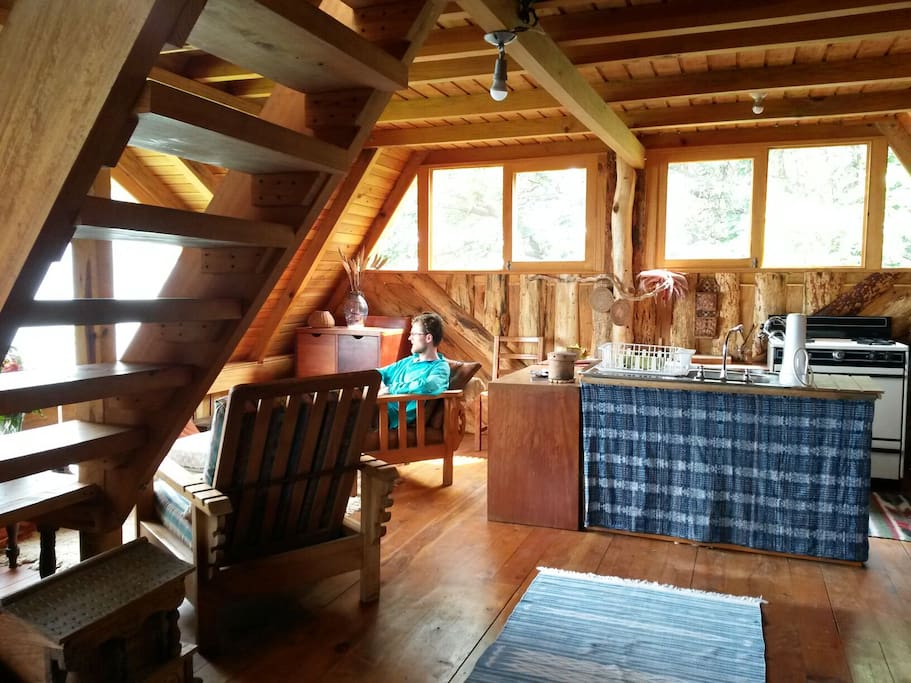 Eco Cottage on Lake Atitlan
This delightful cottage nestles you among fruit trees and aromatic herbs. The breathtaking view of Lake Atitlan is seen from every window. It is quiet, safe, and close to San Marcos. It is also Eco friendly, off the grid, and has pristine lake front with private beach and spacious dock area.
Strategically located, it's very easy to go to and from close by villages using public transportation
Watercolor classes are offered on site :)
The space
This cottage is located on a Permaculture based property, facing all three of the lake's astounding volcanoes making it a sensational view.
The cottage is spacious with epic views from all social areas and bedroom. Has a loft bedroom with a queen bed and a single bed. The price listed is for two. Additional guests will be charged $ 25 per person per day (maxium 4 guests in total)
The kitchen is well furnished and stocked with more than basic cooking equipment, no refrigerator, great natural illumination, has a gas stove with working oven.
Bathroom is on the first floor, it has a solar hot shower and a neat and friendly dry composting toilet.
The permaculture garden of exotic and local varieties is located on terraces through out the property. There you will find nice areas to rest, read, or walk to discover our food forest.
The dock is a great place to jump from for a refreshing swim or hang out, watch sunrises, sunsets and stargaze. Near it there is a place for bonfires.
We advise to arrive to Atitlan as early as you may. Book the 8am shuttle from Antigua, it takes one hour from the airport to Antigua and 2/3 hours form Antigua to Panajachel, Pana, the larger village on the shores of lake Atitlan. Pana is located on the Northern shore. From Pana to Pasajkap, San Marcos La Laguna, where we are located, it takes 30/40 minutes.
Onece in Pana (you may do your shoping there at Chalo's or Sandra's small supermarkets, and for fresh produce, the market in Pana) and when you are ready to take the boat to San Marcos go to the Tzanjuyu dock, ask for the public boat to San Marcos, pay 25 quetzales each, tell the captain or his helper you go to Pasajkap, to the dock with a big tree in the middle, next to Pierre. We are 4 minutes before San Marcos.
Remember to bring food for the first or second meals, your toiletries including toilet paper, candles, insect repelent and maybe water shoes if you want to walk comfortably on the beach.
We are a 0 waste facility, we only take your compost waste. Our chickens love it; the chicken's coop if the first station of our compost system. We kindly ask you to take with you, your plastic waste or any other non decompostable trash.
We have a Temascal, a modern Maya sauna bath. It's best to take it after 5pm. We charge a fee of $10 or Q75.
The Municipality opened a path from the road San Marcos/Tzununa to the sacred Tzan Kumiba'l Mountain November 2016. We have a trail/path to get from the lake shore to the Tzan Kumiba'l Reserve.
Pasajkap is a jurisdiction of San Marcos, bordering our neighbor village of Tzununa, that extends from the Tzan Kumiba'l sacred mountain at the East of the San Marcos bay (at the West of us, once you are in Pasajkap), to the border with Tzununa, farther to the East. It is a portion of land of about one and a half kilometers. It has large properties, now mostly owned by non resident Guatemalans who live in Guatemala City, a few Guatemalan residents and a larger number of residents from Europe, Canada and the United States. There are a few original San Marcos natives. It is very calm and secluded, also very safe.
The lake in Pasajkap has prestine waters and it's wonderful to swim and paddle (we have a Cayuco, Maya canoe).
San Marcos, only a 4 minute boat ride or a 20 minute walk offers many good restaurants and coffee shops. There is a large selection from vegetarian at La Paz or Medicine Food, Japanees at Seiko's, wood oven pizza at Fe or Paco Real, Special gourmet at Mero Mero, Aculax, El Giardino, French/Mexican at Paco Real, burritos and great breakfast at Moon Fish, In between good meals go to Nectar for a nice experience to have the best coffe or special teas with the opportunity to buy lovely original jewery, body care products, gourmet tapas and food and more, or juices at Circles, creps at Shanbala, etc
Nightime hotspots are created from one day to the other for special events or Del Lago Hostal all weekends and for special festivities.
There is a beautiful park by the water kept by the Municipality on Cerro Tzan Cujil, West of San Marcos bay. On the other end of the bay, East of San Marcos, there is the other "Guardian Mountain" Tzan Kumiba'l, great for sighseeing and clif jumping.
Also in the center on San Marcos, the Municipal Park is nice and shady with well assorted mini markets or stores. I buy at Los Arboles: different types of probiotics, kambucha, gourmet souces and preserves, cheese, pasta, rice, flower, olive oil and cocunut oil, good bread, toilet paper, soaps, etc.
Check-in is at 4pm. Check-out at 11am.
Guest access
As a guest, you will have access to the dock, organic herbs, rain-caught filtered drinking water, some of the fruits in season produced on the property and amazing sunrises and sunsets from your windows.
Our private dock is wide and spacious, it has a big tree (a Kap tree, from the Willow family) in the middle, and strings of colorful banners. When you take the boat, tell boat captain you go to Pasajkap (name of the geographic area right in the middle, between the villages of Tzununa and San Marcos) Be clear in explaining you go to the big and wide dock with a big tree in the middle, next to Pierre. From the water you will also see a round smaller cabin by the water. After stopping at the Tzununa public dock, please be alert , the house is only 4 minutes after Tzununa, as you come from Panajachel (Pana for short).
Coming by shuttle from Guatemala City, shuttles always a stop in Antigua. From Antigua, through the Interamerican Hiway, there are two routes to access Lake Atitlan basin:
1) Via Solola arriving to Panajachel. This is the shorter route, the road is usually well maintained and safe. Panajachel is the number 1 touristic destination around Lake Atitlan. It is a village with several banks and ATM's, two well assorted supermarkets: Chalo's and Sandra's and a large market with vendors from around the region with fruits, legumes, veggies, free ranged eggs, meats and fish are of good quality, some even organic. Tourist's street is called Calle Santander, with many tourist operators and agencies for shuttle services, short trips and tours; also you will find a variety of vendors and stores for crafts, jewellery, hand made hats, baskets, lasso, etc and large selection of restaurants and coffee shops.
2) Via Santa Clara La Laguna some 30 Km ahead on the Interamerican Highway, direction Quetzaltenango and Mexico. This is a longer route, plus 22 Km of steep descend, with no stop in any village, through not well maintained curvy road (with the highlight of being able to go through an area of cloud forest, sightseeing Atitlan from a different prospective. There is also a park with special equipment and installations to cross "flying" the ravines onto the next mountain top; shuttle companies may organize a visit upon request). From the Interamerican Highway, shuttles take close to an hour to get to San Pablo La Laguna, first village on the Northern Riviera of Lake Atitlan. Once arriving to San Pablo, continuing to the left, 3 Km away, you arrive to San Marcos and Tzununa, where the road ends. To the right is the continuation to the road to San Juan, San Padro, Santiago and San Lucas, all the villages on the Southern Riviera of Lake Atitlan.
Both from Panajachel or from San Marcos, there is only boat access to my place. If you are coming from Panajachel it is a 35/40 min, boat ride with mandatory stops at the Northern Riviera villages of Santa Cruz, Jaibalito, Tzununa. My private dock is about 4 minutes after Tzununa. If you are coming from the San Marcos public dock, my place is 3/4 minutes after leaving the San Marcos dock.
It is easy to get by around the lake using public boat transportation, specially through the Northern Riviera villages and San Juan and San Pedro on the Southerb Riviera. Service is regular during day hours every 20 min from and to Panajachel, which is the central port destination.
For night trips, private boat service is provided by our neighbor Mariano or one of his two grown up sons, Fernando or Alex, at very convenient prices to go or come to or from San Marcos, San Juan or San Pedro, the three most visited destinations. Same, if you need to catch an early shuttle in San Marcos or Pana Mariano may take you.
Also, if you want to save a couple of hours of traveling time to get to Atitlan or back to Antigua or Guatemala City, there are private shuttles or taxis which may bring you from Guatemala City (Airport) for $150 to $200. You can arrange this service in advance via the Internet with any tour operator or shuttle company. I use Atitrans.
Interaction with guests
Privacy is important and will be respected. We want you to feel welcomed and assisted in your travels; if we can recommend places to visit or if you need help getting around the lake, we will be happy to give you a hand.
Other things to note
The house is solar powered only for illumination and to charge phones and computers (ONLY charge during sun hours). Our place is very quiet to enjoy the solace of nature. Bird watching is lovely.
Taking solar heated showers is a special pleasure... only during sun hours. We have a pressure pump which ensures a nice flow of water. This system works during full sun hours when water gets so hot you may need to mix some cold water!!!
Our dry composting toilets ensure the best environmentally friendly practices for managing and reusing human waste to procuce "Humanure"
There are 11 Appropriate Technologies in place!
We have the luxury of pristine waters in our lake front, swimming in morning calm waters with the sun up to warm you up is a great gift. Our new dock is spacious and strong, great place to hang around. We have a cayuco, a local canoe used in the lake for centuries by the local Maya community for fishing and transportation. You will be able to venture around during the early morning or evening hours of the day, avoiding the strong Xocomil winds that come around noon.
For guests that like extra comfort, there are taxi services from the airport to Panajachel (without going via Antigua) for US$150/200.
Groceries and fresh produce can be found in Panajachel at Sandra's Market of Chlo's for groceries (good selection of cheese, wines, olive oil, seeds, toilet paper, pasta, dried fruits, etc) and fresh produce in the market, as I said before. Lately, there is a wider selection of food in San Marcos stores and street vendors. Same in San Pedro, where there is a great health food store and a big market.
We do not have a conventional refrigerator so plan accordingly when doing your shopping.
San Marcos offers a variety of restaurants and coffee shops.
San Marcos is renown for offering different opportunities to enhance your life with a variety of natural healing therapies, also meditation, tai chi, chi kong, yoga, cacao ceremonies, and more.
---
---
Bedroom 1
1 double bed, 1 single bed
---
Check in time is 4PM - 6PM
Please do not bring your pets. Smoking is only allowed outdoors. Trash is separated: organics and non organics (special containers are provided).
Rain water, provided with a separate water system, is used only to wash veggies and fruits and for filtered drinking water. Please be careful with its use as we are in a drought and our normal rainy season of 6 month has been drastically reduced. For all other water needs, lake water is pumped, filtered and distributed with a water system of its own.
For long term rentals (more than a week), we ask guests to pay for help in cleaning the house and charge $10 with all materials included. The house is furnished and decorated, with a functional kitchen.
We expect guests to be responsible for broken, stained or lost items, a donation is welcome.
We expect guests to replace what they use (spices, paper napkins, candles, salt, dish cloths and soap, toilet paper, etc)
Our electricity is solar powered, sufficient for illumination with LED bulbs and to charge cell phones and laptops, tablets and the like. It is not available for electrical tooth brushes, blenders, hair dryers, etc.
No nude sun bathing or nude swiming is welcome.
You must also acknowledge
Cat(s) live in the house
---
Born in San Diego California from a Guatemalan mother and a Peruvian father, both outstanding people. At 60 years old, I am gardener, mother of 4 amazing grown up children, grandmother of 2 lovely kids, social anthropologist, life learner, journalist and artist. I have worked as …
Languages:
English, Español, Italiano
Response rate:
100%
Response time:
within an hour
Explore other options in and around San Marcos
More places to stay in San Marcos: