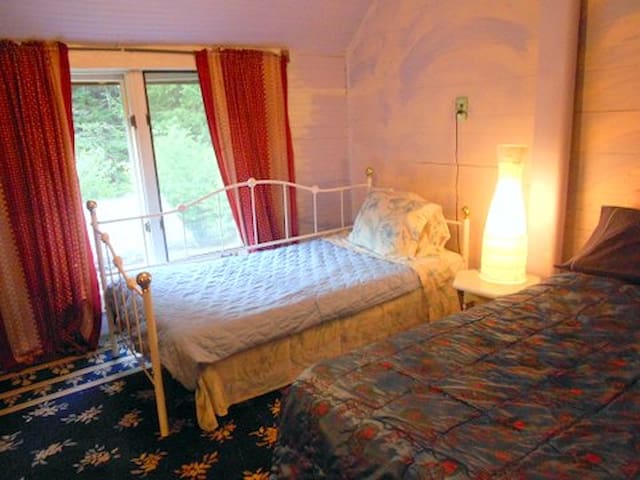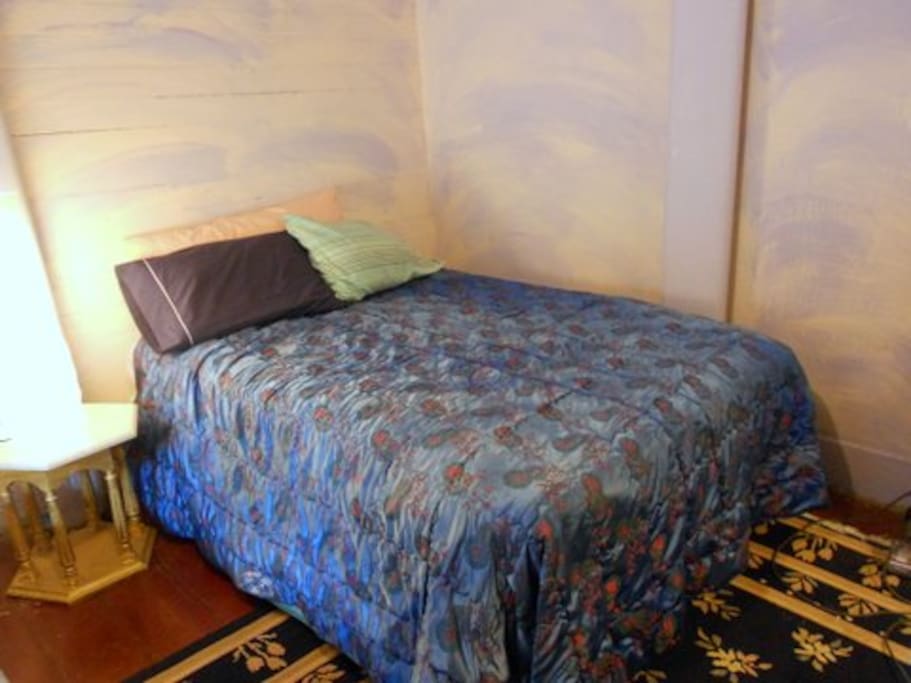 MY BLUE HEAVEN - 1 QUEEN + 1 SINGLE BED.
My Blue Heaven is a quiet shady room UPSTAIRS on the back side of the house.
Shared mini-kitchen, bathrooms, balcony.
Good wifi.
The space
We're a real authentic 1840's farmhouse. No fancy high-end restoration! If you like old houses, you'll probably love our experience.
If you're a new house person, or like suburban or condo style, you probably won't feel comfortable in our space.
We want you to be happy with your choice, so please read our listing information and reviews carefully - especially if you are new to airbnb.
We respond to our reviews to help future travellers get a fuller expectation of what our house is like - and if it is the right fit for your journey.
The WIFI is good. There is no TV, no radio, no cable.
It is a good place to be unplugged.
Not a good place if you like a a vacation home with all the usual modern entertainment options.
If you are glued to a device looking at pictures of frogs, you may miss the baby frogs hopping around the yard after leaving the water! Baby frogs are really cute!
For entertainment, we go on walks, hikes, visit local attractions, watch the birds and butterflies and grass grow, smell the flowers, go fishing and swimming, meditate, contemplate our navels, visit with friends and neighbors, cook, sit around the fire at night, watch the stars and full moon rises, read, write, create art... Old-fashioned stuff.
We welcome kindred spirits - and such people tend to really like our old farmhouse experience and vibes - laid back, simple, and peaceful.
See more pics of house and grounds by clicking on our other listings.
If you like a manicured yard and garden, you probably won't appreciate our English country wildflower landscaping style.
Guest access
Yard and grounds, big front porch with country swing, fire pits, common room upstairs, cold water only washing machine (you dry in sunshine or in our drying room - we're "green").
Your booking includes free wifi throughout house and grounds, free parking on our grassy field, and our free area and house e-guide of inexpensive restaurants, parks, trails, entertainment and much more.
If you forgot anything for the kitchen, you can borrow it from the main farmhouse kitchen - which is pretty well supplied and stocked. We are flexible and want you to enjoy your stay to the max!
Upon confirmed booking: You will receive our special e-guide to the area and house - featuring inexpensive restaurants, awesome restaurants, groceries and shopping, entertainment, trails, parks, etc.
Interaction with guests
We will be here to greet and orient you. Please update your arrival time as your trip unfolds.
After that, we are in and out.
There may be residents and other guests.
We maintain a quiet house.
We respect your privacy.
Owner-manager on site.
Other things to note
All guests must have an identifiable profile picture, plus a minimum of 4 verifications. Good Reviews are a big plus, too!
We're constantly improving our house and grounds, so some things may have changed since we took the photographs - all for the better, we hope!
---
---
Bedroom 1
1 queen bed, 1 single bed
---
Check in is anytime after 3PM
This is a quiet house for quiet people who want to relax and unwind and enjoy nature, starry skies, and peace and calming.
We have neither TV nor radio. You can watch things on your own wifi device - we have high speed Time Warner cable which has a good signal throughout the house and yard.
We have passive AC in the form of cool breezes from the forest behind our house - along with fans.
We do not use electrical AC.
No smoking in or near the house. Legal things only.
No hard liquor. Beer and wine in moderation.
Clean, quiet pets occasionally allowed. Please note we have had cats and dogs in the house in the past - for all you severe allergic people. We do run an ozone machine in each room between bookings.
If you are sensitive to allergens, we can also run the air purifier in your room while you are out. No guarantees, though.
Please keep common areas tidy: Yard, front porch, sitting room, kitchen, bathrooms, etc. There is no maid service in the house.
To avoid cleaning fees, we ask each guest to leave your room clean, etc. Put used linens on the floor by the bed at checkout.
Please note it gets quite cool after dark in the Catskill Mountains - sometimes into the 40's - even in summer! So be sure to pack a few woolies, sweaters, socks, hat, etc. in case it is cooler than you expect.
ALLERGIES and SENSITIVITIES
The Catskill Mountains are a moist climate. Those sensitive to mold or allergies should take precautions. We do run an ozone machine in each room between bookings.
Cats and dogs have lived in the house in the past. Occasionally, one still comes by and in.
You will receive our area and house guide by email upon a confirmed booking.
Here's a few more tips for you to enjoy your stay (from our house e-guide).

BASIC ARRIVAL & CHECKOUT INFO.
Be sure to let us know WHEN you expect to arrive so we can greet you, show you where to park, and orient you. Best to arrive before dark whenever possible.
Update us as your trip unfolds.
Checkout is 11 AM. Put used linens on floor by bed.
We don't charge a cleaning fee, so please leave your space clean and tidy.
Old Fashioned Farmhouse is a quiet house for quiet people. We have no TV, no radios, no loud conversations. We maintain an atmosphere of restful peace and calm.
Hi speed wifi reaches most places in house and grounds. It is free with your booking.
PARKING is included with your booking. We park on our grassy drives. When you arrive, pull into the most obvious drive and we will greet you and help you choose a spot for your car. Please arrive before dark if at all possible.

LINENS - SHEETS AND 1 TOWEL/PERSON
Beds come with sheets, pillows, blankets. Each guest receives 1 bath towel. Please put all used sheets and towels on floor by bed on checkout - so we know what to launder.
Bring your own teddy bear!
SECURITY
This is a very low crime area.
Our property is 5 acres, so people just do not wander onto our land.
Guests for Apartment 1 (Writer's Retreat) and Apartment 2 will have their own entrance key. (Remember to leave the key or we will request $15 from the security deposit to go make a replacement!)
You do not need to lock your door if you don't want to. Of course, don't leave valuables - just a general rule in life! We are not responsible for any loss or damage of any kind.
Guest in the upstairs rooms (with shared baths and kitchens) have a latch on the INSIDE of their rooms.
If you want to put a padlock on the OUTSIDE of your door when you are out, bring your own. Sorry - we do not stock any extra locks. Your padlock should have a slender diameter, as the hasps on the doors are not too big.
There is one outside door key for everyone to use when and if you are here and we are not here. When we are here, the door is open or we are close by.
Guests staying a little longer will have their own individual entrance key to use. Again, if you leave with the key - we will request the $15 from your security deposit for our time and cost to replace the key.
In general, short-term guests should give us an idea of your in and out times so we can be sure you can get in!
We've never had any problems in the past - but it is your call and we are not responsible for ANY of your possessions, vehicles, etc while visiting the Old Fashioned Farmhouse.

KITCHEN SUPPLIES FOR YOUR USE
The apartments and shared upstairs kitchen are minimally supplied. There are a few basic old pots, plus dishes, utensils, glasses and mugs. If you need anything special, probably best to bring it. You are also welcome to borrow anything from the main house kitchen, which is pretty well stocked with standard kitchen items.
There are 2 coffee makers in the house.
You bring filters, coffee, sugar, milk, etc.

If you forgot anything and we have it, we'll be happy to provide it for you from the main house kitchen. We're pretty flexible and want to see you have a good stay - so don't hesitate to ask!
There is a recycling system in the upstairs shared kitchen as well as in Apartment # 2.
We compost paper and all food scraps in our garden. Recyclables and deposit cans/bottles go in boxes (rinsed well to prevent smells and bugs). There is a separate bag for plastic wraps and non-compostable, non-recyclable items.
WATER
The house is on our own well. So you can enjoy non-chlorinated showers. We drink the water and have for years. If you prefer, you can bring your own bottled Perrier.
CELL PHONE COVERAGE - GPS
Overall we have good coverage in our house and yard. However, T-Mobile is spotty in the mountains. A recent guest could not access that network from our area. Verizon network works well here. Be sure your GPS can connect - ideally through satellite.

You must also acknowledge
Must climb stairs
Pet(s) live on property - Some guests occasionally have cats or quiet dogs. Ask before booking.
Some spaces are shared - Kitchenette, full bath, 2 half baths, balcony, front porch, common room, yard, firepit.
---
Pat's hospitality and comfortable home made my stay so relaxing and restful. I especially appreciated the comfortable room and bed! The location was perfect for touring the sites in the catskill's. I would recommend her farm house to everyone who is ready for a peaceful, relaxing vacation!
---
Wonderful time visiting Pat again, this time with my partner. We had a great time walking through the sweet town of Hurleyville with the lovely shops and gallery, then taking a hike on the Rails to Trails path by the lake. The house and grounds are so peaceful to explore. Thank you Pat for hosting us!
---
Pat is kind and generous, we shared two mornings outside sipping coffee, munching on treats from the garden, and enjoying the mix humming birds, sunlight, and flowers. The house was lovely, with rich gardens all around. The neighborhood is quiet, with lots of hikes and numerous swimming spots within an easy drive.
---
Though Pat is a lovely person, I'm sure, and she welcomed us gracefully, her accommodations were overpriced. Clean enough but more hostel than BnB. We would not return here.
Hi Catherine - Glad we could accommodate you for your event. Thank you for the lovely "Thank You" note you left. I hope you enjoyed the special gourmet coffee service we put out for you for your "morning joe" special request, too. Glad to help you with re-routing you around the intense Friday traffic, too - so you could get to your event in a timely fashion! Be well and Safe travels!
---
Pat was very nice and helpful for our short stay. She greeted us outside and had warm tea for us. Staying at the farm house was a first for us. I would stay here again. She gave us better hiking options for our trip. The wood stove keep the place warm.
Hey Tony, it was great getting to chat with you and hear about some other great airbnb places you've visited. I hope you enjoyed your breakfast and are having a great hike today. The sun is shining, the blue sky brilliant. I'm going to add Sam's Point to our house e-guide for hiking. It's a great lookout! Enjoy - Pat
---
It was difficult to find the house at night as Pat's telephone does not work. We almost stayed somewhere else if not for Pat's response to the email and Verizon's 3G coverage in the neighborhood. (T Mobile won't work here) But Pat is really nice and the bed is really comfortable. Pat also provides really comprehensive recommendation to the neighborhood. It just would be better if a detailed direction could be included somewhere.
Hi Yihong, Yes, I'm glad it all worked out. Our internet/phone outage was a few hours long. Luckily our cellphones finally connected to each other so we could meet you in the driveway under the streetlight and help you park. I'm going to remind future guests to be sure and write down the address of our house so they don't have to rely on a phone call when in the area - due to the unexpected that happens in life! Thanks very much for the suggestion to include detailed directions in our house and area e-guide. That will definitely help people when the GPS or phones are having an outage - which does happen sometimes, of course. --- I'm glad you liked the bed - I know myself a comfy bed and good night's sleep go a long way to making a trip enjoyable. --- Thanks also for the message that you liked Tilly's Diner recommended in our eguide. We always like to update the e-guide with current feedback. "Pat, the Tilly's diner in Monticello was great! Neither of us had the authentic experience of a diner's breakfast before. And the food and atmosphere were both fantastic! thank you so much!"--- I hope you and your friend had a great birthday celebration! I hope to see you again sometime.
---
Organic Permaculture Farmer, Writer, Volunteer, Traveler, "Retired", Friend and Neighbor OPEN Spring, Summer, Fall Closed for the winter When you have a confirmed booking at The Old Fashioned Farmhouse, you will get an emailed copy of our local e-guide with restaurants, …
Languages:
English
Response rate:
100%
Response time:
within an hour
Explore other options in and around Hurleyville
More places to stay in Hurleyville: