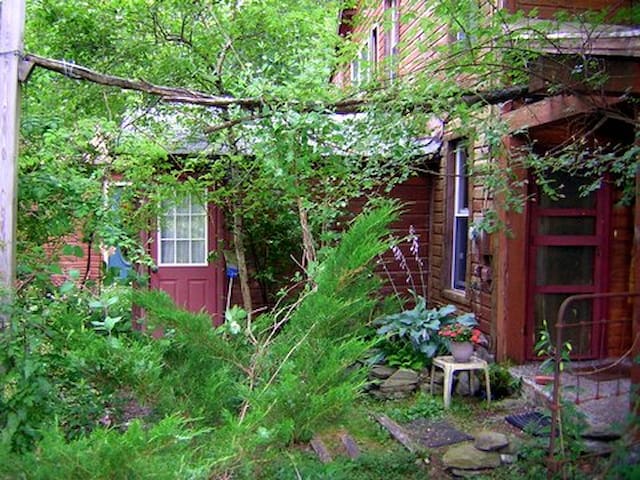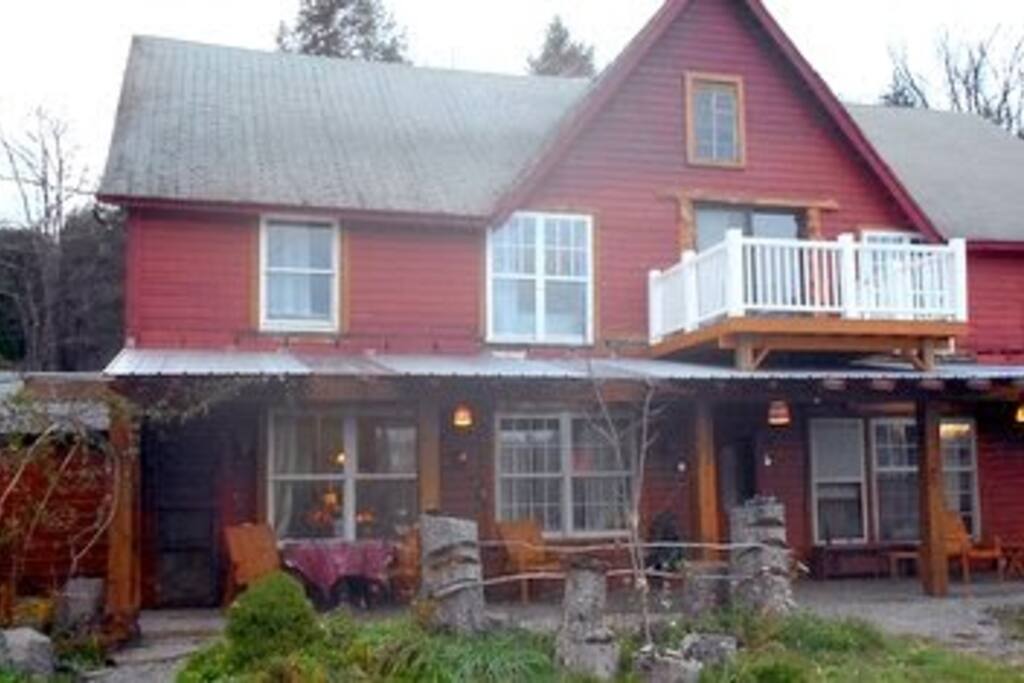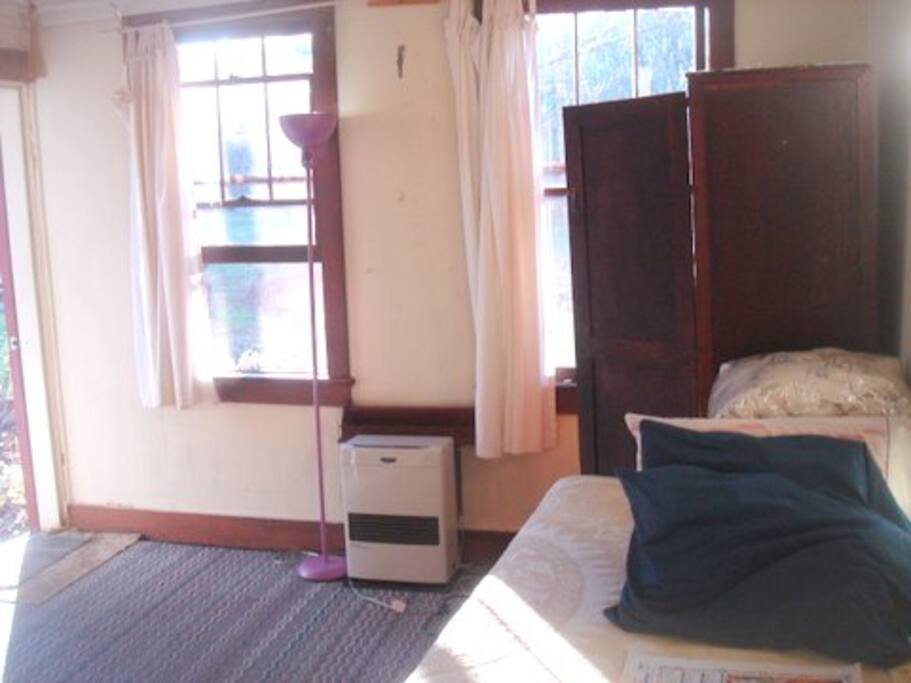 A charming rustic studio garden apartment for 1.
Seasonal and extended stay rates for guests with good reviews, photos and documentation.
Single bed, mini kitchen, mini private bathroom, private entrance.
Access to big organic yard, 50 foot front porch.
$10 extra/night for pets. Discount for stays of 1 week and longer.
Ask when you book. Special pricing for extended stay pets. Ask when you request a reservation for special extended stay pet price.
The space
This is a lovely little 1 room studio with a private entrance, kitchenette, and little bathroom tucked under the stairs. It was designed by a visiting artisan/carpenter who worked on celebrity homes.
Perfect for those desiring a quiet place for some alone time, writing, drawing, naval contemplating, meditation, healing, transition, etc.
The Writer's Retreat Studio is off the main house and opens to a garden and yard with fire pit. It's usually pretty quiet. Exceptions are when guests are using the fire pit on some evenings and when we have a group visiting. Groups tend to use the rest of the house, the yard, and fire pit.
This is a small separate room attached to the main farmhouse. You have your own entrance, small private bath, kitchenette. Free parking on site. Good Time Warner hi speed wifi in house and yard.
Good for nature lovers, those on retreat, those in transition.
We accept most small quiet pets in this studio.
Include particulars and pet photo (added to your profile pics) when submitting a booking request or inquiry.
The main farmhouse is from the 1840's. We cherish a quiet simple lifestyle close to nature. Many herbs in the organic wild gardens. Hummingbirds, nesting birds, frogs, butterflies all around. Organic grounds and gardens.
Our happiest guests appreciate this ambiance.
Not good for those looking for suburban and city lifestyles.
The 1840's farmhouse is a long-standing mountain guesthouse. There will be other guests on the property.
So it's a nice balance of solitude with a little social action (optional, of course) thrown in from time to time.
Clean quiet pets are welcome in the Writer's Retreat studio.
One note: Our house is old and it is rustic. It's not a perfectly renovated, gutted and rehabbed home. The best way to frame what we offer on Airbnb is that you are camping in a beautiful, evocative and poetic old house. It is not a perfect Martha Stewart fantasy country getaway. If you grew up in the suburbs in a modern home and like for everything to be just so, this is not the house for you.
The WIFI is good. There is no TV, no radio, no cable.
It is a good place to be unplugged.
Not a good place if you like a vacation home with all the usual modern entertainment options. For entertainment, we go on walks, hikes, visit local attractions, watch the birds and butterflies and grass grow, smell the flowers,
go fishing and swimming, meditate, contemplate our navels, visit with friends and neighbors, cook, sit around the fire at night, watch the stars and full moon rises, read, write, create art... Old-fashioned stuff.
Guest access
Yard and grounds, big front porch with country swing, fire pit, common room upstairs with small reading library, cold water only washing machine (you dry in sunshine or in our drying room).
Your booking includes free wifi throughout house and grounds, free parking on our grassy field, and our free area and house e-guide of inexpensive restaurants, parks, trails, entertainment and much more.
If you forgot anything for the kitchen, you can borrow it from the main farmhouse kitchen - which is pretty well supplied and stocked. We are flexible and want you to enjoy your stay to the max!
Upon confirmed booking: You will receive our special e-guide to the area and house - featuring inexpensive restaurants, awesome restaurants, groceries and shopping, entertainment, trails, parks, etc.
Interaction with guests
We are here to greet and orient you. After that we are in and out.
Owner-manager on site.
There are other guests in the house and camping.
It is a quiet house for quiet people.
Other things to note
Yard and grounds, big front porch with country swing, common room upstairs, cold water only washing machine (you dry in sunshine or in our drying room).
If you forgot anything for the kitchen, you can borrow it from the main farmhouse kitchen - which is pretty well supplied and stocked.
Upon confirmed booking: You will receive our special e-guide to the area and house - featuring inexpensive restaurants, awesome restaurants, groceries and shopping, entertainment, trails, parks, etc.
---
---
Security Deposit $369 NZD
Weekend Price $146 NZD / night
Always communicate through Airbnb
To protect your payment, never transfer money or communicate outside of the Airbnb website or app.
Learn more
---
Check in is anytime after 3PM
This is a quiet house for quiet people who want to relax and unwind.
We have neither TV nor radio. You can watch things on your own wifi device - we have high speed Time Warner cable which has a good signal throughout the house and yard.
No smoking in or near the house. Legal things only.
Pets not allowed. Sorry all kitty and doggie lovers. Visitors may have allergies. Please note we have had cats and dogs in the house in the past - for all you severe allergic people. We do run an ozone machine in each room between bookings.
Please keep common areas tidy: Yard, front porch, sitting room, kitchen, bathrooms, etc. There is no maid service in the house.
To avoid cleaning fees, we ask each guest to leave your room clean, etc. Put used linens on the floor by the bed at checkout.
Please note it gets quite cool after dark in the Catskill Mountains - sometimes into the 40's - even in summer! So be sure to pack a few woolies, sweaters, socks, hat, etc. in case it is cooler than you expect.
ALLERGIES and SENSITIVITIES
The Catskill Mountains are a moist climate. Those sensitive to mold or allergins should take precautions. We do run an ozone machine in each room between bookings.
Cats and dogs have lived in the house in the past. Occasionally, one still comes by and in.
You will receive our area and house guide by email upon a confirmed booking.
Here's a few more tips for you to enjoy your stay (from our house e-guide).

BASIC ARRIVAL & CHECKOUT INFO.
Be sure to let us know WHEN you expect to arrive so we can greet you, show you where to park, and orient you. Best to arrive before dark whenever possible.
Checkout is 11 AM. Put used linens on floor by bed.
We don't charge a cleaning fee, so please leave your space clean and tidy.
Old Fashioned Farmhouse is a quiet house for quiet people. We have no TV, no radios, no loud conversations. We maintain an atmosphere of restful peace and calm.
Hi speed wifi reaches most places in house and grounds. It is free with your booking.
PARKING is included with your booking. We park on our grassy drives. When you arrive, pull into the most obvious drive and we will greet you and help you choose a spot for your car. Please arrive before dark if at all possible.

LINENS - SHEETS AND 1 TOWEL/PERSON
Beds come with sheets, pillows, blankets. Each guest receives 1 bath towel. Please put all used sheets and towels on floor by bed on checkout - so we know what to launder. Bring your own teddy bear!
SECURITY
This is a very low crime area.
Our property is 5 acres, so people just do not wander onto our land.
Guests for Apartment 1 and Apartment 2 will have their own entrance key. (Remember to leave the key or we will request $15 from the security deposit to go make a replacement!)
You do not need to lock your door if you don't want to. Of course, don't leave valuables - just a general rule in life!
Guest in the upstairs rooms (with shared baths and kitchens) have a latch on the INSIDE of their rooms.
If you want to put a padlock on the OUTSIDE of your door when you are out, bring your own. Sorry - we do not stock any extra locks. Your padlock should have a slender diameter, as the hasps on the doors are not too big.
There is one outside door key for everyone to use when and if you are here and we are not here. When we are here, the door is open or we are close by.
Guests staying a little longer will have their own individual entrance key to use. Again, if you leave with the key - we will request the $15 from your security deposit for our time and cost to replace the key.
In general, short-term guests should give us an idea of your in and out times so we can be sure you can get in!
We've never had any problems in the past - but it is your call and we are not responsible for ANY of your possessions, vehicles, etc while visiting the Old Fashioned Farmhouse.

KITCHEN SUPPLIES FOR YOUR USE
The apartments and shared upstairs kitchen are minimally supplied. There are a few basic old pots, plus dishes, utensils, glasses and mugs. If you need anything special, probably best to bring it. You are also welcome to borrow anything from the main house kitchen, which is pretty well stocked with standard kitchen items.
There are 2 coffee makers in the house.
You bring filters, coffee, sugar, milk, etc.
There is 1 microwave in the upstairs shared kitchen.
If you forgot anything and we have it, we'll be happy to provide it for you from the main house kitchen. We're pretty flexible and want to see you have a good stay - so don't hesitate to ask!
There is a recycling system in the upstairs shared kitchen as well as in Apartment # 2.
We compost paper and all food scraps in our garden. Recyclables and deposit cans/bottles go in boxes (rinsed well to prevent smells and bugs). There is a separate bag for plastic wraps and non-compostable, non-recyclable items.
WATER
The house is on our own well. So you can enjoy non-chlorinated showers. We drink the water and have for years. If you prefer, you can bring your own bottled Perrier.
CELL PHONE COVERAGE - GPS
Overall we have good coverage in our house and yard. However, T-Mobile is spotty in the mountains. A recent guest could not access that network from our area. Verizon network works well here. Be sure your GPS can connect - ideally through satellite.
---
---
---
Organic Permaculture Farmer, Writer, Volunteer, Traveler, "Retired", Friend and Neighbor

OPEN Spring, Summer, Fall

Closed for the winter

When you have a confirmed booking at The Old Fashioned Farmhouse, you will get an emailed copy of our local e-guide with restaurants, entertainment, parks trails, history and more about the house. We message you the link with your confirmed booking - as airbnb does not allow links on this site.


We are happy to offer our arriving guests a cuppa organic herb tea from our gardens - especially late arrivals who may have travelled a few hours to get here. Not to worry - if we offer you tea, coffee, meals, etc - there is no extra charge. We just want to help you have a wonderful stay where you feel right at home in the country. It's our treat for you!




Frequent guest Audrey says

"I found Pat and her old fashioned farmhouse in the southern Catskills back in 2003 thanks to a New York State information site. What a blessing that was! Have been back spring and fall ever since. Besides visiting family in the area I have enjoyed impromptu gatherings with Pat's neighbors and other farmhouse guests on many occasions. On my recommendation a good friend spent a summer there and took advantage of the scenic bicycling."

"What I really like about Pat and her farmhouse is the magic and merriment that seem to reside there. For example, for some reason I thought Pat had come from India, so the first time I made a reservation (having seen a New York State accommodations listing) I asked an Indian friend to make the call for me. Well, Pat couldn't understand a word of my friend's Hindi nor her heavily-accented English while my friend assumed she did, and I nearly didn't have a reservation! The three of us laughed over this for a long time. That was 2003. Since then I've been going back just about every spring and fall and having a perfect stay every time. Highly recommended."

Love, Audrey





Sean Zigmund owns and operates our local CSA and organic permaculture farm and farm stand with his wonderful wife and partner Cheyenne. His website is RootnRoost in NY.

Sean's farm with tours and farmstand are included in our house and area e-guide you get with your confirmed booking.


"Pat is one of those rare people you find who has such zeal for life that you will always learn something new and enjoy your time together, even if for just a few minutes.

"I met Pat through an online ad she placed in which she was asking for a hand-me-down guitar for a friend of hers who was staying at her B&B for a brief period.

"I loaned her friend one of my guitars and instantly formed a friendship with Pat. She has a passion for plants (culinary, medicinal, and esthetically), food, community, and creating spaces that invite nature in.

"As a farmer and permaculturalist myself, we hit it off and keep in contact, swapping plants and stories of our adventures in self sufficiency, gardening, preserving, seed saving, building, and all the other fun and challenging activities that round out a homesteader's life style.

"Her B&B is a charming, creatively designed slice of southern Catskill country life! With a diverse landscape of medicinal and culinary treasures outside, and the creature comforts of home inside, this little nook of Hurleyville, NY is just what a person needs to unwind from the hectic, hustle-bustle of the 'real' world.

"Pat's knowledge of the surrounding area and her connection to the local community are an added bonus for the traveler who wishes to spend time outside their box and experience our little slice of paradise in the southern Catskills.

"I highly recommend a stay at her B&B and a good look at what the Sullivan County Catskills have to offer!"

Thanks, Sean! And yes, our yard is planted for bees, butterflies, and birds and edible lawns and gardens for we humans, too. We mow AROUND the clover in the grass 'cause the bees love it so much.

Our lawn and gardens are unsprayed so you can walk around barefoot if you like.

We are not the "country club" look.
We are the natural habitat look!

Pat





A LITTLE BIT OF HISTORY OF OUR HOUSE

Our c. 1840's historical farmhouse is a rare example from another age. It has an illustrious history as a rooming house and as a "kuchalein" (cook alone - each family cooked alone). When we purchased the house, each of the 9 upstairs bedrooms was furnished for a family - with 3 or 4 beds in each small room. There was a kitchen with 9 stoves and 9 dish cabinets - a separate setup for each of 9 families who visited for the summer from New York City. There were a hundred or so small chairs for the kids and families (chairs long sold to antique dealers).

The old Hurleyville railroad station brought families and visitors up from New York City. Horse and buggies would line up - calling out the names of the different boarding houses to take city folk for an experience of fresh air, fresh food, fresh water. Some things never change! The locavore movement is still going strong in the famous Catskill Mountains!

The Hurleyville railway has morphed to the Rails to Trails scenic walk and bike trail close to our house.

Big concrete chunks a foot thick from the Hurleyville station floor actually filled in the mud hole that is now our grassy parking drive and RV hardpack. (How we got them here is an interesting saga in itself!) So you are definitely driving over some famous history when you enter our property!

This video shows many of the old famous hotels from previous centuries - including famous mountain houses (big and small) in Hurleyville, Loch Sheldrake, and Fallsburg.

You'll have to copy and paste the title to find the video online at u tube
"The Catskills - Older Hotels and Recollections"

Our house and area e-guide has live links for history buffs. Airbnb only allows links exchanged with confirmed guests.
Languages:
English
Response rate:
100%
Response time:
within an hour
Explore other options in and around Hurleyville
More places to stay in Hurleyville: