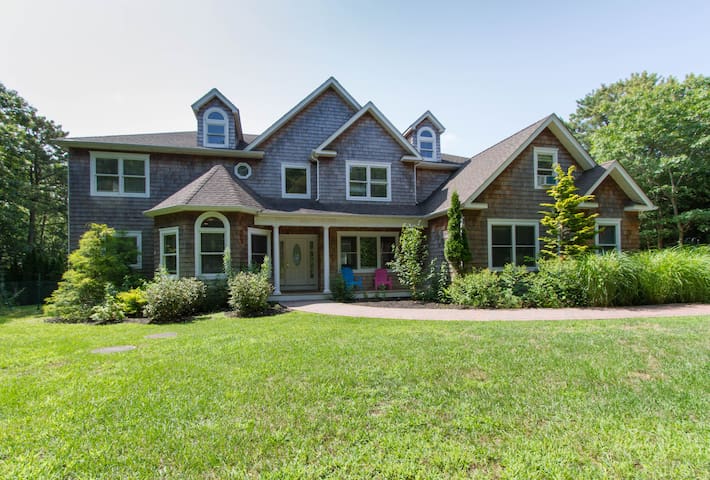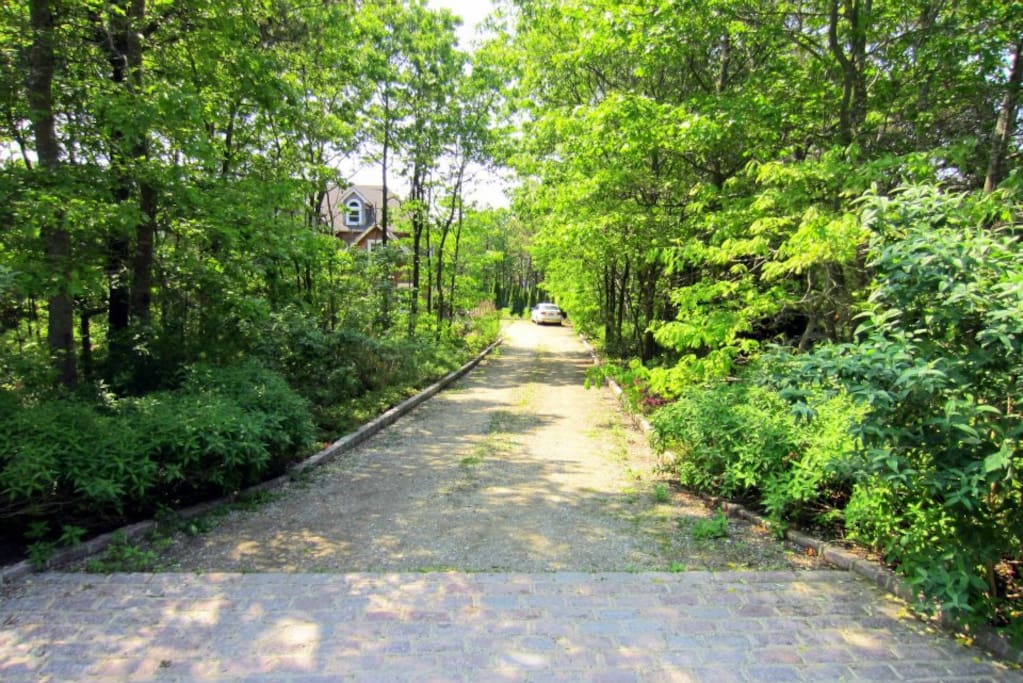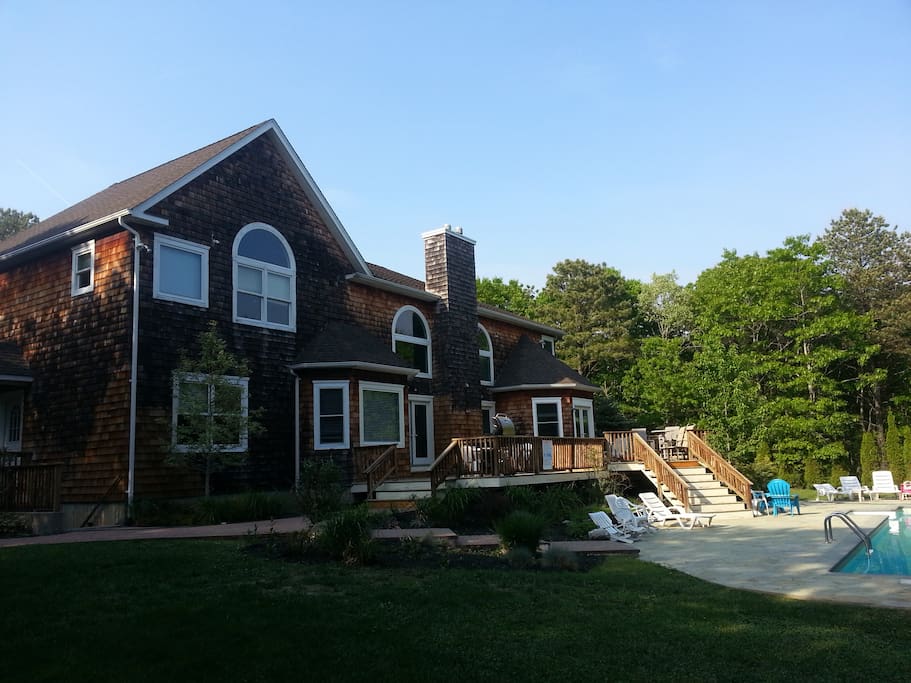 A Fun Place in the Hamptons
Pool and Spa open 4/15 - 11/1
This is a great summer Hamptons home with 7 BR, inground pool, outdoor spa, and many addl features you will love.
I'm always happy to serve and help my guests and clients so please feel free to ask any question.
Emily
The space
THIS AGREEMENT (hereinafter "Agreement") made and entered into this 1st day of March, 2017, by and between ______________ ("Vacation Host" or "Property Manager"),located at ____________________ and _________________ ("Guest"), located at _______________________________.
(URL HIDDEN)
WHEREAS, Host is designated Property Manager of real property situated in Suffolk County, New York, located at ____________________________ ("Premises").
WHEREAS, Host desires to accommodate Guest upon terms/conditions contained herein; and
WHEREAS, Guest desires to use the Premises on the terms and conditions as contained herein;
NOW, THEREFORE, for and in consideration of the covenants and obligations contained herein and other good and valuable consideration, the receipt.
OCCUPANCY TERM
Check-in: Friday, May 26, 2017 (12:00 p.m.)
Check-out: Monday May 29, 2017 (12:00 p.m.)
RATES & FEES
Rental Amount$______
Housecleaning$ 350
Refundable Dep $1,000 (Refundable Damage/Security)
TOTAL $______
PAYMENT
$(PHONE NUMBER HIDDEN)% Reservation Deposit due to reserve the premises.
$(PHONE NUMBER HIDDEN)% Due by May (PHONE NUMBER HIDDEN)% (& Damage Deposit Due by May 15, 2017 or cash at check in)
Checks are to be made to:_____________
By (SENSITIVE CONTENTS HIDDEN) to(URL HIDDEN)@____________
Add 3.63% Processing if by C?c _____________
This Agreement is binding and entered into as of the Reservation Date written below by and between the undersigned person(s) or company (the "Guest") and the undersigned manager or agent ("Agent"), pursuant to which the Guest has agreed to use the residence described below (the "Property"), for the duration of the Term for the Fee and other good and valuable consideration as described herein.
OCCUPANCY
Guest agrees that no more than 13 persons shall be permitted sleeping at the Property at any time during the Rental Term, all of whom shall comply with the conditions and restrictions imposed upon Guest under this Agreement. Guests may have additional friends over during the weekend. Group will not throw a noisy party at house or on deck.
CONDITION AND USE OF PROPERTY
The property is provided in a fully furnished condition. Landlord will ensure the operation of all utilities and amenities in the Property, such as internet access, satellite or cable TV access or hot tubs, fireplaces as applicable. Guest shall not be held responsible for such items' failure to work, but will make every effort to correct any issues as reported as quickly as possible. Guest acknowledges that use of amenities such as hot tubs, pools, spas, fireplaces, decks, and the like may be potentially dangerous and involve potential risks if improperly used, particularly with regard to children and such use is at Guest's risk.
Guest shall use the Property for residential purposes only and in a careful manner to prevent any damage or loss to the Property and keep the Property in clean and sanitary condition at all times. Guest and any additional permitted guests shall refrain from loud noise and shall not disturb, annoy, endanger, or inconvenience neighbors, nor shall Guest use the Property for any immoral, offensive or unlawful purposes, nor violate any law, association rules or ordinance, nor commit waste or nuisance on or about the Property.
DEFAULT
If Guest should fail to comply with the conditions and obligations of this Agreement, Guest shall surrender the Property, remove all Guest's property and belongings and leave the Property in good order and free of damage. No refund of any portion of the Total Rental Fee shall be made and if any legal action is necessary, the prevailing party shall be entitled to reimbursement from the other party for all costs incurred.
ASSIGNMENT OR SUBLEASE
Guest shall not assign or sublease the Property or permit the use of any portion of the Property by other persons who are not family members or guests of the Guest and included within the number of and as permitted occupants under this Agreement.
RISK OF LOSS AND INDEMNIFICATION
Guest agrees that all personal property, furnishings, personal affects and other items brought into the Property by Guest or their permitted guests and visitors shall be at the sole risk of Guest with regard to any theft, damage, destruction or other loss and Rental Agent shall not be responsible or liable for any reason whatsoever. Guest hereby covenants and agrees to indemnify and hold harmless Landlord and their agents, owners, successors, employees and contractors from and against any costs, damages, liabilities, claims, legal fees and other actions for any damages, costs, attorneys fees incurred by Guest, permitted guests, visitors or agents, representatives or successors of Guest due to any claims relating to destruction of property or injury to persons or loss of life sustained by Guest or family and visitors of Guest in or about the Property and Guest expressly agrees to save and hold Landlord harmless in all such cases.
RELEASE
Guest hereby waives and releases any claims against Landlord and their successors, assigns, employees or representatives, officially or otherwise, for any injuries or death that may be sustained by Guest on or near or adjacent to the Property, including any common facilities, activities or amenities. Guest agrees to use any such facilities or amenities entirely at the Guest's own initiative, risk and responsibility.
ADDITIONAL TERMS TO THE RENAL AGREEMENT
In addition to the standard terms included herein, Guest acknowledges and agrees that the following additional terms and conditions apply to the Guest's rental of the Property: The premises shall not be used to host after-prom events, or high school graduation events. All guests must be at least twenty-one (21) years old unless accompanied by a guardian. There shall be no loud noise on the premises after 9:00 pm as per Southampton, NY town code.
GENERAL PROVISIONS
This Agreement contains the entire agreement between the parties with regard to the rental of the Property, and any changes, amendments or modifications hereof shall be void unless the same are in writing and signed by both the Guest and the Landlord. This Agreement shall be governed by the laws of the State of New York. The words "Landlord" and "Guest" shall include their respective heirs, successors, representatives. The waiver or failure to enforce any breach or provision of this Agreement shall not be considered a waiver of that or any other provision in any subsequent breach thereof. If any provision herein is held invalid, the remainder of the Agreement shall not be affected. Any notice required to be given under this Agreement shall be in writing and sent to the contact information included herein. This Agreement may be signed in one or more counterparts, each of which is an original, but taken together constitute one in the same instrument. Execution of a digital signature shall be deemed a valid signature.
ADDITIONAL / GENERAL HOUSE RULES
1.Guests agree to treat the Home and Furnishings in it and Surroundings Responsibly.
2.Smoking of any kind not permitted inside the house; you must go outside and use ashtray.
(URL HIDDEN) licensed or otherwise not permitted inside, on or around the property.
4.Dogs or Cats are permitted but must be looked after during your stay.
5.Guests are responsible for persons staying in the home during visit behave responsibly.
6.If anything is damaged, broken, or missing Guests are responsible for the cost of replacing or repairing the item or items.
7.The Guests agree to return the home in reasonably tidy condition.
8.We are not responsible for the loss or damage of any personal items brought to the property by Guests during the stay, but will make a best effort to return anything found.
9.All Movies purchased through the Optimum Cable Entertainment package must be paid at the moment keys are returned for departure.
10.There is a five (5) car maximum at any given time permissible in the driveway. No cars are allowed to be parked in the streets overnight.
(URL HIDDEN) assume full responsibility for any violation or citation that are the cause of their guests such as, but not limited to:
a.Excessive vehicles in driveway (5 max)
b.Noise pollution (no loud music and no excessive noise/music after 9:30pm)
(URL HIDDEN) on or near the premises
POOL / SPA / WATERFALL
1. NO GLASS, CIGARETTES OR GUM IN OR NEAR POOL PLEASE.
2. Pool/spa/waterfall are controlled remotely by phone app via (URL HIDDEN)
3. Your stay includes a heated spa for "any five hours" per day at 98-104 degrees (suggestion for day: 11am–4pm; suggestion for night: 8pm–1am). Please text us in advance which five hours you want the spa heated either in the day or at night so we can program this in advance, however you can modify the schedule during your stay by texting changes on demand. Max temp is 104. You can break up the 5 hrs day and night.
4. We won't run the spa hot 24/7 but are flexible to tailor the experience to your needs.
5. We will preheat pool to reach 80° which will be maintained during peak swimming hours (12p - 5pm) or (11a - 4p) on each day guest desires. Guest must request this at least one day in advance of check in as it could take a few hours to preheat the pool to 80°.
6. Occupancy does not include cost to heat pool ABOVE 80. Cost to pre-heat pool above 80º is $9/hour. If you want the pool pre-heated to a certain temperature on any particular day, or desire the pool water temp to be above 80° between peak swimming hours (e.g. 12pm - 5pm) for certain days, or evenings, please ask in advance. A typical 2 day w/e in May/June can involve 15 to 20 hrs of pre-heating, 10 to-12 hrs on the 1st day, and then just 5-8 hours on the second day if desired ($(PHONE NUMBER HIDDEN). If you wish that the pool be heated during your stay above 80° we ask for reimbursement for the natural gas and address this is by taking a photo of the gas meter before and after your stay, texting it to you, and then show you online that the pool heater is programmed.
CHECKING IN
A FIFTEEN minute orientation and walk through will be given upon arrival for Keys, Alarm codes, Fireplace, Air Conditioning, Electronics, Widescreens, Cable entertainment, and Pool Etc. Linens and Kitchen Utensils are provided; Tenant must provide their own food/refreshments.
CANCELLATION POLICY
Strict: 50% refund if cancelled at least 30 days prior to arrival. Call after you sign the Guest Agreement so I can block out the calendar making it unavailable to anyone else and notify any other potential guests inquiring about that time slot that it is unavailable as a courtesy to them.
As to Guest, this 1st day of March 2017.
("Guest"): Sign: __________________________________ Date: ______(URL HIDDEN) Print: (______________________)
As to Landlord this 1st day of March, 2017.
PROPERTY MGR: Sign: ________________________________ Date:______(URL HIDDEN) Print: (______________)
Other things to note
1. Kitchen
Usually I do a quick hands-on showing how to use certain things in the Kitchen that you think you might use (stove, oven, microwave, dishwasher) and show where everything is: new plates, cups, ice buckets, all BBQ supplies, blenders, coffee pot/filters/mugs, pots/pans, garbage bags, etc. There are two refrigerators (one in kitchen one in garage). Let me know if you need the 2nd one (garage) and I will plug it in the night before so the freezer is ready for you by check-in.
2. Bathrooms
All 6 1/2 bathrooms will have at least one liquid hand-soap, 3 folded towels and a new roll of toilet tissue paper (ppl always ask this one). If you run out of towels you will find an additional stockpile either in one of the two laundry rooms on the 1st or 2nd floor or in the master bedroom closet (which I will show). Each bathroom also a small trash can with a plastic bag. We ask that any tissue paper, etc, be thrown in the garbage pail, not flushed to mitigate any remote chance of a clogging issue(s).
3. Bedrooms
Six of the seven bedrooms have a queen bed and the seventh bedroom (The Jungle Room) has a king sized bed, one box of tissue, one liquid hand sanitizer and a hard copy of Dan's Papers weekly paper (see (URL HIDDEN) in ea room which will comes out ea Friday as long as it is still in print.
See (URL HIDDEN) for "all things" Hamptons.
4. Internet
WIFI: NETGEAR58 Password: vastlightning292. The Modem and the Router are in the Master Bedroom which is near the deck in the backyard so you should not have any problem accessing the internet from any areas in the house, however, I put in a wifi-extender just in case anyone has trouble accessing the net from the deck or pool patio areas. If that happens just scan for NETGEAR58_5GEXT (and use the same password vastlightning292). We have a high-speed internet package so multiple ppl online will not have issues.
5. BBQ
Brand new Weber purchased Aug 2014. Propane will be connected to the new BBQ and I will show whoever is grilling how to use. Important Note: Whoever is grilling should not forget to shut off the gas knobs on the BBQ panel as well as the valve on the propane tank. If someone doesn't shut off the knobs properly/fully the propane keeps flowing gas to the BBQ after the flames are out it - a hazard if anyone is on the deck smoking cigarettes. Easy to follow once I show for any BBQ novice.
6. Outdoor Heated Spa and Rock Waterfall
The outdoor Heated Spa and Waterfall is controlled by me remotely (by phone app) via (URL HIDDEN) No need for anyone to touch any of the pool equip. I give you 5hrs/day (any 5 hrs you want) for heated outdoor spa. Just tell me at check in (or text me during your stay) when you want the spa on/off. I set the temp to 99 degrees (max is 104). It takes about 20 min for the spa to get hot so give me at least 30+ min notice before your guests intend to use it. Text me or call, even at nighttime. In addition to heating the spa I turn on the spa jets and blower. If late at night and the blower makes too much noise for you just text me "blower off" (the spa will still be hot and the spa jets will stay on).
The Rock Waterfall is another feature which you can have turned on if you want for approx 2.5hrs/day so text me anytime the times you want this on/off. The reason why only 2.5 hrs is b/c over time the rock waterfall deposits sediment into the corner of the pool which is unattractive so this is how we mitigate that. A nice feature when your guests are on the deck and/or pool patio.
7. Town Ordinance Rule/Garage
If you might have more than 5 cars you must put 1-3 cars in the 3-car garage. I will give you 1-2 garage door openers if you need. A local town ordinance is very strict in that you are only allowed 5 cars max in the driveway and no cars can be in the street overnight (11pm the latest) or you can get a ticket and a knock on the door by code enforcement. Guests typically ignore this one rule but it actually is more important for you as they ticket the 6th and 7th+ cars directly.
8. Central Air Conditioning
There are 4 zones for Air Conditioning (1st Fl, 2nd Fl, Master BR and Jr Master BR). You can keep the bedroom doors closed to preserve the temperatures in those rooms while enjoying the common areas. We add 4lbs of freon to the 1st Floor A/C every June so it is runs top notch.
9. Key, Damage Deposit
I will give you 1-2 keys for the house and 1-2 garage door openers. I will return the security/damage deposit within 72 hours after I get the keys/garage door openers back, have the house house-cleaned and do a thorough walk-through.
10. Misc
Bring paper towels and any bath supplies (shower gel, soap, etc), but towels not necessary as we have plenty of those. You can use the dryers to dry towels (and/or washer/dryer).

---
---
Check in time is 4PM - 12AM (midnight)
Self check-in with lockbox
---
My friends and I only stayed for one night.. I wished it was longer. The house was amazing, so much room and a lot of bathrooms, perfect for 12 ladies!! Perfect for our intimate gathering. It was too cold for the pool but it was beautiful. Kitchen and the entire space was great. Matteo was very approachable and communication was perfect. Definitely recommended.
---
Response rate:
100%
Response time:
within an hour
Explore other options in and around East Quogue
More places to stay in East Quogue: