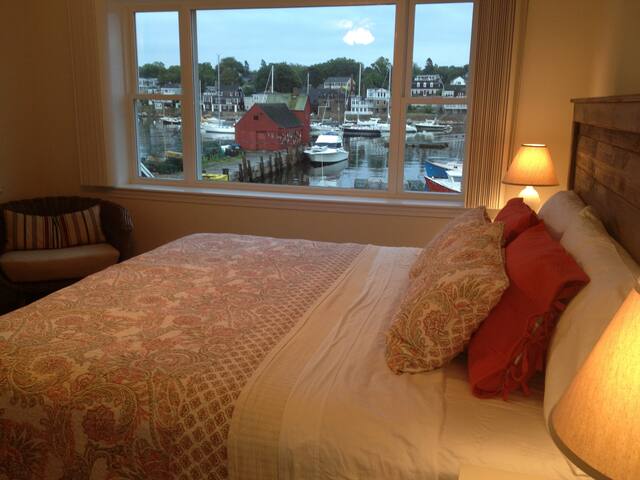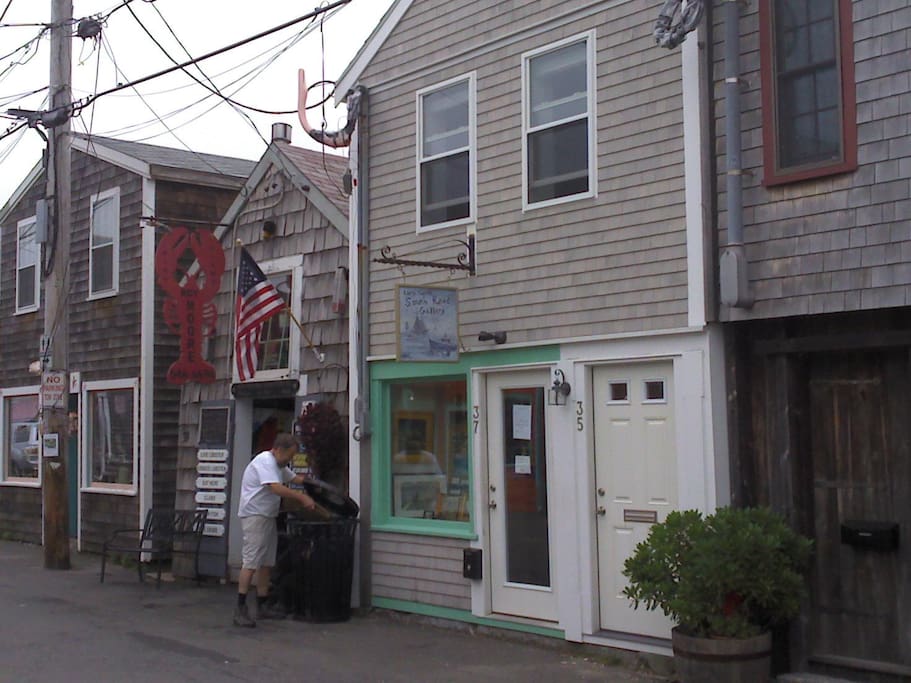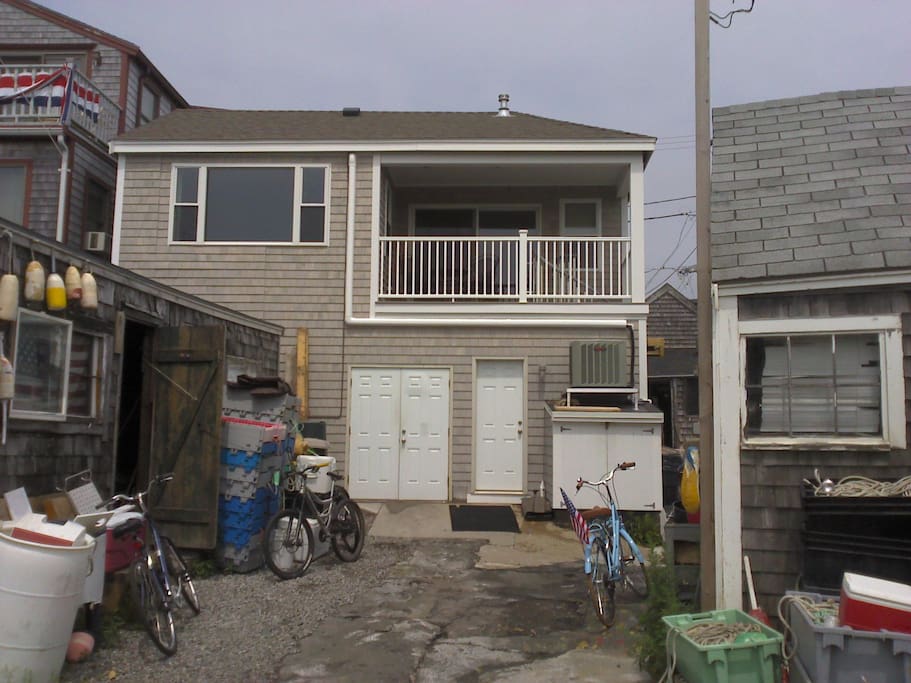 Authentic Rockport Experience
The Mariner is a custom-furnished, 2-bedroom apartment that provides all the amenities one may need to enjoy time in Rockport. The front entrance brings guests to Bearskin Neck and the rear exit goes onto Bradley Wharf, home of the iconic red shack Motif #1.
The space
The location of the Mariner is unparalleled. Guests enjoy a panoramic view of Rockport Harbor from nearly every room. Motif #1 is a stone's throw away from the Mariner deck. Restaurants, shops, and galleries are steps away.
Guest access
Guest have access to the whole apartment. Parking is not adjacent to the apartment as parking is restricted to residents only on Bearskin Neck/Bradley Wharf. The Mariner has a reserved parking spot approximately 10 minutes walk away, across from Front Beach.
Interaction with guests
I meet guests at check-in and check-out, and anytime needed in between.
Other things to note
The Bearskin Neck and Bradley Wharf area is steeped with Rockport history going back generations. Today, Rockport Harbor is active with lobstermen, artists, and recreation.
---
---
Always communicate through Airbnb
To protect your payment, never transfer money or communicate outside of the Airbnb website or app.
Learn more
---
Check in is anytime after 3PM
No smoking on premises, 2 night minimum stay until January 1, 2018 (3 night minimum stay for 2018).
**A signed rental agreement (below) is required to book a reservation**

THIS IS A LEGALLY BINDING CONTRACT
VACATION PROPERTY RENTAL AGREEMENT
This agreement made this ____ day of ________, 2017 between _________________________ residing at ____________________________________________________________________ with a home telephone number of _____________________________ and mobile phone number of _______________________________ (herein called the Tenant) and Justin Mierz (herein called the Owner) concerning the short term rental of 35 Bearskin Neck, Town of Rockport, County of Essex, and Commonwealth of Massachusetts.
Total people in renting party: ____ adults, ____ children
Rental period shall begin at 3:00 PM on _________________, 2017 and end at 10:00 AM on ______________________, 2017.
Total rental amount: $__________ ($______/night for ____ nights)
Terms of the agreement:
1. The Tenant agrees to allow the Owner or his agent to enter and view the premises, both inside and outside to:
a) inspect the premises,
b) make repairs thereto,
c) protect the premises if it appears that said premises have been abandoned by Tenant.
2. No more than 6 (SIX) persons will occupy said premises and no animals, birds, or pets of any description shall be kept in or upon leased premises - EXCEPT 1 (ONE) DOG.
3. The Tenant will be responsible for all damage or breakage and/or loss of premises, except normal wear and tear and unavoidable casualty which may result from occupancy.
4. The Tenant will leave the premises in the same general and good and habitable condition.
5. The Owner shall provide towels, linens, blankets, cups, knives, forks, spoons, dishes, pots, pans, coffee maker, microwave oven, TV, air conditioning/heat.
6. The Owner shall provide toilet paper, dish detergent, and cleaning supplies. Other consumables are to be purchased by the Tenant. No reimbursement will be made for unused consumables left at the premises. If consumables exist at the premises when the Tenant arrives, the Tenant is free to use them.
7. There will be no smoking on the premises.
8. The Tenant shall not sublet the property.
9. The Owner will provide garbage containers. Recycling containers are also provided the Tenant for glass, plastic, aluminum cans, redeemable cans and bottles, and paper. It will be the Tenant's responsibility to place garbage and recyclables in the containers. The Tenant agrees to keep and maintain the property, and surrounding area in a clean and sanitary condition at all times, free of all garbage debris. The Tenant shall comply with all municipal regulations imposed by the Town of Rockport relating to the disposal of garbage and similar debris and recyclables, including glass, plastic, paper, aluminum cans, and redeemable bottles/cans.
10. The Tenant and Tenant's guests shall hereby indemnify and hold harmless the Owner against any and all claims of personal injury or property damage or loss arising from use of the premises regardless of the nature of the accident, injury, or loss. Tenant expressly recognize that any insurance for property damage or loss which the Owner may maintain on the property does not cover the personal property of the Tenants, and that Tenants should purchase their own insurance for Tenants and guests if such coverage is desired.
11. Tenant agrees to pay all reasonable costs, attorney's fees and expenses that shall be made or incurred by Owner enforcing this agreement.
12. Rental amount is fully refundable up to 60 days prior to the beginning of the rental period. After 60 days prior to the rental period the Owner shall have the right to retain the rental amount at the Owner's discretion.
13. The Owner and Tenant state that the rent of these premises is for a vacation or recreational purpose as expressed in the Massachusetts General Laws C. 186 15B(9).
14. The Owner shall provide parking space for 1 (ONE) motor vehicle in a parking lot space to be designated by the Owner. Any rules or regulations established by the Owner relating to parking shall be strictly observed by the Tenant and may be subject to change at the Owner's discretion.
15. There will be no refunds of rents due to shortened stays or ruined expectations because of weather conditions.
16. There will be no refunds of rents due to shortened stays or ruined expectations due to work and family emergencies or other commitments.
17. No refunds or compensation will be given for any power outages beyond our control.
18. The Tenants shall not create noise or disturbances likely to disturb or annoy the surrounding property owners. Creating a disturbance of the above nature shall be grounds for immediate termination of this agreement and Tenants shall then immediately vacate the premises.
19. This agreement may be signed in one or more counterparts, and all such counterparts shall form but one integrated agreement.
20. The rental property has a fire extinguisher installed near the kitchen area. The fire extinguisher was fully charged at last inspection. It is the duty of the tenant to inform owner immediately should the fire extinguisher becomes less than fully charged. Tenant agrees to use the fire extinguisher only for true emergencies.
21. The property has fire alarms installed and they are believed to function properly at the time of rental. Tenant will notify Owner without delay if a fire alarm "chirps" or has a low battery condition.
22. Tenant shall see to their own security while in the property by locking doors and windows when it's prudent to do so.
23. High speed internet is provided as a convenience only and is not integral to this agreement. No refund of rents shall be given for outages, speed, or access problems.
24. Doors and windows shall be closed when either heat or air conditioning is in use.
25. If the Tenant defaults and/or otherwise fails to comply as regards any item in this lease, the Tenant agrees to vacate said premises, upon receipt of proper notice from the Owner and/or upon proper commencement and final adjudication of proceedings authorized and/or required by the applicable laws and regulations of the Commonwealth of Massachusetts.
26. ENTIRE AGREEMENT: THIS AGREEMENT SERVES AS THE ENTIRE AGREEMENT. NO ADDITIONAL PROVISIONS ARE EXPRESSED NOR IMPLIED. THIS AGREEMENT SUPERCEDES ANY AND ALL PREVIOUS ORAL AND/OR WRITTEN, EXPRESSED, AND/OR IMPLIED AGREEMENTS. UPON WRITTEN OR ELECTRONIC ENDORSEMENT, TENANTS AGREE THAT THEY HAVE READ AND UNDERSTOOD THIS AGREEMENT, AND ACCEPT ALL TERMS, CONDITIONS, COVENANTS AND RESTRICTIONS, WITHOUT EXCEPTION.
27. SIGNATURES
OWNER
Sign: __________________________ Print: ______________________ Date: __________
TENANT:
Sign: ___________________________ Print: ______________________ Date: __________
_______________________________
_______________________________
_______________________________
(Address, City, State, Zip)
_______________________________
(Home Telephone Number)
_______________________________
(Mobile Telephone Number)
---
---
---
I grew up in Rockport and graduated from Rockport High School in 1992 before heading south to study environmental health at East Carolina University in Greenville, North Carolina. I returned home after graduation, received a Master of Public Health from the University of Massachusetts, and met my wife, Marcie, in the North End, Boston. I spent 14 years as an environmental analyst for the Massachusetts Department of Public Health before resigning in 2013 to start a vacation rental business.

My wife, Marcie Mierz, grew up in Stamford, Connecticut, and studied psychology at Moravian College in Bethlehem, Pennsylvania. Marcie moved to Boston after graduation and began work in the technology industry. Marcie currently works in software engineering as a technical project manager.

Justin and Marcie live with their two girls - Ava Mae (8 years old) and Sadie (5 years old) - on Atlantic Avenue in Rockport. We look forward to providing guests a comfortable, casual stay.
Response rate:
100%
Response time:
within an hour
Explore other options in and around Rockport
More places to stay in Rockport: