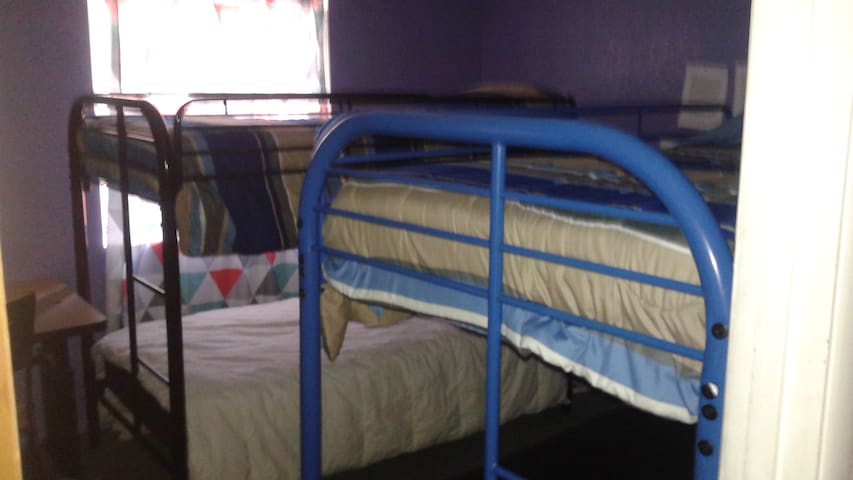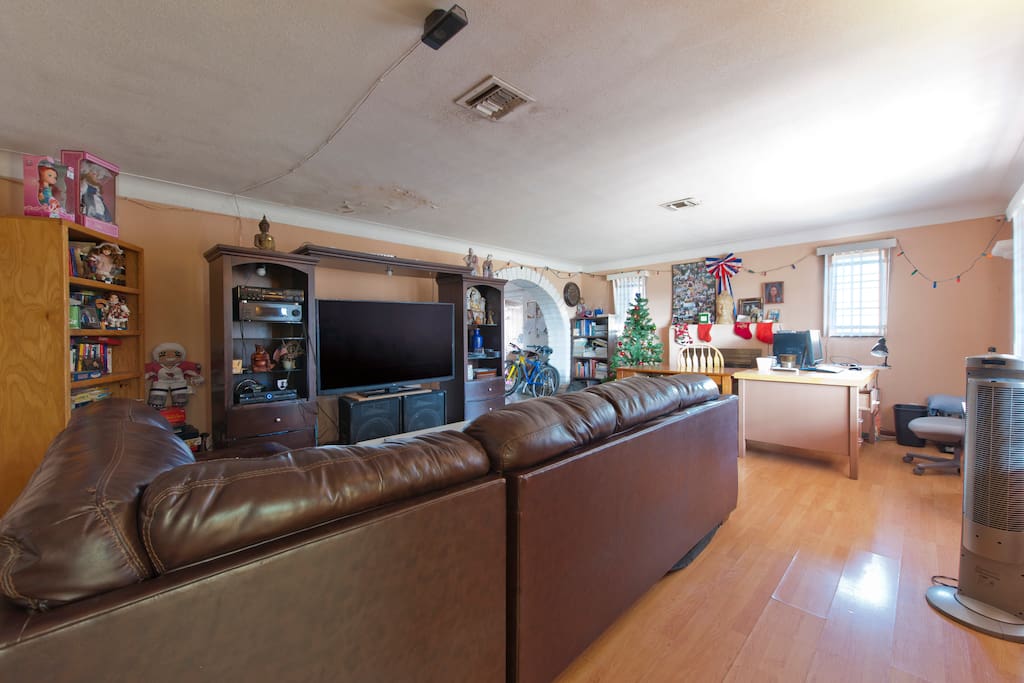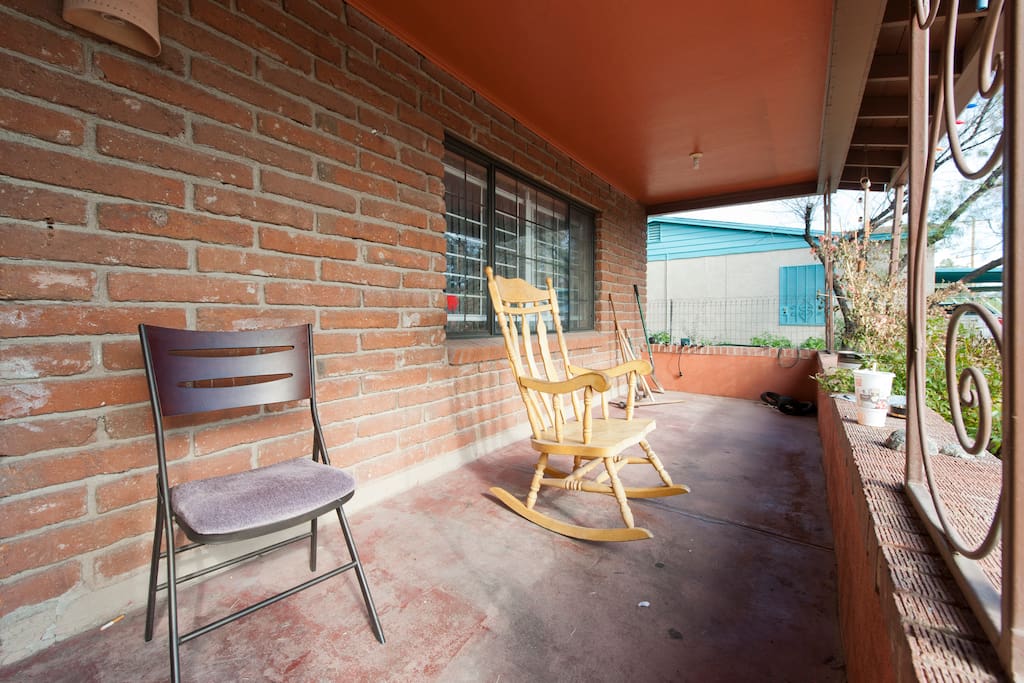 Now in bigger, cooler room - econ bed bunk - share big house w amenities. Central locale near shopping & UofA. Friendly conversation welcomed. Helpful owner lives and works here. Kitchen remodeled, free coffee. Bicycles & office available for rent.
The space
This is an economy listing for saving money for short stays when needing a place to sleep, shower, change clothes and relax, rather than paying motel prices. What you can expect is an intent by the resident-owner-bachelor (Ron), to be friendly and helpful to you, while providing a fresh bed in a bunk room and use of the house common areas inside and out. Should not expect to find a professionally cleaned and maintained lodging house or hostel, and this listing is not intended for long term stays. You have use of the common areas in and around the house, and Ron is open to questions and conversation. The house is 2800 sq ft with 7 bedrooms; 3-4 are occupied by full-time adult single residents, including Ron; 1 room consists of an office; 1 room is the male bunk room; and 1 room is the female bunk room. Ron operates a small law practice inside the house. House is centrally located and convenient to main Tucson destinations.
Guest access
Use of full kitchen and common areas, 2 shared bathrooms, satellite TV, wify, clothes washer and dryers, basketball court, weight bench, barbeque. There is also a guest computer. House supplies toilet paper, paper towels, cleaning supplies for kitchen and laundry, clean bedding, and if needed a clean towel and a bar of soap. You also use of kitchen utensils, dishes, pots, pans silverware. All food, toiletries and other personal products must be your own. You may be asked to put on your own fitted sheet on at beginning of stay and asked to return sheets and borrowed towel to a specified location at the end of stay.
Interaction with guests
This place is intended to be a place where people communicate with each other, interact, and help, in the environment of a blend of house share, hostel, and an intentional cooperative community. If every single bed is occupied, there would be a total of 11 people in the house. It is understood that anyone and everyone may be very busy with their endeavors, including myself, as I run a law office practice at the same location. So interaction might not be as much as would otherwise would be possible. The idea is that each person makes an effort to converse, interact and cooperate to the overall goal of synergy (more positive energy generated than the sum total put in). The longer the stay, the more these ideas apply.
Other things to note
We have premium movie channels, satellite television, sports programming and DVD collection. You can walk to convenience store, restaurants, fast food, grocery store, RX Store and etcetera. Also, the dorms are not made for long term stays. The airbnb rooms are like a hostel and only get a bed and use of common areas, but no room to spread out a lot of possessions inside the house. Keep in mind that men and women are in separate rooms, but there might be an unusual case in which the bed you book might not be the exact one you are placed in. At some point in time the male and female dorms may be switched, and someone may be staying here when this happens. There are two dorm rooms, a small room with 3 beds (room 3), and a larger room with 4 beds (room 5).
Always communicate through Airbnb
To protect your payment, never transfer money or communicate outside of the Airbnb website or app.
Check-in is anytime after 3PM
MAIN UPDATED HOUSE POLICIES updated 3/23/17
The intention is that this be a sort of an intentional community in which there are levels of communication, participation and cooperation that one might not find elsewhere. More on this below. Smoking okay outside only. The house is intended to have a livable feel to it, so ordinary and/or reasonable noise and sound are okay, but we avoid sudden slams and bangs of doors especially in the front hallway, and we intend to keep it fairly quiet, from 10 pm to 10 am. Additionally, we try to strike a balance between the wants of those that prefer sound levels up, with those that prefer quiet. The main common area will likely have on television or possibly even music, kept to a marginal level, depending on the overall preferences of those here at the time.
There are a number of people here at all times and there is a responsibility to to maintain a pleasant atmosphere. So we cannot have volatility or turbulent behavior nor other forms of drama.
There are a number of guidelines with regard to quickly cleaning up after yourselves, and the aim is for the place to always be reasonably tidy and clean. But it will not be super-immaculate here, unless the periodic housekeeper has recently completed a thorough job through the whole house. Clean up after yourself. Especially attend to yourselves with regard to the kitchen and bathroom. This means plates, pots, pans, silverware, and also crumbs and smudges on stove, counters and table. You are asked to use the dishwasher (dish sanitizer), but food has to be cleaned off everything before it goes in the dish sanitizer. It is okay to soak items for a time before wiping them off. The dishwasher's purpose is to sanitize the dishes. Wipe down the bathroom counters of the water spilled on it during use and generally clean up any other mess one makes in the bathroom.
The longer a person is here the more they become a "member of the community," and there are some minor token additional chores that the people that live here take turns performing, such as taking out trash and recyclables from kitchen to outside bins, emptying dishwasher, and giving all kitchen counters and table a good wiping down with a wet rag, followed by a disinfectant wipe. This helps keep the costs down. And helping out in this way is a bonding exercise that makes a person feel more like part of the group of people that live here. Additionally, it is hoped, but not demanded, that community members will participate in personal interaction with the others here, such as conversation, meal sharing and activities. Use only your own food stuffs and personal items, unless permission is given, with the exception that the house may throw in certain designated items as an added benefit. House supplies towel, some toiletries (those marked "airbnb"), coffee, and use of kitchen utensils, dishes, pots, pans silverware). There may be other benefits thrown in, such as an occasional home cooked meal, but these are gifted extras, and not part of what guests pay for.
I believe in cooperative sharing of living spaces, especially people may not have extra discretionary income. I operate my law practice out of my 7 bedroom house and have rented rooms for 9 years. I love sports, both playing and watching, popular culture including movies and quality tv, quality rock from 50s thru the present, conversation, meditation and life philosophy. I love discussions of all varieties from the spiritual to all aspects of ordinary life, including those things that I said I love, anything intellectual, science and positive life skills and points of view.
Response rate:
100%
Response time:
within an hour
Explore other options in and around Tucson
More places to stay in Tucson: