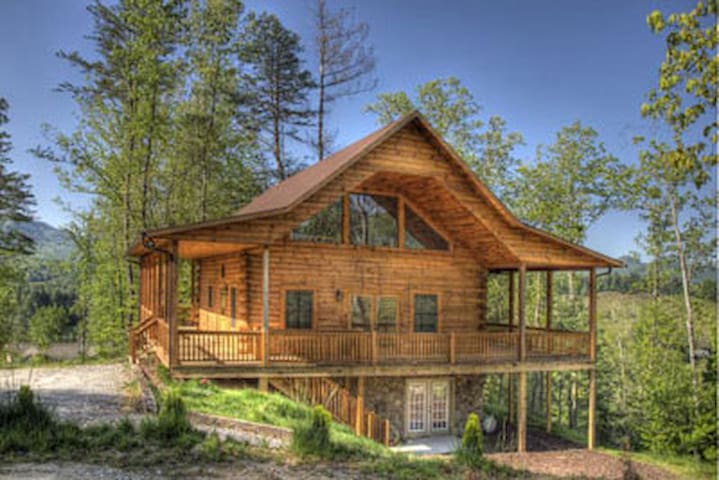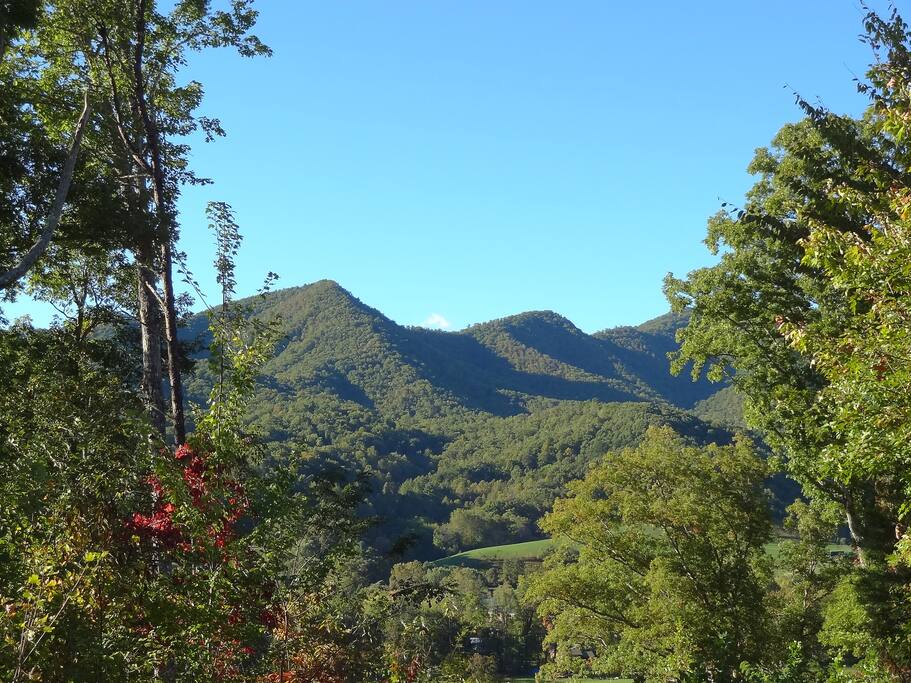 Deep Creek Overlook w/Gameroom
Luxury log cabin located in Bryson City's wonderful Deep Creek community. Panoramic views of the Mountains and Deep Creek Valley with the sounds of deep creek's rushing water below. You will love this cabin and its Location to Fun!
The space
Deep Creek Overlook is all about the Location. Situated atop a mountain top overlooking Deep Creek Valley. Conveniently located to all the attractions. Tubing at' Deep Creek 'is right outside you door. The Great Smoky National Park entrance and train depot are each only 1 mile away. You will have a blast!!!
Guest access
This is a True Log Cabin with hardwood floors, tongue and groove walls and ceilings.
The main level has a kitchen, dining area, eat in island, washer/dryer, master bedroom, full size bathroom, and four different doors accessing the wrap around porch. The Great room has soaring cathedral ceilings with lots of windows, new leather furniture, a queen sized sleeper sofa, gas log fireplace and HD Flat Screen TV with a DVD library. The master bedroom has a queen sized bed, HD Flat Screen TV, nightstands and dresser along private access to the porch and hot tub. The kitchen has stainless steel appliances and is well appointed with most everything you would need to prepare a gourmet meal. The dining area has a large custom made cedar log table to enjoy your meals with the whole family.
Upstairs are two separate semi private loft bedrooms each with a queen sized bed nightstands and dresser. Loft bedrooms share a full size bathroom.
The game room is downstairs accessed from the outside covered porch stairs. The game room boasts a full size pool table, a sleeper sofa, HD Flat Screen TV and a custom made cedar log Pub Table.
Interaction with guests
I am available via email, text & phone.
Other things to note
There is a $50 Pet Fee per pet
Sales tax of 10.75% is included in the total booking price.
---
---
Check in is anytime after 3PM
Deep Creek Overlook
STANDARD CHECK IN TIME IS ANYTIME AFTER 3PM STANDARD CHECK OUT TIME IS BY 10AM
If you have any additional questions, don't hesitate to contact us at and we'll assist in any way that we can. We look forward to seeing you soon!
The above named person and all others in the party hereinafter are referred to as "guest" or "guests." Final payment is due 30 days prior to your arrival, so if we have not made arrangements otherwise, the remaining balance due will be charged to your credit card number we have on file.
THIS IS A VACTION RENTAL AGREEMENT UNDER THE NORTH CAROLINA RENTAL ACT. THE RIGHTS AND OBLIGATIONS OF THE PARTIES TO THIS AGREEMENT ARE DEFINED BY LAW AND INCLUDE UNIQUE PROVISIONS PERMITTING THE DISBURSEMENT OF RENT PRIOR TO TENANCY AND EXPEDITED EVICTION OF TENANTS. YOUR SIGNATURE ON THIS AGREEMENT, OR PAYMENT OF MONEY OR TAKING POSSESSION OF THE PROPERTY AFTER RECEIPT OF THE AGREEMENT, IS EVIDENCE OF YOUR ACCEPTANCE OF THE AGREEMENT AND YOUR INTENT TO USE THIS PROPERTY FOR A VACATION RENTAL.
CANCELLATION: Please refer to Airbnb's cancelation policy. No-shows and early departures are obligated for the entire amount of the
reservation.
No refunds will be given for Inclement Weather. Trip Insurance is strongly suggested for reservations during the winter months of December through March. Trip Insurance may be purchased at time of reservation.
Pet Policy: Pets are permitted only with prior approval and only in selected cabins. A non-refundable pet-cleaning fee of $50.00 per pet will be charged. Pets brought to cabins that do not allow pets can result in immediate eviction with forfeiture of remaining paid stay. Pets are not allowed on furniture (including beds and sofas), at any time. Unattended pets in cabin must be crated. Damage Deposit Policy: A Damage Deposit of $200.00 will be secured against your credit card at the start of your stay. This charge will be refunded back to your credit card the day of departure. It may take several days for your credit card company to post the credit. Per North Carolina statutes, deposits may be applied to actual damages, theft or unpaid charges caused by the Tenant, their family and guests. Upon arrival, please report any
PLEASE PRINT THIS CONFIRMATION AND BRING IT WITH YOU, THE DIRECTIONS TO YOUR
CABIN AND THE LOCK BOX CODE ARE AT THE BOTTOM. DON'T RELY ON A SMART PHONE OR
GPS TO GET TO YOUR CABIN. THERE ARE AREAS IN THE MOUNTAINS WHERE YOU WILL NOT
GET A SIGNAL AND YOU WILL NOT BE ABLE TO FIND YOUR CABIN.
problems or damages, or we must assume these occurred during your stay. Damage Deposits may also be used for lost keys/lockout charges, having unauthorized pets on premises, smoking, excessive cleaning fees, for expenses resulting from agreement violations or for too many guests. Charges could exceed the deposit amount and may result in a larger charge to your credit card. I understand and authorize my credit card to be charged for additional charges not summarized herein, but assessed as a result of my behavior during my
stay.
Rules & Regulations:
1) No indoor smoking. Smoking on porch or deck is permitted. (please use cigarette receptacles don't toss cigarettes on the ground)
2) No firearms allowed on property. This includes BB guns and paintball guns. Local authorities will be called to handle non-compliance.
3) No campfires or burning outside except in designated fire pit.
4) No disruptive behavior. Please remember that this is a peaceful mountain community and that neighbors, although not visible, are present. Keep music and conversation at reasonable levels, drive safely, respect that there are other property owners within the community. Please don't trespass against our neighbors, unless invited.
5) No overnight guests above the reserved number.
6) Please report damage or breakage. We inventory cabin supplies after each stay. Accidents happen, so please report any damaged or lost items so we may promptly replace them for other guests. Replacement of missing/damaged items that are not reported may be charged to your credit card.
7) Hot tub covers must be kept on the hot tub whenever it is not in use in order to maintain the water temperature. Do not stand on a hot tub cover, it will break and the replacement charge is $500.00. Do not use soap, bath oils, bubble bath, etc in the hot tub. Showering before and after using a hot tub is recommended. Some lotions, creams, makeup, soaps, bath oils, etc. mixed with the hot tub chemicals may cause a rash.
Hot Tub Safety Rules:
Hot Tub is cleaned and chemically treated prior to your arrival. Failure to adhere to the posted rules could result in a rash or other medical conditions. Hot Tub chemicals should be fine with normal use during your stay. Do not enter a Hot Tub if it is Cloudy or has an unpleasant odor.
1. Shower before & after using Hot Tub
2. Limit your soak time to 15 minutes or less 3. Do not remove Chlorine Float from Hot Tub
4. Do not bring glass in or near Hot Tub
5. Do not use Alcohol, narcotics, or medications
6. Pregnant women should consult doctor before use
7. Do not enter Hot Tub unless temperature is between 100–
104 degrees
8. Anyone with heart disease, diabetes, high or low blood
pressure or any serious illness should consult with doctor
before entering Hot Tub
9. Please replace Spa Cover after each use or it will go cold
10. Please turn off jets after use
11. Please do not use bubbles, soaps or oils in Spa.
12. Do not wear Jewelry
13. Hot Tub may fade some swimsuits.
14. Children under 12 should not use hot tub
15. Do not get in a Hot Tub that is cloudy or has an unpleasant
odor.
16. Failure to comply with these rules may result in damage to
the Hot Tub, a Rash or other medical conditions. Use Hot Tub at your own risk. Please call if you feel the hot tub has been compromised by heavy use.
Other Terms & Conditions:
1) Certain conditions exist that are unique to the mountain environment and are beyond the control of Deep Creek Overlook cabin. These include road conditions, availability and reliability of utilities, indoor and outdoor pests (including but not limited to stinging insects, snakes, spiders, mice, ladybugs), and weather. Inclement weather or your discomfort with mountain roads are not valid conditions for cancellation, nor are power or utility outages. Problems arising during your stay must be reported immediately so we can attempt to correct them. We cannot correct or compensate for problems reported after your stay.
2) This agreement can only be extended by agreement from both parties. No late checkout or extension of stay is allowed without prior agreement. Check out time is 10AM on the departure date unless
otherwise agreed. Late checkouts are only granted during your stay (and sometimes only on the last day of your stay).
3) Deep Creek Overlook will not be held responsible for any personal items lost or left in one of our properties. If you forget an item and request that we send it to you, we will mail it to your for the cost of postage plus a $20.00 handling fee.
4) Deep Creek Overlook is not responsible for, nor do we recommend the use of the following: (URL HIDDEN) or any other online service, GPS guidance systems, or any directions or instructions from any source other than us. These systems have proven unreliable for use in the rural and mountain roads in our area.
WE PROVIDE: Each cabin is supplied with dishes, kitchen utensils, cookware, bed linens, blankets, pillows, and towels.
YOU PROVIDE: We recommend that you bring or purchase consumable supplies (paper products, trash bags, soap, and detergent). There will be a "starter amount" of these when you arrive, but it is not meant to last your stay.
I agree to the above Cancellation Policy, Hot Tub Policy, Pet Policy, Damage Deposit Policy, Rules & Regulations, and Other Terms and conditions and authorize my credit card to be charged for the deposit, the balance 30 days in advance of my arrival date and upon written notification to me, for damaged or missing items and other charges outlined in this agreement. I also take responsibility for non- compliance of my guests during this stay. I understand that credit card charges are only a form of payment, and charges reversed by credit card issuers do not invalidate the legal obligation to pay the balances due. Unpaid balances will incur interest at an annual rate of 19% and will be pursued with all available legal means of collection. I agree that all legal enforcement will be in the Swain County, NC jurisdiction.
We hope you have a Great Stay!! Darrell and Terri Watts
DIRECTIONS TO DEEP CREEK OVERLOOK
Deep Creek Overlook
321 Redwood Ridge
Bryson City, NC 28713
From Highway 74
Take Exit 67 toward town. (Down the hill)
Take Right on 19 N after BoJangles on your right (Main Street)
Take left at first traffic light on Everett St.
Right on Depot Street just after railroad tracks
Take left at stop sign onto Deep Creek Road
Go .3 miles and veer right onto Bridge at curve in the road.
Take immediate first left onto East Deep Creek Road
Go approximately .7 miles and turn Right at the "Redwood Lodge" (There is no street sign for Redwood Ridge)
Follow the gravel road up the concrete hill. Bear right continuing to go up. After sharp right turn you will come to a three way fork, stay in middle lane. (Do not go up road that has signs Private Drive Sweet T's Cabin). Climb short hill and Cabin is on the left..
DIRECTIONS TO INGLES GROCERY STORE
- Take Exit 67 into Bryson City
- Go straight through the first traffic light
- Left at next light
- Stay on this road approximately 1⁄2 mile and Ingles will be on the left.
---
I have been enjoying vacationing in Bryson City, NC for over 30 years with my family. I introduced my wife to the Great Smoky Mountains in 2007. We have been searching for the Perfect Mountain Cabin Retreat for over five years now that we could call our own. We hope you will com…
Response rate:
100%
Response time:
within an hour
Explore other options in and around Bryson City
More places to stay in Bryson City: