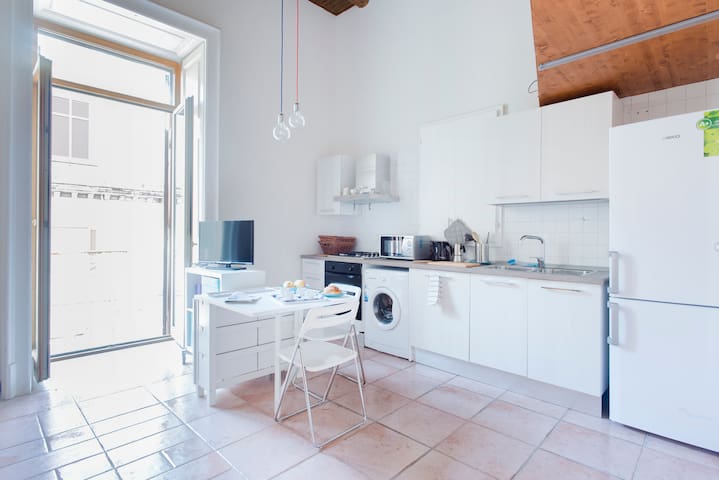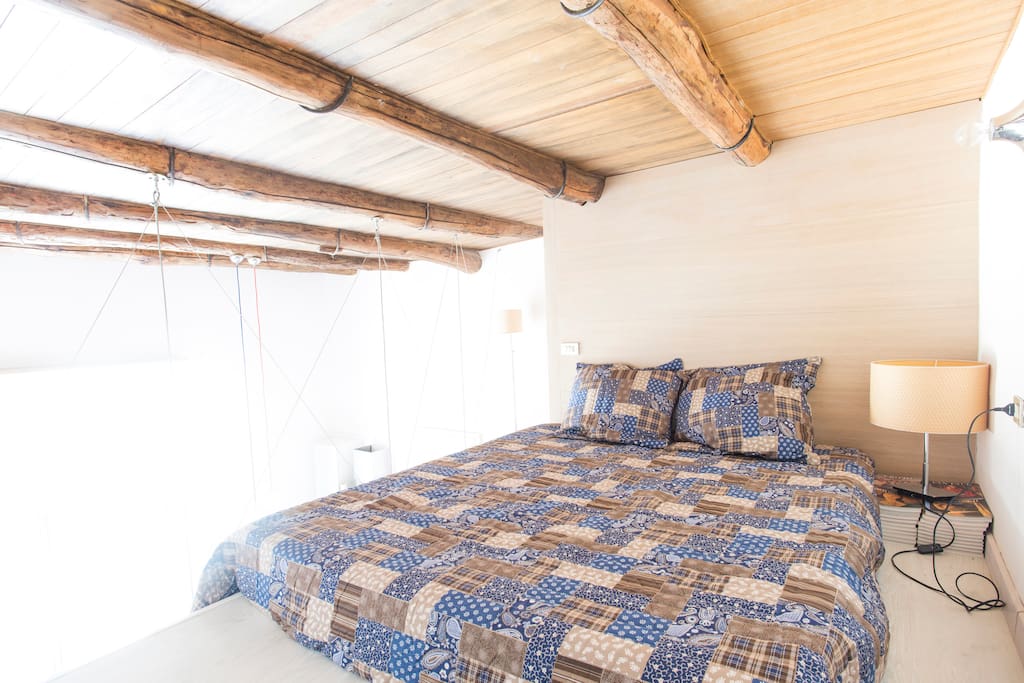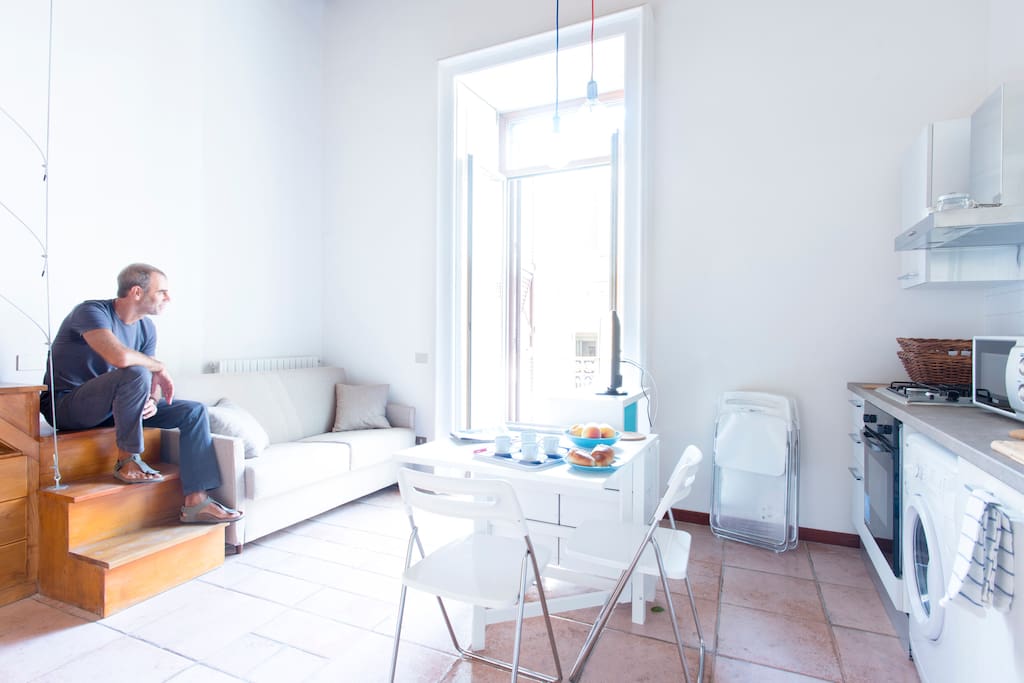 Surroundings of Dei Mille Street and the Lungomare
The space
The apartment is very bright and newly renovated, equipped with air conditioning Daikin, is located on the top floor of an elegant historic building overlooking the staircase connecting via Dei Mille and Via Parco Regina Margherita , an amazing example of Art Nouveau architecture of the early twentieth century in Naples. The building has a lift and concierge service and is equipped with a large balcony overlooking Via Parco Margherita , there is also the possibility of parking for motorcycles. A few meters are various car parks. The building is located on the side of the Chiaia cable car and the Metro Line 2- Piazza Amedeo station.
Guest access
The apartment is on two levels totaling approximately 40 square meters. Independent heating and equipped with brand new air conditioning system Daikin. Fully equipped kitchen with oven / grill and microwave, as well as cookware crockery etc. all new and for four people. Dishwasher and washing machine. Flat TV 30 inch new media and the Internet WiFi are also present. Bathroom with shower, plus set of new towels. The sleeping areas are composed of a queen bed 200x160 cm and sofa with wide french bed 200x140 cm all brand new. The Loft is also equipped with independent intercom and double new security door. The location, at the side of the main public transport hubs of the city, subway and cable car, provides easy access to all tourist sites .. is available upon request and within the commitments, a guide service for city and region.
Interaction with guests
Of course we are always available for any information you need
Other things to note
We looking forward to welcoming you
---
---
Check in is anytime after 2PM
---
Hi, We had a great stay at Mariano's apartment in Napoli. Everything was clean & tidy & worked well. Mariano was easy to contact, helpful & responded quickly. His apartment was in a good area, close to all the shopping & sight seeing we needed. Would be pleased to stay there again. Thanks, Tom.
---
It was a really great stay! Appartement is super clean and cosy, here you can find everything you need, including iron and hairdryer. Walking distance to all attractions you can be interested in, hype and safe area of the city. 3 min from the appartement is the funicular where from final station you can easily achieve Castel St. Elmo with the best view to Napoli. Gigi is super host, positive, helpful and friendly. Best recommendations!
---
Very nice stay. Communication with Gigi was easy before arriving to Napoli, for check-in and check-out. He was very thoughtful and dropped by to give us a Prosecco bottle. Safe and quiet building, with elevator and friendly italian-speaking caretaker. Right next to the line 2 and funicular station. Easy access by foot to the seaside and Chiaia restaurants (you have to go eat a pizza at Gino Sorbillo's !). 30 min walk to Piazza del Plebiscito. Quiet appartment once the windows are closed (the neighborhood is quiet compared to historic center, but there is a bit of traffic on via del Parco Magherita). Large and confortable bed on the mezzanine. Altough we did not really need it during our stay, the air conditioning seemed to work perfectly and should be really appreciated during hot summer days. In conclusion, I recommend this place ! Thanks Gigi !
Hi Marion, Hi Paul -Thanks for your kind words. We do work at providing a good service, so it means a lot to our to read your review. We are so pleased you enjoyed your stay as much as we enjoyed getting to know you both. We can't wait till you return, so don't leave it too long! Thanks for finding our spot, M&G
---
Greeted by Gigi who contacted us beforehand to arrange check in, initial looks was the place was stunning and exactly what we wanted. Provided us with a few welcome snacks and water. However the full stay wasn't all great. Never had I had to contact the host so much during an Airbnb stay. I understand this is an Airbnb and won't be perfect but I don't expect a power cut and being unable to unlock the door. I didn't find communication that helpful or clear when I was having problems. Dishwasher door wouldn't shut so couldn't use it, Gigi said he could come by in the evening to look at but we planned to be out. We had planned to cook a lot so were disappointed by this. Gigi informed us they had called for someone to look at it when we were checking out, so check before booking if this is important for you. We were unable to unlock the front door on our first night so spent 10mins being locked out and panicking. Then eventually we figured out the door isn't properly aligned to the door pane so we had to pull the door towards us to align it to the keyhole then we could unlock the door. It would have been helpful to know this when checking in. Power went out for about 5mins on our 2nd night, this was fixed by the neighbour and then we got told by the neighbour, not to not use too many electrical appliances at once as we over did it. Which I am skeptical we did, as we had the oven, kettle and washing machine going. Note the toilet is electric so you can't use the toilet. But then again the WiFi, fridge and light etc probably used it.  I didn't find communication with the host good, maybe they tried to help but to me it didn't feel this way, I felt they got annoyed that I had many issues, this could be poor communication between us. Note: Floor seemed to be dusty/dirty so bring  slippers or flip flops to wear around the flat. Postives, bed is comfortable and fan up in the loft keeps you cool, Internet works well  kitchen is well equipped to prepare meals, good location which is close to the metro. There is a working washing machine so we were able to do some laundry while we were there.
Hi Taqmina. Loft One has 96 reviews and is on Airbnb since October 2014. We went to reread all the reviews and none of our other guests have ever had problems such as lack of electrical energy, difficulty in closing the entrance door, as well as dusty floor, kitchen knife not sufficiently sharp..., electric wc, etc. etc. etc. etc. etc. etc. etc.. Honestly we verified the things you complained about but the front door works very well, the interruption of electrical energy was probably caused by the fact that you turned on too many appliances at the same time.... before and after you there were never problems of lack of electrical energy just read the other 95 reviews..., the wc works very well even without the electric power. Because it is not properly an electric toilet.... all you had to do was pull out the drain!! The only thing we actually found out is that the door of the dishwasher did not close but you did not give us the opportunity to repair it because when Gigi offered to help you answered that it was not necessary and that you prefer to go out.... For the rest sincerely I don't know what to answer you... Ciao M&G
---
Really nice calm flat in the center and close to the seaside, safe with a concierge (who called us a taxi the day we checked out!). We had a nice time there!! thanks again!
Hi Juliette. We are really pleased to know that you have spent a pleasant day in Naples. It was really a pleasure to welcome you and listen to your memories of when you came to Naples as a child. According to us August is a very pleasant period to visit napoli since the city empties people and especially cars. We hope to review you soon. By the way, Joseph, the concierge of the palace, also asked us if you return. He is eager to review you. Ciao and come back soon. M&G
---
We loved the location, a quiet and safe feeling area of Naples, yet only a 20 minute walk into the heart of the city and 5 minutes from train station with easy connections to day trip destinations- sorrento, pompeii, vesuvius etc. The flat was in a rustic Italian building with lots of character- a cute little lift and big wooden doors. The flat was well equipped in the kitchen and living area. We were worried the bed area would get hot as it is raised, but provision of a fan and air con meant we were very comfortable. Gigi, our host, was consistently available to any requests we had and helped us organise an early morning taxi on our departure. Overall we would recommend this flat very highly .
---
Mariano & Gigi, hosts since October 2014 Siamo due amici con la passione per le cose belle We are two friends fall in love with beauty
Languages:
Deutsch, English, Italiano, Português
Response rate:
100%
Response time:
within an hour
Explore other options in and around Naples
More places to stay in Naples: