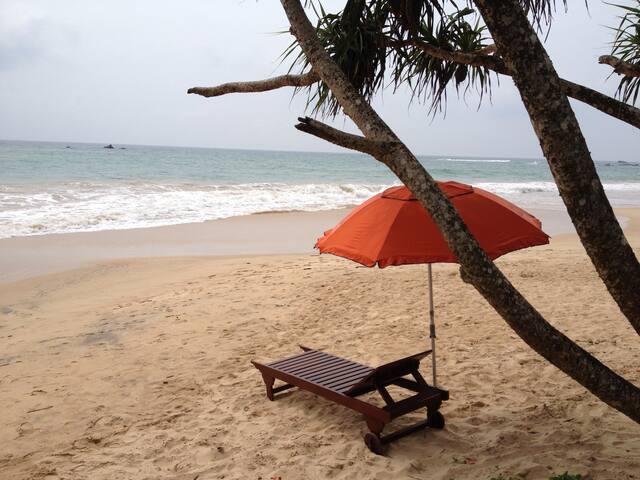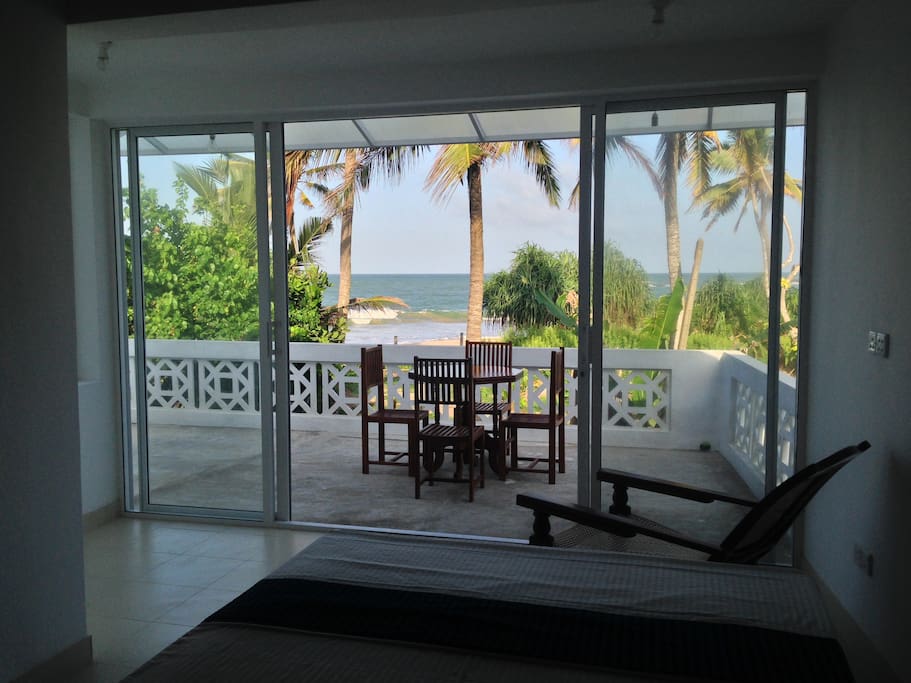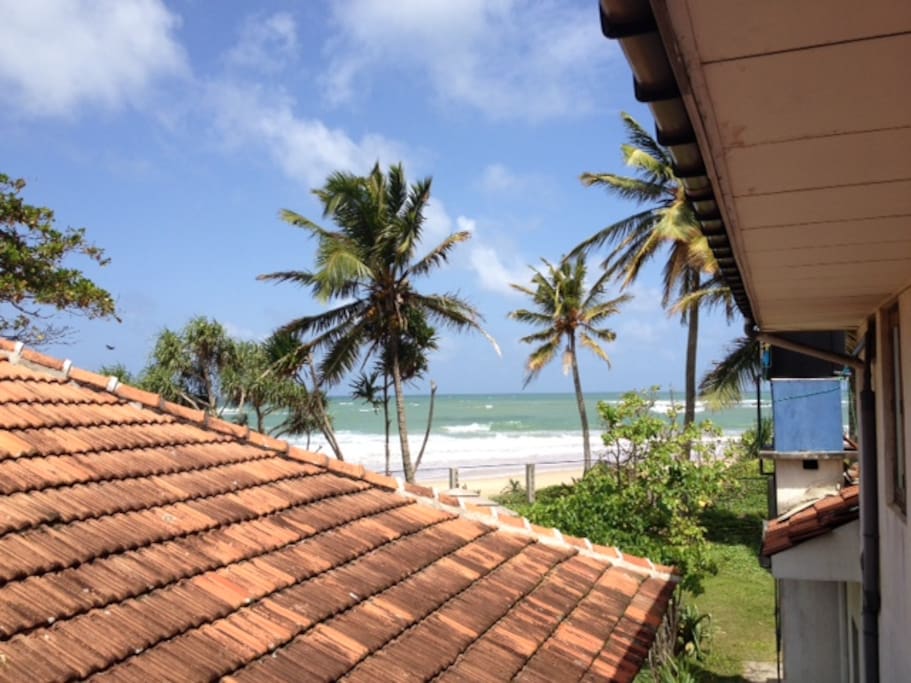 Hikka Beachfront is a unique private villa right on the beach with 24/7 access to the ocean as well as a relaxing shaded garden where you can relax under a coconut tree. We have recently completed some renovations, we have added a lovely sea view room upstairs, with large French doors and a new balcony facing the ocean. We have also renovated the kitchen and adjacent room with new tile flooring.
The space
Hikka Beachfront is a secure, gated villa located adjacent to the beach. Our property is suited for families or groups of friends and will comfortably host 7 or more people. We are also capable of hosting a special event or party for a larger group.
Take in the ocean view from the spacious garden or under the shade of our large beachfront umbrellas. Enjoy the sound of the ocean waves over a cup of Sri Lanka's world-famous tea in the sitting room. Cool off from a day out in the sun with a drink from a freshly plucked King Coconut.
We have a fully equipped kitchen that you will have access to which includes an oven, a gas cooking range, microwave, toaster, coffee maker and cooking utensils. At your request we will provide a private cook that can prepare the delicious meals and dining experience that you can only find in Sri Lanka!
Enjoy the early morning fresh caught fish, shell fish, crabs, and lobsters that you can buy fresh off the boat from the local fishermen. There are also local plucked fruits and vegetables from the local market prepared to your liking.
The uniqueness of our property is that it gives you the privacy and quiet of an oceanfront villa, while being close enough to Hikkaduwa's famous attractions and nightlife. In Hikkaduwa you can scuba dive, surf, enjoy the view of the coral reef from the glass bottomed boats, and enjoy the nightclubs and restaurants as well.
Guest access
You will have access to the entire property when you stay with us. This includes full access to the kitchen amenities, laundry facilities, living room, veranda, balcony, and of course, the beach! Feel free to relax in the garden, on the property's beachfront chairs, sunbathe, read under the beach umbrellas, and have fun with the water sports equipment! There are outdoor showers for your use as well. WiFi High-Speed internet access is available throughout the house.
Upstairs:
There are three cozy upstairs bedrooms. Two bedrooms have queen sized beds and have their own attached Italian-style bathrooms with air conditioning. The third bedroom has a twin bed with an attached bathroom, and ceiling fan with a view of the sea . All bathrooms have hot water available and all rooms come with clean towels and linens. The downstairs bedroom has two twin beds with air conditioning and a separate bathroom with hot water available. The sitting room will allow your group to catch up on the days adventures. You will have access to a flat-panel television with DVD player to catch up on local and world events, or telecast entertainment.
Other things to note
Transportation can be arranged to transport you to and from the International Airport and to see the other sights in Sri Lanka.
We can provide a cook to prepare food of your choice, or provide full board for a nominal fee.
The washing machine is available for your use. If you need additional laundry services we can provide you these services for an additional fee.
Security Deposit $227 NZD
Always communicate through Airbnb
To protect your payment, never transfer money or communicate outside of the Airbnb website or app.
Check-in time is 2PM - 12AM (midnight)
I expect that guests will be courteous and respectful to the staff and properties of the Hikka Beachfront villa.
Smoking is only allowed outdoors.
Do not invite strangers to the villa, this is a security issue and a condition of your stay.
Pets are not allowed indoors.
Crysantha and Mahinda were extremely helpful to ensure that our stay was enjoyable---adapting their cooking to our preferences, putting up beach umbrellas, and helping organize our onward transportation. The beach is lovely and very private, while the restaurants and clubs of Hikka are a short tuk tuk ride away. The house and furnishings are basic, but adequate and it is a treat to savor Mahinda's cooking in the outdoor table.
---
Hikka Beachfront is a lovely place! Me and my husband enjoyed our stay. The seafood and local food was very delicious cooked by the chef. I specially enjoyed the beach which is right behind the back yard, which is awesome! Thank you so much for your warm welcome and great service! We will recommend your place to all our family and friends! Hikka Beachfront ist ein schöner Ort ! Mein Mann und ich haben unseren Aufenthalt genossen . Die Meeresfrüchte und lokale Essen war sehr lecker vom Küchenchef zubereitet. Ich habe speziell auf den Strand , der direkt hinter dem Hinterhof ist , das ist genial ! Vielen Dank für den herzlichen Empfang und super Service! Wir werden Ihren Platz für alle unsere Familie und Freunden empfehlen!
---
Unfortunately the house was in a bad condition: lot of mold as it can be proofed on several pictures I made, smell in all sleeping (URL HIDDEN) in very used condition, roof of house not isolated , so ALL kinds of animals can enter incl rats. Floor painted red and colour seperates from floor so you have tousands of red dots under your feet. The reason why we stayed is because of the housekeeper Mahinde who is a peaceful , helpful person and a good cook doing his best to cover up the mentioned points. The house is managed by a lady from Colombo: she said that she 'checked everything and the smell in the rooms is from our luggage' . Un-be-lievable!! The bedrooms are too small to open a suitcase, no wardrobe in sleeping rooms. One large room shown on picture was not available at all , it was a storage room full with boxes, broken chair , replacement fridge , ... The beach furniture is worn, partly broken. We have seen much better places afterwards.
It's sad to hear that the house was not to your expectation. You complained a lot about many issues and never complained of "mold" until now. I had a similar complaint from the previous guest and I immediately got it tested. The bulges from the walls paint and discoloration is because the house was built using lime plaster which unlike drywall has an elevated pH which acts like a fungicide and prevents mold from forming. This happens especially during monsoon season. There is extra moisture at this time of the year. All four rooms have four bathrooms with hot water and A/C and the whole living area has a ceiling. Three bedrooms have split-ductless A/C and one bedroom has a portable A/C. Only the kitchen has a tropical style high ceiling we left this for guests to feel the ocean breeze when dining and to hear the rainfall and have the tropical feeling of not being in a caged room. It is true that the rooms are small but big enough for your kids to drag the three seater sofa from the living room and place it in the bedroom. The scratches from the moving furniture is what would have caused the paint to come to your feet and they also broke a glass candle holder. You have used over 588 units of electricity. It's nearly 30,000 Sri Lankan rupees cost of electricity usage. Maybe 24/7 your entire stay you ran the A/C. One large room was not available at all means the room shows on our photo gallery as a special event dining room. You have to request this in advance for us to keep it ready for a party or for a special occasion. Our guests safety comes first. I will not keep this room open unless the parents take the full responsibility for the kids because there is a bar and alcohol as shown in the photos. If the house was in such a bad condition, mold, smell, how could you endanger your spouse and five children by staying the entire thirteen days of the booking. Is it because the place was too bad or too good? I told you I would give you a refund if you wanted to go see the other sites of Sri Lanka and I assured you that I would refund the money if you went early. Our villa is 100% safe to live and it is 100% what we have shown in our photo gallery. There might be much better places in Sri Lanka but our place is a unique one. Guests come to our place to enjoy the ocean, our beach and our garden.
---
Mahinda the care taker was a delight. Pros - Mahinda and his cooking. What a lovely man he is. Cons -House is located on Main Street so very very noisey - House has a pungent smell and walls are filthy and a lot of mould present (not healthy) - A lot of ants and bugs present in the house including in the bedrooms - Rooms are not big enough to store your suitcases - Although beach is out the back gate it's not an ideal swimming beach at this time of the season ( July) We had initially booked this house for a week but checked out after 3 nights due to the pungent smell of the house, mould and bugs. Certainly was not what we had thought it was going to be.
Craig during our conversations sounded like a jolly good guy. When you came to the house you were very pleased when I checked with you. Unfortunately at arrival your wife and daughter were very ill and were throwing up and had diarrhea as well as allergies and they could not even enjoy the lovely meal Mahinda had prepared for you all. I wanted to make sure you all were okay and organized for Mahinda to take you all to the doctors the next day and got medication and treatment. The following day Mahinda told me that you all went to town and your daughter went to a hotel and liked the place and wanted to stay in a star rated hotel and you asked me whether I would give you a refund if you left early. I offered to give you Mahinda's services and other complimentary services instead of refunding the money which I would lose if I do so because I have blocked the days for your booking. Now you come up with all these complaints because there's no refund. To address your complaints: We don't have mould or any smells and our villa is definitely not filthy. We had a group of guests the day before you left and guests staying throughout prior to that and never had any complaints about the cleanliness. We have had guests from around the world and none of the guests have ever complained about these issues, in fact they were so happy to stay with us and complimented the cleanliness. Most of the large hotels in Hikkaduwa are on the main road and if you keep the windows open instead of using the A/C like you did, you will hear the noise from the traffic. In fact the hotel you went to afterwards is right on the edge of the main road, at least we are located away from the road and behind a wall. We never had complaints of ants, bugs, elephants, etc from any of the other guests. You had four rooms with four bathrooms for the three of you, and access to upstairs and downstairs living areas and you say you don't have room for your suitcases but yet you prefer a room like a hotel which is not the goal we provide at Hikka Beachfront. The experience we are going for is a home away from home, with access to a tropical beach and the ocean right outside the backyard, a cool, shaded garden outdoors. This is not the season in Hikkaduwa and the rates we charge are much higher at that time of the year but beachlovers can still enjoy the ocean and the beach. All of our rooms and the house is as shown in our profile pictures. Our main goal is to have satisfied guests and you are the first who is complaining about these issues. It is not fair and just to make untrue claims just because you didn't get your refund for going earlier.
---
We had an amazing stay at Hikka Beachfront, I feel like I am echoing the other reviews but the main reason is due to Mahinda, who is the caretaker and also your cook if you want to hire him whilst you are there. He will do anything he can to make your stay memorable and enjoyable. He seems to get the balance right of being there when you want him but keeping out of the way otherwise so you get the secluded villa feeling. He cooked us some amazing food and would help us get tuk tuk's/taxi's to wherever we wanted to go. The beach itself is very nice and we had it to ourselves nearly every day. The outside space is great, including an outside shower. Although we didnt spend much time inside, the house itself is lovely, the bathrooms are modern and the rest of the house is kept clean and tidy by Mahinda. Communication after booking was great through Crysantha, who is the owner who lives in LA and we arranged a taxi pickup at the airport through him who was there waiting, even though the flight was delayed about an hour. All in all, we would highly recommend this place, you get good value for money and a great experience.
---
My wife, my two young children aged 3 and 6 and I just spent an amazing week here. What a fabulous experience. It is a great place if you have young children because it is a secure area. The front is gated and the fenced in yard is wonderful. You have your own private beach, more or less, as the Indian Ocean is right at your door step. What makes this place truly special though, is the host Mahinda and his helper Deematu. Mahinda is the heart and sole of the place. His meals are fabulous and he will do anything to make your stay enjoyable. I went in to the fish market one morning with him and we bought fish as it literally came off the boat. Mahinda also gave my daughter, who turned 4 on March 3oth, a birthday to remember. The local neighbors, all vey kind and warm people, came over and sang Happy Birthday to her and helped us eat cake. Hikkaduwa is a 5 minute tuk tuk away which is a great little beach town with awesome people who will help you any way they can. For an art lover such as myself, there is much to choose from. We will definitely come back and visit Mahinda who we consider a dear friend. My son cried the night before we were leaving because he said he did not want to leave his friends. It was a vacation we will never forget!
---
While I may not be present on the property, my kind, courteous, and knowledgeable staff will be available for you on the property 24/7.
My staff will be staying in a separate house located right next door to the Villa, and will be available to you whenever you need them.
Languages:
English
Response rate:
100%
Response time:
within a day
Explore other options in and around Werallana, Hikkaduwa, Galle
More places to stay in Werallana, Hikkaduwa, Galle: