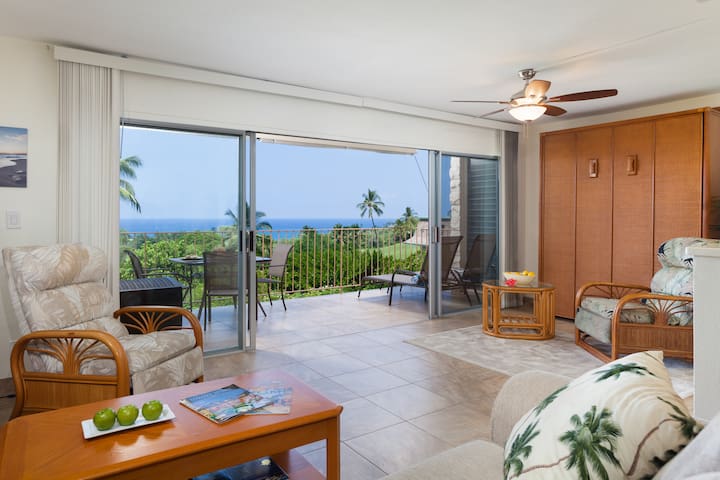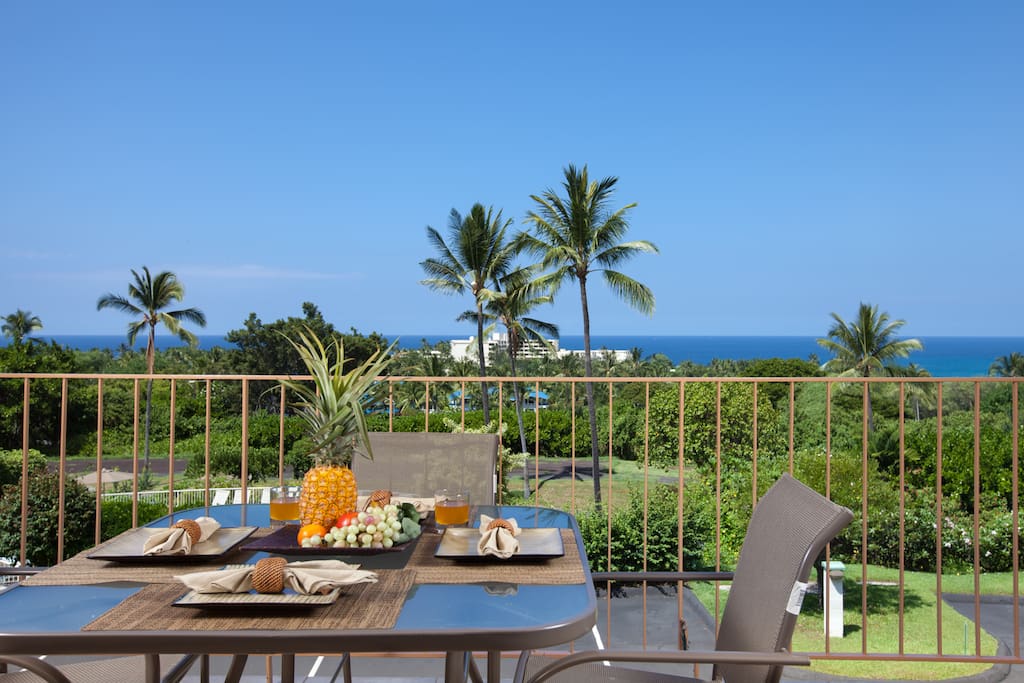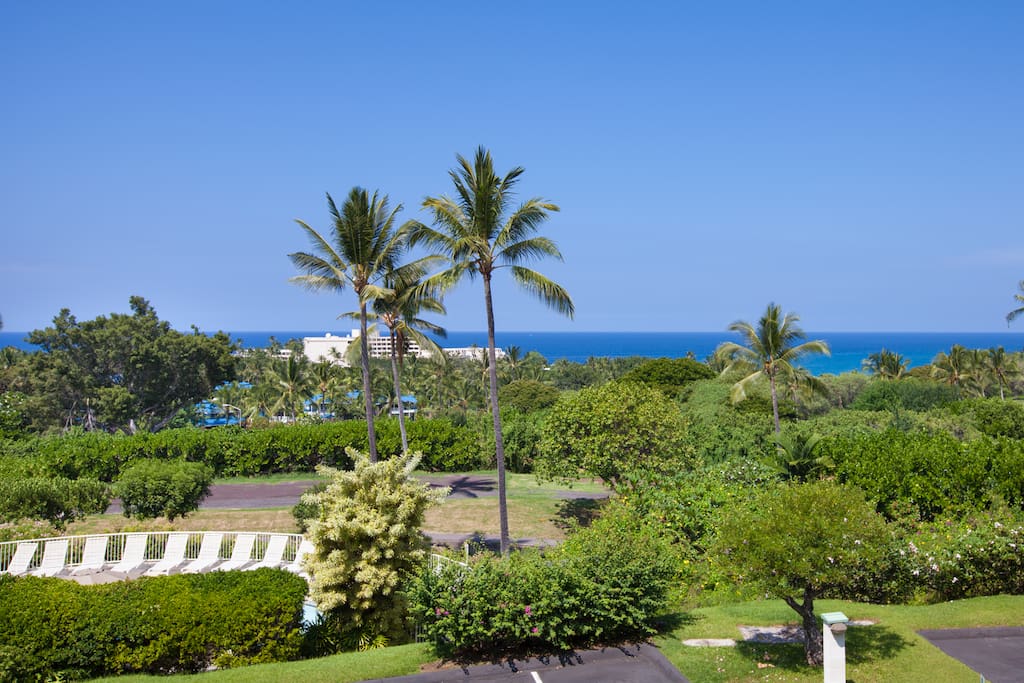 Beautiful, spacious 1 bedroom 2 bath unit with breath taking ocean views in prestigious Keauhou Akahi. It is steps away from Keauhou bay, Keauhou Shopping, and only 5-10 minutes away from Kahaluu and Magic Sands beach.
The space
This former two bedroom unit was converted to a spacious one bedroom home to take full advantage of the break taking ocean view beyond. Our home in paradise offers:
o Newly renovated kitchen and bathroom with Granite counter top kitchen and bathroom vanities
o Free wireless internet
o Wireless phones (3) with free US-Canada-Mexico wide calling
o Stunning ocean views the moment you enter the front door
o In-suite Washer and dryer.
o Comfortable king-size bed with full ensuite bathroom.
o Brand new queen size wall bed for guests and family.
o Wake up to song birds every morning while you enjoy breakfast on the lanai and watch the day unfold.
o New oven range, microwave/convection oven, dishwasher, BBQ Grill, and newer fridge.
o Dining for four, both indoors and out.
o New paint and floor tiles throughout brings in the natural illumination from outside indoors.
o Beautiful and vivid magical sunsets from virtually every room.
o Brand new ceiling fans throughout complimenting natural trade winds from the ocean and mountain breeze to keep you cool and comfortable throughout the days and nights.
o Additional upright oscillating fan and upright Lasko fan for added cooling.
o Relax and unwind on the new loungers while you take in the panoramic view of the Pacific blue ocean framed by colorful, aromatic botanical grounds and endless skylines.
o A new lanai box contains four boogie boards, assorted snorkeling gear, beach umbrellas, beach mats, and beach chairs.
o Plenty of beach towels.
Amenities within five minutess or less from complex. Enjoy healthy eating choices from grass feed beef to fresh seafood that is readily available from the farmers markets nearby(URL HIDDEN) o Ho'oulu Community Farmers Marke(URL HIDDEN) o Keauhou Farmers market(URL HIDDEN) o Keauhou Bay for canoe/kayak rentals, scuba and fishing adventure(URL HIDDEN) o Keauhou Shopping Center with supermarket (KTA) and drug stores, and numerous restaurants, art gallery, and movie theaters(URL HIDDEN) o Kahuluu Snorkeling beach with lifeguard as you swim with turtles and tropical fishe(URL HIDDEN) o Magic White Sands beach is just a couple more blocks down on Alii Drive from Kahuluu.
The condo is furnished in tropical décor and is located on the second floor of a three-story complex. All rooms have floor-to-ceiling louvered windows to take full advantage of the ocean and mountain breeze.
Guest access
Swimming pool, and parking in non reserved spaces.
NOTE: Scheduled Pool Maintenance: June 6, 2016 to June 20, 2016. Pool will NOT be available for use during this period.
Interaction with guests
Available by email, text and phone.
Video available on you tube. Search for Keauhou Akahi 206 (URL HIDDEN)
Other things to note
Special events like the week of Christmas and Iron Man are subject to a rate of $140 per night with a minimum stay of 7 nights.
---
---
Extra people $22 NZD / night after 2 guests
Security Deposit $365 NZD
Always communicate through Airbnb
To protect your payment, never transfer money or communicate outside of the Airbnb website or app.
Learn More
---
Check in is anytime after 3PM
Vacation Property Rental Agreement
This Vacation Property Rental Agreement (hereinafter referred to as "Agreement) is for a condominium unit hereinafter referred to as "unit" located at:
Keauhou Akahi,
Suite (phone number hidden) Ali'i Drive,
Kailua Kona, HI, 96740
(URL HIDDEN) AGREEMENT
1.Security Deposit. A security deposit of $ 250.00 once collected will be deposited with the property owner, or property owner's designated agent (hereinafter referred to as "owner"), in trust, as security for the performance by the tenants of the terms under this rental agreement set forth following, and for any damages caused by tenants, tenants' family, agents and visitors (hereinafter collectively called "tenants") to the premises or furnishings during the rental period. Owner may use part or all of the security deposit to repair any damage to the unit cause by tenants. However, owner is not limited to just the security deposit portion of any security deposit amount and tenants remain liable for any balance.
2.Key Charge. A $ 50.00 fee will be charged to tenants for failure to return any and all unit related keys and/or pool access key for replacement of the keys by our caretaker. Such charge shall be deducted from the security deposit.
(website hidden). Tenants shall be responsible for any undue and/or unreasonable cleaning of the unit immediately subsequent to the tenants' departure. A cleaning charge of $ 25.00 per hour, with a one (1) hour service minimum will be assessed.
4.Damage charge. Any damage charges incurred by the tenants not covered by the security deposit listed above shall be assessed to the credit card used to hold the reservation.
II.CHECK-IN/CHECK-OUT PROCEDURE
1.Check-In. Check-in time is 3:00 pm on the day of the tenant's scheduled reservation begins. No early check-ins without prior consent of owners. If you need an early check in, please notify us beforehand and we will do our best to accommodate you where circumstances allow. Upon receipt of full payment and within 2-3 weeks from check in date, tenants will be given codes to access keys, as well as any special instructions or updates that may be applicable to the Unit.
2.Check-Out. Check-out time is 10:30 am on the day tenant's scheduled reservation ends. If you need a later check out time, please notify us beforehand and we will do our best to accommodate you where circumstances allow.
III.USE AND ENJOYMENT OF UNIT AND PROPERTY
1.Use of Premises. Tenants shall only use the premises as a residence. The premises shall not
be used to carry on any type of business or trade, without prior written consent of owner. Tenants will comply with all laws, rules, ordinances, statutes and orders regarding the use of the premises.
2.Quiet Enjoyment. Tenants shall be entitled to the quiet enjoyment of the premises, and
owner will not interfere with that right, as long as tenants do not interfere with the rights of
other tenants.
3.Smoking. Smoking is NOT allowed on the premises as per condominium complex rules. This
includes both inside and outside the unit, the lanai, the porch, and all public areas in the
complex: parking lot and swimming pool. An automatic fee of $500.00 will be charged if
violated to cover the additional cost of cleaning the unit.
4.Alcohol. Glass containers are not prohibited in and around the pool by the condominium
complex rules. Plastic glasses have been provided for this purpose.
5.Pets. Pets are not allowed in the unit. No exceptions.
6.Parking. Tenants are allow one vehicle and may park in any available stall which is not marked as "Reserved".
7.Use of BBQ Grill. For your safety, use of the BBQ grill is only permitted outside, in open air, on the lanai. Please shut off the BBQ and propane tank after each use.
8.Beach toys: There is a small collection of beach toys (boogie boards, snorkeling equipment, water noodles, sand bucket set, etc.). These are provided with no warrantees and tenants assume responsibility for all risks associated with their use.
9.Pool: NO LIFEGUARD ON DUTY AT ANY TIME. Children are NOT allowed without
adult supervision as per condominium complex rules.
10.Tenants acknowledges that use of the pool and lanai (patio) may be potentially dangerous and involve potential risks if improperly used, particularly with regard to children and such use is at the tenants' own risk.
11.Welcome Binder: A welcome binder is compiled by the owner from a combination of research and person experience with the latest information available at the time of compilation. There are no guarantees that the information is up to date or accurate during your visit. Tenants are asked to use their own discretion if they decide to try out the recommendations and are doing so in their own initiative, risk and responsibility.
12.Tenants shall not assign or sublease the property or permit the use of any portion of the property by other persons who are not family members or guests of the tenants and included within the maximum number of permitted occupants under this agreement.
13.DEFAULT: If tenants should fail to comply with the conditions and obligations of this
agreement, tenants shall surrender the property, remove all tenants' property and belongings and leave the property in good order and free of damage. No refund of any portion of the total rental fee shall be made and if any legal action is necessary, the prevailing party shall be entitled to reimbursement from the other party for all costs incurred.
14.Tenants agree that all personal property, furnishings, personal affects and other items broughtinto the property by guest or their permitted guests and visitors shall be at the sole risk of tenants with regard to any theft, damage, destruction or other loss and rental agent shall not be responsible or liable for any reason whatsoever.
15.ENTRY and INSPECTION: Owners reserves the right to enter the property at reasonable times and with reasonable advance notice for the purposes of inspecting the property or showing the property to prospective purchasers, renters or other authorized persons. If the owner or his/her representative has a reasonable belief that there is imminent danger to any person or property, owner or his/her representative may enter the property without advance notice.
16.Tenants agrees to abide by the condominium complex rules attached as Exhibit A at all times while at the property and shall cause all members of the rental party and anyone else the tenants permits on the property to abide by the rules at all times while at the property.
IV.HOLD HARMLESS
Owner attempts to maintain the unit in the best of condition. Owner expresses no guarantees, express or implied, regarding suitability or fit ability for any particular purpose. Owner does guarantee that appropriate repair and/or replacement will be performed as soon as possible under prevailing circumstances except for items listed under section III.8 "Beach Toys" of agreement. It is tenants' responsibility to immediately notify owner of any issues that they incur during their stay so that repairs and/or replacements may be promptly taken care of. Owner is not responsible for any inconveniences for which owner has no immediate control. These inconveniences may include, but are not limited to, the following: (i) breakdown of DVD players, TVs, appliances, telephone, internet service and/or other recreational appliances or devices; (ii) power outages; (iii) adverse weather and/or road conditions; (iv) construction in the area; and (v) units that are not decorated and/or accommodated to tenants' individual tastes. Owner shall not be held liable, or otherwise take any responsibility, for any that is caused or permitted to be caused by the intentional, unintentional, negligent, or careless acts of said tenants, and/or invitees.
Tenants hereby waives and releases any claims against the Owner, Rental Agent, Keauhou Akahi and subsidiaries and affiliates and their officers, directors, employees, agents, insurance carriers and representatives and their successors, assigns, employees or representatives, officially or otherwise, for any accident, injury, illness, death, loss, theft, damage to person or property, or other consequences suffered by tenants or their child's injuries or death that may be sustained by Tenants, their children or guests on or near or adjacent to the Property, including any common facilities, activities or amenities, including but not limit to, claims arising from or related to Keauhou Akahi's or Owner's negligence and/or products liability, including strict products liability, except that which is the result of gross negligence and/or wanton misconduct. Tenants agree to use any such facilities (including swimming pool) or amenities(includes boogie/body boards, snorkel equipment, pool noodles, etc.) entirely at the tenants' own initiative, risk and responsibility.
By the written or electronic endorsement of this agreement, tenants agree to forever hold-harmless and indemnify owner from any liability and/or responsibility arising therefrom.
ENTIRE AGREEMENT. This agreement, combined with any and all community rules and regulations (including exhibit A) serves as the entire agreement. No additional provisions are expressed, combined with any and all community rules and regulations (including exhibit A) serves as the entire agreement. No additional provisions are expressed nor implied . This agreement supersedes any and all previous oral/and or written, express and or implied agreements. Upon written or electronic endorsement, and except all terms, conditions, covenants and restrictions, without exceptions.
EXHIBIT A
Condominium Complex Rules
Resident Manager
Tom Chilvers Unit #404
On site: Monday to Friday 8 am – 4:00 pm
Best contact time at office:3:00 – 4:00 pm
As a courteous, please contact Tom upon arrival to let him know how long you will be here and with any questions or problems during office hours.
Common Areas
•No alcoholic beverages except in moderation in pool area and then only in non-breakable containers i.e. no glass.
•NO LIFEGUARD ON DUTY AT ANY TIME: No unsupervised children at any time. Tenants and their guests assume all risks in using the pool facility.
•No pets.
•If it's not asphalt, concrete or flat grass surface, stay out of the area.
•User footwear when moving about.
•Note condominium complex rules attached hereto and strictly observe.
•Report any injury or property damage immediately to Resident manager.
•No excessive noise ie. loud conversation, shouting, car horns radios, recorders, fireworks, etc.,
•No cooking outside your unit (see lanais for allowable barbeque grills).
•No illegal substances or flammable materials
•Only one parking stall per unit, please do not park in reserved stalls. Park within lines.
•Bag garbage and deposit in (not next to) trash bin.
•Car washes are available on "first come" basis. Conserve water and shut off when done.
•No skateboarding, rollerblading or bicycles on premises.
•PLEASE DO NOT FEED THE BIRDS: Feeding the birds are discouraged anywhere in the complex. Some throw food into the parking lot/driveway area creating driving hazards. (Our birds don't seem to move very fast; especially when food is involved.) In addition, excessive feeding causes everyone's lanai and the swimming pool area to suffer increased bird nuisance and cleaning.
Units/Lanais
•No excessive noise (website hidden), radios, recorders, loud conversations, shouting, etc.
•No noise from lanais from 10:00 pm to 8:00 am
•No illegal substances or flammable materials
•No pets
•Conserve water and electricity
•Report any plumbing problem immediately to Resident Manager
•Use garbage disposal properly. Contact Resident Manager if in doubt.
•Do not hang anything from or drape anything over lanai railing i.e. towels, swimsuits, etc. nothing unsightly, visible from outside unit/lanai.
•Gas grill cooking on lanai only. No charcoal grills, hibachis or kamados are permitted anywhere.
•Do not sweep or wash anything off lanai to protect property below.
Pool keys are furnished by the owner and/or rental agent. NOT a Resident Manager Responsibility.

The Keauhou Akahi grounds are beautiful. The staff works hard to control pests and to keep the public areas clean and blossoming. The joy that we all appreciate here is possible only if we respond to each other with aloha.
---
---
---
My husband and I were looking for a safe tropical location with great beaches that would allows us to escape from winter with our young daughter. We are drawn to this particular location primarily for the spectacular ocean view, quiet surroundings, and the serene tropical plants and blossoms in the grounds around the complex. The people in the complex are super friendly. The location is an ideal anchor for us to explore the island. This island also offers many activities which our daughter can explore as she grows. We are only steps to Keauhou Bay which offers a quaint, small beach, kayak/canoe rentals where many ocean adventures begin. It's only a mile away on sea to Captain Cook, one of the best diving and snorkeling sites on the island, and Puuhonua o Honaunau National Historical Park with it's wonders in history and culture. Next to the park is two steps: one of the best snorkeling beaches in Captain Cook. Shopping is convenient with two weekly farmers markets and Keauhou Shopping center, all within a couple of minutes from the complex and two additional great beaches close by. Kahuluu Beach Park offers great snorkeling with little tidal pools for little ones to enjoy. Magic Sands Beach offers powerful waves for boogie boarding and simple fun under the sun on beautiful white sands beach. Two of the few beaches in Hawaii with lifeguards on staff!
Response rate:
100%
Response time:
within a few hours
Explore other options in and around Kailua-Kona
More places to stay in Kailua-Kona: