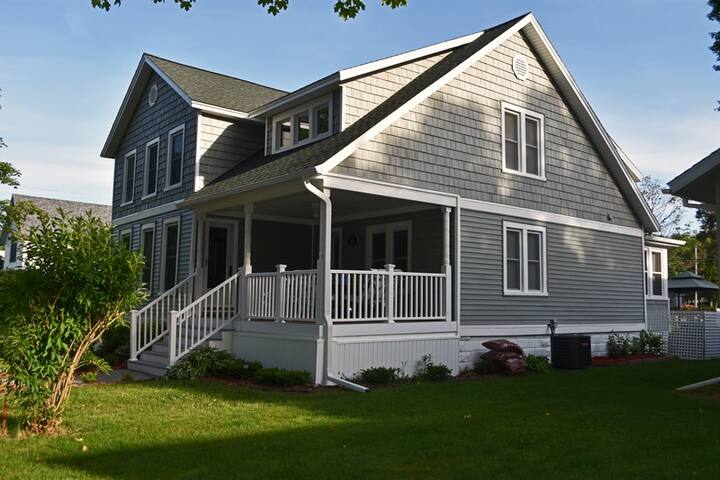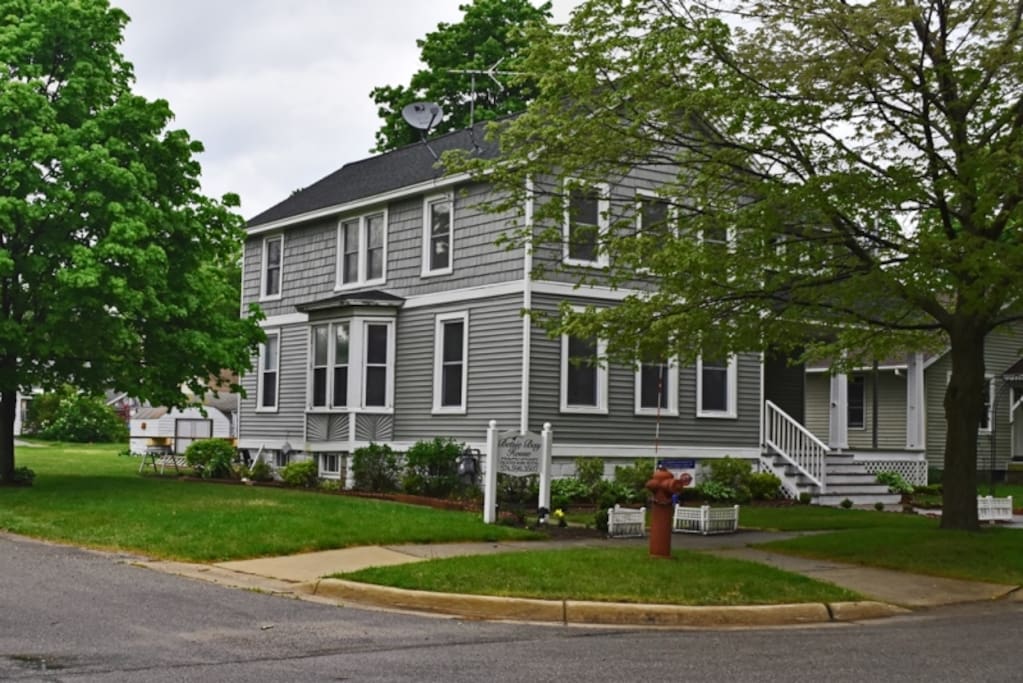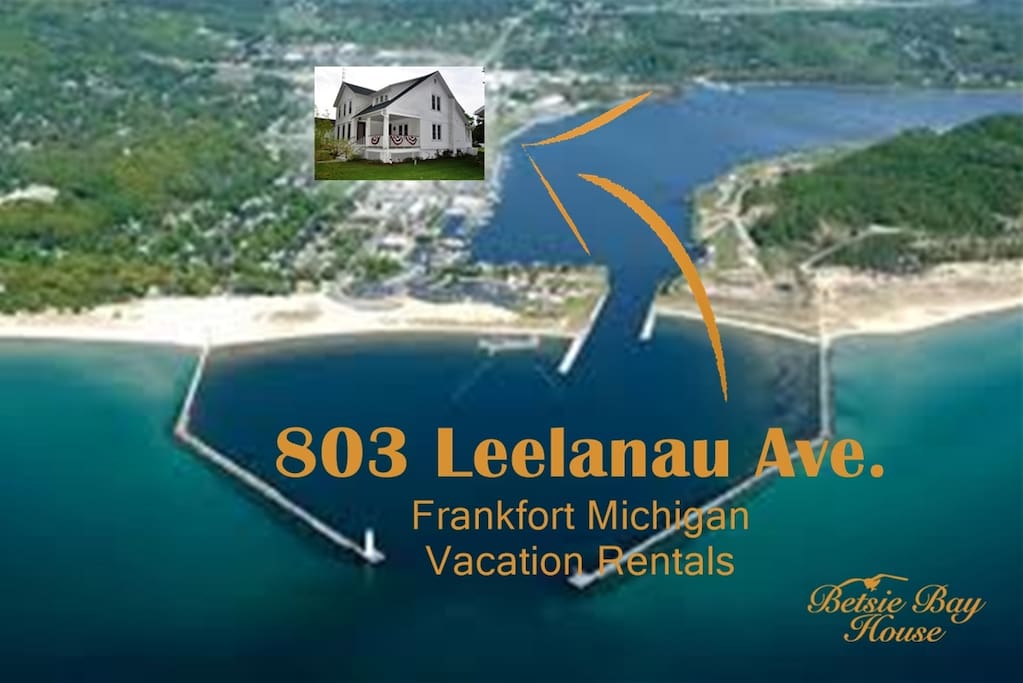 Betsie Bay House is a wonderful, very comfortable, bright and family friendly vacation rental cottage.
We would love to provide you with a fabulous family vacation and precious memories of a great vacation in northern Michigan!
Weekend Price $415 NZD / night
Always communicate through Airbnb
To protect your payment, never transfer money or communicate outside of the Airbnb website or app.
Check-in is anytime after 3PM
Self check-in with lockbox
BETSIE BAY HOUSE
THIS IS A VACATION RENTAL AGREEMENT. THE RIGHTS AND OBLIGATIONS OF THE PARTIES TO THIS
AGREEMENT ARE DEFINED BY LAW AND INCLUDE UNIQUE PROVISIONS PERMITTING THE
DISBURSEMENT OF RENT PRIOR TO TENANCY AND EXPEDITED EVICTION OF TENANTS. YOUR
SIGNATURE, PAYMENT OF MONEY, OR TAKING POSSESSION OF THE PROPERTY AFTER RECEIPT OF THE
AGREEMENT IS EVIDENCE OF YOUR ACCEPTANCE OF THE AGREEMENT AND YOUR INTENT TO USE THIS
PROPERTY FOR A VACATION RENTAL.
1. PARTIES AND DEFINITIONS: Landlord (Owner), Tenant (You, your guests or any person occupying the
unit), Agent (BETSIE BAY HOUE).
2. RENTAL FINANCES: ADVANCE RENTAL PAYMENT: To confirm your reservation, A payment equal to
one half of the reservation period's rental amount. Upon receipt of your payment, a Rental
Agreement/Confirmation will be forwarded to you confirming your reservation. This is automatic if a
credit card is used or you have booked through our online system.
3. Balance: The balance of your rent will be due 60 days prior to your arrival date. You may pay this
balance by Visa or Master Card. All payments must be made in U.S. Funds. Total balance due of rent and
applicable Damage Waiver, taxes and fees are due 60 days before arrival date . A $25.00 late fee will be
added to your balance if not paid in full by these dates. Any payments made within 30 days of arrival
date are to be in guaranteed funds. Reservations made within 30 days prior to arrival date must be PAID
IN FULL at the time of making the reservation. If no payment is received within the allowed time period,
the reservation will be cancelled without notice. Advanced rents will be deposited in Agent's interest
bearing accounts and disbursed to the Owner according to the management agreement. Interest
accrued will be payable to Agent. It is understood and agreed that Agent shall make disbursement of
advanced rent funds. Agent reserves the right to charge a $25.00 handling fee for all returned checks. All
payments made by you will be deposited in Agents bank. Tax rates are calculated as of the time of this
Agreement. You shall be responsible for payment of all applicable taxes according to rates in effect at
the time of occupancy.
4. CANCELLATION OF THIS RENTAL AGREEMENT: You agree that you may not assign this agreement nor
sublet the property. If you must cancel the reservation, the cancellation must be done 60 days prior to
reservation for full refund. All funds received at or after the time of cancellation are non-refundable. If
the property is re-rented for the same time frame, you will receive monies paid back, less a service
charge of $300.00 for clerical differences. If the property is not re-rented, you will forfeit the entire
rental amount to compensate for the loss of rentals. If you are forced to cancel your trip, you will forfeit
your non-refundable trip cost. Betsie Bay House strongly recommends you protect your entire vacation
investment by purchasing our Vacation Rental Insurance.
5. INDEMNIFICATION. You agree to indemnify and save harmless Landlord, Agent and its employees,
from any liabilities, loss, damage, cost, expense, whatsoever arising from or related to any claim or
litigation which may arise out of or in connection with your use and occupancy of the property, including but not limited to any claim or liability for personal injury or damage or loss of property incurred or sustained by you, your guests or invitees, and without regard to whether such persons have authority under this Lease to be upon the premises.
6. EXPEDITED EVICTIONS. Agent is authorized through its contract with the property owner to rent to family groups only. You must be at least 25 years of age. Agent will request a list of occupants be provided. NO HIGH SCHOOL GROUPS, COLLEGE GROUPS, SINGLES GROUPS, WEDDINGS, WEDDING RECEPTIONS, FAMILY REUNIONS, LARGE GROUP GATHERINGS, OR OTHER PARTIES OF ANY KIND ARE PERMITTED. Misrepresentation will result in you being asked to vacate the subject property immediately. Any tenant who leases residential property subject to a vacation rental agreement for 30 days or less may be evicted, have tenancy terminated, and removed from the property in an expedited eviction proceeding if you do any of the following: 1. Holds over possession after the tenancy has expired. 2. Has committed a materials breach of the terms of the vacation rental agreement. 3. Fails to pay rent as required by the agreement. 4. Has obtained possession of the property by fraud or misrepresentation.
7. OCCUPANCY. The property may NOT be occupied by more guests than the number stated on the website or other marketing material(s) as "Sleeps" or "Occupancy". If you have more guests occupying the property than the number listed on any of the property marketing material(s) you will be subject to expedited eviction at the Agents discretion.
8. PARKING. Parking is limited and the number of vehicles may not exceed the properties maximum allowable vehicles as published on the website. Street parking or behind the house in alley is permitted.
9. RECREATIONAL VEHICLES: The use of recreational motor vehicles, trailers, mobile homes, trucks with camper inserts in the bed, and other vehicles or structures that provide sleeping accommodations, for any purposes other than transportation, are prohibited. Over-occupancy of Betsie Bay House includes occupying vehicles of this type and subjects you to eviction for violation of the occupancy limits.
10. YOUR DUTIES. You agree that subject property will not be used or occupied by more than the maximum allowable number of occupants set forth in this agreement or on the published unit listing – this includes you, your family (including all children), and your guests. You shall care for the property as if it was their own, and to leave it undamaged, clean and keep conditions safe throughout their tenancy. All trash should be removed from inside the house and disposed of in the unit's trash containers outside the Unit. You shall clean the grill, wash the dishes and return furnishings to their original locations prior to departure. You shall not deliberately destroy, deface, damage, or remove any part of the property or render inoperable the smoke detector provided by the landlord or knowingly permit any person to do so. You agree to reimburse agent and/or owner the amount of all intentional or wanton damages. The property shall not be used for any commercial purpose or for any activity or purpose that is in violation of any regulation or other requirement of any governmental authority having jurisdiction over the property. You agree to abide by the building's rules and regulations. All equipment in the unit should be in good working order. Please report any inoperative equipment promptly. We will make every
reasonable effort to have repairs made as soon as possible, however there can be limited service contractors in some of our areas. YOU SHALL NOT BE ENTITLED TO ANY REFUND FOR INOPERATIVE APPLIANCES, AIR CONDITIONERS, ETC.
11. LANDLORD (OWNER) DUTIES. Landlord shall comply with all applicable building and housing codes, and make all repairs and do what is necessary to keep the property in safe, fit and habitable condition. The Landlord shall maintain in good and safe working order and reasonably repair all electrical, plumbing, sanitary, heating, ventilation and other facilities and major appliances supplied by him or her upon written notification from you that repairs are needed. The Landlord shall provide smoke detectors and replace as needed batteries in a battery-operated smoke detector and make repairs or replacement of same as needed upon written notification from you.
12. SALE OF PROPERTY. If unit is actively listed for sale, listing agent may request an appointment to show property during tenancy. Transfer of property is subject to a vacation rental agreement: The buyer of the subject property shall take his or her title subject to the vacation rental agreement if the vacation rental is to end not later than 180 days after the interest in the property is recorded in the office of the registrar of deeds. If the vacation rental is to end more than 180 days after the recording of the buyer's interest, you shall have no right to enforce the agreement unless the buyer has agreed in writing to honor such terms. If the subject property is placed under contract for sale after the time of execution of this agreement you will be notified in writing of the following within 10 days after the transfer of the property: 1. The notice of property transfer, the name and address of the buyer, and the date the interest was recorded. 2. Advise you whether you have the right to occupy the property subject to the terms of the lease agreement. 3. Advise you whether you have the right to a refund of any payments made.
13. CANCELLATION. Conditions surrounding the unilateral cancellation of this agreement by you are covered in Article #3. If the subject property becomes unavailable or unsuitable for rent for any reason whatsoever, including but not limited to, casualty loss, construction delays, physical deterioration or loss of utility services, the landlord's liability will be limited to the return of all monies paid on account at the time of cancellation.
14. NO PETS ALLOWED. Units not permitting pets are clearly defined in the brochure or website as such and any violation of the NO PETS rule at these units will be grounds for immediate eviction without refund; AND A $200.00 PET FEE WILL BE CHARGED TO THE CREDIT CARD ON FILE FOR THE VIOLATION. Absolutely no animals are permitted.
15. SMOKING. For safety purposes and in consideration of our property owners and future guests, we ask that you refrain from smoking IN, ON, or AROUND the property structure. All of our properties are considered non-smoking units. If you must smoke, do so outside and away from the unit and dispose of smoking remnants responsibly. Failure to honor the non-smoking rule, or any evidence of smoking in, on, or around the property, will result in a MINIMUM additional $150 charge to the credit card on file.
16. KEYS & LOCK OUTS. Keys for initial entry will be contained in a secure lock box and the code given you prior your stay. Once initial entry is gained, please return the lock box key to the box. If the key
contained in the lock box is found missing, or any key is found missing, a $50 per key charge will be assessed. For lockout situations, someone may be available to provide a key for a $75 charge payable in cash. After 10 pm, please call a locksmith at your own expense.
17. REPRESENTATIONS. This lease agreement contains the entire agreement of the parties and there are no representations, inducements or other provisions other than those expressed in writing as contained herein. Either Landlord or agent whether oral, implied or inferred has made no representation, agreements, undertaking or promises, unless expressly stated herein. Michigan and some local laws require the collection of sales and use tax and a lodging tax on the gross rental amount, due and payable by you. This sum must be paid with the balance of your rent and other charges within 60 days of the rental stay.
18. ENFORCEMENT: This agreement shall not be binding unless and until Agent has received one-half (1/2) of the gross rent as advanced rent and all checks have cleared the bank. You acknowledge you may not have possession of the premises until the full rental amount set forth herein, including all taxes and fees, has been paid and rental agreement has been executed. The balance payment of your rent will be due 60 days prior to your check-in date.
19. WAIVER OF LIABILITY for lake, stream, river, channel, pond, boat, kayak, fire pit, grill, bikes herein called special feature, if so equipped. You understand that there are special risks that may be involved in using the special feature, as well as using other areas of the cottage, in particular, you understand that there are potential dangers that the special feature may present to children who are not carefully supervised as well as the danger to any person using the special feature, or if a person has health risks or if a person uses the special feature while intoxicated or using any kind of drugs or medication, or uses the special feature if pregnant. You agree to explain the risks of using the special feature to any guests you may have at the cottage and to be fully and solely responsible for any accidents you or your guests may incur. You understand the risks discussed above and agree that you will assume all responsibility for yourself and your guest for the consequences of those risks. You agree to waive any claim whatsoever against Landlord or Agent for accidents or claims arising from you or your guests' use of special feature. You also understands and agree that you are responsible and liable and will pay Agent upon request for any damages that occur to the special feature and its support equipment through you or your guests' misuse and/or negligence.
20. CHECK-IN / CHECK-OUT / LATE ARRIVAL: Check-in time is after 4pm on the beginning date of your reservation. In order to allow sufficient time we may reserve the right to have until 4pm when necessary to prepare the property for your use. We ask that you do not request early occupancy. Leaseholder may enter the property only after 4pm on the beginning date of reservation. Entering property before authorized check-in will result in eviction for trespassing. Upon arrival, cottage rules will be available to the leaseholder. CHECK OUT: Departure time is 11 AM or Before on the ending date of your reservation. You are responsible for such items as: placing all trash/debris in outside containers, wash/put away all dishes, removal of excessive sand from floors and bath fixtures, decks and poolside (if applicable) trash free & tidy. Check-out beyond 11am will result in a $150 late charge.
21. FIREWORKS / OUTSIDE FIRES: Fireworks of any type are strictly prohibited on rental property premises. A FIREPIT is available on northwest side of home.
22. STATES OF EMERGENCY/TORNADOS. If state or local authorities order a mandatory evacuation of an area that includes the subject property, you will comply with the order. You will not be entitled to any refund if you have not purchased trip insurance. Once insurance is purchased, it is non-refundable.
23. ATTORNEY'S FEES. In the event of your breach of the terms and conditions of this Lease, you shall be liable for all damages incurred by Landlord or Agent resulting from such breach, including all court costs, and expenses and including reasonable attorney's fees.
24. SYSTEMS FAILURES. In the event the rental unit sustains a failure of a system, including but not limited to water, sewer, septic, electrical, mechanical, heat pump, ventilating, or other system or structural systems, neither the Landlord nor the Agent shall be liable to you in damages and no refunds will be given for such failures. However, Agent will make an effort to promptly repair or replace a failed system or equipment, and in such event, you agree to permit Agent or its service state to have reasonable access to the property to inspect and make such repairs. If reasonable access is not granted or false failures are reported, a $75 fee will be charged to the credit card on file.
25. ACTS OF GOD. Neither Landlord nor Agent shall be liable for events beyond their control which may interfere with your occupancy of the property such as weather, other acts of God, acts of governmental agencies, fires, strikes, war or inclement weather. No refunds shall be given for such occurrences and you are encouraged to obtain trip interruption or vacation insurance to cover such risks.
26. DISPUTES. This Lease shall be governed by and interpreted in accordance with the laws of the State of Michigan and shall be treated as though it were executed in the County of Benzie, State of Michigan. Any dispute or action filed relating to this Lease shall be instituted and prosecuted in the General Court of Justice within the State of Michigan and the County of Benzie shall be the sole venue for such action. You, by execution of this agreement, specifically consent to such jurisdiction and venue and to the extraterritorial service of process should such service become necessary.
27. RESPONSIBILITY. Property amenities, pricing and other specifications are subject to change. No warranty is made, expressed or implied, as to the suitability (habitability) of the premises.
I have read the foregoing agreement and agree with its terms. By taking possession of Betsie Bay House means you agree to our terms to this agreement.
You must also acknowledge
Must climb stairs
We really loved the house! All the thoughtful extra amenities you provided truly made it immediately feel like home. You're pre-trip information by phone was a great run-down and so welcoming. Our 3 granddaughters loved having the upstairs (such pretty bedrooms). The photo book had so much information on local attractions and places to eat as well as the house picture Post Card to let a few more family/friends see your "Charming Vacation Cottage." It was spotlessly clean and conveniently located to see Crystal Lake, Sleeping Bear Dunes, and tube down the Platte River. Wish we had had more time to spend in Frankfort and at the pier/beach area. Thanks for allowing us to stay with you. You helped make my 70th birthday trip down memory lane most enjoyable and memorable! The Pauls: Sue, Jim, Rebekah, Hannah, and Grace.
---
Languages:
English
Response rate:
100%
Response time:
within a day
Explore other options in and around Frankfort
More places to stay in Frankfort: