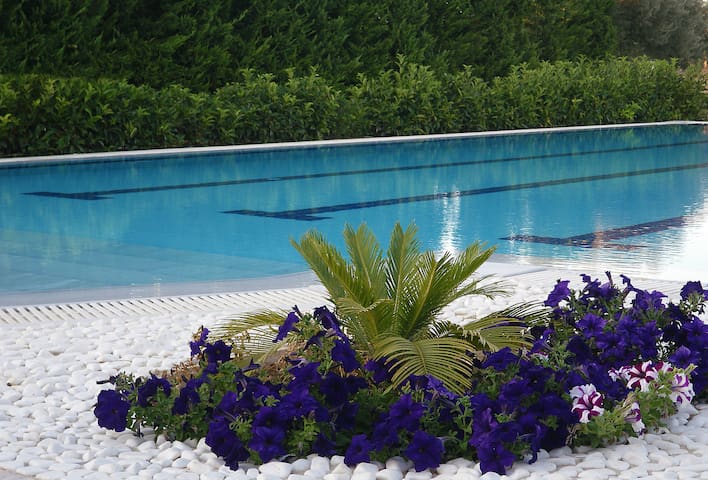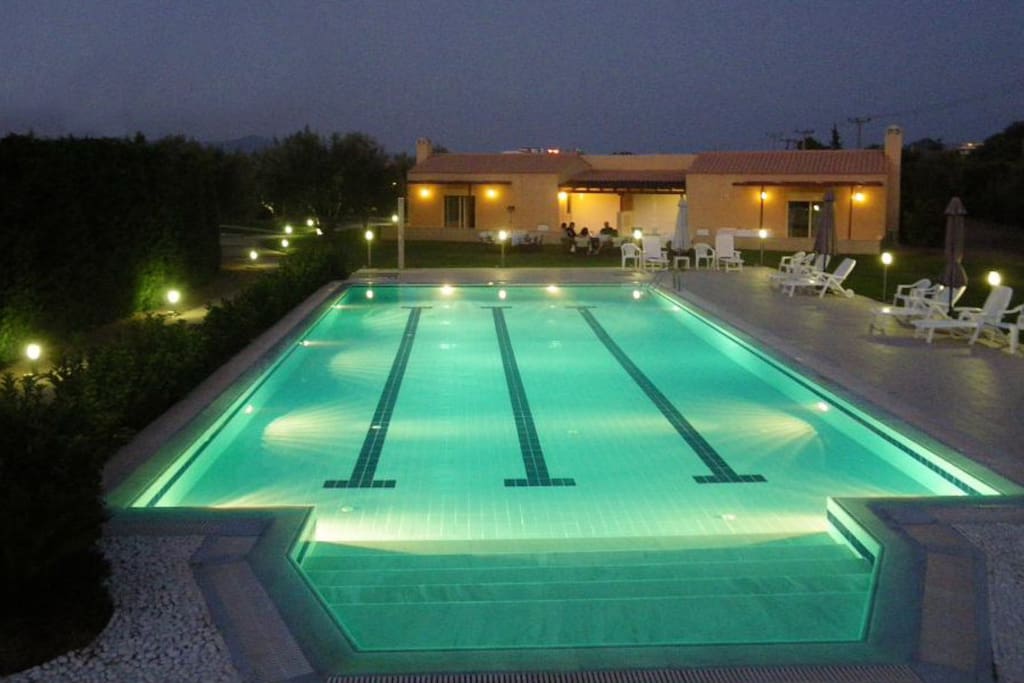 The space
In an ideal rural location on the beach of Agii Apostoli in Kalamos, Attica (45 km from Athens), eight (8) eight bungalows of 4-5 persons, with quality and safety standards, with beautiful views, tranquility, And with advanced occupant protection systems, heating - air conditioning, playground, TV terrestrial and satellite, ergonomic furniture fully equipped kitchen and bathroom.
Σε μια ιδανική εξοχική τοποθεσία, στην παραλία Άγιοι Απόστολοι του Καλάμου Αττικής, ( 45 km από την Αθήνα ) σε μία έκταση 6 στρεμμάτων αναπτύχθηκαν ( 8 ) οκτώ bungalows των 4 – 5 ατόμων, με προδιαγραφές ποιότητας και ασφάλειας, με υπέροχη θέα, ηρεμία, και με προηγμένα συστήματα προστασίας των ενοίκων, θέρμανση – κλιματισμό, παιδικη χαρα, TV επίγεια και δορυφορική, εργονομικά έπιπλα πλήρως εξοπλισμένη κουζίνα και μπάνιο.
---
First of al I would like to say that the host on the picture , that is George never appeared and we never saw him. His mother was our host , who was extremely unfriendly and harsh. (I havenever had such an upleasant experience ever and I have traveled to many places). We felt observed at every step. Secondly the wifi was hardly working, the TV was a joke (extremely small and of old technology), there were no Satellite channels . There were no keys at any door (not even the toilet) and it was not give to us when I asked for it. We even left one day earlier (of course there was no refund and we did not even ask for it) but received a call in a very unplolite tone that we had brocken the shower door. We did not so though but did not report it because we thouhgt there is no use to do so. As a whole it is a pity becuase George had very good reviews but his mother spoilt our vacations and I would never recoomend this place to anybody because of her behaviour.
---
George is very welcoming and was on hand for sorting out our missing taxi at the airport. Accommodation was clean and simple with an amazing front and back area with seating and a sea view. Swimming pool was awesome! The walk to town takes about 15 minuets straight down the road with access to beach just around the corner. Lovely host, lovely place
---
Our host made us feel very welcome and the accommodation was very much as described - really good and very modern. Our host spoke good English and this was a big plus for us as we spoke no greek at all. Nothing was too much trouble for him. The pool was amazing and so refreshing. All in all, a very well designed layout of our own bungalow and those nearby. We all had privacy despite being close by.
---
Ολα ηταν υπεροχα και ο Γιωργος και η αδερφη τους ηταν πολυ εξυπηρετικοι, φιλικοι, και ευγενικοι απο την αρχη μεχρι το τελος. Τα bungalows ειναι παρα πολυ ωραια και ανετα, και περιλαμβανουν 2 υπνοδωματια, σαλονι, μπανιο, κουζινα και πολυ ωραιες βεραντες. Ολα πληρως εξοπλισμενα, συγχρονα, και πεντακαθαρα. Το συγκροτημα βολευει πολυ για οικογενειακες διακοπες (εμεις πηγαμε 8 ατομα, μοιραστηκαμε 2 bungalows, και ειχαμε μικρο παιδι). Η πισινα ηταν υπεροχη, αλλα εχει και θαλασσα πολυ κοντα, ενω το κεντρο ειναι μονο 15 λεπτα με τα ποδια. Σε γενικες γραμμες ειμαστε ολοι μας πολυ ευχαριστημενοι!
---
Languages:
English, Ελληνικά
Response rate:
100%
Response time:
within a few hours
Explore other options in and around Agii Apostoli
More places to stay in Agii Apostoli: