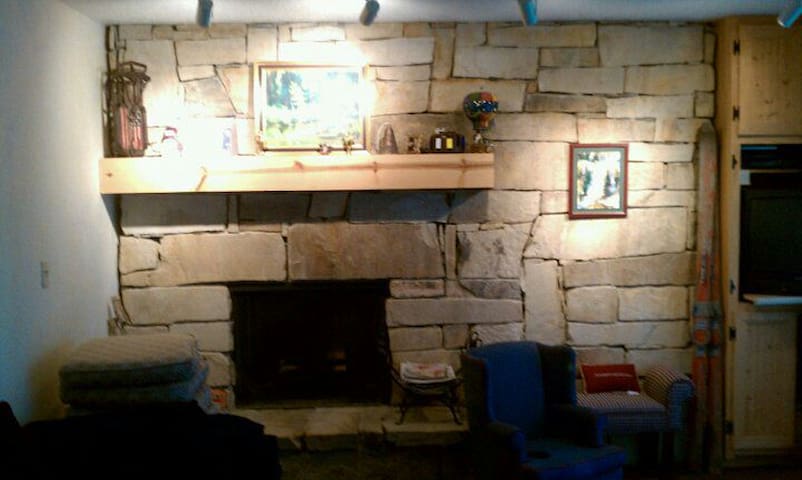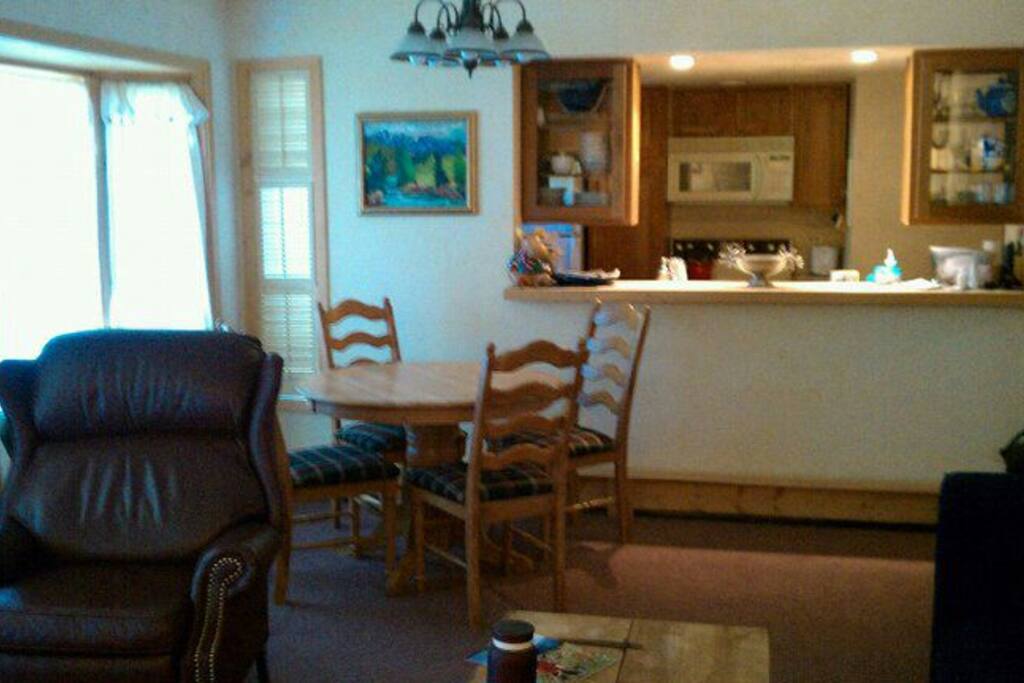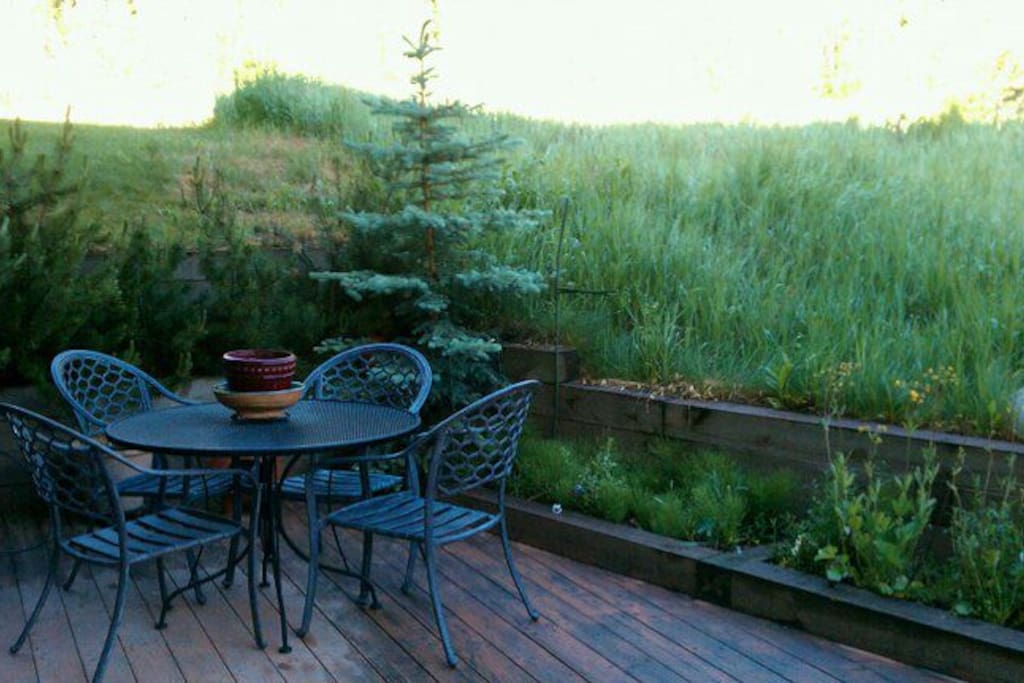 East Vail Timber Falls Two Bedroom
Reminiscent of a ski chalet is our two bedroom condo, with beautiful large rock fireplace finished with rustic knotty pine doors and wainscoting.
Great for those needing a place after surgery on the ground level, 8 min. from Vail Hospital.
The space
Two bedrooms with a comfortable queen bed in each room.
Family room has a sofa that pulls out to a queen size bed. Sleeps six overall. Knotty pine doors and wainscoting.
All appliances, lights, television sets, etc are checked to be sure all are working in proper order.
Tiled kitchen counter tops in fully stocked kitchen. Custom cherry wood cabinets. Washer, dryer and dishwasher under counter tops. Complete with Electric GE range, microwave oven, toaster, blender, pots, pans, dishes, glasses and silverware.
Large bay window faces forests, trees, wild flowers or snow around custom redwood deck.
Surrounded by open space National Forests with aspens, pine and blue spruce trees. In summer the wildflowers grow in the custom built deck planter boxes which are an extension of the redwood deck.
Bathroom is split into private tub toilet area with all white tile. Other area has sink and mirrors with marble counters with custom adult height counters and cabinets done in cherry wood.
Close by is an outdoor swimming pool available at Timber Falls during summer season. Timber Falls is located a block away from Vail Racquet Club VRC which has a pool, hot tubs, full gym, tennis courts, saunas, steam room and a coffee shop. Massages are also available by appointment and separate rate at VRC. A nominal daily gym fee approximately twenty dollars per day per person for unlimited access.
We are on the ground level just 30 feet from your car. Avoid the slippery steps at most of the neighboring buildings with our front door on ground level just a few steps from your parked car. Our place is perfect for those who are having surgery in Vail. We installed a grab bar for easy access into the shower / tub.
We respectfully request that no parties are to be held at our home but you can still have a great time!
Guest access
Access to entire condo except front closet at entry.
Our ground level front door is especially convenient in the winter weather. You're just steps away from your car or the bus with carpeted floors on our ground level for your safety outside.
This unit is also excellent for those having surgery at one of the local specialty surgery centers like the Steadman Hawkins Institute or Howard Head rehabilitation both at the Vail Hospital in Vail Village.
There's a lock box at the front door which has the keys. I'll give you the latest code the day you arrive.
Interaction with guests
I will interact with guests by email, text, Airbnb and phone. My cell and email will not be visible until after a pre-approval request has been started.
Other things to note
The **4_night_minimum** stay is negotiable, but we will change it to 2 nights at times to fill up shorter dates on the calendar. So please ask me and I might decrease that 4th night for you during certain times. It is more negotiable as we get closer to the current date if there are dates still open.
Since this system is not flexible a 4th night is the minimum unless we negotiate or there's a specific note posted on each day stating otherwise. Bottom line is just ask us.
---
---
Check in is anytime after 3PM
Hello and Welcome to our second home!
Please treat our home like you would treat your best friends, or your mother's home.
Lock box code will be sent the day of your check in by check in before 3pm check in time. We change the code after each guest leaves and send you that new code. Check in is at 3 pm unless you ask us for an exception.
Check out is 11 am.
Our place is our home away from home and our pride and joy. Please leave it as clean and organized as you found it. Please don't try to move anything like furniture. If you do please put everything back just like you found it at check in.
Here is the list of house rules during your stay and at check out.
1) Please treat our home with the utmost respect. We have had a few guests that didn't follow the house rules and we're trying to make sure the next guests have a great experience as well. Most times we have just a few hours for cleaning and organizing before check in.
2) During the Fall/Winter season, turn up each of the three temperature controls in each room to a comfortable temperature 68 - 70 degrees. Upon check out please turn temperature back down to 65 degrees.
3) Please turn all lights off when you leave.

4) While staying please hang all damp towels up, they will dry quickly for your next use. This is the same as all other hotels around the rocky mountains. They will dry within hours. This will help save precious water. Water is scarce in Colorado and west to LA's Pacific Coast.
5) We have a full kitchen of supplies for your pleasure of cooking. Please don't leave any food, crumbs, splashed food etc on any surfaces, floors, walls, refrigerator, microwave, range stove etc. . We don't currently have any mouse problems inside or bears & other wild animals trying to get inside our home.
6) Please do throw out all trash when full from kitchen, bathroom, bedrooms. Use the tall white trash bags (lower right drawers of stove oven). Be sure to put trash into dumpster and close it. There are bears in the summer season that do try to get into the dumpster. If bears are caught more than once they may be put down.

7) We have a disposal. As a general rule please put all food debris into trash within the trash bag liner. Most items found in disposal will be harmful to outside environment down the lines. Try to put any grease or fatty cooking fluids into a used jar and put into trash. This will avoid a sudden clogging of the sink due to cooling and clogging of drain lines. We thank you for following this as it can avoid you having to get a clogged drain cleared during your vacation stay.
8) We have seen wildlife so please be sure to close and lock up completely. Please be aware and carefull of your surroundings. Everything should be fine as long as No FOOD is left out anywhere in our home or outside except for the dumpster which must remain locked after each use.
9) We have personally seen bears, racoons, squirrels, deer, fox, chipmunks, variety of birds, field mice, beavers etc. Please follow the rules to keep them safe.
10) Please clean all dirty pots, pans, plates, glasses. Please leave no food or crumbs out anywhere especially counters, floors and carpeted areas. Use dishwasher to clean all silverware, flatware, pots and pans.
11) No pets are allowed by anyone not an owner. This is a Timberfalls Home Owners Association rule.
12) No smoking of anything inside the condo.
13) This will sound like an odd one but.....please do not put your feet on the walls. Believe it or not we have had to wash them down do to dirty footprints. Go figure.
CHECK OUT
1) On your last day please see the list below:
A) Put any moved furniture back(URL HIDDEN)
Aa) Close all drapes, lock all sliding doors.
B) Put all dirty linens towels etc in one pile by dining table or leave hanging up if wet.
C) Clear out any foods not used (Nothing on counters, in refrigerator/ freezer) into trash and dump trash outside into dumpster.
D) Please try not to leave any food crumbs out anywhere on counters or on floors.
Please, no splashing of food onto walls, stove range, any appliances, cabinets etc.
E) Again we are trying to keep wildlife out and as clean as we can for the future guests.
F) Turn off all lights.
G) Turn heat down to 65 exactly.
H) Lock front door and put key back into locked key box.
End of check out.
Thanks so much for your help following the house rules.
A bit more on keys. The Key is in the lock box by front door. It's a combination lock box with a code that must be entered one digit at a time.The code will be sent to you via your phone number the day of your check in.. If you don't receive the lock box door code or have any issues while at our home please use the Airbnb website to send Adele and Eric a text.

Our neighbors across and above are there frequently so we ask you to be respectful neighbors.
Please no loud or late parties.
Please leave nothing blocking the hallways, stairs or doorways. The ski rack across the hall is not for use by anyone but that condo. The owner will get quite upset.
Please go out to the deck to smoke and use a can or bottle for remains. Be sure to put the can or bottle into dumpster upon checking out.
If you move furniture or anything from its original location please return it back as you found it when you checked in. We like to have everything clean and neat and moving items like furniture, clocks, etc takes time away from cleaning when we only have a few hours between guests. Do not stand on chairs or ottoman. We have had to replace an ottoman that was quite expensive. Do not rearrange the position of the track lights.
( Thank you very much!).
Do not hang a clothesline outside. Neighbors will not be happy. PLEASE MINIMIZE YOUR USAGE OF ALL LINENS. In these same closets you'll find extra sheets and comforter for the pull out sofa bed. The sofa bed is a queen size and are available for the extra guests after four people, you may not need it.
For forgotten essentials like soap, shampoo etc. you'll find these in the bathroom sink area on the counter or in the left bathroom drawers. Please help yourself as we bought these for you in case you need them.
Extra paper towels and bathroom toilet tissue are in the small hallway closet. Also extra toilet tissue are beside the toilet in a basket with a lid.
We have wireless internet with name and password on the kitchen refrigerator: name is:"Red Cheetah". We get power outages occasionally and it will require unplugging and replugging the wireless router. Then reset the wireless on your phone.
On the refrigerator is a list of helpful bus and ski area information along with some house rules. On the kitchen passthrough in a stainless steel elk bowl are some of the local ski resort maps for your reference. Please leave these in that Elk bowl for future guests reference.
On your departure see list on number 12. Below just covers more details.
Thank you for your stay at our home. We hope you enjoyed it as much as we do. Please text us with anything that we can help you out with or you simply have questions.
Your Hosts thank you very much for staying with us and following the house rules which helps us maintain a higher standard for the next guests checking into our home and yours while you stay with us.
Adele, Ann and Eric
---
I was raised in Boulder Co and spent a lot of time in Vail. I'm a former restaurant general manager that loves to host and ensure my guests have a great time. I've traveled Europe extensively, enjoy cooking and skiing. I love being husband, step father and grandfather. I look …
Languages:
English
Response rate:
100%
Response time:
within a few hours
Explore other options in and around Vail
More places to stay in Vail: