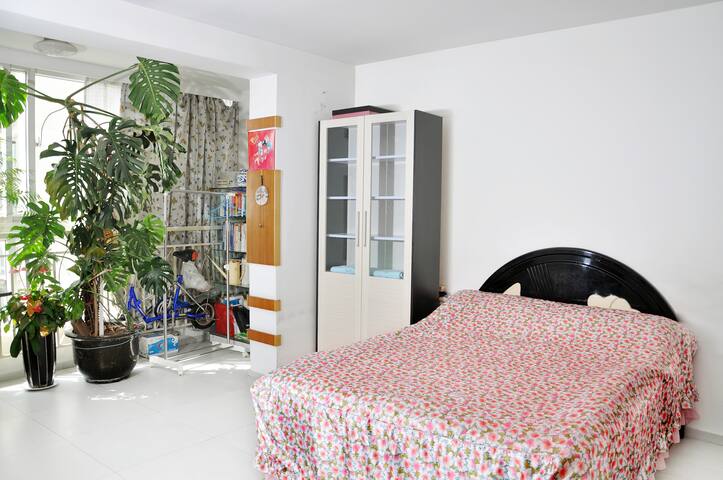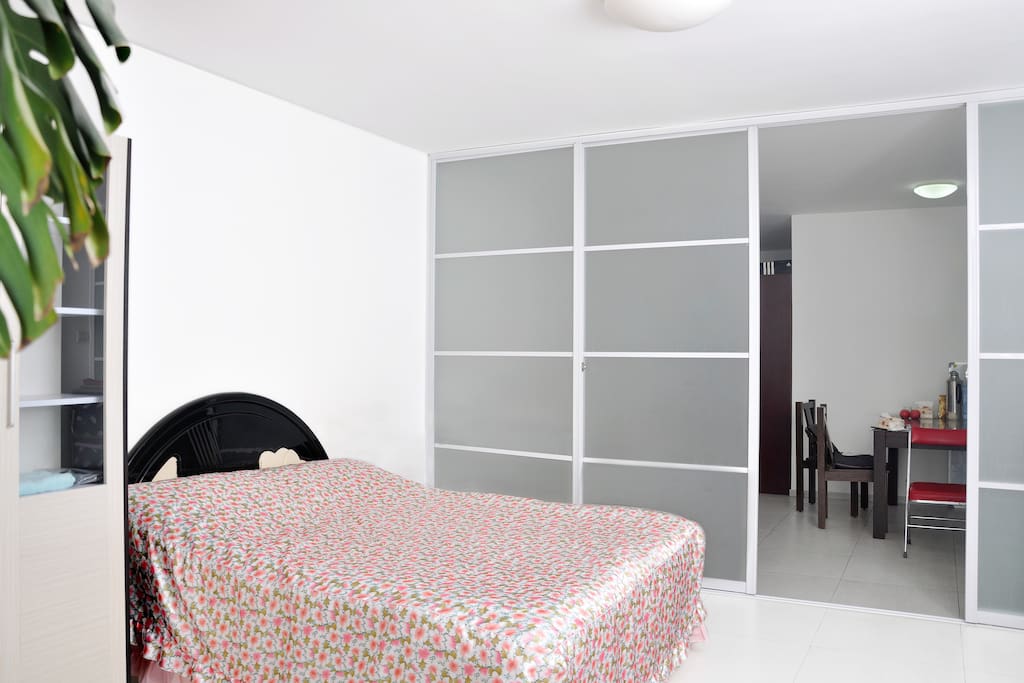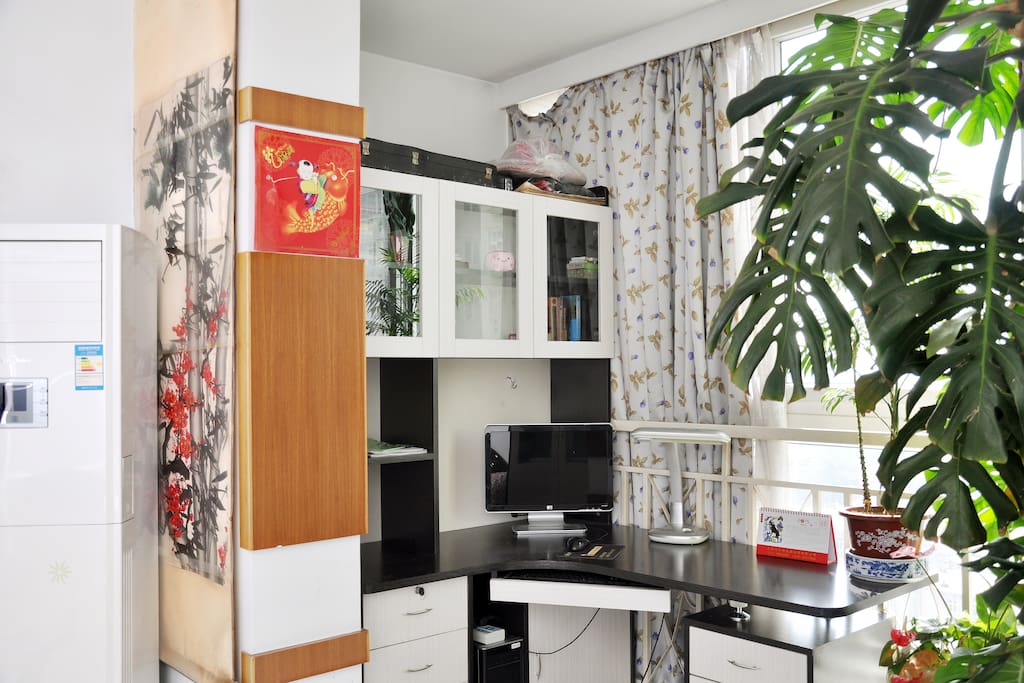 Renting one room of our apartment in the very center of Beijing.
This is a private room with shared bathroom.
We don't have any pets.
There are some small supermarkets around, and one big Carrefour just within 30min walking distance.
Suitable for working people, student or travelers. Since my Mom is doing cooking business, cook easy food is ok but not suitable for people needs to cook big meals at home every day.
The space
1. We changed the living room into a bedroom, it's large enough to provide space for two people, but we prefer only one guest. If you booked for two guests, there is an additional fee added into the price.
2. The apartment includes 4 rooms with 2 washrooms, we rent out 2 rooms for guests, and 2 guests share one washroom. My parents living in the other 2 rooms, and they use the another washroom.
Guest access
1. From Beijing Capital International Airport (International) to my place:
Take airtrain from Beijing Capital Airport to San Yuan Qiao Station, transfer to line 10.
Take subway line 10 to Shuangjing Station, our place on the southeast side of Shuangjing station. (The nearest exit is southeast, but it is fixing now, so you may have to get out from other exit, and across the street.)
Only one station to Guo Mao, the business center, within walking distance.
从北京首都机场,乘坐机场线到"三元桥",换乘地铁10号线。
乘坐10号线到"双井站"下车,百环家园小区在双井地铁西南角。
坐地铁或公交车到国贸仅一站,在步行范围内。
2. From Nanyuan Airport (Domestic) to my place:
Take the shuttle bus to Da Hong Men, then take subway line 10, to Shuang Jing station.
3. Hint:
Transportation Card: It can be used for subway and buses, using the card you can get 50% discount for bus, but no discount for subway.
You can buy the card in any station of subway.
Subway line7 is not stop at Shuang Jing Station right now, so if you come by train from Beijing Xi Zhan(Beijing West Station), and you choose subway line7 to come, you should get off one station before or after Shuang Jing.
Interaction with guests
I am going to USA for study, so I don't stay at home, my parents living there.
Sorry to say, my parents can't speak English at all... They can use cellphone APP translate simple words when necessary, but maybe a little inconvenient.
The room for traveler is private, and there is bolt on the inside of the door.
Other things to note
The price doesn't include meals.
And if you want breakfast, please pay extra 20yuan each day after your arriving, or 80yuan each day for 3 meals.
Breakfast: ¥20,
Lunch: \30
Supper: ¥30
房价不包括饮食。如需提供早餐,请于到达后每天另付20元,午餐和晚餐各30元。
---
---
Check in is anytime after 10AM
1. Please don't bring your friends back home often, especially during night.
2. If you have to back after mid-night, please don't be too noisy, because we're renting two rooms and there is another guest.
3. Please don't be drunk and don't smoke indoor.
---
My stay with this family has been really nice and comfortable. The situation is good and easygoing, not far from a very convenient subway station. The room is big, clean, with a very nice light, a comfortable bed, good garderobe and all you need. The family is more than nice. They are respectuous, sweet and careful if you need. I deeply recommend this place.
---
I was staying at Hannahs home for 5 month and I felt like home. Her parents are very warm hearted and very helpful. the room is outstanding value for money (big flat screen, big mirror, big bed, nice plants, table for laptop, ironing board, wardrobe and plenty of space. The location is good, close to subway line 10 and the third ring road (by taxi you are in 20 mins in sanlitun or the forbidden city). At the closest subway station you have a massive Viva Mall with fancy restaurants and stores, very close to the south entrance of the Baihuan community you can find a SevenEleven and a Lotte Super. ButI definitely recommend getting some of the dishes Hannahs mum cooks for her guests for small money. I can recommend this airbnb abundantly for business, leasure and language studys.
---
Great place to stay! I was to be in Beijing for a week, and wanted a homestay rather than hotel, for both the experience and the cost. I cannot speak highly enough about my experience here. The living/bedroom space is comfortable, separated and private. Mrs W keeps the place spic and span, and makes sure your needs are met as best she can. Hot shower, good bathroom. They speak no English, and i can't say any more than "nihao" and "ShiShi", but somehow it all worked just fine. I felt very much at home but still with more than enough privacy. There is a phone translation app which helps, and Hannah is only a text message away. If the Wifi isn't enough, they can take you to the "Internet Coffee" nearby where they have computers with Win7 on steroids for gaming - much of China is still on XP. Bring your passport, and a USB stick if you want to print anything. There is also an "English corner" for people who want to practice English. The location was good for my purpose as a low-gear sightseeing base. It is not in a hotel-tourist area so you are not inundated with people trying to sell you stuff or take advantage of you. It is a good area of Beijing, not far from the main commercial area, so lots of yuppies as well as families. Well located WRT the subway, shopping malls and shopping within the local community, you can walk ti Guomau in 25 minutes if you really want to. At night there is a plethora of street food vendors that just "appear", a very Beijing experience. I arrived on an international flight, and had no problem with the Airport express train and Subway line 10 to ShaunJin. If you are a stranger to the layout of large Chinese cities and apartment buildings as i was, i recommend that you ask Hannah or one of her parents to meet you at the subway exit. Here's a tip - in apartment buildings in Beijing the hallway lights are sound activated. If the lights go out and you find yourself in the dark, don't panic. You have to stamp your feet or clap your hands and the lights come on. 1 billion Chinese people know that, but i didn't. Felt like home - great place to stay as a base and very good value for money.
---
This was one of my favourite airbnb experiences to date. Hannah's parents were extremely welcoming and went to every effort to make my stay with them a comfortable and enjoyable one! The building is located in a ShuangJing residential community which is a brief 10 minute walk to subway line 10, from which you can conveniently get around all of Beijing. The room is large and bright and very clean. There is space to hang clothes, and a desk which is perfect for laptop use. The wifi available in the room is fast and reliable. When I first arrived, I realised that I had forgotten my phone charger. Hannah's parents had the right charger available and lent me this for the duration of the stay. Hannah's mother really took care of me beyond all expectations. She washed and hung up my clothes, made sure I had a clean glass on the desk each day, washed up any dishes that I had used and even made my bed when I once left in a hurry having not made it. She was really caring throughout and was always interested to hear how my day was. As I said it was a really great stay ... I would recommend everyone to stay here! 我在这里住了一周。这家人非常热情!我很高兴能跟他们在一起住。你们有机会去这个地方,我建议你们就去!
---
Very spacious, clean and airy room overlooking a lively neighborhood in Beijing. The hosts were extremely kind, generous and helpful people -- they readily assisted me with minor issues such as getting a residence permit and replacing a broken wheel on my suitcase, and were always up for a chat. If you're planning on a long stay, I'd recommend paying some extra cash for home-cooked meals, as they are just as good as anything you could get off the surrounding restaurants for an affordable price! The room itself is fully equipped with a TV, a desk, AC, wi-fi access and power outlets; in addition, there is plenty of storage space. As for the washroom, even though it isn't private I found it to be perfectly clean, and the washing-machine was easy to use. You will find common facilities (i.e bank, post office, supermarket) at walking distance and there's a medium-sized mall ten minutes away, next to Shuangjing (双井) subway station. City buses also run through the 3rd Ring adjacent to the housing community. A small garden in front of the building offers a (rare) patch of greenery amidst the busy city center. The community has a nice atmosphere and it's always swarming with locals, from the typical dancing grannies to street vendors. Overall, I had a fantastic experience here and will definitely go back next time I visit Beijing!
---
The room turned out to be above all my expectations! Cozy, full of sunshine, spacious and extremely clean. The family is very nice, caring and welcoming, I felt really happy staying with them and I even miss them now. If you want to experience living in a Chinese family, you'd better book this room not to miss a wonderful chance. The neighborhood is great, I used to live in that area while working in Beijing, and it is convenient indeed, there are a lot of supermarkets, food markets and restaurants right round the corner, the substation is only 10 min walk, and a lot of bus stops are scattered around.
---
I'm an aboriginal Beijing girl, and my parents are also Beijinger. If you rent our place, my parents are living in this home with you. I will not there since I am going to Los Angeles for study. About me: Birth: June 1987; Zodiac: Cancer; Education: Master of Economics; H…
Languages:
English, 中文, 日本語
Response rate:
100%
Response time:
within an hour
Explore other options in and around Beijing
More places to stay in Beijing: