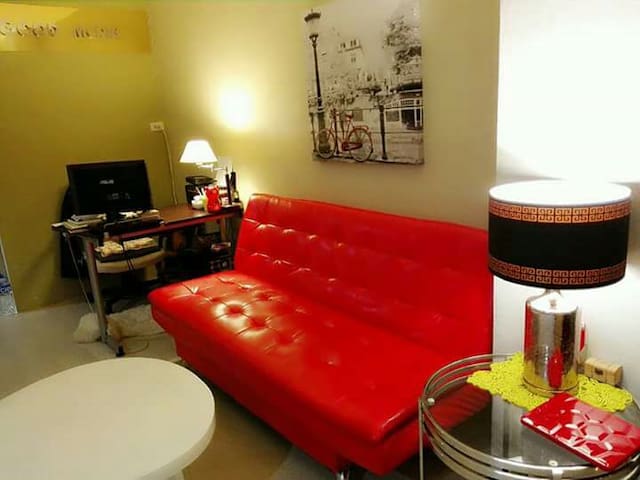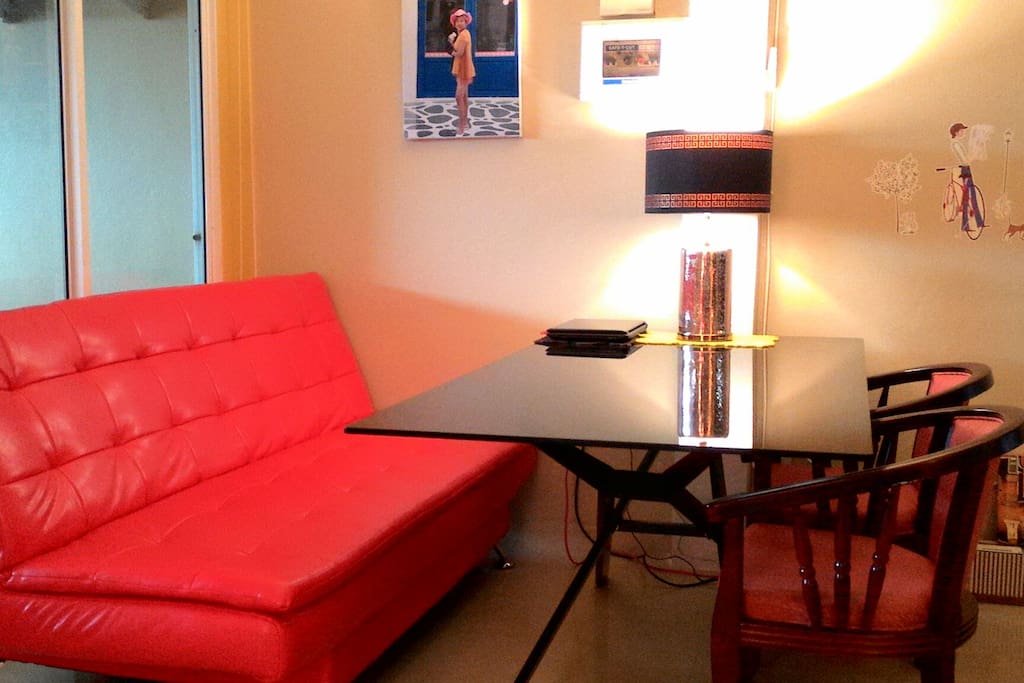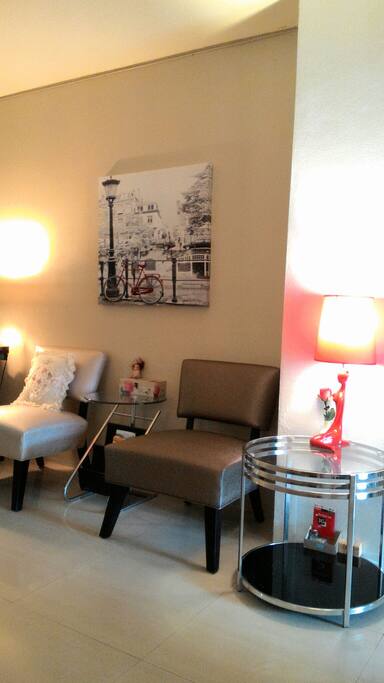 The house in the garden, vintage, cool, quiet, quiet, only 10 minutes away from the town. Free Wifi lobby, Indo coffee, 2 people. 15 minutes to the airport, 10 minutes to the railway station, 15 minutes to the airport, 7 minutes to the airport and 5 minutes to the Tesco Lotus.
บ้านในสวนแนววินเทจ ร่มรื่น เย็นสบาย เงียบสงบ ห่างตัวเมืองเพียง 10 นาที มีห้องโถง ฟรี Wifi กาแฟอินโด พักได้ 2 คนห้องน้ำในตัว เดินทางสะดวกสบาย ไปสนามบิน 15 นาที สถานีรถไฟ 10 นาที สถานีขนส่ง 15 นาที เซเว่นและเทสโก้โลตัส 24 ชม. เพียง 5 นาที
The space
Our accommodation is a very comfortable home. Only 5 minutes to the airport, 15 minutes to the airport. Private shuttle service 300 baht per trip 500 baht.
ที่พักของเราเป็นบ้านอยู่อาศัยที่มีความสะดวกมาก เข้าตัวเมืองเพียง 5 นาที ไปสนามบินเพียง 15 นาที มีรถรับส่งส่วนตัวเที่ยวละ 300 บาท ไป-กลับ 500 บาท
Guest access
Air conditioner, Hot shower, Wifi, Tea & Coffee, LED TV, Microwave, Refrigerator, Microwave
แอร์ เครื่องทำน้ำอุ่น Wifi ชา กาแฟ ทีวี LED ตู้เย็น ไมโครเวฟ
Interaction with guests
At any time if not engaged.
Other things to note
You can travel to Thai-Malaysia border by van or Taxi 45 minutes. There are vans with Speed Boat tickets. Pick up and drop you off to Pakbara Pier to get to Koh Lipe. VIP one day trip
สามารถเดินทางไปชายแดนไทย-มาเลเซีย โดยรถตู้หรือ Taxi 45 นาที มีรถตู้พร้อมตั๋วเรือ Speed Boat บริการรับและส่งจากที่พักไปท่าเรือปากบาราเพื่อไปเกาะหลีเป๊ะ มีบริการรถตู้ เช่าVIP one day trip.
---
---
ห้ามส่งเสียงดัง และห้ามสูบบุหรี่ เหล้าและแอลกอฮอล์ทุกชนิดภายในที่พัก
---
Very welcoming hosts, and a great residential location. We walked into downtown Hat Yai, and later there was a big carnival across the street with food and games. In the morning Lee generously made us breakfast and offered us a ride to the airport to catch our flight. We had a wonderful time and wish we could have stayed longer with this lovely couple!
---
We were truly make at home. An unassuming couple. They pick up from our transportation drop point. Nuch our hostess is ever smiling and courteous. so is her husband Lee who can speak pretty good mandarin and english. The room and the bathroom is very clean and the bed not soft the way we like it. very comfortable. It is away from the tourist place on a quiet lane just off the main busy road of Polpichai. Nuch also recommended the best massage in Hatyai. We have done many in Hatyai and Thailand, but the one recommended was indeed cheap and the best in town. Lee and Nuch bought breakfast for us every morning. To top it up, on Sunday morning Lee and Nuch took us to a Sunday market nearby and we bought a lot of kuih / sweet snacks that we would otherwise have not dare try without their recommendation. Nuch is very good at recommending the best snacks! Our host also recommended Green Way next to Asean night markets. Green Way is pretty big too and i love the selections there. Not many tourist here so the price is already reasonable. you can't and don't have to nego a lot in this market. if you don't have transport, a 5 mins walk will take you to the busy road junction and you can wave down a small tuk tuk or the long range tuk tuk which is much cheaper (only 10-20 batt) but only drop you at certain points along the way. but Lee and Nuch was most kind to send us back to our transportation pickup point. Overall, we were glad we pick this place as we wanted not to be in the tourist central of Hatyai and it was a great chance to meet locals and make friends.
---
Explore other options in and around Hat Yai
More places to stay in Hat Yai: