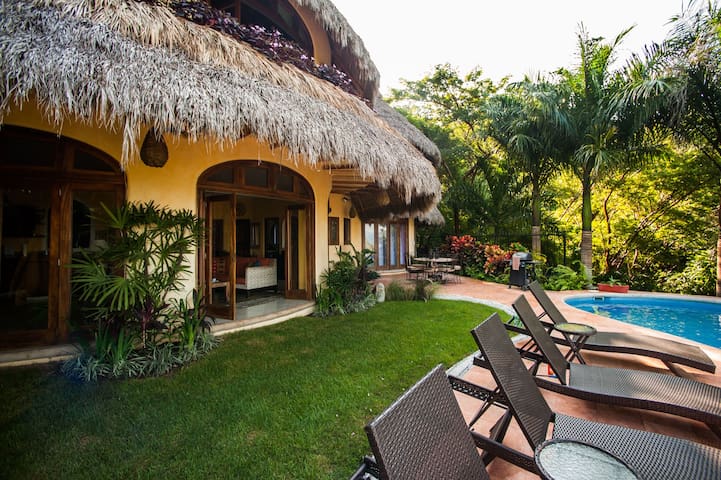 Casa Angel is a beautifully decorated 3 bedroom/bath home situated overlooking Sayulita Bay. Private heated saltwater pool and gardens all within a five minute walk to the beach and 10 minute walk to town. The home has a fully equipped modern kitchen, house manager, gardener and maid. The town of Sayulita has tons of restaurants, shops, surfing, paddling and yoga. There's something for everyone here in Sayulita!
The space
Casa Angel is private yet close to north end beach and walking distance to town. Beautiful lush gardens, ocean and sunset views. Our wonderful staff can help you book boats, massages etc. or just hang at the house around the heated saltwater pool and do some bird watching. Whatever your needs, Casa Angel is sure to complete your vacation!
Guest access
The entire house, private pool and paring
Interaction with guests
Our house manager Eric is always available.
Other things to note
CASA ANGEL INFORMATION SHEET

Eric Larson is your property manager. You can reach him in Mexico by calling him on his cell phone: (PHONE NUMBER HIDDEN) between 9-5 Sayulita Time.( US Central Time) Eric's email address is (EMAIL HIDDEN) Eric's evening number is (PHONE NUMBER HIDDEN). Please contact Eric at least two weeks before you arrive to make arrangements to meet him at the house.
Casa Angel is located on Nanzal Hill. It is a 5 minute walk to the north end beach and a 10 minute walk to town. Bring good walking shoes for Nanzal is a steep hill. If you'd like to rent a golf cart or ATV, you can do that in town at Pacific Coast golf Carts-MX (PHONE NUMBER HIDDEN) or (EMAIL HIDDEN)
Transportation from the airport can be arrange through Riviera Tours at (EMAIL HIDDEN) If you are planning to rent a car, you should do that in advance through the major car rental companies. There is also a Budget and National Car Rental agencies in Sayulita. The agents are located in the airport, walk directly through the custom/immigration, out the glass double doors and the agents are on the left side of the corridor. There is also a car rental in Bucerias called Gecko Car Rental and the website is (URL HIDDEN) They are very accommodating.
Good walking shoes
Eric is American and happens to speaks excellent English and Spanish and our housekeeper Carmina speaks only Spanish but does understand some English. If you do not speak Spanish, use sign language to communicate. If it is something important, please contact Eric. Our gardener, Chemo (Carmina's husband) speaks only Spanish and will be by a few times during week to water or cut the grass. The pool service will also come two to three times a week. These are the only people that have a key to the house.
Carmina will normally come three times a week (except Sunday) approximately 10 a.m. to 12:00 p.m. If you prefer Carmina not to come on certain days, please inform Eric. Carmina will let you know if she isn't able to come due to a family emergency or holiday. Carmina is an excellent cook. You might have her prepare a meal for arrival if you contact Eric ahead of time. This is an additional charge to be paid directly to Carmina. Tipping for regular services is completely voluntary, but would, very much be appreciated by Carmina.

Casa Angel has an alarm system. Please use this at all times when you leave the house and when you are going to bed for the evening. Please go over the alarm with Eric. There are safes in the closet downstairs, master bedroom closet and the downstairs bedroom closet. Please keep your valuables locked up at all times! Please keep all doors and windows closed and locked upstairs when you are downstairs for any length of time. The management will not be responsible for stolen items.
AMEX Traveler's checks are always a good idea. There several money changing places in Sayulita where they can be cashed as well as ATM machines. * BE CAREFUL of the ATMs, if you do use the ones in town, change your password everytime you use it here. We have some problems this year about ATMs. It is also a good idea to check with your bank after using them. Should you have any problem, call the Sayulita police at ((PHONE NUMBER HIDDEN).You must dial the area code, since all cell phones, including the one at Casa Angel, have a (322) area code.
Sayulita does have decent cell phone reception. I have a Mexican cell phone at Casa Angel for your convenience while dialing locally. The number for the Casa Angel phone is: (PHONE NUMBER HIDDEN) provided by Telcel. To use this, you must purchase time at Oxxo in town in a denomination between 100 and 500 pesos. To check if there is still time on the phone, enter the number into the phone by first dialing *333 and following the prompts in English, which will request that you dial 2. Use the same *333 number to check your balance and again follow the prompts, which will request that you dial 1. The higher denominations give you more minutes per peso. You may wish to check the phone balance before you buy a card, since the guest before you may have left time on the phone.
Casa Angel has a new high speed internet provider that is fast and reliable. The user name is casaangel and the password is Eric15Nanzal.
There is a TV, DVDs and Canadian SAT for your use downstairs. There is an IPod dock next to the cell phone for music. Please do not take the adapter wire for the iPod dock. Instruction manuals for other appliances are in the drawer behind the couch.
We would appreciate it if you would try to avoid getting lemon or lime juice on the marble kitchen counters, because this causes white stains which are difficult to remove.Please note that the small bin in the kitchen is to be used only for recyclables: aluminum, tin, glass, and plastic bottles. The silver garbage can is for trash and garbage.
Be careful not to lock yourself out. The front gate will lock automatically if it closes behind you. The front door does not lock automatically, but must be locked with a key. Please double-lock both the front door and the gate when you leave. Whenever you leave, please close and lock all downstairs doors and windows, and please double lock the front door and the outside gate.You are responsible for the care of the many beautiful things in Casa Angel. If you bring young children, you may want to move fragile things out of their reach. Please also be careful of the furniture upholstery. If something gets broken or damaged, please report this to Eric, so we can make an arrangement to have it repaired or replaced. We will not charge for minor things such as a broken glass, but you are expected to pay for the repair or replacement of more expensive items if you break or damage them. (The house will be checked by the housekeeper and manager after you leave.) Please use the coasters provided to protect wood furniture from wet glasses. No pets or smoking are allowed at Casa Angel. This is stated in the websites through which you made your reservation, and you will not be allowed to enter and no money will be refunded if you arrive with pets.There are many lights at Casa Angel. For the sake of the environment and our electricity bill, please don't leave lights on when they are not needed. You can turn on the pool lights by using the mechanical timer located just to the right of the middle living room door. Please turn the timer to off when you are not using the pool lights. We try to conserve water in Sayulita, please do not leave water running unnecessarily. The laundry room will be left open so you can use the cleaning equipment and hang your beach and pool towels on the line, but please don't use the washer and dryer, Carmina will wash personal items at your request. There are colored towels for the beach in the downstairs bathroom. Please do not take the white and light towels out of the house.
***Even more important, if you are at Casa Angel during summer months when air conditioning is provided, PLEASE DO NOT LEAVE THE AIR CONDITIONING ON WHEN YOU ARE NOT IN ONE OF THE BEDROOMS USING IT.

Mosquitoes exist, but usually are not much of a problem in the winter. Pavilliones (mosquito nets) are provided for all beds. If you use these, please treat them very gently. They are expensive and tear easily. Please also, pull the curtains in the rooms with care by pulling from the top. This material is native Mexican (same as the mosquito nets) and tears easily. Scorpions exist in the US, but are more prevalent in the tropics. If you don't know what they look like, it might be wise to find out before you come. Except under unusual circumstances, their sting is not deadly, but it can be very painful. These creatures like to hang out under things, so be on the lookout for them if you move something like a cushion. If you are bitten by a scorpion, please get medical treatment. The in town doctor, has a 24 hour emergency numb(PHONE NUMBER HIDDEN) and regular hours at (PHONE NUMBER HIDDEN). He is located next to the Farmacia Sayulita on Av. Revolution #52.
To allow for cleaning between guests, please check out by 11:00 AM and please do not check in before 3:00 PM. If you need leave or arrive earlier or later, you are welcome to leave your bags on the walkway inside the front gate.
If you should experience any problems at Casa Angel, please call Eric immediately.  (Please do not ask Carmina to deliver messages.)  If the problem is not resolved to your satisfaction, please contact Sally (EMAIL HIDDEN) or by phone: (PHONE NUMBER HIDDEN) (cell) or (PHONE NUMBER HIDDEN) (home).  It is not favor to us not to report a problem. Without your help, we will have no way of knowing if something needs attention, and we want to keep Casa Angel in top notch condition. Even if it is something as minor as a burned out light bulb, please report it.
We hope you have a wonderful stay. Please let us know if there is any way we could better serve your needs.You can find most businesses and general Sayulita i(EMAIL HIDDEN) Suggestions and feedback are always welcome. If you enjoy your stay and would be willing to write a comment for (URL HIDDEN) this would be greatly appreciated.Thank you,Sally and Gary Simpson OwnersEric Larson, Manager
BRING WITH YOU:FlashlightSweaters or light jacket if you are coming in the winter months/sneakers umbrella if you are coming in summer
IPODs or DVDs to play on the TV/Ipod dockTravelers Checks
Bug Repellant
Sunscreen
Good walking shoes for Nanzal Hill
PROVIDED:
Sheets and bath towels
Beach towels
6 Beach chairs
beach umbrella
paper products
laundry and cleaning supplies ( please have Carmina, tips not expected but greatly appreciated by Carmina)
Important numbers and emails
Sayulita Police- (PHONE NUMBER HIDDEN)
Sayulita Acupuncture/Massage-Michael Abramson (PHONE NUMBER HIDDEN)
Dr. Juan Francisco Hidalgo Corona:  ((PHONE NUMBER HIDDEN)
Farmacia Sayulita (PHONE NUMBER HIDDEN)ic Larson- (PHONE NUMBER HIDDEN) (day) (PHONE NUMBER HIDDEN) (night) (EMAIL HIDDEN)
Sayulita VIP car service (URL HIDDEN)
Sally Simpson- (EMAIL HIDDEN)
Gecko Car (URL HIDDEN)
Vallarta (EMAIL HIDDEN) or Eduardo (PHONE NUMBER HIDDEN) for bookings on the Alley Cat or Chico Loco boats
Chico Loco and Alley Cat Boats-Eduardo Guerrero (PHONE NUMBER HIDDEN)
Wedding Planners in Sayulita-Andrea and Gabbi Villarrubi(URL HIDDEN)US (PHONE NUMBER HIDDEN) or MX (PHONE NUMBER HIDDEN)
Spanish Lessons-Costa Verde International School (PHONE NUMBER HIDDEN)
Photography-R. Sean Galloway (PHONE NUMBER HIDDEN) (URL HIDDEN)
Pacific Coast Golf Carts- MX (PHONE NUMBER HIDDEN) US (PHONE NUMBER HIDDEN) (EMAIL HIDDEN)
Sayulita wifi (EMAIL HIDDEN) (PHONE NUMBER HIDDEN)
Car Service- Ernesto Rosales (EMAIL HIDDEN)
Security Deposit $752 NZD
Always communicate through Airbnb
To protect your payment, never transfer money or communicate outside of the Airbnb website or app.
Check-in time is 4PM - 11PM
- Casa Angel is a non-smoking, non pet home and suitable for 6 adults or families.
Sally's house was absolutely beautiful. It is an exceptionally well stocked house and the gardens and setting is beautiful. The house is interior decor is beautiful with a gorgeous connections to the outdoor pool. We had a great time and Eric the property manager was very good. Thank you Sally for the use of this great place.
---
Response rate:
100%
Response time:
within an hour
Explore other options in and around Sayulita
More places to stay in Sayulita: