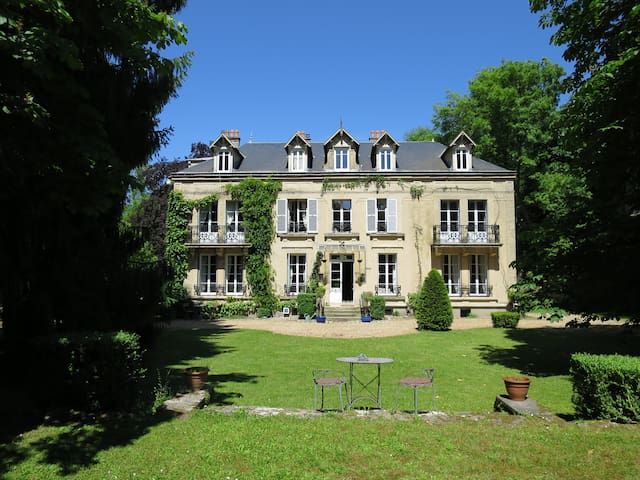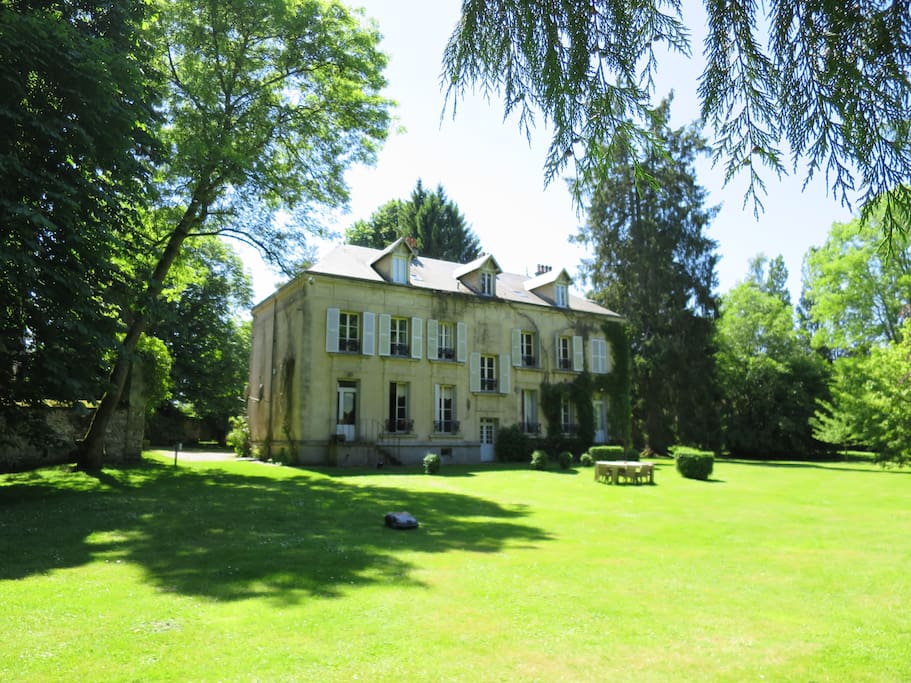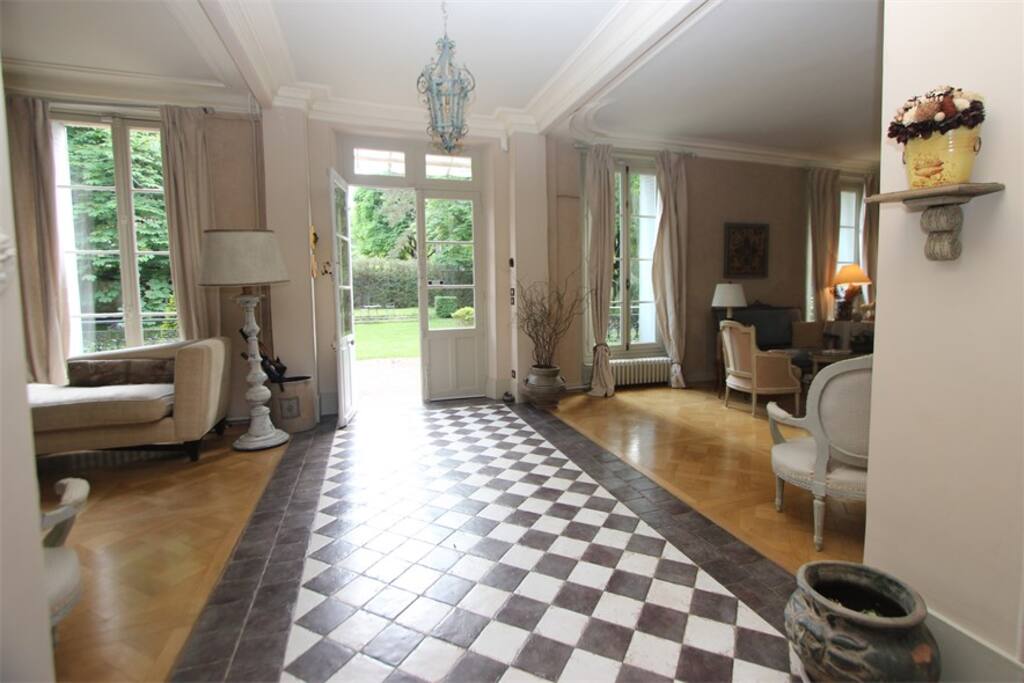 10 BR Luxury House Paris Versailles
This one-of-a-kind 1825 Historical Home was spectacularly restored, decorated and fully furnished in 2007 by World-renown interior designer David Hare.
The space
This one-of-a- kind 1825 Historical Mansion was spectacularly restored, decorated and fully furnished in 2007 by World-renown interior designer David Hare.
Run all over Paris all day, enjoy the hustle and bustle from museums and attractions. And when you are all done, take the Tram from the Saint Germain area to this calm heaven of luxury to relax and unwind. You will only hear the birds chirping and the church bell.
The fresh air from the century-old trees in the 3-acre acre park will rejuvenate your lungs and help you sleep deeper than you've ever have.
The next morning, you will wake up full of energy and serenity, ready to go for another day of Parisian adventures and delicacies.
The Chateau is split into 4 levels including a 1500 sq-ft fully furnished basement, which contains 2 large open rooms, a large bathroom, a utility room with a washer, a dryer, a subzero freezer and a fuzball table.
On the ground floor, the Grand Foyer entrance with a huge staircase opens to the reception area with a stone fireplace, a formal dining room and an everyday living room, all surrounded with floor-to-ceiling windows enlightening the home throughout the day.
The 700-sqft Provence-themed Kitchen is equipped for living and casual dining.
On the first level, 5 bedrooms accommodating 10 people, of which a wood-paneled grand Master suite with antique fireplace overlooks the forest, with a garden-view bathroom with glass shower.
4 additional spacious bedrooms with bathroom on the first level accommodate children and guests.
On the second level there are 4 bedrooms accommodating 8 people, with individual bathrooms which makes it great for big family holidays! (A 5th bedroom for a total of 10 people on the 2nd level will be re-opened in Feb 2018)
The sublevel has 1 queen bed (foldout) and a large twin bed sofa to accommodate 3 extra people (or sleepless kids :)
Additionally we can set up up to 7 rollaway beds across the house for an extra charge.
The Chateau boasts high quality furnishings, newly installed in 2007, including brand new Versailles hardwood flooring assembled by certified artisans, central heating, and wifi.
Century-old trees in a wooded and enclosed park of 3 acres bordered by a river and a small lake.
Nearby 2 star Michelin restaurants and countless Auberges, with authentic countryside cuisine, are located in Versailles, Montfort l'Amaury, St Leger en Yvelines, Poigny-la-Foret and Rambouillet.
Most spectacularly the Chateau de Versailles is only minutes away!
Other major events in Paris such as conferences, Paris Fashion Week (FSW), The French Open of Tennis - Roland Garros, BNP Paribas Masters of Tennis Paris Bercy, The Alstom Open de France of Golf, the 2018 Ryder Cup, The Tour de France of Cycling, Judo Paris Grand Slam, 20K Paris Race, Longines Paris Eiffel Jumping Horse Competition, Meeting Areva Paris Diamond League Athletics, World competitions, and major trade shows and expo .
The property is also ideally located with easy access to Normandy for Omaha Beach Tours and the Champagne & the Loire Valleys, for those countless Chateaux and winery tours.
Don't miss the opportunity to stay at the Enchanted Chateau!
Guest access
The entire house is yours when you rent it.
Nobody is staying there when you are enjoying this grand estate.
Who says you can't be Napoleon, the Chateau Grand-Master in 1825 :)
Free Wifi
Fuzball table
Kids Playground with huge slide, tree house, and 3 swings.
Interaction with guests
We generally have guests enjoy their time and serenity here.
When they go sightseeing in Paris, Versailles or the region, they frequently come back to a relaxed calm heavenly break before dinner.
We are on call 24/7 if you have any needs or questions during your stay. We are here to make sure you have the most wonderful time when you stay at the Chateau.
OUR ROOMS & BED CONFIGURATION is as follows:
1st Level:
1/ Royal Suite: 1 California king, 2p
2/ In-suite room: 2 twin beds, 2p
3/ Pink room: 1 queen bed, 2p
4/ Mountain room: 1 king bed, 2p
5/ NY/Blue Room: 1 Queen bed, 2p
2nd Level:
6/ Romance Room: queen bed, 2p
7/ Giraffe room: 2 twin beds, 2p
8/ Blue room: 1 queen bed , 2p
9/ Chateau room: 1 king bed, 2p
Sub-Level:
10/ Open room 1: 1 queen bed, 2p
11/ 1 twin bed, 1p
We also have 7 rollaway beds that can be set up anywhere in the house. Extra charge of 35 euros/bed/night.
Total: up to 28 people.
ONE PEOPLE, ONE PLANET, ONE PEACE.
We at Chateau de Poigny are proud to welcome ALL people regardless of race, color, religion (creed), gender, gender expression, age, national origin (ancestry), disability, marital status, sexual orientation, or military status, in any of our activities or operations.
We are proud to have hosted guests from different faiths, colors, races, orientation, nationalities, national origin, and military status.
We are ONE PEOPLE, ONE PLANET, ONE PEACE.
Other things to note
Versailles and other Chateaux are within 5-25 minute drive (See List below).

There are 3 country restaurants with traditional french cuisine (Auberges) within a 3-mn walking distance and Numerous Nearby 2 star Michelin restaurants and countless Auberges, with authentic countryside cuisine, are located in Versailles, Montfort l'Amaury, St Leger en Yvelines, Poigny-la-Foret and Rambouillet, all within a 5-10 minute drive.
There are all kinds of monuments you can visit around the property. Here are a few to consider:
1/ Chateau de Rambouillet (5 mns)
2/ Chateau de Thoiry & Natural preserve (15 mns)
3/ Chateau de Versailles (15 mns)
4/ Cathedral of Notre Dame of Chartres (25 mns)
5/ Paris: Louvre Museum, Eiffel Tower, Louis Vuitton Museum (20-25 mns)
6/ Chateau de Chambord & Loire Valley wineries (1.5 hrs)
7/ Champaign region (Reims) (1.5 hrs)
8/ Normandy & Omaha Beach (2 hrs)
9/ Park of Puy du Fou (2 hrs)
Other major events in Paris such as
1/ conferences,
2/ Paris Fashion Week (FSW),
3/ The French Open of Tennis - Roland Garros,
4/ BNP Paribas Masters of Tennis Paris Bercy,
5/ The Alstom Open de France of Golf,
6/ The 2018 Ryder Cup,
7/ The Tour de France of Cycling,
8/ Judo Paris Grand Slam,
9/ 20K Paris Race,
10/ Longines Paris Eiffel Jumping Horse Competition,
11/ Meeting Areva Paris Diamond League Athletics,
12/ World competitions, and
13/ major trade shows and
14/ expo .
The property is also ideally located with easy access to:
1/ Normandy for Omaha Beach tours and
2/ The Champagne region &
3/ The Loire Valley, for those countless Chateaux and
4/ winery tours.
---
This listing has essential business travel amenities.
---
---
Check in is anytime after 4PM
Self check-in with lockbox and doorman
HOUSE RULES AND HELPFUL INFORMATION
We trust that you are who you say you are. Though we've had bookings under Dr Jekyll and Mr. Hyde :)
However local laws require that we have ID verification before we accept a booking. Thank you for submitting yours through AirBnB.
While we love to make people happy and share in their journey towards a better future, we unfortunately don't rent the House or the Grounds for Weddings or Large Parties. The house is really a home, not a rental hall and is not equipped for heavy traffic or intense usage. You are however welcome to book us and have your party at any of the nearby locations we can tell you about :)
CHECK-IN & CHECK-OUT PROCEDURES
Upon arrival, our property manager will show you how to use all the appliances, the various electronics, show you fragile items and describe the overall operations of the house. (Note that there is a camera facing the front entrance door that monitors entry & exit from the house (allowed under French Law).
She will also go through a check-in list and a responsibility waiver that she will have you sign.
She will then give you keys to the house and a remote control to open the automated gate to the property.
Don't lose them while looking up the Eiffel Tower :)
Upon check-out, she will go through the same check-in list and will sign off with you that all is in order. If there are broken or damaged items, please tell her. Mistakes happens and we like people that are upfront. We may then forget and forgive. But if we discover it after you've left, then we will reach out to you to pay for it :(
NO SMOKING
Smoking will kill you slowly and painfully. Save your life for your kids and your family.
But if you insist on smoking, we absolutely positively don't authorize any smoking in the house or near the entryways into the house. A breeze from the outside carries the smoke inside the house and its smell sticks to furniture. Yuckyyyy!!!
This is an expensive cleanup cost. If you have to smoke, and slowly kill yourself while on this beautiful earth, there are 2 tables, front yard and backyard, that are 40 feet from the house. You can only smoke there :(
If it is raining, use the umbrellas we have by the front door.
NO PETS
While we love pets, other people are allergic to them.
So unfortunately, we don't authorize pets inside the house or on the grounds. You will be charged a significant cost to clean up and deodorize the house if you violate this rule. You may be subject to eviction too if we catch you :)
CLEANING
This is our home. We are sharing it with you.
Enjoy it as you would your own home, respect the antique furniture that survived the ages and please keep the house as clean as you found it.
Also, please be considerate to the maids that will clean up after you. Your maid service cost covers regular maid service such as clean sheets & towels, sweeping, dusting, bathroom cleaning. If you leave a pigsty behind you, thinking you're a rock star, our maids will be very unhappy and will chase you down the street with their ol' granny's broom!! You will be charged extra clean up costs if you leave extra dirt or garbage behind you.
LINENS
We provide linens and towels. We have expensive Versailles-style hardwood floors and hardwood stairs. We do not allow shoes inside the house. Guests usually walk barefoot or bring with them non-slippery slippers. Socks are NOT allowed because guests can slip on the waxed hardwood floors and steps. We have warning signage reminders.
FREE WIFI
It is free! but pleeeease enjoy your vacation and stay away from your emails and get your kids to take a break from online games.
We have an extended WIFI network. Password on the refrigerator in the kitchen.
MINIVAN RENTAL
If you do not have your own transportation, we highly recommend you make a reservation at Avis, select the Rambouillet branch for a 9-p minivan rental. That will allow you to get to the Tram station (10-mn drive) and to the supermarkets (10-mn drive) and local restaurants.
AIRPORT PICKUP
What are your flight arrival details? How are you getting to the property from the airport? We work with a car service that can give you a quote.
ROLLAWAY BEDS
Please go through our bed configuration list by room in our detailed description page here on Airbnb and determine who is sharing rooms and beds, so we can prepare in advance to have the necessary number of extra rollaway beds. We need this info at least 3 weeks before your arrival, otherwise we cannot guarantee you will have the rollaways at check-in.
NEARBY MONUMENTS
We suggest you look at our detailed description and read the list of local monuments you can visit, that are not all in central Paris. They may be also of interest to your students.
COMMUNICATIONS
We pride ourselves in being super-responsive and in providing a great customer service experience. If you have any questions, please email us here on the AirBnB . Their insurance and T&Cs require it so that they can monitor our responses, resolutions, and document all our conversations ;( We'd love your texts or phone calls, but we will respond through their messaging center exclusively.
Share, Love, Live!
Safety card
Emergency phone numbers
Medical15 [OR] 115
Fire18 [OR] 112
Police 17 [OR] 117
________________________________________
Location of fire extinguisher
There are 7 Extinguishers in each of these locations: Kitchen, Basement-Electrical Board, Basement-HeaterRoom, Ground Floor, 1st Level, 2nd Level
Location of fire alarm
Alarm Control center in Basement; There are Smoke detectors in every room, every Open space and stairwell
Location of gas shutoff valve
2 Shutoff Valves: 1/left of Kitchen Stove, 2/Outside Box right of the steps to the main entrance of the house
________________________________________
Emergency exit instructions
[A] - Exit House through: 1/front door 2/Garden door in the kitchen 3/Garden Door in the living room 4/Any ground window [B] - Call 117 or 17 for the Fire Department [C] - You can use any of the Fire extinguishers to tame a fire, or place the fire retar
---
We booked the Chateau for a long work weekend away for 18 of us. We were blessed with the most amazing weather, allowing us to enjoy the Chateau to the full! The Chateau itself is very spacious, with plenty of bathrooms, nice big rooms, and loads of great communal areas to relax in. And those gardens are just fantastic! It is situated within the most beautiful countryside, and connected very well with the local Tram system. What makes the Chateau all the more special is the support network they've built around it - Richard, Florence and Christophe - are there to help with everything you need both in advance and also during the trip itself. It meant we could book a private chef to come to the Chateau (we will never forget champagne and canapes in the Gardens as the sun set!), have the convenience of a personal door to door taxi service, and enjoy a fully stocked fridge on arrival. It just made the whole weekend so stress free, allowing us to just relax and have a great time. Huge thanks to all of the Chateau team for a fantastic weekend, and sharing your beautiful home with us! Kate & team
We loved hosting Kate and her team. She was a wonderful guest to help prepare her trip, set up an amazing weekend for her team, and assist in all her needs (groceries, private chef, transportation, extra beds). We highly recommend her as a guest to other hosts. Thank you, Kate!
---
The castle was really pleasant, quiet and clean in a lovely region of France. We rent it for a work retreat, it is the perfect place, no external distractions and well maintained
---
The Chateau is a gorgeous property. It is the perfect merger of modernization and vintage character and charm. We read the description and reviews so we understood the location was not in the center of Paris. This was my seventh trip to France. I hosted my niece, her fiancé, both his and her parents, siblings and grandparents. My niece and her finance were married in Versailles. The Chateau provided a perfect place for us to get to know her other and a wonderful respite from the hustle and bustle of the city. The house and community is like a movie set. Richard has the process down so it is a smooth and convenient check in and check out. We hired the recommended chef from his (SENSITIVE CONTENTS HIDDEN) page and the meal and service was fabulous! I have to say this was a six star experience on a five star scale!
---
Beautiful chateau in the royal forest.
Robert, thank you. Indeed this is a beautiful chateau where our guests can find peace and rest after entire days of hustle and bustle in Paris museums, attractions and monuments. Evening walks and early morning jogs in the forest around the property are the best way to re-energize the body & soul.
---
Beautiful chateau, superb location and excellent communication from our host and property manager. The local village and closest town were incredibly picturesque and postcard worthy. Nights in the back garden of the house drinking gin and tonic while soaking up the beautiful surrounds are unforgettable. Time to Paris on fast train (TER) was 35 mins to Montparnasse station. Sensational location where you can experience French countryside and Paris nightlife all from your own chateau ....such a wonderful holiday for our extended family.
Sarah and her family were great guests. We enjoyed hosting them. They were very communicative with us prior and during their stay, which really helps us deliver outstanding customer service. We are glad they followed our recommendations, which provided for a wonderful stay with us. We highly recommend them.
---
I brought my French students to Poigny as a home base during their first visit to Paris. I chose Richard's home because it was big, and it was a safe place for students to stay for supervision. It was also an excellent price to house such a large group. We rented vans for the week to get to the train station in Rambouillet to go to Paris and to visit Chartres. My students had a great time, and they really enjoyed the château as our home. I want to thank Richard for his excellent communication skills all around. He was always a pleasure to speak with, and my students learned a lot during our trip.
---
San Francisco, California, United States
Joined in January 2015
I am an avid traveler, lover of cultures and cuisines. Life is a special gift, cherish every moment. I am always up to meeting new people or spending time with family and friends.
Languages:
English, Français
Response rate:
100%
Response time:
within an hour
Explore other options in and around Paris
More places to stay in Paris: