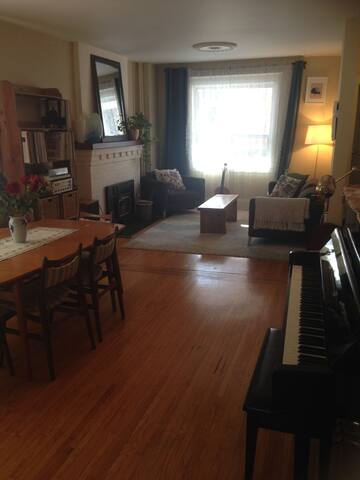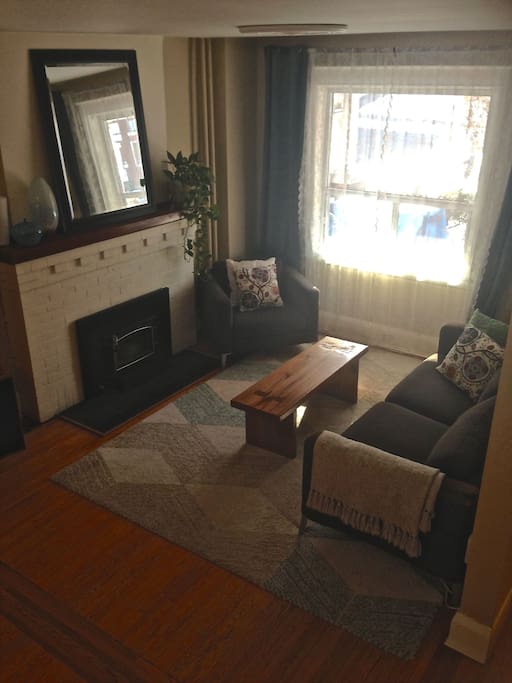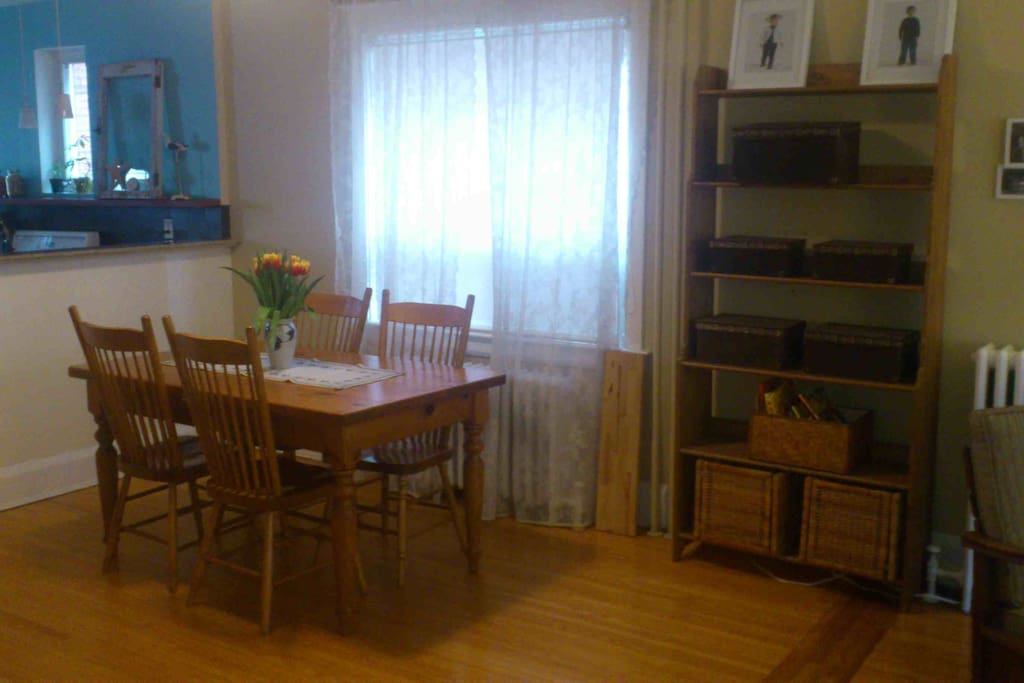 Our updated 3+ bedroom in the beautiful High Park North area of Toronto sleeps six and is perfect for a family. Located 10 minutes walk from the subway, GO train, and High Park, this location is ideal for those wishing to explore Toronto.

---
---
Always communicate through Airbnb
To protect your payment, never transfer money or communicate outside of the Airbnb website or app.
Learn more
---
---
I can't believe we lucked out in finding this place. We were going to be in Toronto for a few days for my husband's film premiere and didn't want to stay at a hotel. The kids loved having their own rooms, and we loved having a living room/kitchen to sit in at the end of the day by ourselves. Everything was clean, comfortable, and welcoming. We have experienced many different hosts through Airbnb by Lori has been the most gracious and warm by far. Highly recommend this lovely house.
---
Stayed here for 1 week. The location is very close to a lot of central areas, so that was good. Like other reviewers noted Lori was pleasant, responsive and made us feel welcome. Unfortunately, when we arrived, the place was not cleaned at all. There was dirt on the floors, dirty rags in the bathtub, and dirty used Kleenex on the master bedroom floor, and even old Easter egg chocolates (in the middle of summer). There was no soap in any of the bathrooms, so we had to buy them. When asked about it, she noted she had a new house cleaner and apologized. Clearly that "new housekeeper did virtually nothing. Anyway, not pleasant, but we'll make do. We also noted that none of the beds were made. And other than the master bedroom, the other two upstairs bedrooms are small, single kids beds, both not comfortable. When we commented on that, her response was, 'if you wanted a hotel comfort, should have stayed at a hotel. This is someone's house.' In addition, while advertising 3 bathrooms, one is under renovation, that we weren't informed about. The shower curtain was drawn, hiding all sorts of junk in the bathtub, making it unusable. Granted, AirBnB doesn't provide an option to make this clear but the owner should have informed us beforehand. Also, parking is available in the back, but it's virtually impossible with anything but a small car due to the extremely narrow alley. Even though we were informed of this (after our booking) we didn't realize it was that narrow. So we just parked on the street. There is ample parking on street, but you need to get a $25 permit from the city, and find some place to print it. Finally, the air conditioner is a must in Toronto in the middle of August. The Air conditioner shorted a couple of times and we were told that it has issues, that they are looking into. She told us to turn it off when away from the house which we tried to do but we, especially the kids, were very uncomfortable in heat. After the end of our stay, though, they claimed that the air conditioners had leaked, and that they think we should be on the hook for possibly $500 water damage caused from using their air conditioner! Unbelievable. So unless you're looking for an unkept house, with dated beds, without basic amenities (such as clean soap in the washrooms), and with the possibility of being asked to pay for using dated appliances, I would recommend looking at other places.
Unfortunately, Yaron and his group were very difficult to host, and Yaron's review is untrue and was written out of anger about not getting a refund from us. They tried to find any problems they could with the accommodations (complaining that they had to put clean sheets provided by us on the beds themselves, and that they found a cloth used for cleaning in the washing machine are just two examples of many.) Although the house had been cleaned before their arrival, we immediately offered to pay for another cleaning service. They refused the offer. We provided sheets, towels, soap and toilet paper, yet they complained when their group (of six people) ran out of toilet paper half way through the week. They also complained that the single beds were too small (bed sizes are standard.) They demanded a 25% refund which amounts to over five hundred dollars (although we had offered to pay for a cleaning service.) When we came home, we found there was severe water damage in our basement (caused by Yaron and his group.) The costs of repairs will be greater than the 25% refund his group was demanding, yet when we told them about the damage, they did not drop the request or even acknowledge the damage. Yaron's review was posted as a punishment for our refusal to give the refund they demanded.
---
Lori was a great host, and her home was great! Lots of space for 6 people, in a great neighbourhood that was easily accessible from Pearson airport, and was only a short trip to downtown Toronto. Lori gave us some great recommendations for things to do in the area, and was always available to answer any questions. Would love to stay there again if we are in the area!
---
Lori is a wonderful host. She gave us all the details of the itinerary to get there. It was perfect. WE were in communication before arriving and once in the house. As we were 5, we got all the house. It was wonderful, very clean and we were welcome with flowers on the table. Lori respond very quickly to my messages. The location was nice, 10-15 minutes walk to the StreetCar or train to downtown I highly recommend Lori.
---
Lori was a fantastic host! Great communication and consideration, the house was immaculate and perfectly suited our needs and the neighborhood was ideal. We'll happily stay here again next year and highly recommend this host/home to anyone planning a Toronto stay! Thanks again VERY much Lori!
---
Magnifique expérience!Très beau logement, dans un quartier paisible de Toronto à proximité des services. Logement très convenable pour 6 personnes (lits, salles de bain, toilette). Les hôtes sont faciles à rejoindre, retournent les messages. Très bel accueil avec des roses!!! Merci beaucoup Lori et Michael et les enfants d'avoir partagé votre logement!
---
Response rate:
100%
Response time:
within an hour
Explore other options in and around Toronto
More places to stay in Toronto: