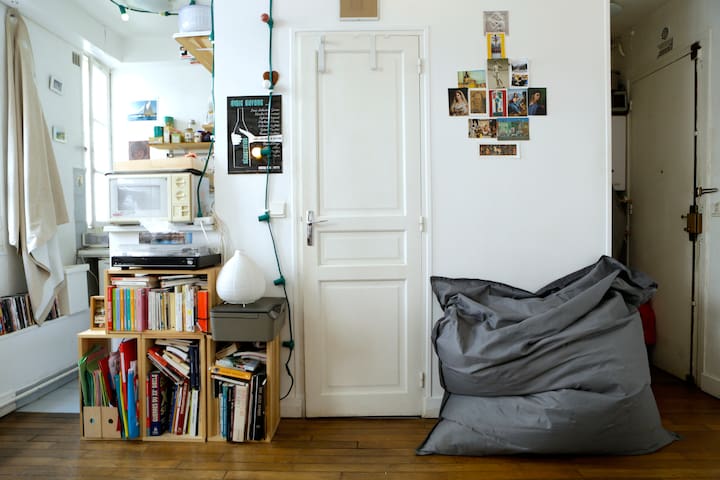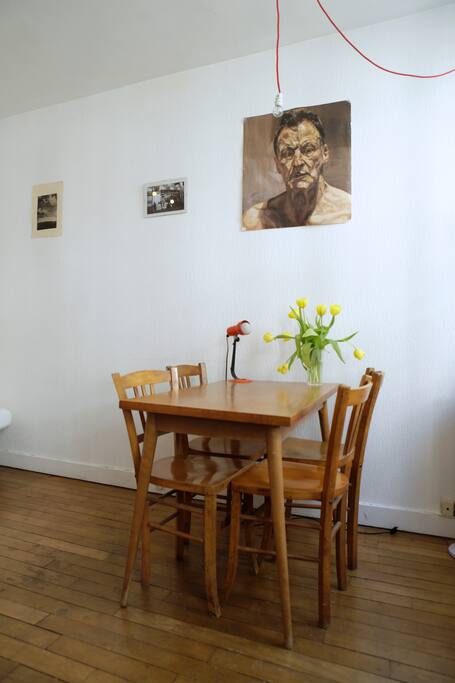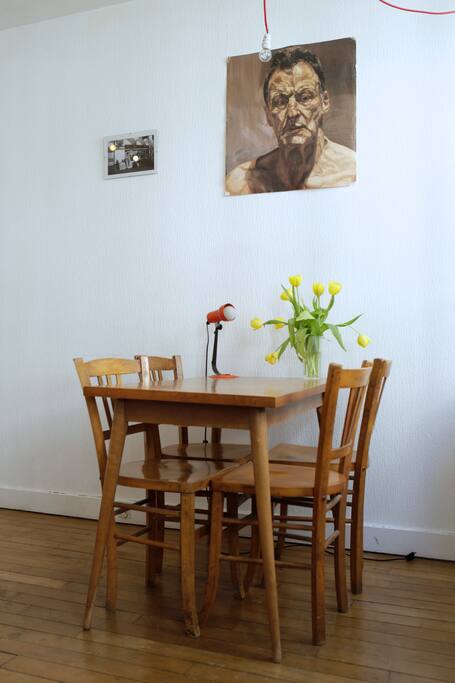 About this listing
The space
Enjoy a stay in the up district of Le Marais, precisely in the charming and shady street called rue Dupetit-Thouars . This historical area located in the 3rd arrondissement of Paris offers all facilities within a walking distance. My 20 m² studio can welcome comfortably, a couple and it is located closed to two metro stations: Temple and République.
In addition, if you are a gourmet or just interested in French fresh products, you will appreciate a visit to the very close, oldest market of Paris: Le Marché des Enfants Rouges. Literally « the market of the red children » exists since 1615 and was named from the red-dressed kids which lived in the local orphanage. Since 1982, the market is classified by Historic Monuments of Paris. It is a very friendly experience to wander around the market stalls and to hear the vendors' bantering Parisian 'tchatche'. Next to the flat, you also have a supermarket, Monoprix, with very convenient opening time (up to 10 pm).
The studio, an old Parisian apartment with parquet flooring, is on the 3rd floor. It is a calm and bright one room flat with 2 wide windows opening on a courtyard. The kitchenette is fully equipped.
The whole district called Quartier du Temple, also offers around a lovely square, the 3rd area Town Hall, a famous design school and last but not least, a lots of small boutiques, art galleries, bars and restaurants. Nowadays, it becomes one of the trendy areas where Parisians like to go out (around rue de Bretagne and Marché des Enfants Rouges) because it is less crowded than its south side, known for its Jewish and Gay quarters.
EQUIPMENTS
Queen size sofa bed (160x200 cm)
Vintage table
FatBoy large tufted cushion
Flat TV screen (81cm)
150 free TV channels including Be in sport
Vinyl disc player
Bookshelves
Free Wi-Fi connection
Telephone (free calls to land lines over 100 destinations)
Speaker system with direct USB connection
Duvet cover, pillowslips and towels will be provided for free.

KITCHENETTE
Refrigerator with icebox
2 electric burners
Mini oven
Microwave
Espresso coffee machine
Washing machine
Toaster
Electric juice extractor

SMALL BATHROOM
Bath with shower curtain
Washbasin
Electric toilet (SFA© saniflo system)

TRANSPORTATIONS
Metro lines: 3, 5, 8, 9 11
Closest metro stations:
TEMPLE (1 mn walk)
REPUBLIQUE (3 mn walk only and then, you can access any point in Paris by 15-30 mn)
Buses: (PHONE NUMBER HIDDEN)
Night buses: N12, N23

PLACES OF INTERESTS AROUND
the Georges Pompidou Centre: 10 mn walk up to Beaubourg quarter
Picasso Museum: 10 mn walk
The Red Children Market
The Temple Square
Place des Vosges
Rue des Rosiers and all the Jewish area opened on Sunday
The Hôtel de Ville (Paris main town hall)
Place du Châtelet
Place de la République

---
---
Always communicate through Airbnb
To protect your payment, never transfer money or communicate outside of the Airbnb website or app.
Learn more
---
Guide de l'appartement
Bonjour,
Je suis heureux de vous accueillir dans mon appartement, j'espère que vous avez fait bon voyage.
Mon appartement est un appartement ancien, typique parisien et très agréable. Cependant, il faut faire attention à certaines petites choses :
-A chaque fois que vous quittez l'appartement : fermez bien les fenêtres et les rideaux car il est facilement accessible depuis l'extérieur, cela pour éviter tout risque de cambriolage.
Dans tous les cas, fermez toujours les fenêtres, même si vous sortez pour un court instant. Veillez à bien claquer la porte d'entrée et à fermer le verrou en faisant un tour de clefs à chaque sortie, ainsi qu'à bien éteindre les lumières.
-Pour les lumières, il y a trois interrupteurs…
•Un pour l'entrée : utiliser celui qui est le plus à gauche, à côté de la porte d'entrée. L'autre (étiqueté « prises électriques) commande les prises et risque de couper le courant de celles-ci ;
•Un pour la salle de bain, à gauche de la porte (extérieur) :
•Un pour la cuisine, à droite du micro-onde, un peu caché.
•Trois lampes d'appoint sont également disponibles (vérifier qu'elles soient branchées).
-Pour mettre le canapé en position lit : Tirer simplement l'assise du canapé vers vous pour le déplier.
-Pour remettre le lit en position canapé : Lever le bas du lit doucement jusqu'à votre taille environ (il se bloquera), puis l'abaisser en poussant le tout vers le mur, jusqu'au bout pour qu'il se transforme en canapé (vers la fin le soulever à peine pour le faire glisser dans son logis jusqu'au clic). Des draps vous attendent propres à chaque entrée.
-A la salle de bain :
•les toilettes sont électriques, NE JAMAIS RIEN JETER DEDANS A PART LE PAPIER WC. Une petite poubelle est à votre disposition à côté, si besoin.
•Concernant la douche, une petite raclette est disponible pour enlever l'eau du miroir. Serviettes, dentifrice, savon et shampooing sont disponibles au cas où vous auriez oublié d'en apporter.
•Deux étendoirs à linge sont à votre disposition, l'un s'accroche simplement au radiateur (le plus petit : ajuster les branche) et l'autre plus grand, se déplie comme un étendoir classique.
•Les serviettes qui vous attendent sont propres.
-Un ventilateur est disponible en cas de chaleur.
-La TV fonctionne avec la télécommande blanche pour le satellite et la noire pour la TV. Allumer d'abord la télévision avant de démarrer la box avec la télécommande blanche. Pour regarder la TV, mettre celle-ci sur HDMI 4 avec la télécommande noire.
-Internet : Il y a internet en wifi dans l'appartement, l'identifiant est SFR_A028 et le mot de passe est : Boris Vian
- Des haut-parleurs sont à votre disposition. Pour les PC, il faut juste les brancher sur la prise USB de l'ordinateur (courant et son passent). Pour les Mac, branchez la prise USB qui sert de prise de courant puis branchez le mini jack sur le port correspondant de votre ordinateur (pour les PC, vérifier à bien enlever la prise jack car le son ne sort pas sinon). Vous pouvez aussi directement brancher votre lecteur MP3 avec le mini jack.
-La cuisine
•Tous les ustensiles de cuisine sont à votre disposition. Vous êtes également autorisés à utiliser les aliments qui sont sur les étagères ou que j'ai laissé dans le réfrigérateur car ils ne périment pas (je vous conseille la confiture des framboises du jardin de ma grand-mère, un régal !).
•Un mini-four classique est disponible sur l'étagère située derrière la porte d'entrée, ainsi qu'un mixeur et un batteur (pour les soupes ou les crêpes par exemples) sur les étagères de la cuisine.
•Les plaques électriques fonctionne avec les boutons, celui de gauche correspond à la plaque du bas, c'est celle qui chauffe le mieux. FAIRE ATTENTION à bien éteindre les plaques quand vous avez fini car on ne voit pas bien les lumières des plaques de cuisson en plein jour.
-Un aspirateur est accessible dans la partie basse de l'armoire, à gauche en dessous des rangements en tissu.
-Les étagères libres situées derrières la porte d'entrée sont à votre disposition pour ranger vos affaires. Concernant l'armoire, la partie gauche est également disponible en cas de manque de place, juste au dessus de l'aspirateur (compartiments en tissu blanc).
N.B. : N'actionner que la porte gauche de l'armoire car l'armoire est vieille et l'autre glissière ne fonctionne pas correctement. Merci
-Films et livres sont à votre disposition à condition d'en prendre soin.
-Un guide du routard Paris 2012 en français est disponible, n'hésitez pas à le consulter. Pour retrouver « mes adresses préférées à Paris », je vous conseille vivement de regarder le guide de mon appartement sur AIR BNB. Toutes mes meilleures adresses ainsi que des explications indispensables (notamment sur les restaurants) y figurent.
-Un téléphone fixe est disponible pour tous les appels vers les pays gratuits (voir fiche des destinations gratuites). Nos deux numéros sont indiqués au-dessus. N'hésitez pas à nous appeler si vous avez une question ou un problème !
-Un grand magasin alimentaire est juste à côté, il s'appelle Monoprix. Quand vous sortez de l'appartement, vous allez à droite jusqu'à la rue du temple puis encore à droite et vous aller le voir. Une boulangerie est également à côté, vous allez également à droite en sortant de l'immeuble puis vous traverser la rue du temple, vous prenez ensuite à gauche sur la rue du temple, vous allez voir la boulangerie en restant sur le trottoir de droite.
-Pour les fumeurs, j'ai mis que fumé était interdit cependant je ne suis pas obstiné la dessus. Fumer par la fenêtre est toléré.
-Check-in, Check-out : Pour les gens qui désirent partir tôt le matin en raison d'un avion ou d'un train de bon heure, METTEZ LES CLES dans une enveloppe (j'en laisse une sur l'étagère derrière la porte d'entrée) et DEPOSEZ-LES DANS LA BOITE AUX LETTRES après avoir pris soin de nous prévenir par mail ou par téléphone. Merci !

Avec ce petit mémo, nous souhaitons vous rendre la vie plus simple, mais si vous avez un souci ou que vous souhaitez un renseignement complémentaire, contactez-nous :
-Ellie gsm : ou
-David gsm : quelqu'un souhaite vous joindre à cet appartement, pendant votre visite, le numéro du téléphone fixe à lui communiquer est le +.
Merci d'avoir choisi mon appartement et excellent séjour dans notre merveilleuse capitale, Paris
Apartment Guide
Hello,
I am pleased to welcome you to my apartment, I hope you had a good trip.
My old apartment is a typical Parisian and very pleasant. However, be careful with certain things:
- Whenever you leave the apartment: be sure to close windows and curtains as it is easily accessible from the outside, this to avoid any risk of burglary.
In any case, always close the windows, even if you go out for a short time. Be sure to slam the door and close the bolt by a round key for each output, as well as turning off lights.
- For the lights, there are three switches ...
• One for the entry: use the one furthest to the left, next to the door. The other (labeled "electrical outlets) and control the risk taken to cut the power thereof;
• One for the bathroom, left the door (outside):
• One for the kitchen to the right of microwave, a bit hidden.
• Three extra lamps are also available (check that they are connected).
- To put the sofa bed position: Simply pull the seat of the sofa for you to unfold.
- To put the bed in the sofa position: Lift the bottom of the bed gently until about your size (it will freeze), then lower it by pushing everything to the wall, to the end so that it becomes sofa (late to lift just drag it into his house until it clicks). Sheets await you in each entry.
- In the bathroom:
• toilets are electric, DO NOT THROW ANYTHING EXCEPT WITHIN THE PAPER toilet. A small trash can is available at hand if needed.
• For the shower, a small squeegee is available to remove water from the mirror. Towels, toothpaste, soap and shampoo are available in case you forget to bring.
• Two drying racks are available, one simply clings to the radiator (the smallest: adjust the branch) and the other larger, unfolds like a conventional drying.
• Towels are waiting for you own.
- A fan is available in case of heat.
- The TV works with the remote for the white and black for satellite TV. Turn on the TV first before starting the white box with the remote. To watch TV, put it on the remote control with 4 HDMI black.
- Internet: There is wifi internet in the apartment, the identifier is SFR_A028 and the password is: Boris Vian
- The speakers are available. For PCs, you just plug them into the USB of the computer (and its current pass). For Mac, plug the USB which serves as outlet and then plug the mini jack on the corresponding port on your computer (for PC, check out remove the jack because the sound does not come out otherwise). You can also directly connect your MP3 player with mini jack.
- The kitchen
• All cooking utensils are available. You are also entitled to use foods that are on shelves or that I left in the refrigerator because they do not lapse (I recommend the raspberry jam in the garden of my grandmother, what a treat!).
• A mini-oven classic is available on the shelf behind the door, and a mixer and a drummer (for soups or pancakes for example) on the shelves of the kitchen.
• The electric hob works with the buttons, the left is the bottom plate is the one that heats the better. BE CAREFUL out off the plates when finished as it is not clear lights of hotplates in broad daylight.
- A vacuum cleaner is available in the lower part of the cabinet on the left below the storage fabric.
- The open shelving located behind the front door are available to store your belongings. On the cabinet, the left is also available in case of lack of space, just above the vacuum cleaner (white tissue compartments).
NB: Do not operate the door left of the cabinet because the cabinet is old and the other slide is not working properly. Thank you
- Movies and books are available provided to care.
- A guide book Paris 2012 is available in French, please consult. To find "my favorite places in Paris," I urge you to look at the guide on my apartment AIR NBB. All my best addresses and explanations necessary (including restaurants) are included.
- A phone is available for all calls to free countries (see data of free destinations). Both numbers are listed above. Feel free to call us if you have a question or problem!
- A large grocery store is right next to it is called Monoprix. When you leave the apartment, you go right up to the Temple Street and right again and you go see it. Is also a bakery next door, you are also going right out of the building and then you cross the street from the temple, take a left onto Temple Street, you'll see the bakery staying on the right hand side.
- For smokers, I put that smoking was banned, however I'm not stubborn the above. Smoking is tolerated by the window.
- Check in, Check-out: For people who want an early morning due to a plane or a train of good hours, TURN THE KEY in an envelope (I leave one on the shelf behind the front door) and put them in THE MAILBOX David, after taking care of us by mail or telephone. Thank you!

With this little memo, we want to make your life easier, but if you have a concern or want a more information, please contact us:
- Ellie mobile: or
- David gsm:
If someone wants to join this apartment during your visit, the number of fixed telephone to communicate is +.
Thank you for choosing my apartment and excellent stay in our beautiful capital, Paris
---
Moderate
Cancel up to 5 days before your trip and get a full refund. Cancel within 5 days of your trip and the first night is non-refundable, but 50% of the cost for the remaining nights will be refunded.
---
---
A very nice studio apartment! Lovely neighbourhood - full of life but with no noise when in the apartment. David has been a good host and he answered every question we had under our stay. It was easy to communicate and stay in touch with him. We deffinately sugest this place to others who are looking for a good experience, and we hope to visit it again someday in the future.
---
I had a great month-long stay at the apartment. The neighborhood is my favorite in Paris. Although there's plenty going on at night in the area, the apartment itself is nice and quiet. I consider the studio to be an excellent value for an Airbnb rental given its location. David is a really lovely host. I'm happy to recommend him and his place to others.
---
My stay in Paris was even more special with my stay in this sweet and cosy apartment in le Marais. David is a very kind, helpful and generous host who's at your service when you need him - The location in the middle of Le Marais is just perfect. Lot's of nice places for breakfast, coffee, lunch and super nice restaurants for diner. Cool shops and my favorite bookstore / gallery Ofr. next door - The apartment is sweet, personal and quiet. Nothing fancy or luxurious but just what you need to recharge after a long day of work or sightseeing in Paris . There are many nice places just around the corner. The apartment is exactly as expected following the description on Airbnb - I will certainly will book this place again when I'm in Paris again.
---
Check in time was very flexible and David was very welcoming and nice when we arrived (bought us pastry and juice for breakfast) the apartment was located in young and heep area just between le Maria's and Canal St.Martin - perfect for good food and night life. The apartment was also very closed to metro -2 minutes walk. The pictures on the website describe exactly the room and it matched our expectations when we booked. Great stay! Very recommended.
---
Such a nice little apartment in a superb area in northern Marais, with many cosy restaurants, cafés and boutiques just around the corner. Besides the perfect location, the apartment was clean and lived up to all our expectations! David was a great host, who kept in contact prior to our arrival and made us feel very welcome! We also got some great advice on where to eat and so on, really helpful! Highly recommended!
---
hello,
My name is David, I'm 25 and I'm working in audiovisuel (director and camera operator)
Me and my Aunt Elizabeth, we take care of renting the apartment for the school and center holiday we will be happy to please people who want to discover the most beautiful city in the world that is Paris.
Bringing people in my apartment will make me improve my English and it can only be positive.
In addition, I work alongside my studies in that time cameraman at the weekend, I also work in the restaurant of a friend.
I also do video and photo time for leisure.
On arrival, I leave you with a list of restaurants my neighborhood regulars and a small guide of my tipical Parisian apartment.
I also have the guide book of Paris 2012.
If you have a question, we are at your disposal.
Thank you.
Languages:
English, Français
Response rate:
86%
Response time:
within a few hours
Exact location information is provided after a booking is confirmed.
Explore other options in and around Paris
More places to stay in Paris: