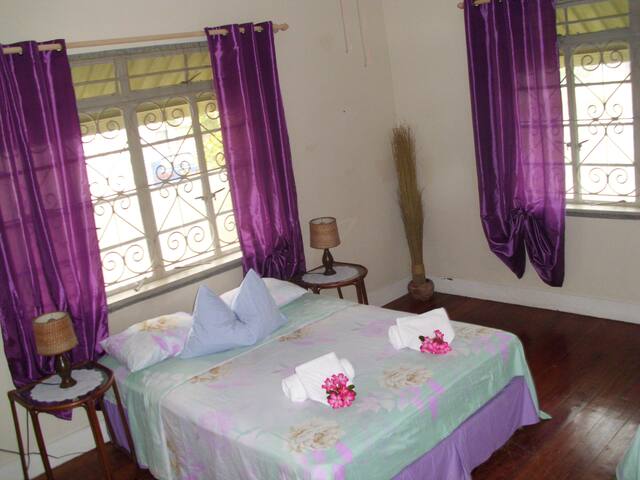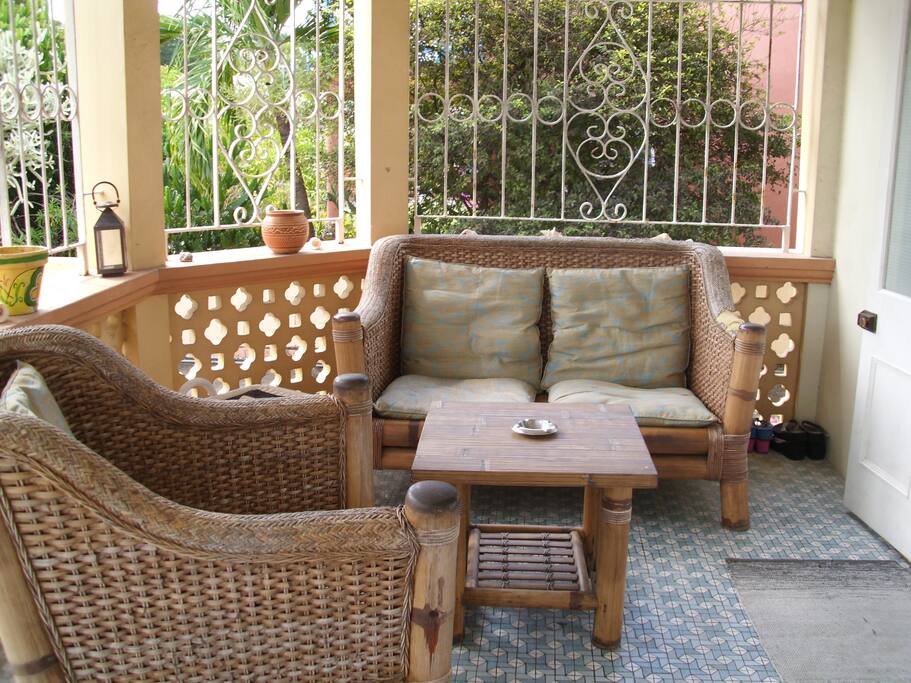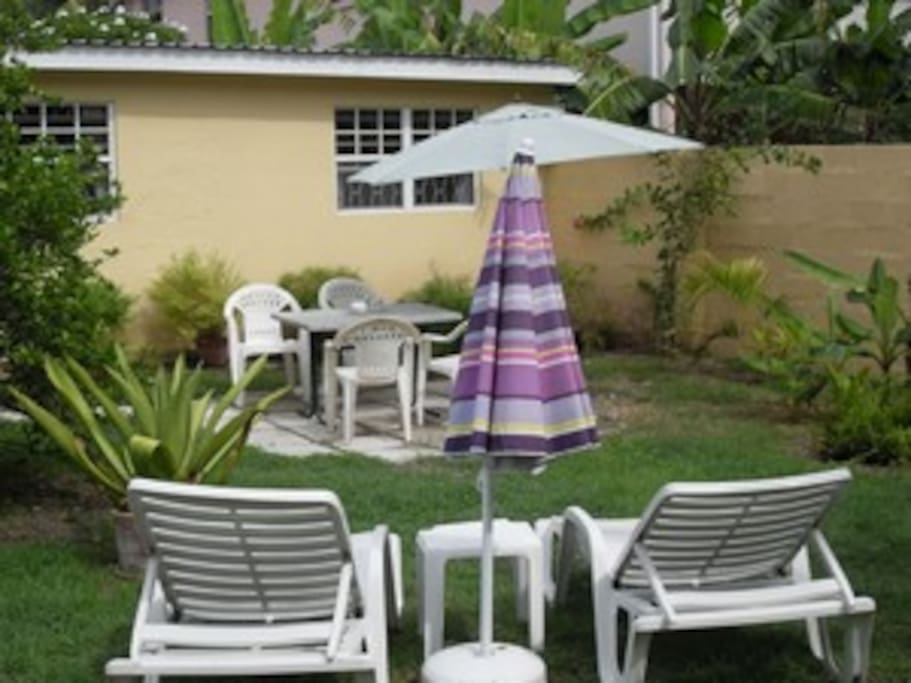 Two bedrooms are rented to guests.
Fully equipped kitchen is shared by all rooms.
The 2 bedrooms have a table with chairs outside in the garden and share a settee on the terrace.
Outside facilities include a nice big garden and a patio.
The space
The bedroom has 1 queen size bed and 1 single bed
The bedroom has a fan and mosquito nets on the windows
air-conditioning has to be paid additionally 7. 50USper night

Allamanda guesthouse is located in the Dover area which is the quiet part of Saint Lawrence Gap. Enjoy the true Caribbean night life in the popular "Saint Lawrence Gap" area which is just a short walk away. In Saint Lawrence Gap you will find hotels, restaurants, deli, snack-bars, clubs, discos, banks, supermarket and different shops.
Guest access
Outside facilities include a nice garden, where you can enjoy your breakfast, as well as you can prepare your own barbeque.
Free wireless but you have to bring your own devise /smartphone.
Interaction with guests
If you have any additional questions please do not hesitate to contact me I always try to help my guests the best way I can.
Other things to note
I offer many different valuable activities and affordable diving packages at responsible dive shops. If you would like to hire a car you can let me know and I will be happy to assist you in getting a vehicle at a good rate. If you are interested in any activities do not hesitate I will be more than happy to assist you in making plans for your holiday at affordable rates. I do get last minutes specials for our guests.
Therefore i suggest you wait until you are in Barbados for the best deals
---
---
Check in is anytime after 2PM
My guests can feel like at home but please be considerate of other guests on the property or in the guesthouse.
Normal wear and tear is untenable but please avoid intended damages to keep the property in good Condition for future visitors.
Major damages caused by guests have to be replaced by guests.
Smoking is allowed outside in the garden or patio but not in the bedrooms
---
Gabriele is very nice and welcoming person. The apartment is big, clean, there are everything you need during your stay. Few minutes walk to the beach, supermarket, Lawrence Gap. Bus stop is 1 min walk from apt. From apartment to Oistins Fish Fry is approximately 4 km. Thank you Gabriele! :)
---
My stay at Gabby's place was perfect. She had every detail organized, and everything was exactly as expected, actually better. The beach to Dover was a seven minute walk, which provided us with fun waves. Gabby's taxi driver Cameron picked us up from the airport, and took us back, hassle free. He was great. Gabby's boyfriend Mark was extremely hospitable, in fact facilitated the most memorable experience I've ever had in Barbados. He is a great person. Ask him for culinary tips. These truly are great, amazing people (gabby and mark) and can't recommend them enough. When I return to Barbados, I hope to stay with them again. 5 stars, all the way. And their dog is awesome too.
---
Bottom line: My friends and I would not stay here ever again and you shouldn't either. We've used Airbnb before and had great experiences but this specific host made our time in Barbados stressful and downright terrifying. Through Gaby, we were introduced to this cab driver named Tony. He picked us up from the airport for which he charged 35USD/70BDS late night and 25USD/50BDS during the day. One afternoon, Tony drove us to and from Holestown which is a 20 minute drive from Gaby's house. At the end of the trip, Toni informed us that the cost of the round trip was 80USD/160BDS which sounded ridiculous to us. We only had 35USD/70BDS so Tony said he'd come by to pick up the rest. Within those two days we spoke to several locals and other taxi drivers who said that the standard price from Gaby's home to Holestown was 40USD/80BDS round trip. Tony charged us double the standard amount. Since we did not want to pay such an exorbitant taxi fee which we were not informed of prior to the trip, we decided to discuss this with Tony when he returned to Gaby's house to pick up the rest of the money. We tried to ask Tony to charge us a fair price, but he grew increasingly aggressive towards us. In his rage, he threatened to kill us and to come back to Gaby's house to find us. He also yelled several other threats at us. Shockingly, this was not the scariest part of this ordeal. Tony then pretended to reach into his back pocket as if he were grabbing a weapon while yelling in our faces. While he threatened us in the yard, Gaby and her boyfriend stood on the porch defending him by insisting that he charged us a cheap price. They did not try to calm him down or call the cops like we requested. This incident made us feel incredibly unsafe and through further inquiry we realized that Tony had also overcharged us for the airport pickups as well. The standard price to the airport is 20USD/40BDS. Gaby and her boyfriends reaction to our lives being threatened on their property left us with chills. Not only did they not care, but they also insisted that Tony was right. Their reaction led us to the conclusion that they must be getting a cut of the money he regularly overcharges their guests for. After this incident, staying in Gabys house became uncomfortable. I don't mind paying fair wages for fair work but charging double the standard price was ridiculous. Aside from this incident Gaby was an attentive host, but this incident has led to the decision that we would never stay at her house again. Part of being a host is ensuring the safety and fair treatment of your guests, not using your local friendships to extort them. In conclusion, we do not recommend staying here because she did not ensure our safety.
These young women treat my home with disregard for anyone else, they were disruptive in the night slamming doors and leaving the bathroom like a lake whenever they used it. on more than one occasion they had friends over (which in itself is no problem) but at a very late hour they were disruptively loud and even after we had spoken to them about disturbing other guests and ourselves who were asleep they ignored us and carried on. Even when on the second visit of their friends we asked that they keep the noise down and not have them round too late my partner still had to speak to them. As to the incident with the taxi driver, i have used this driver many times without problems and we receive no payment from taxi drivers.I was not made aware of any problem until the man arrived in the evening to get his money, at which time an argument ensued on the front drive when. This quickly got heated and my partner went out to see what was happening there appeared to be the start of an altercation at which point he shouted at the guy not to do anything to when we asked the problem we were told of the disagreement over price the man said he charged them US$40 each way which in my experience is a fair price i stopped the man at the gate and asked that they pay him what they agreed to pay and let peace reign, personally I don't think they were charged too much. my partner did try to calm the situation which had started to seriously escalate with both sides becoming heated, it left a very bad taste in the mouth from this point on in what was already a trying time. Were it not for our intervention there certainly would have been a serious incident my home is always stocked with toilet rolls, these girls went through them at a rate of three rolls per day and though this was annoying they were replaced promptly . these girls had no regard for anyone else in the house but them selves .the claim that they were not safe in my home is totally untrue. as to what transpired between them and the taxi driver we were not made aware of any problem until the situation on the front drive at which point as stated my partner came out and intervened. Overall my guest and i were inconvenienced by their antics.
---
We stayed for one night at Gabriele's home on route to Trinidad. The location was very good. It was not far from the airport (taxi cost $31 Barbados dollars), close to a very nice beach and with nearby places to eat and get some things for breakfast. The room and house are kept very clean. The bed was very comfortable. The room we stayed in was not the one we booked. It was better in that we had our own bathroom. However the shower leaked pretty well all night long. The room we booked probably would have been cooler at night since it had two windows for air flow. Since we were there only one night, it didn't matter too much but for a longer stay it might have.
---
Response rate:
100%
Response time:
within an hour
Explore other options in and around Dover
More places to stay in Dover: