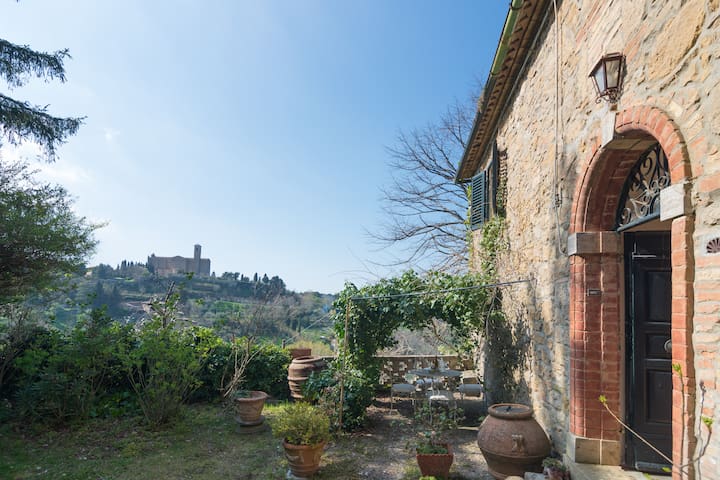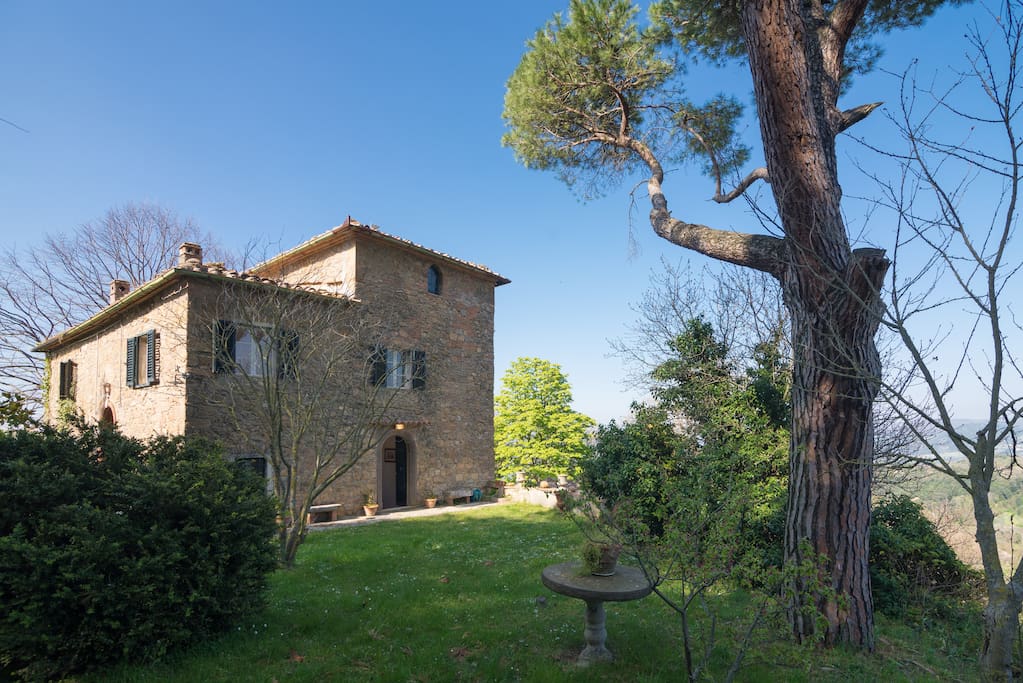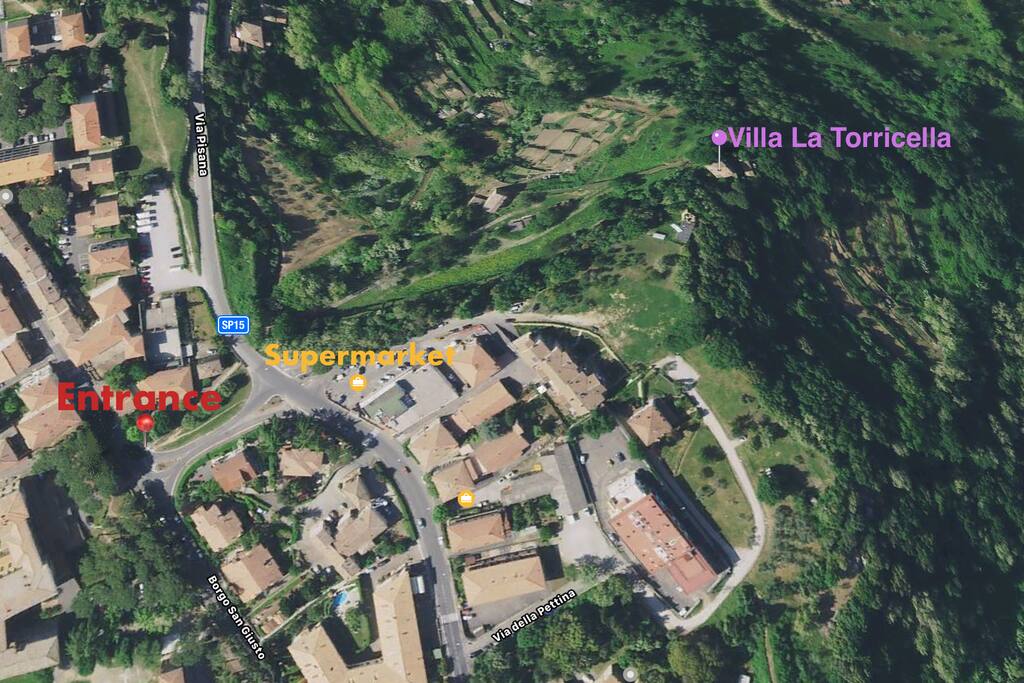 Villa La Torricella in Etrusca area
The Villa La Torricella is reported in the book of the territory of Volterra Lelio Lagorio which was once a watchtower with windows spinner, tower which was built in 1824 by building a 800 Tuscan style.
---
Check In: Anytime after 3PM
Room type: Entire home/apt
---
---
Always communicate through Airbnb
To protect your payment, never transfer money or communicate outside of the Airbnb website or app.
Learn more
---
Courtesy,politenness,kindness.
Cortesia,gentilezza,educazione.
Courtoisie,gentillesse,éducation.
Cortesía,amabilidad,educación.
---
This host has a Moderate Cancellation Policy
Cancel up to 7 days before your trip and get a full refund. Cancel within 7 days of the trip and get a 50% refund of the nightly rate, as well as a full refund of fees.
---
---
Hello ladies and gentlemen,my name is Raphael and i treat my guests as i would like to be treated , with education kindness and sympathy,to make your private holiday in the best way possible.Being host is a responsibility. There is no greater joy than to contribute to the happiness of someone.Being able to make someone special is a priceless feeling .

THINGS TO DO IN FLORENCE
"Florence is NOT just the Uffizi, the David, and the Ponte Vecchio.
About 10 million people visit Florence every year, and if you've been there, you know that the historic center is not very big, making for a swarm of tourists crowded into its center much of the year.
However, there are many more things to do in Florence besides the most popular sights. Should you visit those, too? Of course. There is nothing like seeing the David in person, the Ponte Vecchio is beautiful, and the Uffizi Gallery is a must for art lovers or those who just want to see some of the "biggies" like the Botticelli room.

WALK TO SAN MINIATO AL MONTE ABOVE FLORENCE
First, walk down the Lungarno (the road that goes along the river) to Viale G. Poggi and take this winding walkway up:
Then stop briefly for the views at Piazzale Michelangelo before continuing up to the church of San Miniato al Monte:
The church is one of the oldest in the Florence area (from 1018) and a beautiful example of Romanesque architecture. It's free to go inside–highlights are the mosaics above the altar and the small chapel in the back right corner of the church. Walk around the outside of the church, see the cemetery, and take in the views of Florence and the surrounding countryside.
On your way back down, pop in the nearby Giardino della Rose (Rose Garden) at Viale G. Poggi 2.

VISIT THE PALAZZO STROZZI MUSEUM.
This museum has exhibits of contemporary and historic art by both Italian and international artists. Stop in on a Thursday evening for free admission to some exhibits and the weekly social gathering in the courtyard. People hang out on couches and get drinks and snacks at the café–definitely the place to be seen in Florence on a Thursday evening. Also, check out the bookstore's nice selection of gifts and books for adults and children. Learn more about this innovative museum and find out about the Firenze Card, the best deal for entrance to many of Florence's museums.

WALK ALONG THE ARNO RIVER AND WATCH THE ROWERS.
Walking along the Arno River is a wonderful way to spend time in Florence–try going down as far as you can in both directions to see the architecture and get away from the crowds.  There is a rowing club ("Canottieri Firenze" from 1888) right next to the Ponte Vecchio, so it's common to see them rowing peacefully down the Arno.

AND WALK THE PONTE VECCHIO EARLY IN THE MORNING OR AT DUSK.
This bridge does get packed with tourists, but it really is a special place that you should experience once. It is believed that it was originally built in Roman times, but the Ponte Vecchio that you see now was built in 1345.
Its has always housed tiny shops, and now jewelry, especially gold, is sold behind beautiful old shop doors.
The views from the bridge at sunrise and sunset are beautiful.

CLIMB GIOTTO'S CAMPANILE (BELL TOWER)
You should save time to climb either the bell tower or the dome of the Duomo for views of the city, but the bell tower may be the better option because it's less crowded, cheaper, and gives you a close-up view of the outside of the dome. However, if you are particularly interested in the way in which the dome was constructed, choose to climb it instead and see Brunelleschi's method of spreading the weight out with a herringbone pattern of bricks.

GO TO THE MERCATO CENTRALE
If you love food markets like I do, this is something you don't want to miss. The Mercato Centrale is an excellent place to see beautiful local food, have a snack, buy picnic supplies, or buy gifts.

EAT GELATO!
I know eating gelato should be automatic when in Italy, but you may find yourself so busy in Florence that you'll forget to leave time for gelato breaks! Some of the best gelato can be found at Vivoli, Perché No!, Grom, and Festival. This cone with persimmon and chocolate orange was from Perché No!

VISIT SANTA MARIA NOVELLA
In my opinion, this is Florence's prettiest church. The façade is a lovely example of Renaissance shapes (except for the Gothic influence of the very bottom, which was built first). Pay 3 euro and go inside, where painted arches and an airy feeling greet you. The church is full of great art–worth a long look are Masaccio's Trinity fresco across from the entrance and the Tornabuoni chapel behind the altar, painted by Ghirlandaio's workshop including teenage Michelangelo.

VISIT THE OFFICINA PROFUMO FARMACEUTICA DI SANTA MARIA NOVELLA 
This centuries-old pharmacy/herbalist/perfumerie is an interesting part of Florence's cultural heritage. All rooms are beautifully decorated, even with ornate ceilings. There are so many historical objects related to the production of medicines, natural creams, and perfumes that it is also considered a "museum of tradition."  It's free, so pick up the information pamphlet, ask questions, and see a unique part of Florence's history. Open every day 10:30 a.m. to 7:00 p.m. and located behind Santa Maria Novella church on Via della Scala, 16.

EAT PIZZA
Even though Florence is not as famous for its pizza as Rome and Naples are, the pizza is damned good! O'Munaciello (Via Maffia, 31, in the Oltrarno area) is quite an experience; I loved the 7 seasons pizza, which means that it was topped with whatever the chef wanted to put on it. Florens (Via San Gallo 40r, in the San Marco area) was a quick, modern, and inexpensive option.

EAT ON THIS RESTAURANT NEAR THE OLD BRIDGE
Restaurant Celestino ask to Bruno and tell him I sent you (Raphael), you will be treated with kindness and courtesy as is customary in her restaurant to enjoy a multitude of typical Tuscan dishes. Address: Santa Piarists Square (50 metres before the old bridge in the Oltrarno district)

BUY CHOCOLATE AT VENCHI
I have fond memories of eating chocolate in Italy, so on this visit, I stopped in many cafés to buy chocolates and kept them in my bag for when I needed a little something. On my last day, I discovered this elegant shop, located near Piazza della Signoria. I bought a few bars to bring home for family and selected many small pieces that you can pick out from bins and pay for by the gram. Everything was excellent, even the fruit candies.

DRINK CAPPUCCINO
Like gelato, cappuccino in Italy is an obvious choice, but a little reminder doesn't hurt. When I studied in Florence many years ago, drinking cappuccino was such an important part of my day that I was crowned "Cappuccino Queen"! But the cappuccino in Italy is so good that even if you're not normally a coffee drinker, you must give it a try. Remember that standing up at a café is cheaper than sitting down, and that Italians frown upon ordering cappuccino after about 11:00 a.m., when they usually switch to espresso.

EXPERIENCE BEAUTY AT THE PALATINE GALLERY
If you want to see beautiful art but don't want to deal with the crowds of the Uffizi, try the Palatine Gallery instead. Housed inside the massive Renaissance Palazzo Pitti on the other side of the Arno River, the Palatine gallery has works by some of Florence's masters, including Raphael and Andrea del Sarto, as well as non-Florentines such as Caravaggio, Rubens, and Titian.

GO TO THE BOBOLI GARDENS
The Boboli Gardens are one of Florence's better known sights, but I am surprised how many people show up in Florence not knowing about them. The gardens are really not to be missed, especially on a sunny day. The sweeping views, endless paths that take you past grand fountains, and surprising grottoes make for an unforgettable outdoor space. You can enter with your ticket to the above Palatine Gallery.
Keep walking to the very top and back of the garden for views of an olive grove and the countryside that surrounds Florence, and pop inside the small but lovely Porcelain Museum.

FIND TRANQUILITY AT THE BARDINI GARDEN
The Bardini Garden is not nearly as grand as the Boboli Gardens, but it is also much less known. When I visited late in the day in November, I was the only person! The garden offers exceptional views of Florence, and the flowers that were not blooming when I was there must make it very beautiful in the spring and summer. There is also a restaurant and cafeteria with a deck.You can access the Bardini Garden either from the street in the Oltrarno quarter (Via de Bardi 1r) or by leaving the Boboli Gardens and walking a bit (see the map given to you when you enter the Boboli Gardens). Entrance to the Bardini is included with the Boboli Gardens.

GET OFF THE BEATEN PATH IN THE OLTRARNO
The Oltrarno is the area of Florence across the Arno River that includes #16-18 above. This neighborhood is less touristy and definitely worth a day of your time for a few reasons. Besides the above-mentioned Palatine Gallery and Boboli and Bardini Gardens, many artisan workshops are located there (see #11), and you can wander the streets just looking for workshops to peek into. Also, the area has many nice small shops, all less geared towards tourists, that make for great window-shopping (or real shopping!). Finally, this is one place where you can experience a bit of the "real" Florence, where you can see the life of the locals getting early evening cocktails with friends, eating snacks at a tiny bar, or sitting in Piazza Santo Spirito. If you like markets, visit the one at Santo Spirito in the mornings (except Sundays).

GO FOR GRANDNESS IN THE CAFÉS ON PIAZZA DELLA REPUBBLICA
Splurge a little and relax in one of Florence's grand historic cafés. If you don't want to pay to sit, order at the bar. The cioccolato caldo (hot chocolate) at Paszkowski is to die for.

VISIT THE BARGELLO NATIONAL MUSEUM
The Bargello is one of Florence's best museums but is sometimes missed by tourists who are not aware of its collection or who miss it because it doesn't exactly look like an important museum. The building dates from 1225 and used to be a prison. Inside you will be treated to a great collection of art, mostly notably sculpture by the best sculptors of the Renaissance, including of course Michelangelo and Donatello. Seeing sculpture in person is powerful, and these are ones not to be missed.

VISIT THE PAZZI CHAPEL
The Pazzi Chapel is a place few tourists know about, but it is one of the best examples of Renaissance architecture. It was built by Brunelleschi, the same genius who designed Florence's dome, and showcases the important Renaissance principles of geometric shapes and spatial harmony. It is adjacent to the church of Santa Croce, so pop over after checking out the tombs and frescoes of Santa Croce. Read more about Renaissance architecture here.

PERUSE THE FOOD SHOPS FOUND ON JUST ABOUT EVERY SMALL STREET
We all know about the quality of food in Tuscany, from its cheeses and salami to fresh produce and olive oil. Why not make a little time to visit some of the city's tiny food shops and pick up some things to try? With shops this inviting, it's hard not to stop.

STEP BACK IN TIME AT SAN MARCO
San Marco provides a more serene way to experience the art of historic Florence. It is an old monastery that you can tour to see the monk's cells and the frescoes on the cell walls. Fra Angelico, a monk and early Renaissance painter, painted these frescoes to decorate the monks' cells to give them with something holy to concentrate on while praying.

SEE THE EARLY RENAISSANCE AT THE BRANCACCI CHAPEL
This fresco cycle, located in the church of Santa Maria del Carmine in the Oltrarno quarter, is probably the best place to see the innovations that took place in the early Renaissance. It is stunning, but you have to make reservations (even on the same day), well worth the effort if you can plan ahead a bit.

TOUR THE PALAZZO VECCHIO
The Palazzo Vecchio is the old town hall of Florence, built in the 14th century. Its grand interior, which has seen such a fascinating history of events, has beautifully decorated rooms and courtyards with ornate ceilings, wall tapestries, carved doors, and fine art including works by Michelangelo, Vasari, and Da Vinci (this one was recently discovered behind one of the Vasari walls in the Salone dei Cinquecento).

CHECK OUT FLORENCE'S DOOR KNOCKERS
Seriously? Yes. The door knockers of Florence are impressive but are easily overlooked with everything else there is to gawk at. Try to find a favorite–you might be surprised how many cool door knockers (and doors) you see!

DAY-TRIP TO FIESOLE
Fiesole is a small town in the hills above Florence. Going there is a great way to spend a nice day, or even half a day. You can get there by taking Bus 7 from the Florence train station or at the stops at the Duomo and San Marco in Florence. The town was founded around 800 BC as an Etruscan settlement (the Etruscans lived in this part of Italy long before the Romans), but it was conquered by the Romans in 283 BC. Etruscan and especially Roman ruins are still visible. There are also nice churches, a monastery, and a square where you can enjoy sweeping views of Florence and the surroundings. The tourist office map shows 3 walks around the town and along the Etruscan walls–choose the one that's best for you and soak up a bit of Tuscany!

EAT RESTAURANT ON FIESOLE
The View Restaurant (Fiesole)
For a great dinner with one of the most beautiful views of Florence go to The View Restaurant (Fiesole) located on Via Peramonda n 1, cap 50014 , Fiesole , inside the Camping Panoramico Fiesole, about 3 km from the historic center of Fiesole Piazza Mino , for reservation call to mobile +.

POP INTO SANTA TRINITA
This unimposing church just off the Arno River is worth popping into to see the work of Renaissance master Domenico Ghirlandaio. Inside the church, the Sassetti Chapel was frescoed by Ghirlandaio and his workshop–it is interesting to note how he used the look of Florence and local people to depict scenes from the Bible. The altarpiece, "The Adoration of the Shepherds," is one of my favorites from the Renaissance. (The church is free.)

WALK THE CITY AT NIGHT
The city center is so small that you can easily walk to dinner, then out to have gelato, then for a walk around the main sights before going back to your room. Historic buildings are lit, making for dramatic views, especially of the Palazzo Vecchio:
Italians don't seem to like to go home early, so why not join the fun and spend some time outside at night? You can warm up at a café, and if you're lucky, you may even run into a night market or other outdoor event.

Tratto i miei ospiti come vorrei essere trattato, con educazione,gentilezza e simpatia,per rendere la vostra vacanza privata nel miglior modo possibile.
Essere host è una responsabilità.
Non non c'è nessuna gioia maggiore di contribuire alla felicità di qualcuno. Essere in grado di rendere qualcuno speciale è una sensazione impagabile.______________

Je traite mes clients comme je voudrais être traité, par l'éducation gentillesse et sympathie pour rendre votre séjour privé de la meilleure façon possible.
L'hôte étant est une responsabilité.
Il n'y a pas de joie plus de contribuer au bonheur de quelqu'un. Pouvoir obliger quelqu'un à se sentir spéciale est inestimable.______________

Yo trato a mis clientes como me gustaría ser tratado, a través de la educación y la amabilidad y simpatía para hacer sus vacaciones privadas de la mejor manera possibile.
Ser anfitrión es una responsabilidad.______________
No hay alegría mayor que contribuyen a la felicidad de alguien. Ser capaz de hacer que alguien sienta especial es invaluable.

Und ich behandle meine Gäste, wie ich selbst gerne behandelt werden, durch Bildung Freundlichkeit und Sympathie Ihre privaten Ferien in der besten Weise möglich zu machen.
Als Host ist eine Verantwortung.
Es gibt keine Freude größer als das Glück eines Menschen beitragen. Jemand treffen können besondere Gefühl.______________

我热爱我的工作,能够友好、绅士地对待我的客人,也期望我被同样对待,以使您的私人假期能够更加完美。作为主人这是一种责任,没有什么比能够帮助到别人更加幸福,这种感觉是无法言喻的、无价的.________________

אני אוהב את העבודה שלי ואני מתייחס לאורחים שלי כמו שהייתי רוצה שיתייחסו אל, דרך חסד חינוך ואהדה כדי להפוך את החופשה הפרטית שלך בדרך הטובה ביותר אפשרית.
להיות מארח הוא אחריות.________________
יש שמחה שאינו עולה כדי לתרום לאושרו של מישהו. יכולת לגרום למישהו מיוחד הוא תחושה לא יסולא בפז.________________

Я люблю свою работу, и я отношусь к своим гостям, как хотелось бы лечиться, через образование доброты и сочувствия, чтобы сделать ваш частный отдых в наилучшим образом._______________
Будучи хозяином является ответственность.
Существует нет большей радости, чем внести свой вклад в счастье-то. Будучи в состоянии сделать человека, является бесценным чувство.________________

أحب عملي وأنا علاج ضيوفي كما أود أن يعامل، من خلال اللطف التعليم والتعاطف لجعل عطلة الخاص بك في أفضل طريقة ممكنة.
كونها المضيفة مسؤولية.
هناك الفرح لا يزيد على الإسهام في إسعاد شخص ما. القدرة على جعل شخص خاص هو شعور لا تقدر بثمن.________________

私は自分の仕事を愛し、私は可能な限り最良の方法であなたのプライベートの休暇を作るために、教育の優しさと共感を通じて、扱われたいように私は私のゲストを扱う。
ホストであることは責任である。
誰かの幸せに貢献するより大きくない喜びがあります。誰かが特別なものにすることができることは貴重な感じです.________________

Αγαπώ τη δουλειά μου και τη θεραπεία τους επισκέπτες μου, όπως θα ήθελα να αντιμετωπίζονται, μέσω της εκπαίδευσης ευγένεια και συμπάθεια για να κάνει τις ιδιωτικές διακοπές σας με τον καλύτερο δυνατό τρόπο.
Όντας υποδοχής είναι μια ευθύνη.
Δεν υπάρχει μεγαλύτερη χαρά από το να συμβάλλουν στην ευτυχία κάποιου. Να είσαι σε θέση να κάνουν κάποιον ειδικό είναι μια ανεκτίμητη αίσθηση.________________

İşimi seviyorum ve en iyi şekilde özel tatil mümkün yapmak için eğitim şefkat ve sempati yoluyla, tedavi olmak istiyorum gibi benim misafirler tedavi.
Ev sahibi olmak bir sorumluluktur.
Birinin mutluluğuna katkıda bulunmak için daha büyük bir sevinç yoktur. Birisi özel yapmak için güçlü olmak paha biçilmez bir duygu._______________

Languages:
English, Español, Français, Italiano
Response rate:
100%
Response time:
within an hour
Explore other options in and around Volterra
More places to stay in Volterra: