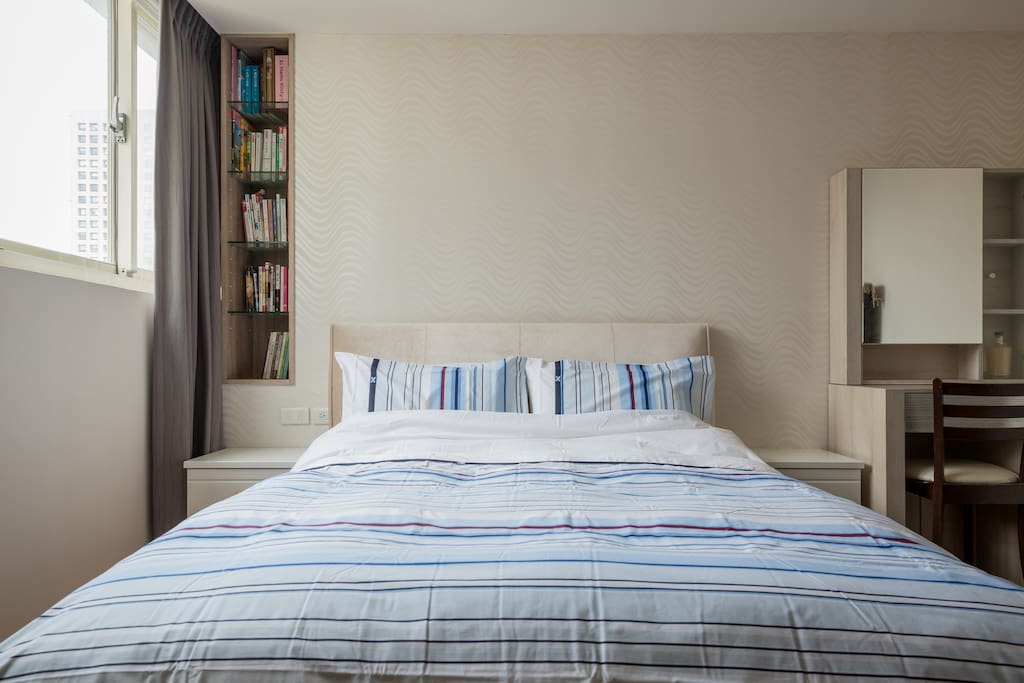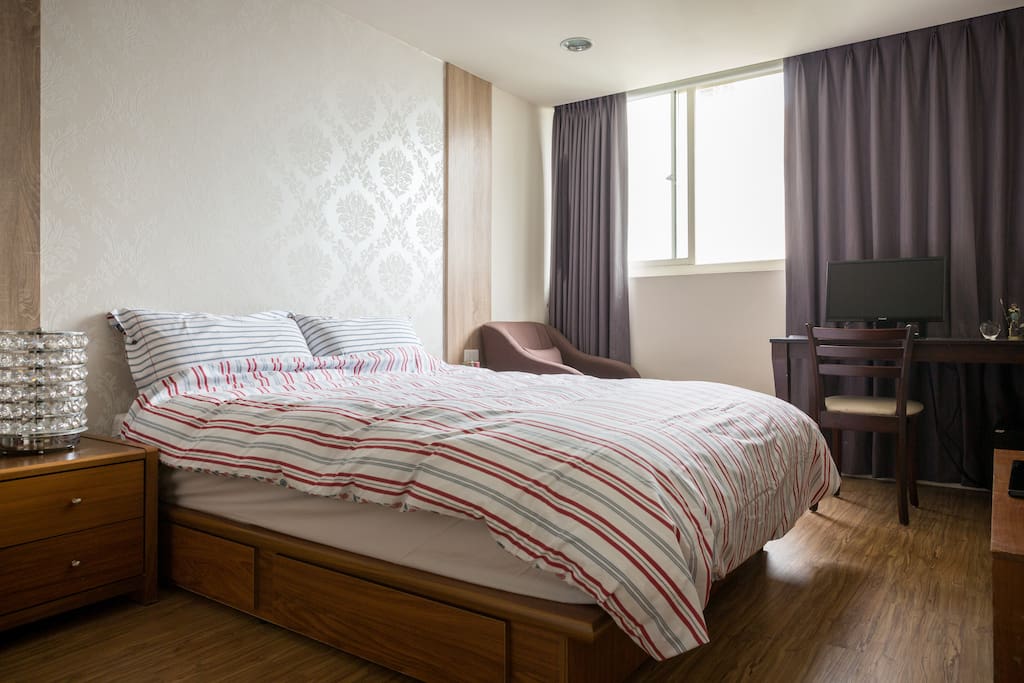 Good experience for local Taiwan life.
In Taipei Center
Conveniently located with everything travel's need within walking distance. ( night market, airport shuttle, MRT, restaurants, supermarket, pharmacies, banks, sports center, park, etc).
5 mins to MRT technology building station
2 Rooms with,Great View, High floor.
Near 5-star Shangri-La Hotel. Near Dunhua South Avenue
Lots of restaurants and bar near us.
Suit for long stay. Need to share with a lovely lady.(house owner)
The space
5 minutes walk to the Technology Building MRT.
8 minutes walk to airport bus stop No.1960.
3 rooms , 2 bathrooms.
2 big rooms to you. 1 room to house owner a lovely lady.
1 bathroom inside the big room. (don't need to share)
1 bathroom inside the living room.
2015 The new one million renovation
• texture • spacious •
Making the environment more layered
Can enhance the quality of living even are traveling
- bathtub and shower
- Air-Conditioner
- 42" cable TV
- high speed Wifi
- hair dryer
- refrigerator
- oven
- kettle and mugs
- washing machine
- clean linens
- bathroom supplies
- electric pot
- cold water bottles
Equipment in the room can be used,
Please use properly.

Please contact us before 3 days by Line / (SENSITIVE CONTENTS HIDDEN) / (SENSITIVE CONTENTS HIDDEN)
When inquiring please-
Tell me about you and your party;
Tell me about your plans in Taipei;
Tell me the times and dates of your flight in and flight out;
Tell me the flight number of your flight in.
This location is prime where there is ample transportation options as well as convenience. Enjoy living in the best area of Taipei!
Walk:
-down stairs have a coffee store
-2mins to Breakfast shop and Bread store
-2mins to 7-11 andTelecom Retail
-4mins to Starbucks Coffee
-6mins to Technology Building MRT station
-10-15mins to National Taiwan University
MRT:
-10mins to 東區
(著名茶街、名牌購物商城)
-15mins to 101/世貿站
(著名台北101觀景台、不定時各產業大型展覽會場)
-20mins to 東門站
(著名永康街冰品)
-25mins to Taipei Main Station
(台灣鐵路、各大客運、台灣高鐵乘車要塞)
-30mins to 西門町
(龍山寺、各式小店、剝皮寮文化街區)
Before you book, please note that the following activities are not welcome: smoking indoors, pets, drugs, parties and other illegal activities.
另外, Check-in 之後, 我們不再接受入住人數更動及要求的退款或額外付款.
Please**Turn off** lights, air conditioners,TV, kitchen electrical equipmentwhen when leaving the apartment.
當離開公寓請隨手關燈、冷氣、電視、廚房電氣設備.
Please kindly take note of our house rules regarding children:
Please keep noise level down so that it will not disturb neighbouring guests
Please ask your children to sit down to eat at the dining table to avoid getting grease stains all over the apartment.
Kindly wipe away grease/food stains as soon as possible to avoid permanent staining
Please don't let your children overwork the door hinges (ie: repeatedly opening/closing/slamming/locking the doors) or play with the faucets and faucet levers (ie: repeatedly turning the levers back and forth)
Please do not let your children run around with pens or markers.
Please keep all remote controls inside the drawers so kids will not use them as toys
Please do not use any type of adhesive to tape anything to the walls or spray painted surfaces.
***請務必善待我們的房,若是整理時發現屋中的家具或家電遭到破壞(無法使用.遺失.損傷.破裂.大片污漬無法去除)則將無法退還押金,敬請見諒。
在台北找到家的溫馨質感
Just like your warm home in Taipei.
歡迎來台北旅行和探索;歡迎來"aHome"放鬆和享受,讓您有找到溫馨、舒適又便利的住宿,所以提供這樣一個、我們自己也追求的好質感空間。
Welcome to travel in Taipei,and welcome to relax and enjoy,you can feel warm comfortable and convenient,so we offer the place that you can feel comfortable that is also we pursued.
はあなたに、暖かく、快適で便利な宿泊施設を提供し、また、私たち自身もリラックスできるような空間を追求している場所である。台北旅行や探索へようこそ。
預訂完成後,您前往住處和到達住處前,請務必與我們電話聯繫。 謝謝 您的配合。
When you finished the order,please make sure contact us when you arrive the place.Thank you for you help.
予約を取れた後に、宿泊施設の所在地を到達する前に、必ずご連絡をお願いたします。お手数ですが、ご協力ありがとうございます。
交通位置
Location
- 捷運科技大樓站(文湖線)步行5分鐘
Walk to MRT Technology Building Station about 5mins
地下鉄科技大樓站(文湖駅)歩き5分間
- 城市腳踏車站U Bike(科技大樓站)步行5分鐘
Walk to U-bike Technology Building station about 5mins
U Bike(科技大樓駅)步き5分間
- 台北在地美食、7-11便利商店步行1分鐘
Walk to 24 hours open Matsusei market and7-11 about 1 min
スーパーマケット、7-11コンビニストア步き1分間
- 到台北101只要15分鐘車程
It's only 15mins to Taipei 101
台北101までタクシーで15分間
設施
facilities
- 寬敞客廳和雙人沙發
Big living room and double sofa
大きなリビング と2人用のソファ
- 書桌
Desk
テーブル
- 採光窗
French window
フランス窓
- 雙門冰箱
Two handle refrigerator
冷蔵庫
- 電陶磁爐
Electricity cooker
電気ガス
- 杯具
Cups
カップ
- 無線網絡連接
Free wifi
無線WIFI
- 空調
Air condition
エアコン
- 木地板
Wood floor
木板
- 臥床
Bed
ベット
- 乾淨的床單及暖被
Clean sheets and comforter
シーツ
- 洗髮精和沐浴乳
Shampoo and body wash
シャーンプ、ボディーソープ
- 吹風機
Hair dryer
ヘアアイロン
- 42吋電視
42inch TV
42インチ TV
- 乾濕分離衛浴
Shower room
シャワールーム
- 拖鞋
Slippers
スリッパ
- 服務
Service
サービス
- 咖啡
Coffee
コーヒー
- 茶包
Tea bag
ティーバック
- 名產代購
On behalf of Taiwan's food
お土産購入
- 可寄放行李
Luggage left in care
荷物の預かり可
- 若未到入住時間,但房間已準備好我們會讓您提前入住
If we prepare the room early we can that you check in before time
入居時間以外でも、部屋の準備次第のご提供OK
- 提供專人機場接送(需提前預約,費用另計)
- We provide reservation of transportation from/to the airport (advance booking and additional fee are required)
- 提供旅遊包車服務(費用另計)
- We provide transportation rental service (additional fee is required)
其他注意事項
預訂完成後,您前往住處和到達住處前,請務必與我們電話聯繫。 謝謝 您的配合。
When you finished the order,please make sure contact us when you arrive the place.Thank you for you help.
予約を取れた後に、宿泊施設の所在地を到達する前に、必ずご連絡をお願いたします。お手数ですが、ご協力ありがとうございます。
all you can use !!
都可以使用
From Taoyuan International Airport
從桃園機場出發到aHome
1. 搭公車 By BUS
可由桃園機場搭乘"大有巴士1960"到遠東飯店,步行8分鐘即可到達aHome.
每日上午06:00至凌晨01:00,每隔20~30分鐘一班車。(票價成人NTD145)
Step 1. Take "CitiAir Bus,East Line 1960"to Far Easterm Plaza.
Step 2. Walk around 8 minutes can be aHome.
"CitiAir Bus,East Line 1960":
Business Hour: 6:00 am to 1:00 am.
Interval: 20~30 minutes
Fare: full fareNTD145
2.Airport Pickup Service 機場專車接送服務
事先告知我們,我們會幫您訂好車子接送
最安全、最快速的抵達方式,保證不迷路。 且絕對比在機場搭TAXI便宜。
Our airport pickup service is the safest and fastest transportation and the price is cheaper than taxi! The most importantly, you'll never get lost! Tell us, we will book it for you !
Big car for 9 people, only 1500NTD.(50USD. 300RMB)

與房客互動:::
隨時可以用通訊軟體聯繫我們~~
緊急事故,歡迎隨時來電通知我們~~

房客使用權限

all you can use !!! 房間內部物品,皆可使用!!!
---
---
Always communicate through Airbnb
To protect your payment, never transfer money or communicate outside of the Airbnb website or app.
---
Check-in time is 4PM - 11PM
Self check-in with smart lock
---
哈囉,大家好~~~我是一個熱愛台灣的媽媽~~喜歡旅遊,美食,藝術~~~~
歡迎大家到我的家玩耍~~~
希望所有到我家的人,都有一個溫暖舒適溫馨的感覺~~~^^
Hi! My name is Mimi Chen , grow up in Taiwan. I looking forward to meeting you and hosting you here in Taipei !
Taipei City, and near by boutique, cafe, restaurant, bars and night clubs , also all well-known tourist attractions. Furthermore, near the supermarkets, night markets and a number of convenience stores, and Taipei MRT 東門站 station exit5 .
I love living in and travelling across Taiwan. You'll usually see me with camera in hand trying to blend in with the local culture, But, whether I'm treking across a desert or window shopping on high streets, I always love to meet other like minded free spirits.
My family and I have really enjoyed preparing our place to be ready for guests. We hope you enjoy it..
As a host, I'll try my best to point out the colorful local scene, and as a guest, I'll I try to leave nothing but good memories.
陽明山春櫻乍放,
走到淡水海岸,
享受海浪與日落的耳鬢廝磨;
站在101的頂端,
看台北的城市光影,
組成凡間的星辰;
宜蘭的雨露,
蘇澳的冷泉,
南方澳上海邊的漁人,
捕捉一刻閒情。

這是我的故鄉,台灣。
台灣歡迎你。
Languages:
English, 中文
Response rate:
100%
Response time:
within an hour
Explore other options in and around Da'an District
More places to stay in Da'an District: