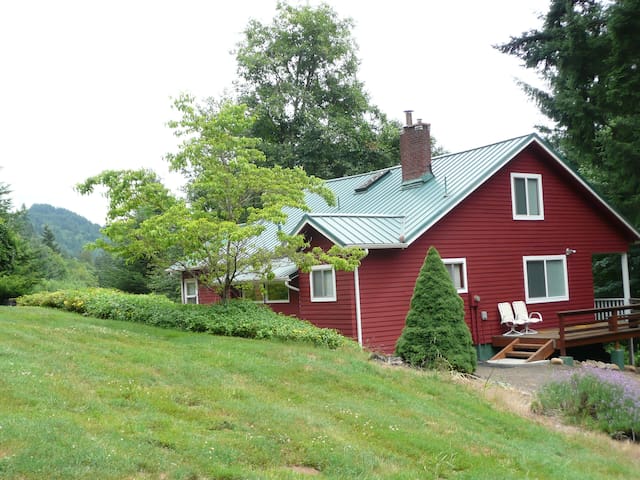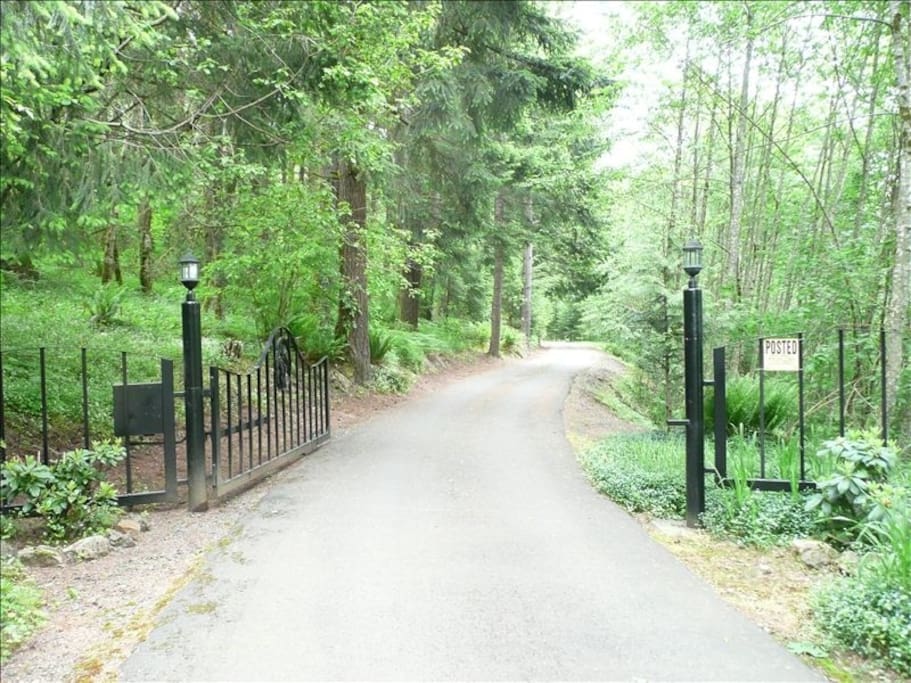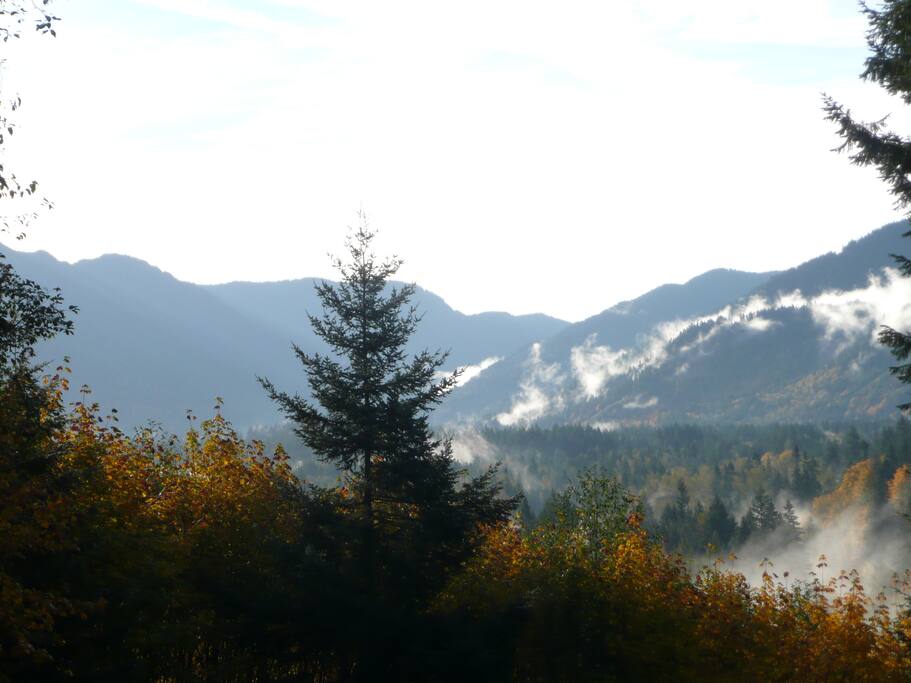 "Boulder Creek Retreats" is a wonderful place to come & spend time with your family, friends or just the '2 of you' :) The property reclines on one acre, surrounded by views of the Cascade Mountain range. If that's not enough, we have all the Extras!
The space
Main Floor:
*Living Room has very substantial viewing windows and the 3 couches accommodate your ease of enjoying the life of the forest. The home fires from the wood stove provide an appealing atmosphere. DSL Internet works day & night, as long as you can keep your eyes open! We also wall mounted the 40' Satellite TV so everyone could see! The 100 channel choices will make it interesting for those TV controllers? If you know what I mean :) But that's OK because we have more than one TV. There is a DVD / VHS player with lots of Free VHS movies to watch and if you want to unplug, wind down and just be still for awhile, turn on the compact CD Stereo player with your favorite music or the AM/FM.
*Kitchen is off of the Living Room for easy access. Get my point :) Those little late night snacks are calling! We know from experience that the kitchen area is large enough for 2 cooks to wheel away at their gourmet meals. It is well supplied with kitchenware and cookware including coffee, tea and customary spices, just in case they were left behind. For your convenience there is a storage shelves for all your non-refrigerated items.
*Laundry Room is next to the kitchen with washer, dryer and hamper. So if you get dirty, don't worry. There are windows viewing the front lawn,foliage and decorative trees with a door leading outside to the side yard and creek.
*Bathroom is off of living & dining room areas next to the master bedroom, very convenient. It is very well lit for those morning make overs and included are toiletries, quality thick towels of various sizes and of course a tub & shower combo.
*Dining Room is perfect for 6 people, lots of elbow room! The dining table is quite unusual, it has a glass table top with marble stands. You will be sure to enjoy each other, as you share in the goodies prepared for you. The window view is of the peaceful forest, with the sun rays glimmering through,as only they can.
*Master Bedroom is a rather substantial suite off with a King size ultra-comfortable bed, the finest linen, heating blanket for those really cold nights and a warm comforter. Also furnished with chests of drawers, night stand with good lighting - just for that novel you've been meaning to finish & an oversized closet, trust me, there will be room. You do have accessibility to a semi-private deck that sits around the corner from the spa. The view is exquisite! The country side 'shows off' with the majestic mountains as its back drop.
Upstairs:
*Bonus Room has a double size Futon, pillows and throw blanket to watch the 27' TV placed in cabinet with drawers for clothing. A wireless Blu-Ray DVD & VHS player sits above. Come on 'Lets play' There's free VHS movies from a selection of 105, an abundant supply of adult & children's games, plus puzzles galore.
*2nd Bedroom is exactly like the master bedroom, same furnishings, except it has Queen size bed instead.
*Bathroom is set between the bedrooms. Fantastic lighting with a sky light. Plenty of toiletries & towels. It has a nice shower.
*3rd Bedroom has day bed with trundle and a night stand.
Guest access
You will have access to the entire vacation rental home plus Hot Tub & BBQ.
Interaction with guests
Shortly after your arrival, I will come over to introduce myself and give you some of the "in's and out's of our home plus tips and answer any questions you might have. We do check the Hot Tub every other day, so you might see us then. I am on call 24-7. You can reach me by phone or texting, which is the fastest way. If you prefer to E-Mail, I check mine 2 -3 times a day.
Other things to note
We are a No Smoking, No Pets facility!
No Gatherings, Parties, Weddings, or Events
Holidays require 3-4 night minimums.
Please call and inquire
---
---
Check in is anytime after 4PM
When making your reservation with "Boulder Creek Retreats" and upon payment, you agree to our "Rental Agreement" policies, terms and (URL HIDDEN) in addition to: "Traveler" is responsible to pay Clackamas County Room tax of 0.06% to Host upon arrival.
This AGREEMENT is entered into "Today" by and between "Traveler" and Boulder Creek Retreats, LLC.
WITNESSETH: That for and in consideration of the payment of the rents and the performance of the terms of Renter's covenants herein contained, Property Owner(s) does hereby demise and let unto the Renter and Renter hires from Property Owner(s) for use as a temporary vacation residence those certain premises described as the single family dwelling and all furniture, fixtures and equipment located at Boulder Creek Retreats, LLC. For a term of "quoted nights by Owner" commencing at 4:00pm, on "Check-in date" and ending at 11:00am, on "Check-out date" at a rental of "agreed upon price" per night, DUE AND PAYABLE THIRTY DAYS IN ADVANCE OF THE RENTAL TERM. Total rent is "as quoted by Owner" including Cleaning fee, 7% State & County Room Tax, Transaction fee, and Property Damage Protection as required. Total amount is due according to "Payment Schedule". (Rents are payable via VISA, MASTERCARD, DISCOVER)
It is further mutually agreed between the parties as follows:
1. Renter must be 25 years of age and older. No one under the age of 21 may stay in the rental home unless they are with their parents or legal guardian;
2. Renter shall not violate any Federal, or State law, or county ordinance in or about the premises;
3. Said as fore mentioned premises shall be occupied by no more than the "agreed upon number of Travelers"
4. Renter shall not sub-let the demised premises, or any part thereof or assign this AGREEMENT without the Property Owner's written consent;
5. Renter shall maintain the premises in a clean and sanitary condition at all times, and upon the termination of the rental, shall surrender same to Property Owner(s) in as good condition as when received, ordinary wear and tear excepted;
6. Renter agrees to assume all liability from and to hold Property Owner(s) harmless from, all damages and all costs and fees in the defense thereof, caused by the negligence or willful act of Renter and Renter's invitees or guests, in or upon any part of the demised premises;
7. Nothing herein shall be construed as waiving any of the rights provided by law of either party hereto;
8. In the event any suit or action is brought to collect any of said rents or to enforce any provision of this Agreement or to repossess said premises, reasonable attorney's fees may be awarded by the trial court to the prevailing party in such suit or action together with costs and necessary disbursements; and on appeal, if any, similar reasonable attorney's fees, costs and disbursements may be awarded by the appellate court prevailing on such appeal;
9. Property Owner(s) reserve the right to immediately terminate this Agreement and evict renter and/or guests if: (a) Renter or someone in Renter's control inflicts substantial damage to the premises: (b) Renter has vacated premises, the person in possession is holding contrary to a written agreement that prohibits subleasing the premises to another or allowing another person to occupy the premises without the written permission of the Property Owner(s), has not knowingly accepted rent from that person in possession or: (c) Renter or someone in Renter's control commits an act which is outrageous and to the extreme: (d) Renter or someone in Renter's control has a Pet on the premise: (e) Renter allows non pre-approved or unpaid additional guests to stay overnight. No refund shall be given due to eviction;
10. RESPECT CLAUSE - Any abuse of myself or my staff via telephone, e-mail or in-person will not be tolerated and result in immediate termination of this contact with no refund. This includes but is not limited to verbal or physical threats from the guest, guests or pets that are on the property during the time reserved. We will prosecute any crime or threat to the fullest extent of the law.
11. Property Owner(s) reserves the right at any and all times to enter and examine the premises;
12. Property Owner(s) acknowledges the receipt of payment and Renter's approval of this Agreement to reserve the premises for the period stated above. Property Owner(s) will refund the deposit in full if given at least 60 days notice by Renter. Property Owner(s) will refund one-half of the deposit if given at least 30 days notice by Renter. The deposit will be forfeited if Renter gives less than 30 days notice. If the deposit is not refunded or forfeited, it will be applied to the rent for the period;
13. 30 days in advance of the rental term, Renter shall pay to Property owner(s) the remaining balance due. * You can purchase "Trip Cancellation Insurance" through CSA just call (PHONE NUMBER HIDDEN) and ask for "330CSA policy" or it can be purchased (SENSITIVE CONTENTS HIDDEN)
14. No monies will be refunded due to acts of God, nature, weather or weather related circumstances, road conditions, power outages, mechanical or electrical breakdown, cancellations of personal plans, personal differences among Renters and/or Guests, emergencies or unforeseen incident;
15. Renter(s) are accountable to immediately notify Property Owner(s) of any malfunctions or repairs needed during their stay; repairs may not be done on same day, as we live in a rural area but they will be handled as a top priority;
16. Smoking is not allowed;
17. Pets are not allowed;
18. Parties, weddings or special events are prohibited;
19. Failure by the Property Owner(s) at any time to require performance by the Renter of any provision hereof shall in no way affect Property Owner(s) right hereunder to enforce the same, nor shall any waiver by Property Owner(s) of any breach of any provision hereof be held to be a waiver of any succeeding breach of any provision, or as a waiver of the provision itself;
20. Our policies and rates are subject to change without prior notice;
If you have paid with Credit Card, it will be held after your departure or by signing this rental agreement, you agree to pay with Cash, Check, Money Order or Travelers Check, for any and all charges that occur for the following reasons: Excess cleaning is required, Non-returned or lost keys, Smoking in home, Hot Tub maintenance, draining, flushing, cleaning, replenishing chemicals or repairs, Additional persons not listed on reservation, Damages, replacing Stained, Broken or Missing properties, Any problem caused by disregard and/or neglect or not covered under "Property Damage Protection Insurance" or any other costs incurred by renter and/or guests
IN WITNESS HEREOF, the parties hereto have executed this Agreement on the day and year first above written and Renter acknowledges he or she read the Agreement and agrees to abide by the terms stated.
*Upon arrival, we will ask that you fill in the lower part of this rental agreement
Signature: ______________________________________
Date: ______________________________________
Driver's License # - ______________________________________
State - ______________________________________
License Plate # - ______________________________________
Year ___________ Make _________________ Model________________________________
Address: ______________________________________
City/State/Zip Code: ______________________________________
---
My husband & I have lived here for over 24 years and have enjoyed the seasonal changing views, the peace and quiet, the company of our furry friends and the small, quaint Mt. Hood community with all of its unending activities. We love spending time with our children and especial…
Languages:
English
Response rate:
100%
Response time:
within a day
Explore other options in and around Mount Hood Village
More places to stay in Mount Hood Village: