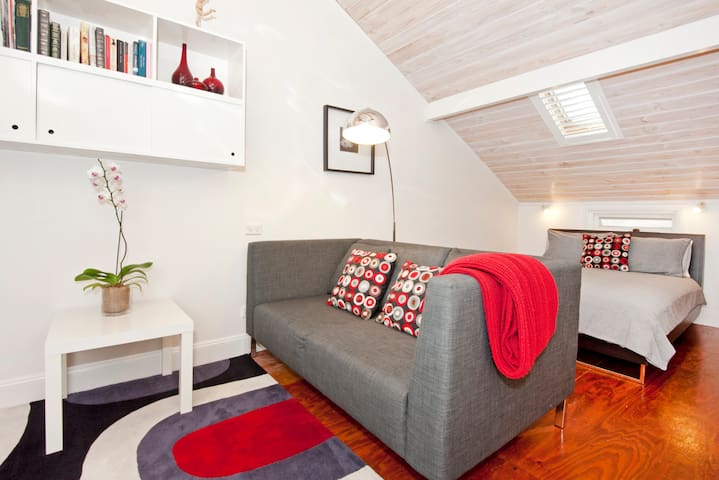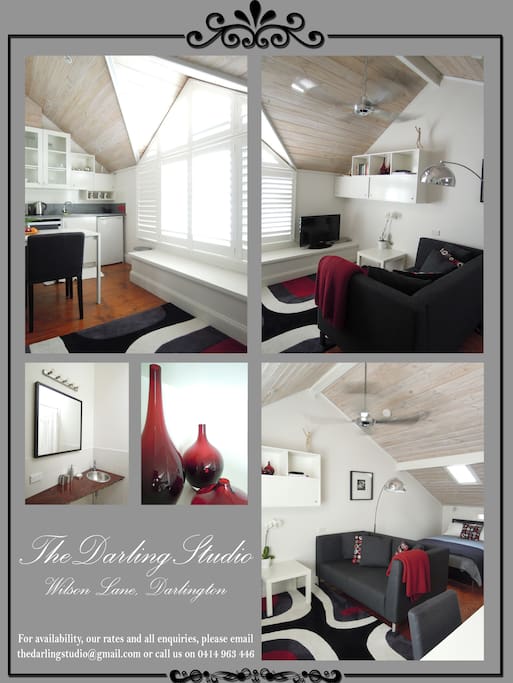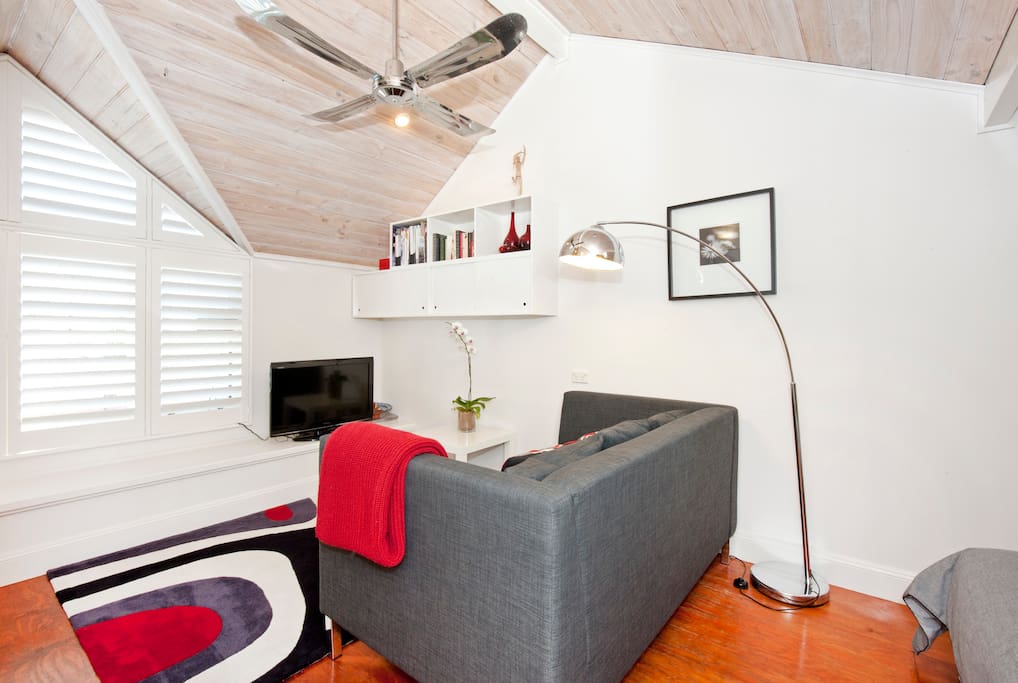 LovelyStudio Near Sydney University
You've just found a funky little studio, filled with everything you need for your Sydney visit - spotlessly clean, with lots of light & air, it is private, modern & comfy. Enjoy easy public transport to city from a suburb with lots of local charm.
The space
The Darling Studio: Wilson Lane, Darlington, NSW (Sydney's Inner West)
Hi there - Please contact me before making a reservation - just to check dates are free. It is helpful if you have a profile/description on airbnb or, if you can explain a little bit about yourself and your reason for travel. Thanks so much!
For Christmas and New Year bookings, we do not take bookings less than 5 nights and also, we do not accept check-ins Christmas Day (i.e., you must check in at least the day before). For stays over Christmas and the New Year, we are often not home, but you can still stay here! Thank you.
A bargain? Airbnb advises hosts of how much they might like to charge for their unit, based on their analysis of comparable properties nearby. In July 2015, Airbnb are recommending that we charge about $148 per night (and it is fairly standard for listings to add additional $10 - $20 per night for extra guests). We decided to stick with just $112 per night to make this one of the cheapest self-contained apartments this close to the city - it is small is size but we offer GREAT service, spotless cleanliness and lots of comfort and style. We offer accommodation for a maximum of two people only.
Serviced accommodation
The Darling Studio is a stylish and self-contained studio with new, contemporary furnishings. We provide short or long term serviced accommodation. Quiet, sunny and spotlessly clean, The Darling Studio is ideally located just minutes away from the University of Sydney, Carriageworks, and the Seymour Theatre.
Is there much traffic noise? The studio is situated overlooking a lane. The lane is not a thorough-fare, as mostly only our neighbours use the lane to access their garages, but occasionally you do hear delivery vans pass by for the shops on the next street.
Run by a local family, we aim to provide a warm, friendly, and client-focused service to ensure your stay is delightful. We've been doing this for over three years now, so use that experience to try to make your stay as great as possible. We offer lots of little extras, such as basics in the kitchen (e.g., olive oil, vinegar, butter, salt, pepper, fresh milk and tea/coffee, etc and lots more) to increase your comfort. FREE internet is also provided.
We look forward to welcoming you soon.
AMENITIES
Natural light flows into The Darling Studio, which is freshly painted throughout. You will enjoy:
* Your own private ensuite, with toilet and shower
* A small kitchenette with bar fridge (with an electric hotplate with two burners; no oven)
* Built in (small) robe and additional storage
* Private access from rear lane
* A weekly cleaning service
* Access to a (shared) laundry with washing machine and dryer (washing detergent supplied)
* Large flat screen TV; DVD - music plays through the TV via a USB so bring your music to enjoy
* A selection of DVDs and books to enjoy while staying at The Darling Studio
* Hairdryer, iron, overhead fan, microwave, heaters, two-burner electric hotplate, toaster, rice-cooker, a hand-mixer for smoothies, kettle with tea/coffee provided + more
* FREE Wireless internet

The Darling Studio is the only short-term accommodation on site, so you will not have to hear many guests coming or going.
SO WHAT IS THE DOWNSIDE?
There's lots of things that are fantastic about our Studio, but what is less-than- perfect?
* The Darling Studio is a small space - but really well designed and very comfortable. Singles/Couples both tell us it has been perfect for them, and great value for money. They tell us things like all the little extras, the location, convenience to so many amenities and the great service they receive is more important to them.
* The Darling Studio overlooks a lane-way and so the outlook is not-so-scenic. Most guests who stay with us tells us things like that they like the 'urban-vibe', and that they are always out and about in beautiful Sydney, so they don't need a nice outlook through the day in any case.
As it is situated on an urban laneway, you will hear some noise from vehicles. Please note, it is NOT a thorough-fare so only people with garages facing onto the laneway use it. This means it not a high-volume area. Occassionally, deliveries will be made to the cafes nearby, and that can cause truck noise. Garbage trucks collect rubbish every Friday morning - so there will be noise Friday mornings for sure.

* The Darling Studio sits above our garage but the sound of the car coming and going is not intrusive and we don't use the car often. We NEVER use the car before 5am, as was suggested in one review written in late 2014.
Because we recognise these limitations in size and outlook, we price it as the cheapest self-contained accommodation this close to the city (and you get the modern, spotlessly clean presentation as bonuses, that we deliver along with terrific service).
HOUSE RULES
The Darling Studio is strictly non-smoking and a no-party policy applies. See more details in the 'tab' "house rules".
The nightly rate includes internet, and a range of light/basic groceries stocked in the pantry for your first night stay.
Guest access
Our guests have their own entrance, and separate accommodation, with their own bathroom. There is shared access to the laundry (that you can use for free)
There is shared access to a lovely, small courtyard, with bench seats. The main house is separated from the Studio by the courtyard.
Guests can access the Darling Studio Wifi / internet free of charge. While the internet is usually excellent, we cannot guarantee internet in the rare event of a technical fault outside of our control - happily this rarely happens!
Interaction with guests
Although we live in the main house, we give you lots of privacy. However, if you need anything, just knock on the back door, call or email and we will help out.
Other things to note
CHECKING IN AND CHECKING OUT
While we have set preferred check-in (2pm) and check-out times (9 - 9.30am), we will be as flexible as possible outside of these times to accommodate your needs whenever we can.
---
---
Security Deposit $560 NZD
Always communicate through Airbnb
To protect your payment, never transfer money or communicate outside of the Airbnb website or app.
Learn more
---
Check in is anytime after 2PM
We appreciate that you please leave the Darling Studio as you find it – as clean and tidy ... it seems to be part of the culture of airbnb travellers - that they leave the homes they visit nice and tidy/clean. Please don't leave garbage inside when you check-out.
Please don't worry about making the bed because we will launder the linen after you leave.
We ask that you respect our neighbours - especially in relation to noise in the evening (e.g., no loud music after 10pm) as we have really lovely neighbours, some with young children, and we don't want to disturb them.
The Studio has a lovely breeze and cross ventilation when you open the windows. However, for security, please close the large, central windows whenever you leave (the small sides one can stay open) Thanks!
Your security code:
Only paying guests are permitted to use the security code. Guests cannot give their security code to any other person, or your security bond is forfeited.
Number of guests:
The Darling Studio is not suitable for pets or children under 12 years of age. We provide accommodation for 1 - 2 adult guests only for whom the booking was made.
Non-paying guests for socialising:
Please do not bring non-paying guests back to The Darling Studio - we have found the wear-and-tear on the Studio can be quite extreme in a short period of time when several guests are socialising there, as it is a small space. So that is, only people who have checked in and are staying the night can use the space. Thank you.
Garbage
Garbage is collected early Friday mornings. We have a recycle bin (with yellow lid) downstairs and you are welcome to recycle using it (rinsed glass and plastic bottles, paper and cardboard). On Thursday nights, we visit The Studio and collect/empty your garbage. There are spare garbage bags under the sink for your use if you wish to empty the bin earlier than Thursday.
Candles
Please do not use candles or open flames in the Studio. Thanks.
Thanks so much for your consideration for all of the above.
---
---
---
---
Kellie was very welcoming when we arrived and gave us a good introduction to the studio, independent access and local area. The street is full of family homes and the adjacent road has a few convenience, takeaway and coffee shops which is nice. The University is nearby so there are students around quite often. We mostly used Redfern station to get to/from the city, which is not far away at all. The studio itself was nice and clean and appeared as it does in the photos; although the wooden floor is now carpeted. We struggled a little bit with the lack of air conditioning on a couple of days, but it was around 40 degrees which I think is unusual. Overall, we had a really great stay in Sydney and Kellie & Amir were fab hosts. Would definitely recommend.
Dear LeAnne - Thanks for your review. I really liked the constructive ideas. Yes, we agree, air conditioning is something we would love to have but we do note in the description clearly that the studio does not have it. To provide ariconditioning, we have to replace all the wiring in the whole house for that to happen which is thousands and thousands of dollars, otherwise we would have done it by now. Yes, 40 degree heat is unusual, but absolutely, we'd love for our guests to have airconditioning for those days ( and we would like to have it too!) and it is our goal one day to provide it. Re the wooden floors, the description did already explain the change - we updated the description at that time the carpet was laid. It's a great idea to change the photos - we will try to get around to that too. And sorry about that van! It might a new thing for the cafes nears us. I will talk to the owners to see if anything can be done. Thanks for the idea! Wishing you the very best, Kellie
---
Pros - Place looks as shown in photos. Basics provided in the fridge. Clean, excellent location. Private. Kellie and her family are lovely! Cons - Limited parking (unfortunately I got a fine) 100% recommended. Funny tidbit: There was a block of chocolate on the table I thought was complimentary but was half eaten when I opened it (must have been from previous guest). Either way it was delicious.
Chuckle chuckle. I am so sorry about the chocolate! I put it there personally (LOVE that Lindt Dark Chocolate-Orange chocolate). I thought it was a full, fresh bar of chocolate, purchased just for you. I bet our kids old got to it while I was not looking .... they LOVE trying to sneak the guests' chocolate from the table. Giggle Giggle. But sorry. .... And yes, parking is limited. So sorry about the fine. We have tried to get parking permits for our guests, but the council does not allow them in the area - the only way you can get a permit is to show you have a permanent address here, and your license plate number goes on the permit too. So there no chance for guest parking permits. We've tried! Most often, our guests are international and so rarely need parking. For those future guest who want parking, parking is free all day on Wilson Street, on the side of the street with the odd-numbers; getting a spot there can be tough, though. It is free elsewhere in the street too, but limited to 1 or 2 hours only.
---
Kellie and her family were so lovely and welcoming to me upon my arrival, the apartment had everything I needed and I felt well equipped with information about the area I was staying and also surrounding suburbs. Kellie was extremely organised so it made my stay that much easier, and it was honestly the comfiest home and away from home I could have asked for!
---
We really enjoyed our stay in the studio. It was perfect, comfy bed, the decoration was also great and had everything we needed. It was our home away from home. It is located in a lovely neighborhood, near to the train station, so you can go everywhere cheap and fast. Kellie and her family were really nice and made our stay great.
---
Lovely and cozy place. Situated near Redfern Station which is a major transfer train station. Accessible to most places in Sydney. Kellie and her husband had been very welcoming and nice to us during our stay. If I'm visiting Sydney again, would definitely stay with them again.
---
Hi. My name is Kellie.

My family (myself, my husband and 3 kids) have been welcoming guests at our Studio since August 2010, but we only started using "airbnb" in July 2012. To see the feedback guests give us about their time with us in The Darling Studio, please see below. We have never had any negative feedback and the feedback is not "cherry-picked" (i.e., we only show you the best of our feedback – we show it all).

The Studio is a separate residence, sitting at the back of the main house, separated by a courtyard. Our approach to hosting is to give our guests privacy, however, if you need us or need help, we do our utmost to help ... Whether you want recommendations for the best local pastry shops (Black Star in Newtown), advice about lovely walks around Sydney harbour or local beaches (that us locals use – not just the typical 'tourist' haunts) or you'd like a home-made map of the quickest-back-street-way to drive to the airport, we are there for you.

We travelled through Europe staying in serviced apartments and we use that experience to make our Darling Studio the most comfortable we can for our guests. We learnt what not to do, as well as what travelers appreciate (e.g., some little "goodies" like chocolates, fruit, cereal, some milk and butter or fruit on arrival to help you settle in before your first big supermarket shop); helpful (but not intrusive) hosts, honesty in advertising and so on.

We have had guests stay as long as 11 months, and others return 3-5 times, so we think that suggests we are getting something right with hosting. We find it a real joy to meet people from all over the world, and help their stay in Sydney be comfortable, friendly and memorable.

Warm regards & I look forward to hosting you at our Darling Studio sometime soon.
Kellie (with feedback from our guests below).

FEEDBACK FROM GUESTS
What a jewel: This studio is beautifully designed, practical, clean, peaceful with a lovely court yard, and in walking distance to the University of Sydney and Redfern station (one station from Central station). The hosts are most welcoming and helpful while guaranteeing privacy and individuality to the guest. The parallel street is charming, too, with student atmosphere, small coffee shops, deli and restaurants. The Darling Studio is definitely my favourite accommodation in Sydney (Stefan, German/Swiss professor, five separate visits across 2011 and 2012).

The Darling Studio is my cozy and beautifully designed haven whenever I am in Sydney. The hosts are warm and welcoming with an eye for attention and comfort. The location is ideal - a very short walk to Redfern train station and the neighbourhood is filled with charming cafes and friendly neighbours. I highly recommend a stay (Heather, Consultant, four separate visits across 2011).

I stayed at the Darling Studio for a week and the only way to sum up the place is to say it was a home away from home! The hosts were wonderful and assisted with all my inquiries (eg. location of hairdresser, train services, best eatery, etc). The Darling Studio was not only clean and fresh but contained EVERYTHING you could possibly need and more than is advertised (eg. DVD's, books, maps, take away pamphlets, shampoo, ear buds, basic foods - just everything). I would highly recommend it to anyone needing a place to stay in Sydney. The price you pay for what you get is great value and only a short distance (via train or taxi) away from major attractions in Sydney. Definitely will be staying there again in the future! (Claudia, Midwife, October 2011).

I was a Japanese visiting researcher in Sydney University and stayed in this studio for eleven months. It was very convenient for commuting to University and for shopping at Broadway and Eveleigh Markets. On weekends I walked down to Cockle Bay, Circular Quay and Hyde Park and went to suburbs from nearby Redfern Railway Station. The hosts are very kind and friendly. If you want to concentrate on your work in the day and to have a quiet night, you can do it here just as I did (Professor Ueshima, 2010-2011).

What a wonderful place to stay and so close to everything important; cafes, pubs and shops. I especially loved the little touches, like a pre stocked fridge to help ease you through the first couple of days whilst recovering from travel. Lovely place and helpful happy people to deal with ... what more could you ask for! (Geoffrey, Dislocate Circus Theatre Company, 2011).

... thank you for our stay - we had a wonderful time ... The hospitality offered by you was first rate, and the little touches like providing milk, fruit and bread every so often was highly appreciated (Jim, IT specialist, 2010).

A word of thanks for making our recent 3-week stay in your beautiful Darling Studio a most wonderfully comfortable experience. The moment you welcomed us, we felt we had truly arrived in our Home Away from Home !!! From your beautiful studio furnishings, the boutique linens; towels, to the specially stocked pantry, fresh foods, and flowers, you thought of everything !! … We look forward to returning; definitely recommend your "Darling Studio"! Until we meet again, health and happiness to you all, Sincerely Crystall and Alisia (Surrey, British Columbia Canada November, 2010).

Languages:
English
Response rate:
100%
Response time:
within a day
Explore other options in and around Darlington
More places to stay in Darlington: