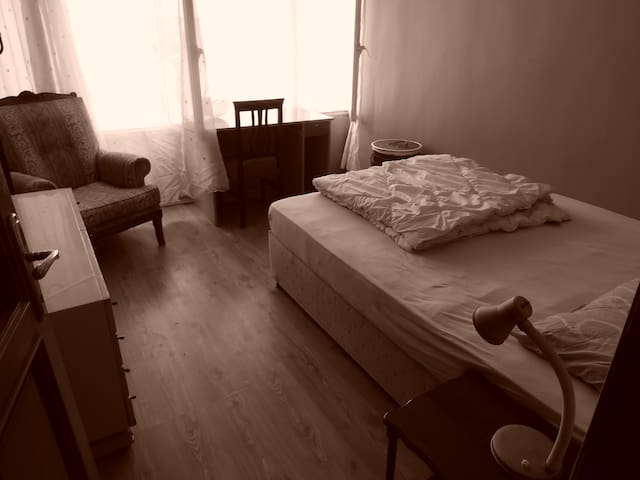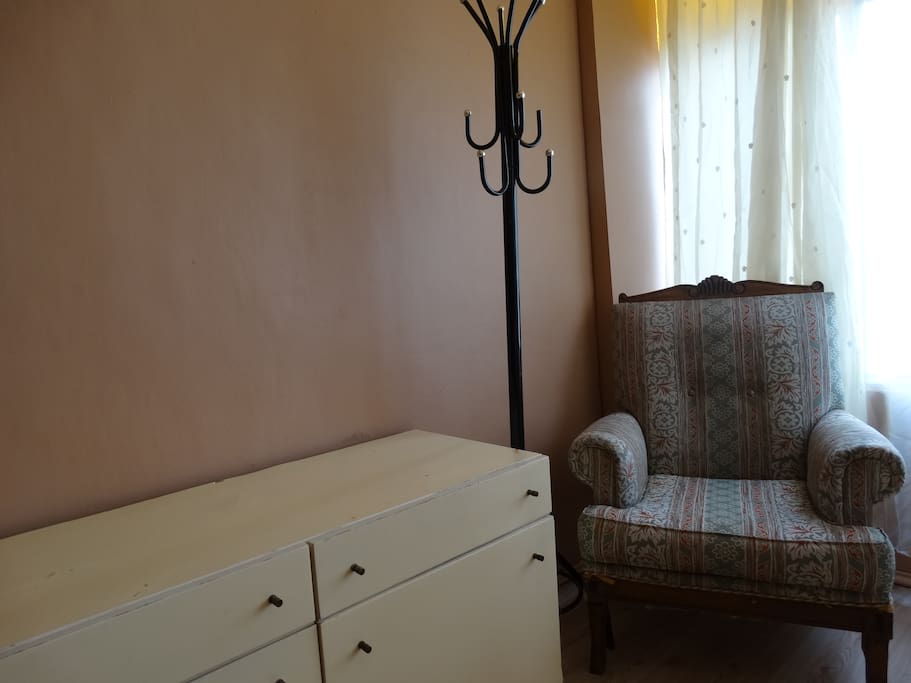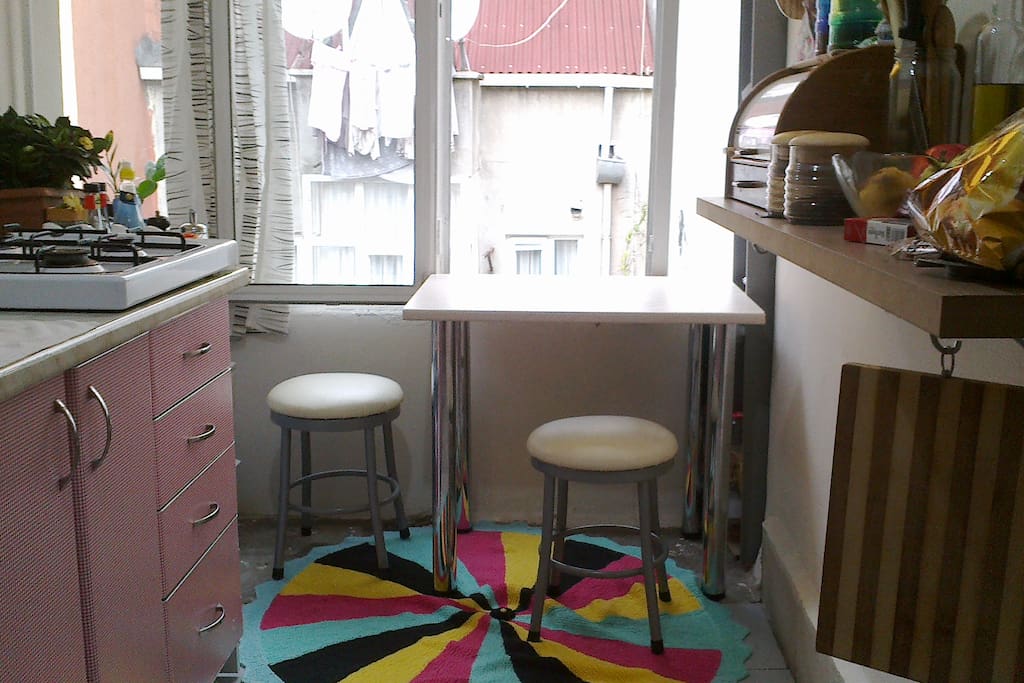 The space
Our home is at the center of Kadıköy which is one of the most colorful area with its restaurants&bars, shopping malls and harmonic atmosphere. To go to the historical places without loosing time in the crowd of traffic jam and enjoying with the rhythm of İstanbul are only two opportunities of our apartment.

We are living two people at our flat. It has two bedrooms that one of them is for our guests, contains double beds, one kitchen, a pretty living room and a bathroom. We have wi-fi connection and foreign channels at TV.

Our main aim to welcome you is sharing our traditions, customs, ideas and also introducing our culture properly. After having enjoyable time at the spectacular areas of İstanbul, we can have conversations at our home while drinking turkish tea:) Without any expactation, if we have time, we can be your guide and take you to the places where you like to be.

Our house is situated at a short distance(by walking at most 5 minutes) to the metrobus, ferry and bus stations. Going to the Sultanahmet(Blue Mosque, Hagia Sophia, Basilica Cistern, Topkapı Palace, Archaeology Museum) take 25 minutes(by ferry). Moreover, going to the Taksim Squere, İstiklal Street, Beşiktaş and Ortaköy is really very easy(at most takes 30 minutes) without experiencing İstanbul's traffic jam!
There are lots of things to write but I would like to say that "experience is the most effective tool to learn". If you like our small house, we will be glad to welcome you friends!
---
I am sorry to say that this happened to be my first bad experience on airbnb. I have had so many good experiences here, but unfortunately this stay didn't turn out well. Although I was disappointed I am not interested in just talking negative stuff. First of all I'd like to say that both Çağdaş, his girlfriend and the flatmate all seemed like very nice people and were very welcoming. They seemed to be the kind of people that would normally become my friends. However, there were some things about the apartment that wasn't quite as described on airbnb. I did not expect anything luxurious from such a cheap room. But I do expect the facilities to be as described online. Thus I expected to find a room with heating. But there was no heating in the room and the windows couldn't close. As it was about 10 degrees outside (daytime), this was not very comfortable. I had to wear all my clothes in bed, and I ended up staying at a friend one night and booked a hotel room on the last night because it was too cold. I also had to postpone my studying because I couldn't concentrate when freezing. There was a laundry machine. However, it didn't work. I would've liked to know that before booking. I didn't say anything to Çağdaş though. Perhaps we could've sorted it out. So that's kinda ok I guess. He probably just forgot to update the info on airbnb. I tried to contact Çağdaş several times regarding the heating and the problems with the windows, but it was more or less impossible to get to talk to him. That was the biggest disappointment for me. I expected him to be interested in sorting out the problems, so that we could all be fine. But it wasn't until I went further and even blamed him for cheating me (after check-out), that he finally replied. With anger. After a short SMS correspondence we agreed to meet the next Sunday afternoon. I texted him when I woke up on Sunday and asked what time we should meet. He replied very late (16.15) and expected me to meet him one hour later. But in Istanbul it takes time to get to the opposite site of the city, so of course I couldn't make it. I gave up on trying to solve this. I'd like to say that, even though I was very disappointed about this (the flatmate said, of course I should have some of the money back, but then they disappeared and never replied), I do think there has been some kind of misunderstanding. I see they have many positive reviews, and I'm sure they are actually very nice people after all. I DON'T think people should avoid this. It's probably great especially in spring/autumn as a cheap simple room. I hope to sort out the misunderstandings with Çağdaş next time I am in Istanbul. I suggest updating the description though:) Best regards. (December...
---
The place is very close to the harbor which is very convenient for us to explore Sultanahmet-old town area. There are some mosquito but we're fine. There are many hotels, bars, restaurants and supermarkets around. Çağdaş and his roommates are very friendly and kind to help us having a good time at Istanbul.
---
Cagdas is a really nice and chill guy. The room we stayed in was nice, big, a bit noisy and cheap. The location of the apartment is perfect if you want to live and check out Kardiköy. As said in other comments there where some mosquitos, but it wasn't that bad. I would definatly recommend this place.
---
We stayed at Cagdas' flat for four days. It is perfectly located, close to all sorts of transport and close to the area in Kadiköy where all the shops, restaurants, pubs etc. are. We stayed in Cagdas' room as he was away but he organized everything for us. So we had the whole flat for ourselves and found everything we needed. We enjoyed our stay, although there are some mosquitos in the room.
---
Hi I share my apartment in Istanbul. I study tourism management at Bogazici university. I like travelling and nature sports.
Languages:
Deutsch, English, Türkçe
Explore other options in and around Istanbul
More places to stay in Istanbul: