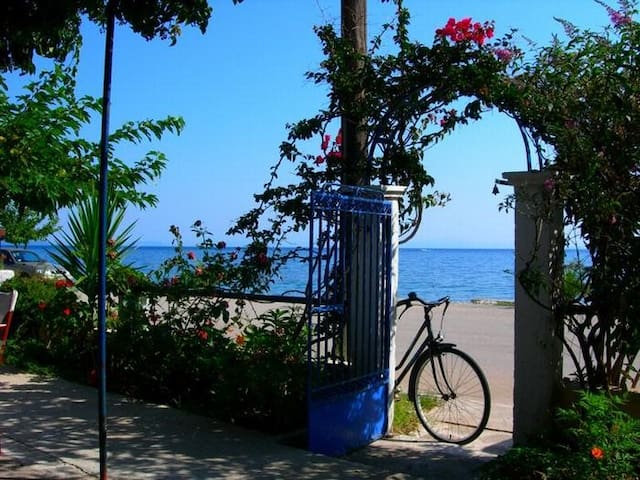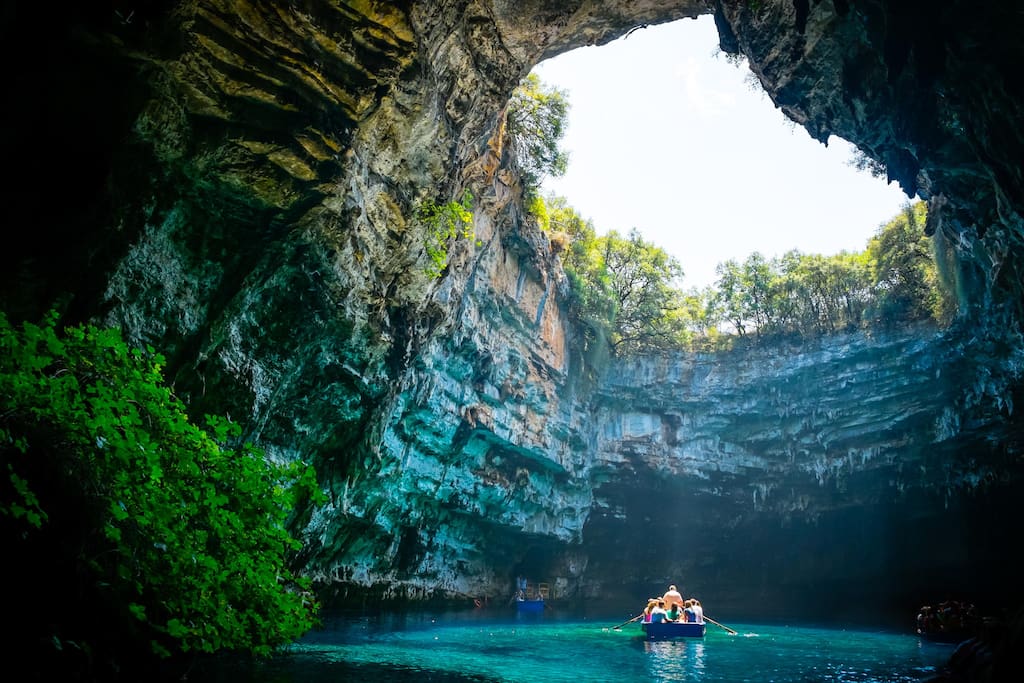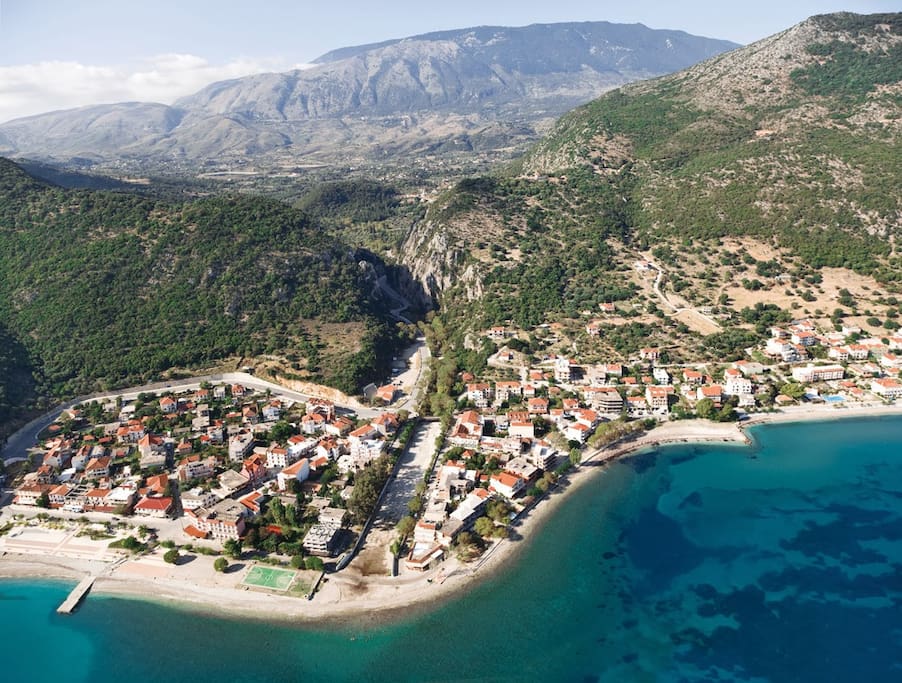 The house is located at 5 meters away from the beach, in Poros, a coastal village of Cephalonia that combines sea and mountain. The lush green environment and the blue sea are forming an incredibly beautiful landscape.
The space
Poros is a popular holiday resort. The mild climate assures a comfortable stay. The beautiful beaches are among the best on the island and are ideal for families and seniors. The Poros Beach House is a traditional house with two bedrooms (one air conditioned), a fully equipped kitchen and toilet with bath tube. It can comfortably accommodate four guests. A shady garden in the back is an ideal setting for lunch, while the front garden has views to the sea. The house is only 5 meters from the beach.
The owner will treat you with genuine Greek hospitality and will introduce you to all "local secrets" (beaches, mountain hiking, old villages, monasteries, several picturesque itineraries) for a pleasant holiday on the island of Cephalonia.
Upon request, traditional greek breakfast of organic/hand-made products (milk or yogurt, honey, butter, marmalade, cookies, bread, olives, tomatoes, feta cheese, fruits) will be provided by the owner, as well as greek lessons, as she is a certified teacher of greek language.
---
We've just had a wonderful week at this beautiful little place in Poros. Joanna who lived next door was always on hand to give advice or help whenever needed - so kind. Even a very late arrival (well after midnight) was handled really well. So if you're looking for a no nonsense, real life, authentic Greek place to stay, this is it. We would happily recommend Dimitris & Mairi's place. And if you want somewhere to holiday away from the crowds, Poros is a lovely place to stay. The are some great restaurants, enough little shops, etc, but none of the high rise, loud venues that some people are looking for. It suited us perfectly
---
We had a most magnificent time in Poros; our family spent there 3 weeks and enjoyed the place, the people and all the surroundings very much. Before our arrival we had very good contact to Dimitris who reacted always very promptly to our messages and gave us all the information we needed for planning and getting there. On our arrival we were welcomed in a most warm and hearty way by his mother Joanna who lives in the front part of the house. She gave us lots of good and helpful ideas to enjoy and discover Poros and different local traditions and events. She also informed us about all the local facilities. The house is equipped, furnished with everything you need, an a/c is provided. It is very clean and we loved the shade in front and behind the house, the yard was our "living room" – an ideal starting point to enjoy the sea for swimming and snorkeling. You reach the beach across a small street with only very low traffic, and it's only 5 m away! Both, the beach and the water were very tidy and clean. It was used only by a few people, we never saw the place crowded during our stay (in August!). From the yard we enjoyed the wonderful view over the sea all day long. There is a very recommendable fish restaurant just 25 m down the street just above the beach; other bakeries, tavernas, shops can easily be reached on foot. Poros is a good place to visit the sights, caves, mountains of southern Kefalonia. When you stay in Joanna's place you will like her friendly, empathic, caring and hospitable nature. She is a most wonderful host! …… and we will come back for sure!
---
Really a cozy house on the sea. Dimitri's mother Joanna was great: she Waited for us on arrival till midnight and personally took us to dinner. She gave useful advice on beaches and restaurants: really an added value!! House is confortante with an equipped garden overlooking the sea. The beach is in front of the house with very clean water. Really to reccomend!!! Giovanni
---
This is a great little house in a great location literally metres from the sea. The swimming is excellent with crystal clear waters - pebbles rather than sand but clean and easy to access. Poros is a small town - quiet when we were there at the beginning of June but has everything you need. Joanna our host was staying in the front little house but did not intrude on our privacy. She was most helpful and welcoming and showed us where to get the best local produce etc. The house is small - but quite adequate for us as a couple or for a small family. I would thoroughly recommend staying here and would return.
---
Avec les pieds dans l'eau Abbiamo dormito una settimana nella piccola casina di Poros cullati dal rumore del mare e in lontananza dai campanellini delle capre. La casa è piccola ma ben accessoriata. La signora Johanna, madre di Dimitris che parla bene inglese e francese, vive accanto ed è stata estremamente gentile e premurosa dandoci tutte le dritte sull'isola. La spiaggia di Poros è piccola, pulita, mai affollata e con un mare turchese (bandiera blu) e basta attraversare la stradina per tuffarsi. Una settimana indimenticabile di tranquillità.
---
We arrived 3 hours earlier than anticipated so they were not quite ready of us but went out of their way to make everything just right. Thereafter they kept checking that no problems and that we were happy - which we were! A great location literally just across the quiet road from the sea and a very short walk to the tavernas and shops. Or cycle on the bikes provided. The stoney but beautiful beach stretches both ways and on the other side of the small town is the port where the ferry to Killini leaves at regular times. On two evenings we enjoyed the great food and spectacular views at Agrapidos Restaurant on the hill just past the port. Kefalonia is small enough to drive around in a day and we saw most parts of it. But for us the best part of the island was the secluded beaches to be found south-west of Poros and of course the clear, clear waters of the Greek Mediteranian. Just so people are aware, the accommodation is at the back and side of the house featured. The front small section is separate though not occupied when we were there. We could see directly through to the seafront from our bedroom and from our outside eating area.
---
It has been a wonderful, local and true experience in Poros. Since the beginning, and before arriving Dimitris helped us with directions and general info. He is been very helpful and kind. Just an example : We were traveling with our 8 month old daughter so we needed a baby coat in place in order not to bring ours and in less than 24 hours he achieved to have one! When we arrived the coat was ready for our daughter! Once in Poros, we had some difficulty to find the house and called Joanna (Dimitris mother) for directions. She came by car where we were and guided us personally to the house. The house is a typical and simple accommodation, that will offer you a local experience. It is exactly as you an see in the pictures. It was extremely clean and with all the essentials available. There were a bottle of local wine Robola waiting for us! It is not the wine in itself what counts (event if it was delicious ) but the gesture! Joanna showed us the house ( she speaks English and French very well) and explained every detail of the house. Joanna has been for us an excellent host! She pampered us with every detail and was available for different requests he had while in Poros. She has been great during the whole stay and the last night she prepared an typical Greek dinner for us! That was the most local and genuine experience we could have! Thank you Joanna and Dimitris for all of your sincere kindness, help and attention to the details you had with us!
---
We are a young couple living in Paris for the last 8 years: a dancer and a physicist (what a combination!). We'd be happy to have you in our charming apartment and provide you our best tips to discover the city.
Languages:
English, Français, Italiano, Ελληνικά
Response rate:
100%
Response time:
within an hour
Explore other options in and around Poros
More places to stay in Poros: