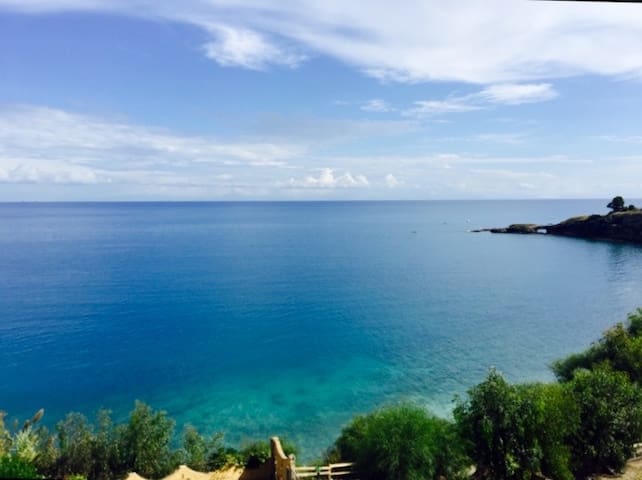 confortable house opposite the sea
At only 20 km far from Catania and 30 km from Siracusa. There are 2 bedrooms, a living room, bath, kitchen, 2 big terraces, a carbox, a condominium pool,access to the sea.A very relaxing place for all the family.
---
---
Check in is anytime after 2PM
---
Alessandra was the perfect host. She showed us all the best things to do in the area and was always there to answer any questions or to help out. The apartment is stunning, especially the terrace. And the fact that the beach is a two minute walk away gives the accommodation a unique charm. The coast line is no less beautiful. Highly recommend it.
---
The view from the large terrace was astonishing - open sea, The Etna and Catania! It's close by the sea and a little beach in a bautiful bay, only 1 minute to walk down some stairs. There was also a nice and comfortable poolarea. There was a small shop within the compound where you can buy wonderful bread and the basics, but for a bigger supermarket you need a car because it's ca 12 km away. We only used the master bedroom which has a seaview, hence very well ventilated - not by aircondition but by a light breeze from the sea. The bathroom was small but practical and clean. The kitchen was well equipped with a gas stove and all you need to cook and set the table. There was also a washing machine, dishwasher detergent, toilet pape, washing powder, soap, tea towels and even lantens with tea lights for a romantic touch in the evening. Alessandra is a very friendly and welcoming host who speaks English and French. If we had any questions she was only a text message away. She is very respectful and caring. When we arrived, she had already bought wate (cold in the fridge), pasta/some basics and a large bowl of fruit so we didn't have to go shopping the first day. A beautiful and clean place that made us feel at home - the pefect place to enjoy a relaxing holyday. Overall this i a hidden gem that deliveres far beyond its price point.
---
Arriving at the apartment was very effortless; Alessandra directed us to the nearby Esso fuel station where she picked us up and showed us the rest of the way. She was very forthcoming and friendly - and surprising us by stocking up the kitchen with basic necessities such as water, coffee, pasta and biscuits. This was very nice, as we arrived in the evening and thus didn't have to seek out a supermarket. Overall, Alessandra did a very good job as our host; her english is very impressive (especially compared to the standard english level in Sicily) and she provided us with a quick tour of the apartment and block as well as a map of the grounds at our arrival. When she departed, it was with the message of calling her whenever we needed help! After a quick unpacking, we determined to seek out a restaurant and some dinner - and on the way to our car, we met Alessandra's cousin, Viola, and her husband Sebastiano who immediately volunteered to show to the nearby pizzaria, Aqcuabianca, (they also called it Pizza&Cozze, that is mussels of some sort). This was very great, and Viola and Sebastiano prooved themselves to be extremely helpful and friendly during our stay! The apartment is located at a holiday center area with numerous privately owned apartments (owned by italians). It appeared as if it was mostly the owners who used these apartments, and thus the block didn't feel too turist-filled. Although we did feel a bit aparte, being "the Danes" (but people were quite friendly so it wasn't bad). The apartment is located right next to the pool area (very large pool!) which did result in a bit extra noise from children playing in the pool, but that wasn't too bad (the entire block seemed a bit thin-walled with some echoing). The apartment itself is very much as represented in the pictures; albeit the second bedroom is quite small (one single bed and one bunk bed). As there wasn't any air-conditioning, this room especially did get quite warm during the night. The bathroom is large enough but not with a separate shower, so that resulted in quite a bit of flooding in the bathroom during showers. By the poolarea, though, the were four showers that you can use as a substitute. The apartment has a wonderful, big terrace with seaview (and Etna-view), and from the block is a walkway down to the beach (about 5 minutes). Nearby the apartment is a small supermarket (we mainly bought bread for breakfast and meat/cheese there) as well as a restaurant/bar - but for any more than that, you need to drive to one of the nearby cities. Overall, we enjoyed our stay in Alessandra's apartment - a very relaxing holiday!
---
Appartement très agréable avec une vue magnifique sur la mer et l'Etna. La piscine est juste à côté de l'appartement. Il y a aussi une petite plage par laquelle on accède avec un escalier. Alessandra est charmante et parle très bien français. Elle est toujours disponible et avait laissé de quoi manger, ce qui évite d'avoir à faire des courses en arrivant. Appartement également bien équipé (lessive, liquide vaisselle, seau pour la plage... etc). Je recommande vivement!
---
Alessandra nous a accueillis chaleureusement et très gentiment. L'appartement dispose d'une très belle et grande terrasse bien abritée du soleil aux heures les plus chaudes qui donne sur l'Etna et surplombe la mer. La plage est petite mais très proche, et l'eau claire. Bref, l'endroit serait paradisiaque si le bruit n'était omniprésent. L'insonorisation de l'appartement est très faible et la proximité de la piscine (grande et belle) la rend fréquentée jusqu'au milieu de la nuit malgré le règlement intérieur. Il nous a été très difficile de dormir et de nous reposer dans ces conditions, ce qui était très dommage...
---
Nickel! petit appartement de vacances fonctionnel avec très belle terrasse. Il s'agit d'une résidence avec pas mal de propriétaires donc du monde et un peu de bruit mais la piscine est très grande et les gens tous charmants. Plage privée en contrebas. Alessandra a toujours été là pour nous, prévoyante et très à l'écoute. Le logement n'a pas d'air conditionné, mais un ventilateur par temps très chaud suffit. Bien placé entre Catane (25mns) et Syracuse (40mns). Très bien!
---
Io sono Alessandra e ho voluto inserire casa mia a costa saracena per far conoscere questo luogo incantevole al quale sono profondamente legata. Anche io villeggio qui, in un altro appartamento, parlo correttamente inglese e francese e per questo amo intrattenermi con i miei ospi…
Languages:
English, Français
Response rate:
100%
Response time:
within an hour
Explore other options in and around Castelluccio
More places to stay in Castelluccio: