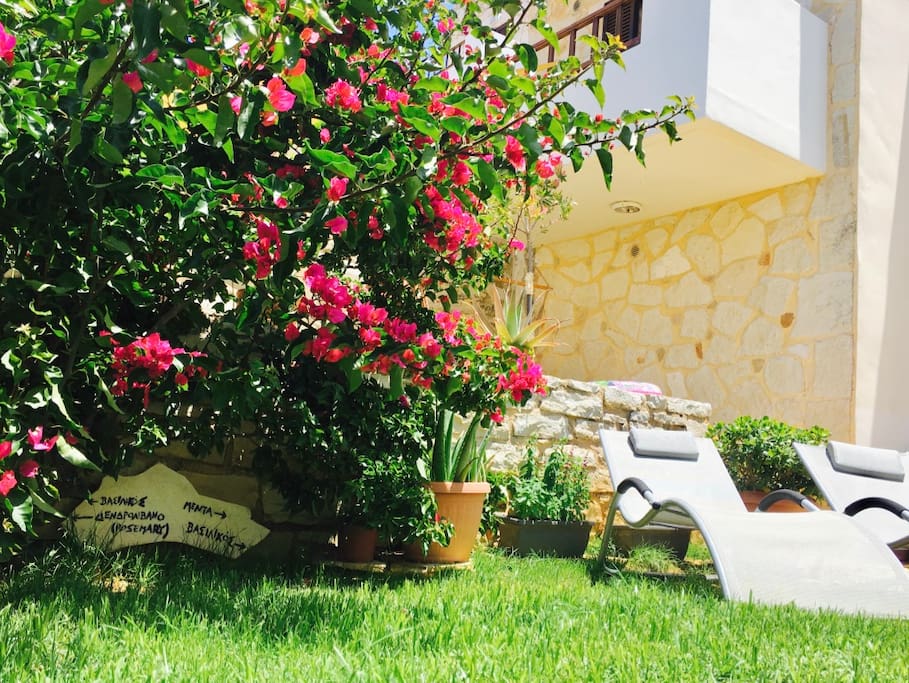 Villa in the heart of Crete
Even the view of our magnificent villa is going to convince you that you are on the right place, snowcapped mountain peaks, sea views of four balconies, and all this at a distance of 800 meters from the longest sandy beach in Crete
---
Martina is an exceptional host. Our flight was delayed and she met us at 02.00am with Pizza and wine - a perfect start! She gave us some great tips on places to visit and places to eat which all turned out to be top notch. Martina left us to get on with our holiday and enjoy ourselves but was always a text away if we needed anything. The Villa was just about right for 6 adults and the pool perfect for cooling off on the many hot and sunny days we enjoyed. The BBQ was excellent with meat from the locally recommended butcher. It is a good 20 min walk to the main road, shops and restaurants so were very grateful for the car without which we would not have been able to see so many parts of this lovely island. Thoroughly recommend Crete, the villa and Martina as a host. Will tell all our friends and family about it.
---
Martina is a fantastic hostess. She made us feel at home from the moment when we first arrived until we left one week later. If we needed anything, we just texted her and she helped us immidiately. The villa is beautiful and the garden is very cozy. The barbeque is awesome, and we cooked meat from the local butcher on it almost every day. This was my seventh time in Greece, so I thought I knew what to expect - but I didn't... This villa, with the location and the surroundings is the most perfect way for a tourist to feel the "real" cretian culture. Lambs were being herded down the street, the olive fields were everywhere, and we were pretty much the only tourists around. We had no car, so we walked practically everywhere, which was tiring but amazing. As someone mentioned in their review, a car WILL make your life easier but is not necessary if you like walking ;) Thank you SO much, Martina, for this awesome experience. We will be back. Hugs! Zebastian, Amanda, Christopher, Malin, Oskar, Tobias
---
I feel very lucky that I've found another wonderful host(ess) with AirB&B. Martina's English is pretty good considering she is a Czech who also speaks fluent Greek. Putting us Brits to shame again! This was so important for the advice/help she gave us. She was always on the end of a phone despite working every morning elsewhere and answered all of our questions. The villa is lovely - there were 7 of us which is really the max though you could poss squeeze another 2 in if small kids! It's well decorated and the garden has a plunge pool that we all could fit in and is perfect for cooling off. A hanging chair and sun loungers all added to the relaxation. Martina comes to water garden often. I actually had to leave before other as I wasn't well and Martina drove me to Chania airport - for which I paid her. She's very kind and adds to the warmth of her property. I think if I had had my way (was with friends) I would have hired a car to get around but there really are plenty of cabs and air conditioned buses. I would definitely go back again.
---
We had a fab stay! Martina makes a wonderful host. She was extremely flexible with the timing of our arrival, which we changed 3 times, and took the time to give us a tour of the local, and make some recommendations for places to visit too. The house is ideally situated if you're wishing to explore the west and south of the island, in particular Hania. And there are some amazing places to visit only an hour's drive away. Split over 3 floors it also feels bigger than the photo's show. And the outside terrace and pool is perfect for unwinding after a day out sightseeing in the hot sun. It would be ideal for families as there is plenty of room to spread out. Great time - thank you!
---
Martina was an incredibly great host! Everything we needed she was maximally helpful and happy to do and find out. The villa was comfortably big enough for 6 of us with a swimming pool, BBQ and wonderful scenery. We all perfectly enjoyed our stay thanks to Martina's hospitality as well and when we come back to Crete we will definitely want to stay here again!
---
Villa is really nice and easily accommodates 7 people. It's not too far from beach, shops and other facilities (around 30 min walk) but having a car will make your life much easier. Villa has a well-equipped kitchen so you can cook if you need to. You can have a barbecue outside as well. The pool is not too big but it's great to have it during hot days. Surroundings are peaceful so you can enjoy yourself and relax.
---
We had a wonderful time at your place, thank you so much for your time, your concern and your care ! We were not expecting such a top level service on Airbnb (first timers...). Your house is great, nicely decorated and really confortable. We also enjoyed Crete as a destination and traveled to the south several times as well as to the north-west.
---
Languages:
Deutsch, English, Polski, Čeština, Ελληνικά
Explore other options in and around Dramia
More places to stay in Dramia: