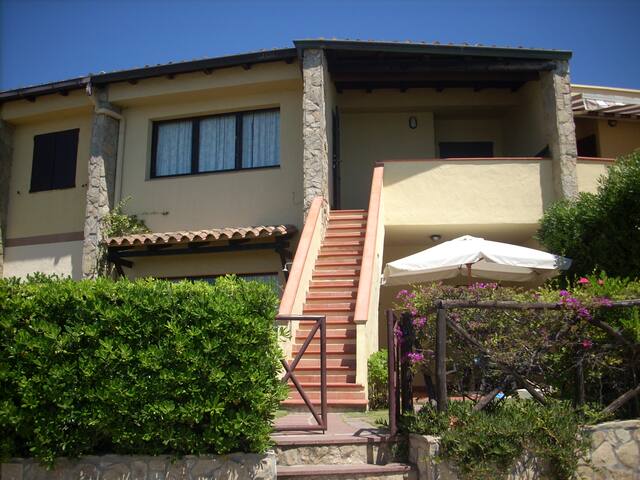 Apartment 100 meters from the sea, immersed in Mediterranean vegetation, consisting of small veranda, living room, kitchenette, bathroom, double bedroom and bunk room. Stunning Sea View! Ideal for couples or families.
Appartamento a 100 m dal mare, immerso nella vegetazione mediterranea, composto da piccola veranda, soggiorno, angolo cottura, bagno, camera matrimoniale e camera con letti a castello. Vista mare mozzafiato! Ideale per coppie o famiglie.
---
 It is a very nice apartment equipped with everything you need. Simona was very helpful and responsive. We stayed here in early June, quick walk to the beach which is nice and privet and not overcrowded at this time of the year here in Pula. Unfortunately the beach can have quit a bit of see weed wich one needs to waid through to get to the clear water. We recommend staying here to everyone.
---
Siamo stati ospiti nella casa dal 29 di luglio per una settimana. L'abitazione è come si vede nelle foto: carina all'esterno, un pò più datati gli interni, ma con condizionatore (essenziale!!!). La casa è situata all'interno di un complesso residenziale di villette e appartamenti denominato Pinus Village. All'interno del complesso residenziale vi è un ristorante, sulla spiaggia. Non vi sono altre strutture commerciali (bar, negozi, alimentari ecc..). La casa è davanti alla spiaggia. La cosa veramente drammatica è stata la spiaggia. Premetto: io e la mia famiglia siamo stati ben 7 volte in Sardegna, la amiamo e per noi il mare sardo era garanzia di qualità. Purtroppo stavolta abbiamo dovuto constatare che tutta la spiaggia antistante sia il complesso sia i centri abitati di Santa Margherita di Pula che Pula, per diversi chilometri, sono stati letteralmente invasi dalle alghe, rendendo quello che era un mare cristallino meraviglioso una quasi cloaca anche talvolta maleodorante per i processi di putrefazione che le alghe, sulla spiaggia, subiscono. Mi spiego meglio. Quando siamo arrivati, l'accesso al mare era letteralmente ostacolato dalla presenza di circa 2 metri (in altezza) di alghe nere accatastate sulla spiaggia; tutta l'acqua che si riversava sulla battigia (per circa 7-10 metri andando dentro il mare) era un magma nerissimo e denso di alghe: Dopo 2 giorni, una mareggiata ha portato via la montagna di alghe dalla spiaggia, ma questo non ha risolto il problema in quanto per 10 metri circa non si poteva fare il bagno tanto era nero e denso liquido in cui ci si immergeva. Andando un pò in giro, abbiamo purtroppo dovuto constatare che il fenomeno non era solo circoscritto a quella spiaggia, ma si esendeva per chilometri, verso Santa Margherita e Pula, rendendo indenni solo le baie di Chia e cala Cipolla. Il nostro progetto era, dopo aver fatto tanti chilometri in traghetto ed in auto, quello di passare una vacanza estremamente rilassante, con spiaggia vicino casa senza dover prendere PER FORZA l'auto tutti i giorni. Purtroppo ciò non era possibile, perchè per fare il bagno si doveva per forza andare per lo meno a Chia (peraltro affollatissima, con macchina da sistemare, pranzi fuori da fare ecc..). Parlando poi con alcuni proprietari di case del complesso abitativo, abbiamo appreso che il fenomeno abnorme delle alghe non era del momento, ma andava avanti da tutta la stagione. In buona sostanza, al 3° giorno, abbiamo deciso di andarcene, in quanto insostenibile la situazione. Abbiamo fatto presente alla proprietà che nulla veniva detto circa l'inagibilità del mare (la spiaggia era deserta, nessuno la frequentava) e che il rapporto qualità prezzo che abbiamo pagato (oltre € 1200 per una settimana) non era assolutamente congruo, visto che il mare non era fruibile. Tanto valeva spendere molto meno prendendo un'abitazione in paese (almeno vi erano vicini i negozi) che una così. Spesi tanti soldi, mare non fruibile, nessun servizio nel complesso residenziale. Vacanza da NON RIPETERE!!!
---
Хозяйка Симона чрезвычайно отзывчива и мила. Помогала нам со всеми нашими проблемами и вопросами, даже мелкими, например, с оплатой мобильного оператора или советами, где находятся какие магазины. Апартаменты с прекрасным видом на чудесный маленький пляж, до которого всего несколько шагов. Местечко Pinus Village очень понравилось: богатая природа, повсюду сосновый лес, есть детская площадка, на берегу - пиццерия, в июле-августе автобус за 1 евро ходит прямо из посёлка в Пулу. При желании можно пройти 15 минут до другой остановки и уехать в Киа. Сдаются две квартиры. Мы снимали на втором этаже с кондиционером, друзья с маленьким ребёнком снимали на первом, так как лестница была для них критична. Им тоже все понравилось, кроме, разве что отсутствия кондиционера, и того, что из задних окон вид на стену (на втором этаже вид в соседский дворик). В квартире мебель обычная, но очень чистая, хороший санузел, есть стиральная машина, отличная плита с духовкой, много посуды и всякой нужной всячины, даже средства для уборки дома. Нам достался пляжный зонтик. Красивый дворик с цветами. Квартиры находятся на закрытой шлагбаумом территории, машины здесь не ездят, очень тихо и безопасно. Нам не повезло: из-за шторма к берегу периодически прибивало водоросли, но эта проблема легко решилась: до соседнего пляжа Santa Mаrgherita идти буквально 5-7 минут. Очень рекомендуем это место! The owner Simona is incredibly kind and took good care of us! She helped us solve all our problems even the smallest ones, like paying for mobile phone. The apartments have a wonderful view over a nice small beach, that lies within a couple of steps from the door. Also we liked the place itself – Pinus Village - the nature is quite rich (pine trees and blooming bushes everywhere), there is a children playground, and on the beach there is a pizza restaurant. In July and August buses run every two hours from Pinus Village to Pula. If you want, you can have a 15 minutes walk to the other bus stop and go to Chia. Simona lets two flats. We rented the one on the first floor with air conditioner, and our friends with a small kid rented the flat on the ground floor because of the steep staircase. They also liked everything, but for the lack of the air conditioner. The furniture is simple but very clean. The bathroom is good, there is a washing machine, a fine stove, lots of cutlery and crockery and different necessities, even the detergents and cleaners, and a beach umbrella. The small yard in front of the house is nice and flowery. The house is located in a very safe and quiet neighborhood, the territory has lifting gates at the entrance. We were unlucky: the beach would get full of seaweed now and then because of the storm. But the nearest beach – Santa Margherita - is just 5 minutes away. All in all the place is highly recommended!
---
Simona è stata proprio gentilissima. Mi è persino venuta ad accogliere lungo la strada per raggiungere l'appartamento, situato proprio a ridosso del mare ad accessibile sono per una stradina privata ! L'appartamento era perfetto, assolutamente corrispondente alla descrizione, se non addirittura meglio. Due belle camere, perfetto per una famiglia con 2 bambini, zona giorno affacciata sul mare con una bellissima vetrata, e poi, uscito dalla porta di ingresso, fai due rampe di scale e sei in spiaggia ... e che spiaggia !
---
Ciao a tutti sono Simona! Amo viaggiare e ospitare tanti amici nella mia casa immersa nel verde e così vicina al mare...
Response rate:
100%
Response time:
within an hour
Explore other options in and around Pula
More places to stay in Pula: