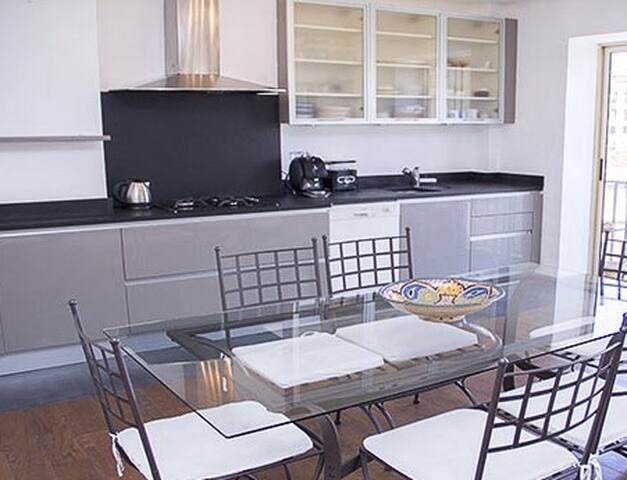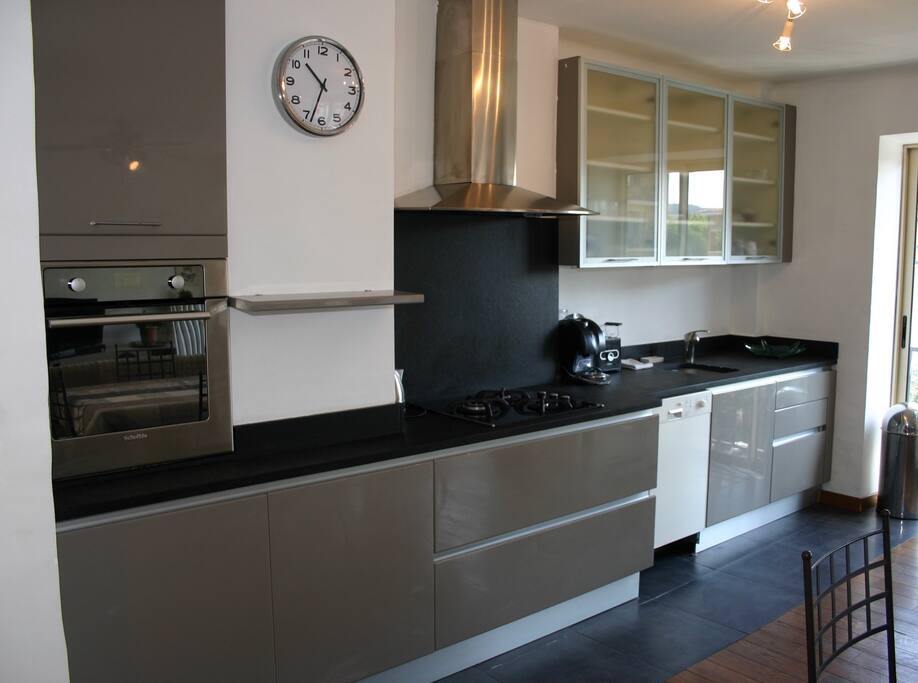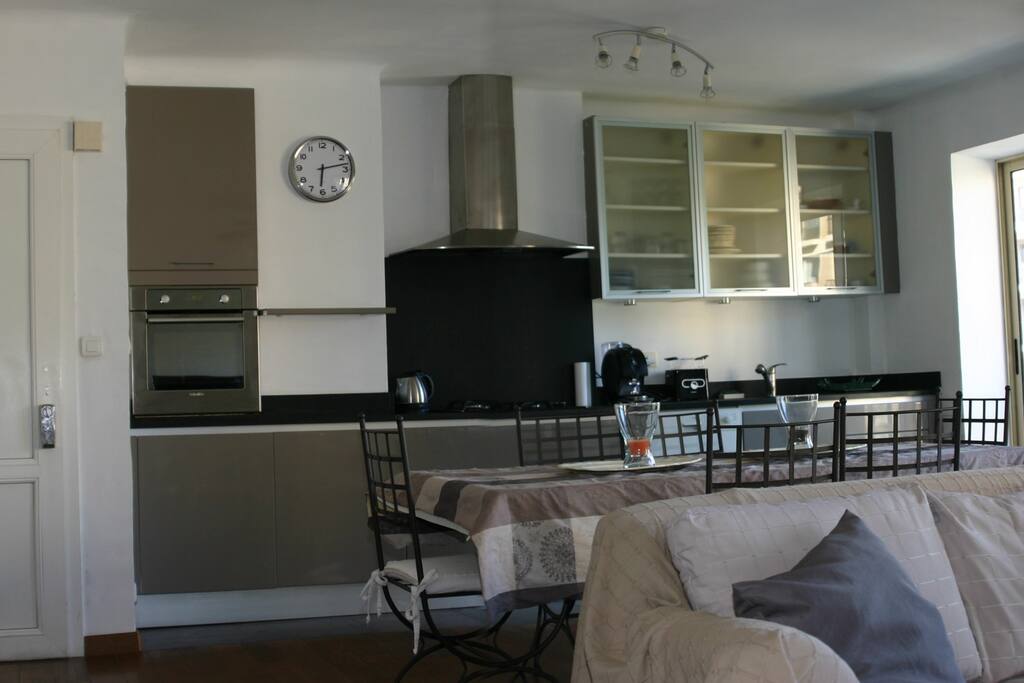 Situé au 4e étage avec ascenseur et garage fermé en sous-sol, cet appartement de charme et de caractère est traversant. Bien exposé, il offre une belle luminosité. Son emplacement est idéal, très proche hypercentre du Cours Mirabeau et de la Rotonde.
dimensions hors tout du garage :H=1m93 long=5m Larg=2m51
The space
L'appartement dispose d'un garage fermé avec contrôle d'accès.
Un badge vous sera également fourni pour le contrôle d'accès de l'immeuble.
Enfin, une porte blindée 5 points de qualité sécurise l'appartement
Sans frais pour personne supplémentaire.
Il est permis de fumer dans le séjour proche des fenêtres .
Nos animaux de compagnie ne sont pas accepté.
Guest access
Vous avez accès à 100% de l'appartement hormis un placard.
Vous avez accès au garage privé pour votre voiture. (:H=1m93 long=5m Larg=2m51)
Interaction with guests
You can be assisted or advised during your stay by simple phone call. Do not hesitate to prepare your coming with us.
Vous pourrez être assisté ou conseillé durant votre séjour sur simple appel téléphonique.
N hésiter pas a préparer votre venue avec nous.
Other things to note
Nous proposons cet appartement sans frais ni taxe supplémentaire.
l appartement est très propre , 5h de ménages ont précédé votre venue
Pas de charge supplémentaire que vous soyez seul ou 6 personnes.
Pas de taxe de séjour.
Pas de caution.
Le contrat le plus intéressant existant pour le client si vous annulez. FLEXIBLE. Airbnb
Minimum 4 nuits.
Always communicate through Airbnb
To protect your payment, never transfer money or communicate outside of the Airbnb website or app.
Bonjour.
Malheureusement les chiens et les chats ne sont pas acceptés. Je ne demande pas de caution, par conséquent je ne souhaite aucun désagrément que nos amis les bêtes peuvent engendrer.
Concernant le tabac, si vous ouvrez la fenêtre de la cuisine et fumez à proximité pas de soucis.... si cela reste acceptable pour le séjour cela est non autorise dans les chambres.
4 nights minimum stay.
From Sep 01, 2016 - Dec 01, 2018 the minimum stay is 4 nights.
Good: location +- : garage Small, i parked in the street Bad: noisy Really bad: dirty, dirty and really dirty . No prepared to receive !! I'd spent 50 euros and 4 hours to clean the apt
1- thé dimension of thé garage are in thé airbnb publication.hxlxL Thé car was not too big to Come inside. But hé refuse to try. He said than he will park the car on the street. thé garage is an extra fréé services. 2- at the entrance thé appartement was perfecly clean . non doute. I donne thé entrance visite with fernanfo in thé detail. Hé was very happy. 3- hé never complainte during thé séjour. And i was 100% available. Hé Nevers ask 5 h extra clraning bas hé wrote previously 4- has i wrotte in private commentatorry to Fernando. Thé appartement for thé exit was very very dirty . plainty rubbidh out of thé garbadge. On floor In kitchen and bath room. Mark of eggs on doors. Kafe on floor etc. Etc.... 5- i found has well internet completly out of ordre with mix câble ( very strange) after fernando 6- thé coffe machine was foound out out of ordre with one pièce of thé machine missing after Fernando trip 7- Fernando talk about noise. Thé appartement his on thé city centre. With all comment noise on city centre. If all windows are open, of course you may have some trouble on living room. But due to thé double phonique windows, if you close it... Thén it s very quiete. Check previous commentaire... Thé good commun sensé show no remark about that point. I do précise, than rooms can have windows open becaude their are on silent part of thé park. Conclusion : now i do not recommande at all Fernando for his very bad attitude on point 1 to 6 above. And excesdiv bas commentary and poor qualité of honnesty I ask airbnb to check previous commentaire to adjust start Lebel with out fernando
---
A great appartement in a fantastic location close to everything in Aix. Well equipped with fresh interiors, including kitchen and bathroom. Very nice and helpful hosts that are easy to communicate with. Very quick to answer. Only drawback in the Aix summer is the lack of air conditioning but that is as advertised so no complaint. Good to be aware of though.
---
We stayed for 3 nights at this great 3-bedroom appartment in Aix. Perfectly located, less than 5 minutes walking to the center of town, and with easy access in and out of town, we found it was the perfect place to use as central point from where you visit Aix but also the wider region around Aix. The fact that there is a garage included where you can park your car, makes it extremely handy if you are travelling by car. The contact with the owners prior to our arrival, and the way in which they guided us on how to best drive into town on arrival was really nice and pro-active.
---
We were well received by Eric and Anne-Marie's sister and their daughter came to help us with the tv. (weare useless with that technology). The apartment was fun, light-filled and served the exact purpose of our stay--to be comfortable, right next to the vieille ville, have our own parking box and enough room to have guests. Wonderful
---
Excellent location of the apartment, we were met by Thomas, the meeting was warm and helpful. With a host of connection it was available through the site. Kvatriry corresponds to the description on arrival there was no smell, but the next day he appeared and was until the end of our stay, but there is no claim to the owner, because obviously this is a problem in the whole house. There is a convenient garage, which is a big plus.
---
The overall experience was highly disappointing: the apartment is located in a run-down building (though close to place de la Rotonde, but not in the new buildings of allees provencales), on a noisy street (impossible to let the windows open if you want to sleep), and above all, there is a strong persistent stench odor, some days unbearable, from the pipes in showers and WC that has been persistent for a while (see previous review from a former visitor). The cleanliness was mediocre at best, we had to clean ourselves the apartment, we found an old sock in the (URL HIDDEN) summary, avoid the place if you want to enjoy Aix.
Nous remercions les personnes intéressées par notre appartement de bien lire notre droit de réponse et de bien vouloir consulter les autres appréciations des voyageurs qui se sont succédés depuis début septembre 2015 Nous avons eu beaucoup de souci avec Gilles et particulièrement avec son épouse durant leur séjour. En quelques mots : pénibles, harceleurs par téléphone, menteurs, exagérants, peu soigneux et manipulateurs. Ils ont passé 45 jours dans l'appartement en 4 contrats sucessifs de locations. Ils pouvaient donc partir facilement et sans frais au vue de leurs commentaires. Ils sont restés... ce qui est incohérent au regard de leurs critiques exprimées. Et pour comble de mauvaise foi, ils ont même critiqué l'emplacement de l'appartement alors que l'adresse est connue et que sa situation est un atout majeur lors de la recherche, apprécié par tous les Voyageurs. Deux chambres sont cotés cour, parfaitement silencieuses même fenêtre ouverte. Etre en centre ville implique des rues, des passages. L'appartement est doté de double vitrage Phonique... le bruit de la rue n'est absolument pas un souci... cela n'est d'ailleurs pas mentionné par tous les voyageurs qui ont séjourné. Tous les locataires précédents furent ravis et ont fait part de bons commentaires sur le service, la propreté et la situation géographique de l'appartement. S'Il existe des personnes que l'on ne souhaiterait ni rencontrer ni subir ! Ce couple en est un. Cela nous a beaucoup couté en patience et en disponibilité. Pour avoir la tranquillité, nous leur avons même proposé, à nos frais, les services de la société chargée de s'occuper du nettoyage de notre appartement : ils ont refusé ! On ne se rabaissera à évoquer le sujet de la chaussette qui aurait été oubliée lors du lavage en pressing dans une housse de couette, cela serait pitoyable... Nous avons en prime récupéré un appartement en grand désordre, voire sale, avec quelques dégradations majeures, vaisselle cassée, mais nous avons dû également gérer une plainte des voisins de pallier car ils laissaient leurs déchets et poubelles en partie commune d'escalier. Nous serons ravis de répondre à vos questions et de vous accueillir en ce bel appartement au rapport qualité / espace / emplacement /garage / prix très intéressant.
---
We were greeted by Thomas, and a lovely welcome it was. The apartment was ideally located and well appointed. However, the putrid sewage like stench that came from the bathroom as the family was showering was terrible, this was coming from the drainage system. We contacted the host-Thomas and he treated the drains that day, but the smell continued throughout our stay. Not good and not acceptable.
Merissa detected a smell in the bathroom. we came immediately. we did not find this smell we have audited the siphons of the shower and the two bath room sink siphon. they were clean and nothing was a remedy. we spent a destop with special caution. Maybe it's a smell due to the unsustainable use of a bathroom sink which allowed the siphon to get dry up with the central heating apprtment of commissioning. Nô one of the prévios person Got this smell. merissa's remark is excessive and is false as was never seen before or since by any visitant person
---
Comme le suggère le concept Airbnb, nous nous présentons et voici donc notre profil : nous sommes parents de trois enfants âgés de 27, 25, et 11 ans. Nous avons beaucoup voyagé à travers les cinq continents, Eric est ingénieur, passionné de voile et sportif (water-polo), .
Notre appartement est à l'image de notre conception de vie : convivial, fonctionnel, lumineux et situé à deux pas du célèbre Cours Mirabeau d'Aix-en-Provence afin de profiter au mieux et à pied (avec la possibilité de garer votre voiture dans notre garage) de toutes les activités festives, des lieux culturels, des commerces et restaurants qu'offre cette belle ville.
Languages:
English, Français, Português
Response rate:
100%
Response time:
within an hour
Explore other options in and around Aix-en-Provence
More places to stay in Aix-en-Provence: