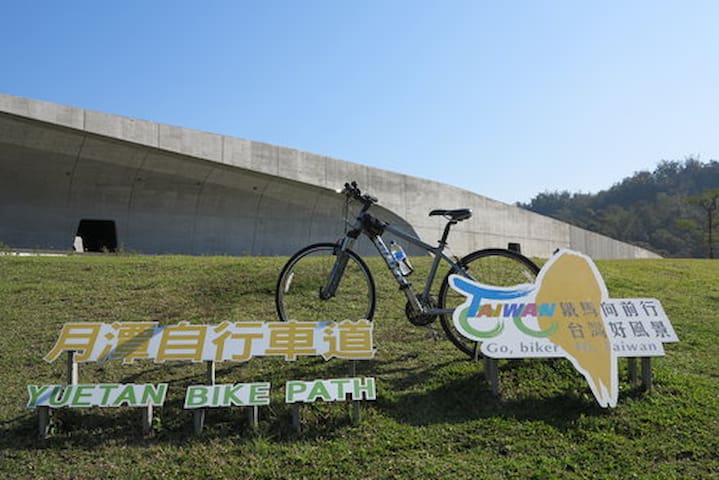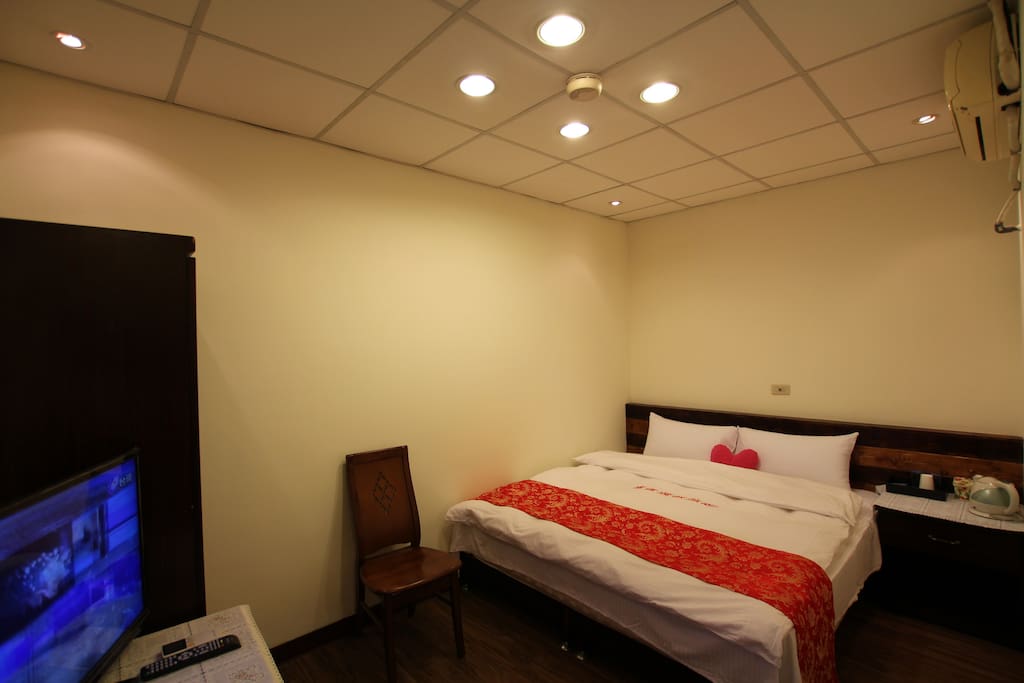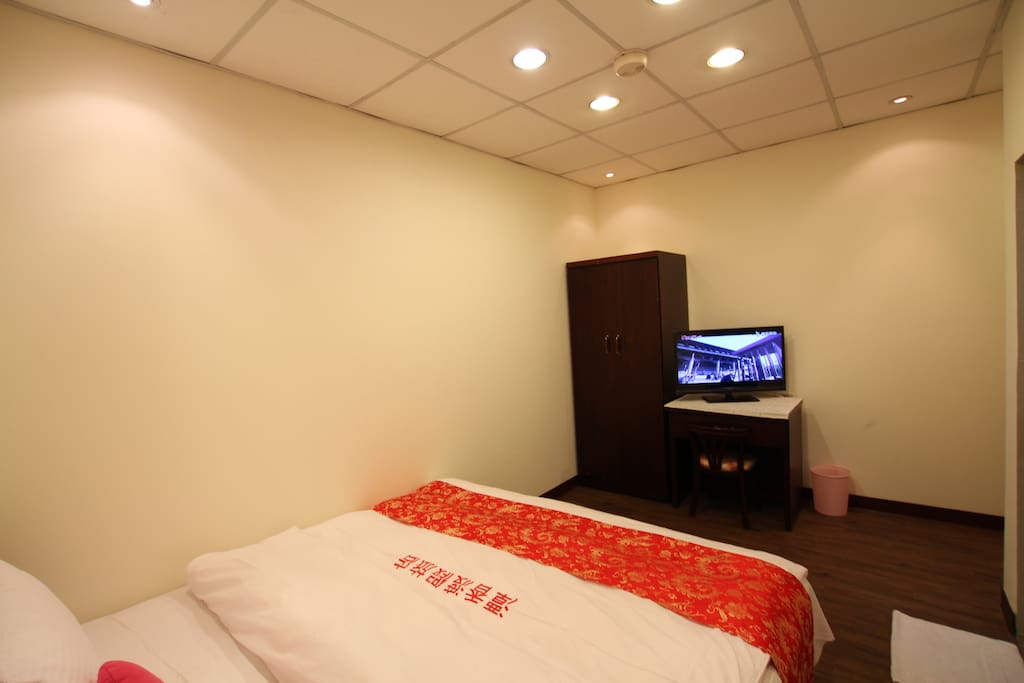 double room with 2 bike&boat ticket
微 信(wecha t): tanxianghotel
L ine: tanxianghotel
1.Coupon: Formosa aboriginal culture village ticket, cable car ticket, pottery, Paper church, fruits,parking lot,Sky Deck,afternoon tea ticket
2.Free for breakfast,Boat ticket,bicycle (motorbike).
---
---
Always communicate through Airbnb
To protect your payment, never transfer money or communicate outside of the Airbnb website or app.
Learn more
---
Check in is anytime after 3PM
---
---
---
The place of stay is convenient and close to the boat habour. Overall the room was clean and cosy.
Response from 日月潭-水社碼頭住宿-潭香渡假旅館(日月潭客運終點站旁):
Our stuff are always ready to provide you the best service with full of enthusiasm. If you have any problems please let us know. Best situation: our hotel is located at ShuiShe Pier Streat which is very convenient for your shopping and eating. Just opposite our hotel is sun moon lake bus station where you can take the bus to Taichung high speed railway station, we also provide pay pick-up service. Nest to our hotel, there are 7-11, starbucks, Watsons and a lot of resturants which is very convenient for your life. What's more, it only takes 2 minutes for you to get ShuiShe pier. Our quality of service: We will accept modestly to the requirement of our service. If there is any room need to be improved its environment, we will change it as soon as possible. We are always want to give all the passengers the best memory. Please let us know if you are not satisfied with our service, we are always at your service. Sanitation: We promise that our bed sheet is sent to wash everyday, all facillities such as air-conditioning, TV, Wifi and washing tools are provided. We clean every room everyday to make sure they are comfortable enough. Price: The price is reasonable which is suitable for family or friends to live in.We can accommodate 1-8 people and we have 45 rooms in total. Breakfast: We provide western breakfast to every passengers which is made in every morning and sent to your (URL HIDDEN) 7:30. Tickets: you can buy coupon boat tickets , bicycle tickets, formosa tickts and cable car tickets etc. You can ask our stuff. We support the fast check-in and check-out. Thank you for choosing our hotel, we are glad to be at your service. We are always want to give you the best service and look forward your next visit. best wishes
---
The host upgraded our room to a bigger room, with a jacuzzi outdoor. Comfortable bed, and had a great bath using jacuzzi after a long bike. I did not have pleasant experience as there were previous customers who lost their luggage when they put at the lobby due to early check out…
Response from 日月潭-水社碼頭住宿-潭香渡假旅館(日月潭客運終點站旁):
Our stuff are always ready to provide you the best service with full of enthusiasm. If you have any problems please let us know. Best situation: our hotel is located at ShuiShe Pier Streat which is very convenient for your shopping and eating. Just opposite our hotel is sun moon lake bus station where you can take the bus to Taichung high speed railway station, we also provide pay pick-up service. Nest to our hotel, there are 7-11, starbucks, Watsons and a lot of resturants which is very convenient for your life. What's more, it only takes 2 minutes for you to get ShuiShe pier. Our quality of service: We will accept modestly to the requirement of our service. If there is any room need to be improved its environment, we will change it as soon as possible. We are always want to give all the passengers the best memory. Please let us know if you are not satisfied with our service, we are always at your service. Sanitation: We promise that our bed sheet is sent to wash everyday, all facillities such as air-conditioning, TV, Wifi and washing tools are provided. We clean every room everyday to make sure they are comfortable enough. Price: The price is reasonable which is suitable for family or friends to live in.We can accommodate 1-8 people and we have 45 rooms in total. Breakfast: We provide western breakfast to every passengers which is made in every morning and sent to your (URL HIDDEN) 7:30. Tickets: you can buy coupon boat tickets , bicycle tickets, formosa tickts and cable car tickets etc. You can ask our stuff. We support the fast check-in and check-out. Thank you for choosing our hotel, we are glad to be at your service. We are always want to give you the best service and look forward your next visit. best wishes
---
clean room but the attitude is kinda bad. breakfast is provided but it is not the best I would say. dont be fooled by the title about the bicycle and boat ticket, it is not included in their package. even if you take the bicycle with the owner, the quality of the bicycle is reall…
Response from 日月潭-水社碼頭住宿-潭香渡假旅館(日月潭客運終點站旁):
Our stuff are always ready to provide you the best service with full of enthusiasm. If you have any problems please let us know. Best situation: our hotel is located at ShuiShe Pier Streat which is very convenient for your shopping and eating. Just opposite our hotel is sun moon lake bus station where you can take the bus to Taichung high speed railway station, we also provide pay pick-up service. Nest to our hotel, there are 7-11, starbucks, Watsons and a lot of resturants which is very convenient for your life. What's more, it only takes 2 minutes for you to get ShuiShe pier. Our quality of service: We will accept modestly to the requirement of our service. If there is any room need to be improved its environment, we will change it as soon as possible. We are always want to give all the passengers the best memory. Please let us know if you are not satisfied with our service, we are always at your service. Sanitation: We promise that our bed sheet is sent to wash everyday, all facillities such as air-conditioning, TV, Wifi and washing tools are provided. We clean every room everyday to make sure they are comfortable enough. Price: The price is reasonable which is suitable for family or friends to live in.We can accommodate 1-8 people and we have 45 rooms in total. Breakfast: We provide western breakfast to every passengers which is made in every morning and sent to your (URL HIDDEN) 7:30. Tickets: you can buy coupon boat tickets , bicycle tickets, formosa tickts and cable car tickets etc. You can ask our stuff. We support the fast check-in and check-out. Thank you for choosing our hotel, we are glad to be at your service. We are always want to give you the best service and look forward your next visit. best wishes
---
位置非常好,水社码头附近3分钟,店家有卖优惠船票100元一张。缺点是床上卫生条件一般,有一些黑点;另外就是门是用钥匙打开的,里面没有链条锁,担心安全问题。
Response from 日月潭-水社碼頭住宿-潭香渡假旅館(日月潭客運終點站旁):
★★★★★地點優:旅店地點位於日月潭水社碼頭老街上,購物吃飯地點極佳,斜對面即是日月潭客運車站,有需要前往台中高鐵、清境、阿里山的必經轉運站、且提供收費接送服務,附近就有7-11便利店、屈臣氏,星巴克、85度商場可購物。左右都是飯店餐館,用餐方便。走路2分鐘即可到達水社碼頭賞日月潭湖景或搭船遊湖。 ★★★★★員工服務品質:對於服務上的要求我們會虛心接受,如果有任何客房需要加強清潔,我們秉持著專業精神立刻改善,我們一直希望可以帶給客人美好的回憶。我們會積極的訓練員工,希望秉持顧客至上精神,希望帶給客戶有更好的滿意度。若是客人有任何不滿意地方請立即告知訂房經理,我們將會有專人服務。★★★★★ 衛生清潔:保證床單皆是委託埔里五星級公司做送洗,房間設備齊全,冷氣、電視、獨立衛生間且全館皆有wifi設備、盥洗備品皆有,清潔環境絕對乾淨,如有任何不完美的地方請立刻向服務人員反應。每日皆有清潔員打掃更換排班,保證乾淨清潔且舒適。★★★★★ 價格:客房價位優越,且客房空間皆適和家庭或親子旅遊,全館可接待1~8人入住客房,民宿客房總數達45間,可以自行選定人數和價位,請提前預訂,以免客滿。★★★★★ 餐點:早餐餐點是西式餐點附飲料,餐點皆由服務人員當天早上現做,並於7點30分送達,方便提供自由行旅客攜帶外出用餐,或是可於房內用餐。★★★★★套票:提供遊湖船票、單車、九族民俗村、日月潭纜車、下午茶、平假日停車、日月潭全湖景觀景台優惠券★ 提供快速辦理入住與快速辦理退房★ 親愛的旅客 很榮幸能為您提供服務,真心感謝您信任并選擇我們。我們將竭誠為旅客提供更舒適更優質的服務,全體員工致以您最真摯的祝福,日月潭的美,絕對值得您的再次光臨,再次我們誠摯地歡迎您的前來~O(_)O
---
Response from 日月潭-水社碼頭住宿-潭香渡假旅館(日月潭客運終點站旁):
★★★★★地點優:旅店地點位於日月潭水社碼頭老街上,購物吃飯地點極佳,斜對面即是日月潭客運車站,有需要前往台中高鐵、清境、阿里山的必經轉運站、且提供收費接送服務,附近就有7-11便利店、屈臣氏,星巴克、85度商場可購物。左右都是飯店餐館,用餐方便。走路2分鐘即可到達水社碼頭賞日月潭湖景或搭船遊湖。 ★★★★★員工服務品質:對於服務上的要求我們會虛心接受,如果有任何客房需要加強清潔,我們秉持著專業精神立刻改善,我們一直希望可以帶給客人美好的回憶。我們會積極的訓練員工,希望秉持顧客至上精神,希望帶給客戶有更好的滿意度。若是客人有任何不滿意地方請立即告知訂房經理,我們將會有專人服務。★★★★★ 衛生清潔:保證床單皆是委託埔里五星級公司做送洗,房間設備齊全,冷氣、電視、獨立衛生間且全館皆有wifi設備、盥洗備品皆有,清潔環境絕對乾淨,如有任何不完美的地方請立刻向服務人員反應。每日皆有清潔員打掃更換排班,保證乾淨清潔且舒適。★★★★★ 價格:客房價位優越,且客房空間皆適和家庭或親子旅遊,全館可接待1~8人入住客房,民宿客房總數達45間,可以自行選定人數和價位,請提前預訂,以免客滿。★★★★★ 餐點:早餐餐點是西式餐點附飲料,餐點皆由服務人員當天早上現做,並於7點30分送達,方便提供自由行旅客攜帶外出用餐,或是可於房內用餐。★★★★★套票:提供遊湖船票、單車、九族民俗村、日月潭纜車、下午茶、平假日停車、日月潭全湖景觀景台優惠券★ 提供快速辦理入住與快速辦理退房★ 親愛的旅客 很榮幸能為您提供服務,真心感謝您信任并選擇我們。我們將竭誠為旅客提供更舒適更優質的服務,全體員工致以您最真摯的祝福,日月潭的美,絕對值得您的再次光臨,再次我們誠摯地歡迎您的前來~O(_)O
---
地理位置非常好,店铺的对面右侧是客运站、左侧走下去两三分钟就到了水社码头。房间的床铺很大,提供早餐,很不错(URL HIDDEN)他们家买的水果挺不错的,现切的,一盒100台币(URL HIDDEN)我们的房费中包括了一日的自行车租车费用,是普通自行车,挺好骑的,如果要骑捷安特还要加100台币。日月潭骑行是必要的体验!!(URL HIDDEN)老板家还卖船票,100台币一天内随意坐,可以说挺方便的。 不过他们家回复airbnb上的信息有点慢哦~要耐心~^_^
Response from 日月潭-水社碼頭住宿-潭香渡假旅館(日月潭客運終點站旁):
★★★★★地點優:旅店地點位於日月潭水社碼頭老街上,購物吃飯地點極佳,斜對面即是日月潭客運車站,有需要前往台中高鐵、清境、阿里山的必經轉運站、且提供收費接送服務,附近就有7-11便利店、屈臣氏,星巴克、85度商場可購物。左右都是飯店餐館,用餐方便。走路2分鐘即可到達水社碼頭賞日月潭湖景或搭船遊湖。 ★★★★★員工服務品質:對於服務上的要求我們會虛心接受,如果有任何客房需要加強清潔,我們秉持著專業精神立刻改善,我們一直希望可以帶給客人美好的回憶。我們會積極的訓練員工,希望秉持顧客至上精神,希望帶給客戶有更好的滿意度。若是客人有任何不滿意地方請立即告知訂房經理,我們將會有專人服務。★★★★★ 衛生清潔:保證床單皆是委託埔里五星級公司做送洗,房間設備齊全,冷氣、電視、獨立衛生間且全館皆有wifi設備、盥洗備品皆有,清潔環境絕對乾淨,如有任何不完美的地方請立刻向服務人員反應。每日皆有清潔員打掃更換排班,保證乾淨清潔且舒適。★★★★★ 價格:客房價位優越,且客房空間皆適和家庭或親子旅遊,全館可接待1~8人入住客房,民宿客房總數達45間,可以自行選定人數和價位,請提前預訂,以免客滿。★★★★★ 餐點:早餐餐點是西式餐點附飲料,餐點皆由服務人員當天早上現做,並於7點30分送達,方便提供自由行旅客攜帶外出用餐,或是可於房內用餐。★★★★★套票:提供遊湖船票、單車、九族民俗村、日月潭纜車、下午茶、平假日停車、日月潭全湖景觀景台優惠券★ 提供快速辦理入住與快速辦理退房★ 親愛的旅客 很榮幸能為您提供服務,真心感謝您信任并選擇我們。我們將竭誠為旅客提供更舒適更優質的服務,全體員工致以您最真摯的祝福,日月潭的美,絕對值得您的再次光臨,再次我們誠摯地歡迎您的前來~O(_)O
---
歡迎光臨日月潭住宿.潭香時尚精緻渡假旅店‧Tanxiang Resort Hotel Sun Moon Lake|日月潭民宿 說明文字 「潭香時尚渡假旅館」地處涵碧半島水社商圈,斜對面具備完善旅遊資訊的水社遊客服務中心(距離30公尺)及客運站點(所有外縣市客運下日月潭站就到,不須再轉車,早上9點後即提供免費寄存行李服務),步行可至「水社碼頭」、「85度C」、「康是美」、「7-11超商」、「摩斯漢堡」、「紙箱王」、「妖怪村」、「illy咖啡」、「1012巧克力」、「租車店」、「Haggen Dazs」冰淇淋、藥局、道地邵族餐廳,且'步行30秒'就能搭船…
Languages:
English, 中文
Response rate:
100%
Response time:
within a few hours
Explore other options in and around 台灣 日月潭
More places to stay in 台灣 日月潭: