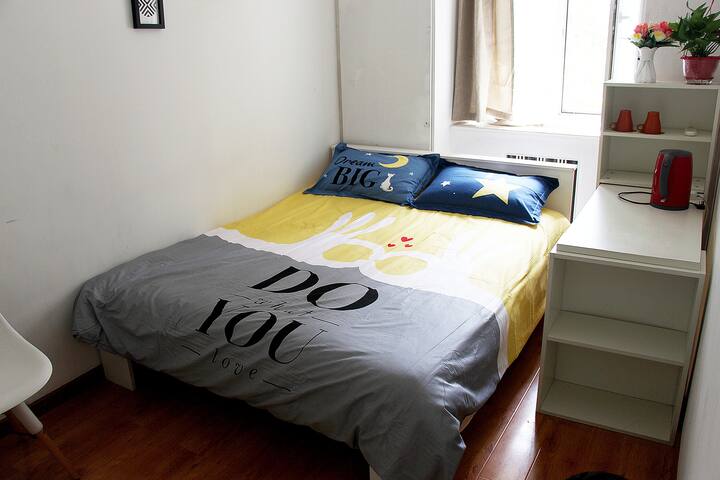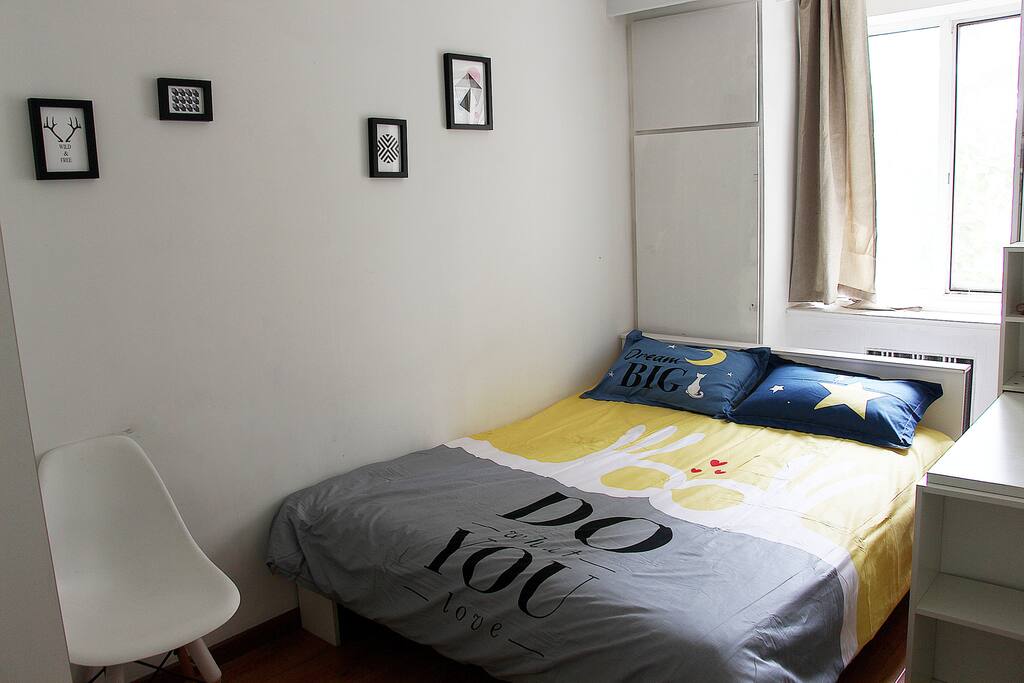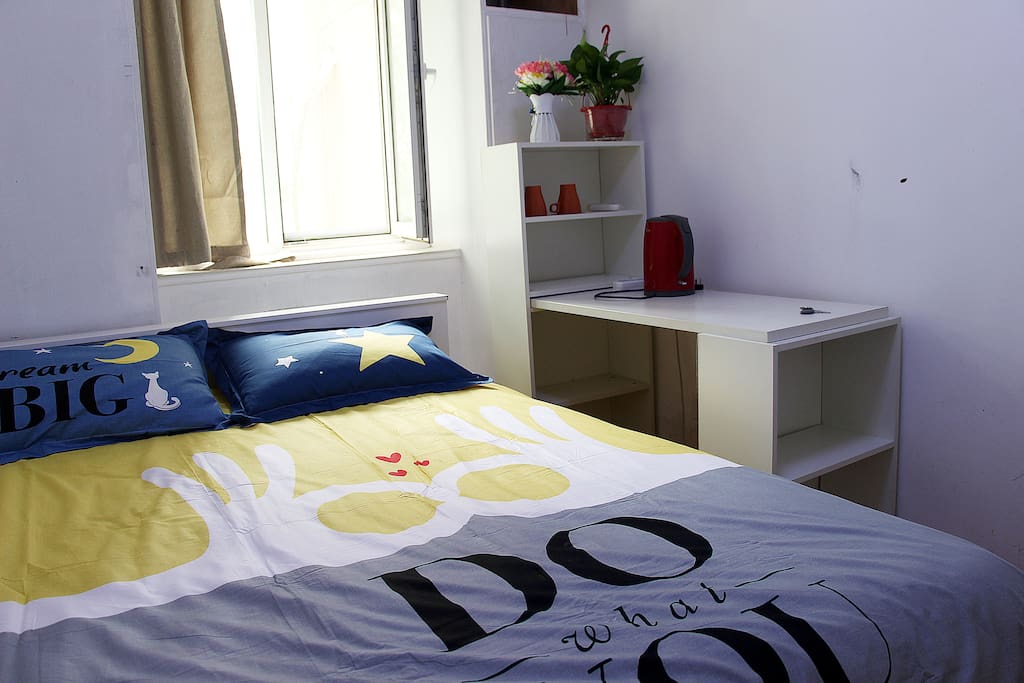 15号线六道口地铁站旁,紧邻矿大林大清华等高校,高校周边人文气息浓厚,靠近鸟巢圆明园
Pro, but also to live in the hotel price is expensive, live in a small hotel dirty mess problem? Then the question came, how can Duang find a cheap, warm, clean and safe house? The The answer is - bed and breakfast. So the question is coming again, where is the patriarch strong? Beijing Jiahe Inn for 3 consecutive years won the site selection of the "star of the landlord" honorary title, praise rate of 5 stars; for 5 consecutive years in the short rent network comprehensive ranking, the positive rate of nearly 96% (online response rate of 97%, the average confirmed 4 minutes, the order acceptance rate of 84.06%). Jiahe Inn you trust!
亲,还在为住酒店价格贵,住小旅馆脏乱差的问题烦忧吗?那么问题来了,怎样才能Duang的一下找到一个既便宜,又温馨,又干净,又安全的房子呢?!答案是——民宿。
那么问题又来了,民宿界里哪家强?北京嘉禾驿站连续3年获得网站评选的"年度明星房东"荣誉称号,好评率5颗星;连续5年在短租网综合排名靠前,好评率近96%(在线回复率97%,平均确认4分钟,订单接受率84.06%)。嘉禾驿站你值得信任!
The space
The basic configuration in the room: 1. Double bed: standard double bed 2. Bedding: provide cotton bedding and bedding, bedding for a guest for a change. 3. Desk and chairs: multi-purpose tables and chairs, easy Internet access, learning, chat ... ... 4. Wardrobe: Multi-function wardrobe, so that your room has more space to store your accompanying items. 5. Appliances: air conditioning, refrigerator, washing machine, electric kettle, hair dryer and other readily available. 6. Solid wall: refused to cut off the room, to ensure that your personal space privacy. 7. windows: to ensure that each room has its own windows, bright and airy, no longer Biequ. 8. Wireless Internet: high-speed WiFi, fiber-optic network, fast Internet access. 9. Bathroom: bathroom is divided into public toilet (ie: shared form, a few bedrooms share a bathroom) and independent bathroom (ie: master bedroom with a single guard or a whole rental), please pay attention to distinguish between the bathroom type, to avoid misleading The 10. Kitchen: to provide basic cooking tools (including kitchen knife, cutting board, shovel, rice cookers, cooking pot, etc.), personal use of chopsticks and spices seasoning and so on. 11. Toiletries: need to bring their own toiletries and toilet paper, refused to disposable toiletries and paper towels, contribute to the environmental protection of a meager force. 12. Regular cleaning and inspection: guests stay no longer enter the guest room during the stay, public areas (kitchen, living room, bathroom, etc.) regular cleaning, regular visits to inspect the situation, deal with unusual circumstances.
房间内的基本配置:
1.双人床:标准双人床
2.床上用品:提供纯棉床上用品和被褥,床上用品一客一换。
3.写字桌和椅子:多功能桌椅,方便上网、学习、聊天……
4.衣柜:多功能衣柜,让您的房间有更多的空间存储你的随行物品。
5.家电:空调、冰箱、洗衣机、电热水壶、吹风机等一应俱全。
6.实体墙:拒绝隔断房间,保证您个人空间的私密性。
7.窗户:保证每个房间均有自己的窗户,明亮透风,不再憋屈。
8.无线上网:高速WiFi,光纤网络,上网速度快。
9.卫生间:卫生间分为公用卫生间(即:合租形式,几个卧室共用一个卫生间)和独立卫生间(即:主卧带独卫或者是整套出租),请注意区分卫生间类型,避免入住时造成误会。
10.厨房:提供基本炒菜工具(包括菜刀、菜板、铲子、电饭煲、炒菜锅等),个人用的碗筷和调料佐料等需要自备。
11.洗漱用品:需自备洗漱用品和手纸,拒绝一次性洗漱用品和纸巾,为环保贡献自己微薄的一份力量。
12. 定期保洁和巡房:客人入住期间不再进入客人房间,公共区域(厨房、客厅、卫生间等)定期保洁,定期派人巡查房间情况,处理异常情况。
Guest access
Notice: 1. The major booking platform customers can directly online showings, photos are real photos, by the platform as a guarantee. Tenant Booking Information 1. When booking, please be sure to contact with the customer service you want to book the time period whether there is room, so as to avoid the booking repeat, delay your trip. 2. When booking, in order to ensure the tenant's rights and interests, be sure to fill in the real information of the occupants, so as to avoid disputes in a timely manner. 3. When booking, please be sure to see the room description and the precautions to avoid misunderstanding. 4. Reservations do not accept phone bookings. Online booking can be paid directly on the Internet, by a third party as a guarantee. Reservations are subject to a deposit of $ 200. Check-in: 1. Check-in time is around 14:00, check-out time is 12:00 the next day check-out 2. If the arrival of the need to communicate with the landlord in advance to see if you can stay, so as not to wait for a long time. It is advisable to check in and check out at the appointed time.
看房须知:
1.各大预订平台的客户,可直接在线看房,照片都是真实照片,由平台作为担保。
房客预订须知
1.预定时,请务必与客服咨询您想预订的时间段是否有房,以免造成预订重复,耽误您的行程。
2.预订时,为了保证房客权益,请务必填写入住人真实信息,以免发生纠纷及时解决。
3.预定时,请务必看清楚房间说明和各项注意事项,避免造成误会。
4.预订不接受电话预订。在线预订直接网上支付全款即可,由第三方作为担保。线下预订需要支付200元定金。
入住办理退房:
1.办理入住时间为14:00点左右,退房时间为第二天12:00点退房
2.如果提前到达需要与房东提前沟通看看是否可以入住,以免不必要的长时间等待。建议按规定时间办理入住和退房。
Interaction with guests
1. Room price marked price, not bargain! 2. Through the major online booking site booking customers, is not within the scope of concessions. 3. Rates are automatically discounted based on the number of days of stay (the number of days booked is not within the offer). The discounted price is subject to the corresponding discount based on the actual number of days of stay. Specific discount to the actual shop to prevail. 4. Deposit: new users need to charge 100 / yuan deposit, the old customers do not need to pay. 5. The room rate includes water, electricity, net fee, gas fee and item cost (except man-made damage), no additional charges.
1.房间价格明码标价,不议价!
2.通过各大网上预订网站预订的客户,暂时不在优惠范围内。
3.房价根据客人的入住天数自动给予折扣(网上预订的天数不在优惠范围内)。折扣价格需要根据入住人实际的入住天数给予相应的优惠。具体折扣以实际到店为准。
4.押金:新用户需要收取100/间元押金,老客户不需要支付。
5.房费已经包括水费、电费、网费、燃气费以及物品损耗费用(人为破坏除外),不再另外收费。
Other things to note
Special Note: 1, you are ready to check in all the rental fee, do not accept the check-out time. 2, you must bring your valid documents, for no documents, we will not receive. 3, after the arrival of our staff will not unauthorized access to your room, in case of special circumstances, we will contact you in advance (except in case of emergency). 4, due to the room more electrical facilities, please take care to care for the elderly, children use, such as improper use of accidents, at your own risk. 5, we provide a short "home" type rental service, during which you need to clean up your temporary home Oh! 6, please pack your baggage before the scheduled check-out time. We will check the house and facilities and make sure that there is no customer left behind. Check out the check-out procedure. If there is no man-made damage in the indoor facilities, Return to you (if the indoor facilities appear man-made damage, will pay compensation).
入住特别说明:
1、入住时请您准备您入住的全部房租费用,不接受退房时交费。
2、您必须带好您的有效证件,对于没有证件者,我们一概不接待。
3、入住后我方人员不会擅自进入您的房间,如遇特殊情况,我们会事先与您取得联系(遇紧急情况除外)。
4、由于房间内电器设施较多,请谨慎照顾老人、小孩使用,如使用不当发生意外,后果自负。
5、我们提供的是短期"居家"式租房服务,其间您需要自己收拾您这个临时的家哦!
6、请在约定的退房时间前收拾好您的行李物品,我们将对房屋及设施进行检查以及确定无客户遗留物品,方可办理退房手续,如果室内设施没有出现人为损坏,会将押金退给您(如果室内设施出现人为损坏,将按价赔偿)。
---
---
Extra people $22 NZD / night after the first guest
Weekend Price $39 NZD / night
Always communicate through Airbnb
To protect your payment, never transfer money or communicate outside of the Airbnb website or app.
Learn more
---
Not safe or suitable for infants (Under 2 years)
Check in time is 12PM (noon) - 2PM
Self check-in with smart lock
---
---
---
大家好,我叫祥林,英文名字是TOM。我是山东人,是一名创业者,也是一名户外爱好者。我喜欢读书,尤其是喜欢财经和户外书籍,对新鲜事物怀有强烈好奇心。作为北漂一族,我觉得最大的财产不是房子不是事业而是我的书籍,只有在书中我才能达到另一个我或许永远到不了的地方。电影也是我的最爱,尤其喜欢看科幻片和动画片,至今还在追《海贼王》和《火影忍者》,可惜火影烂尾的结局着实让人伤心,还是海贼王故事来的宏达和严谨。
我在短租行业也混了快3年啦,真心不容易干啊!欢迎大家入住我们嘉禾驿站!
Languages:
English
Response rate:
100%
Response time:
within an hour
Explore other options in and around Beijing
More places to stay in Beijing: